! side panel> <! side panel>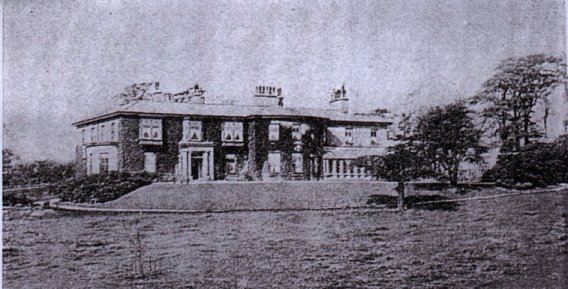 Woodhill House.


In 1790 Mr Jacob Scholes of Woodhill was recorded to have purchased High Bank along with further land on Hilton Lane. The Scholes family had long been connected with Prestwich, with a Rev. Jacob Scholes once being the beloved curate of St Mary's for 61 years between 1692-1753. Also George, Peter, Richard and Thomas Scholes were listed as Church wardens at various dates. Rev. Jacob was instrumental in the establishment of a chapel at Unsworth,donated to the poor of the township, and was buried in the chancel, now the nave, of St Mary's in 1754.

High bank later passed to Jacob's younger brother Thomas of Bent House (near todays junction of Whitaker Lane & Heywood Road). Upon whose death the properties then passed to his son George and in turn, in 1837, Woodhill was coveyed to Samuel Ashton.[ High Bank was conveyed to William Chadwick]



Woodhill 1848


The Ashton family were also a long standing family of this region, with family members living at Polefield Hall, Barnfield and Irwell House. On the 10th December 1866, Samuel Ashton (J.P.) dropped down dead in one of his fields, after ignoring his Doctor's advice to stay in bed and the property went up for sale.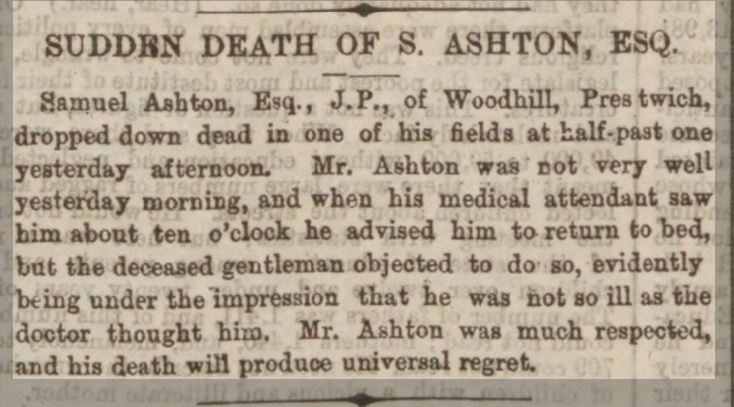 Sudden Death


Woodhill House for sale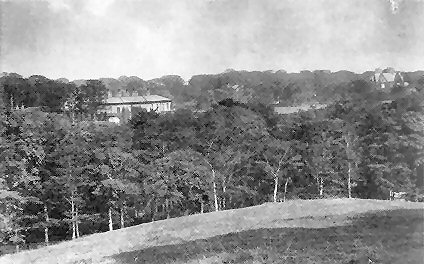 Woodhill House from Butt Hill

There then followed occupation by Henry Tootal Broadhurst, son of Sarah Tootal and Daniel Broadhurst. Henry's 2nd son, Edward was instrumental in the raising of the Manchester Pals Batallions and was later knighted, married the sister of Thomas Gair Ashton (first Baron of Ashton of Hyde) and went on to become J.P. and high sheriff of Lancashire.

Henry Tootal Broadhurst was director of Tootal Broadhurst & Lee - Hemming manufacturer 1887 - renowned for work on the first crease proof fabric, they had offices and warehouse on Oxford Road, Manchester, Bradford , Belfast and Paris, and mills at Sunnyside, Bolton.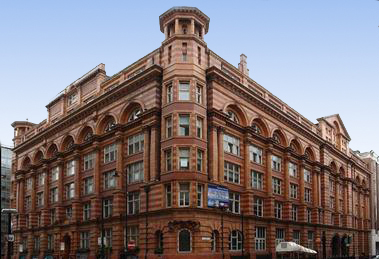 The Tootal Broadhurst & Lee Building,


The Tootal Broadhurst & Lee Building, Oxford Street, Grade II listed - described as "a powerful monument to the entrepreneurialism of the Industrial Revolution and Victorian bombast"

Behind this building, and not visible from the street is Lee House, the stub of what would have been the tallest building in Europe at 217 ft., a 17-storey warehouse of the same firm (planned 1928; part completed 1931)

Partner, Henry Lee lived at Sedgley New Hall just along Bury Old Old Road.

Henry Tootal Broadhurst, was brother of Charles Edward (a pioneer pastoralist and pearler in colonial Western Australia), and brother in law of Sir Joseph Whitworth (who was an English engineer, entrepreneur, inventor and philanthropist - he standardised screw threads and invented the Whitworth Rifle, upon his death Whitworth Art Gallery and Christie Hospital were partially funded by his money). Lady Whitworth, wife of Sir Joseph Whitworth, was a sister of Henry Tootal Broadhurst. Sir Joseph left a great amount of his estate to the people of Manchester when he died in 1887, but Lady Whitworth still left £9m in today's money, when she died in 1897. Most of her estate went to Edward Tootal Broadhurst and another nephew Mr J B Close Brooks.

Henry Broadhurst died in 1896 and is buried in the family plot, found in St Mary's Graveyard.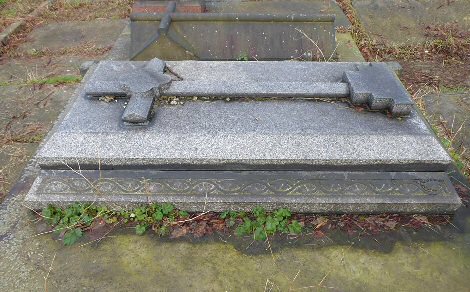 Broadhurst Family Vault in St Mary's [South]


Sir Edward Tootal Broadhurst, of Beechcroft, Sedgley Park - died February 1922 and is also in the family vault at St Mary's.


Woodhill-Beechcroft - The Holme


The Mather Family

William Mather, of Mather and Platt Salford Ironworks, then took residence. Mr Mather was an influential man, who entertained the likes of Thomas Edison and Sir Henry Campbell-Bannerman (M.P. & P.M.) at his Prestwich residence.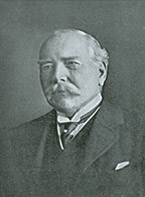 Sir William Mather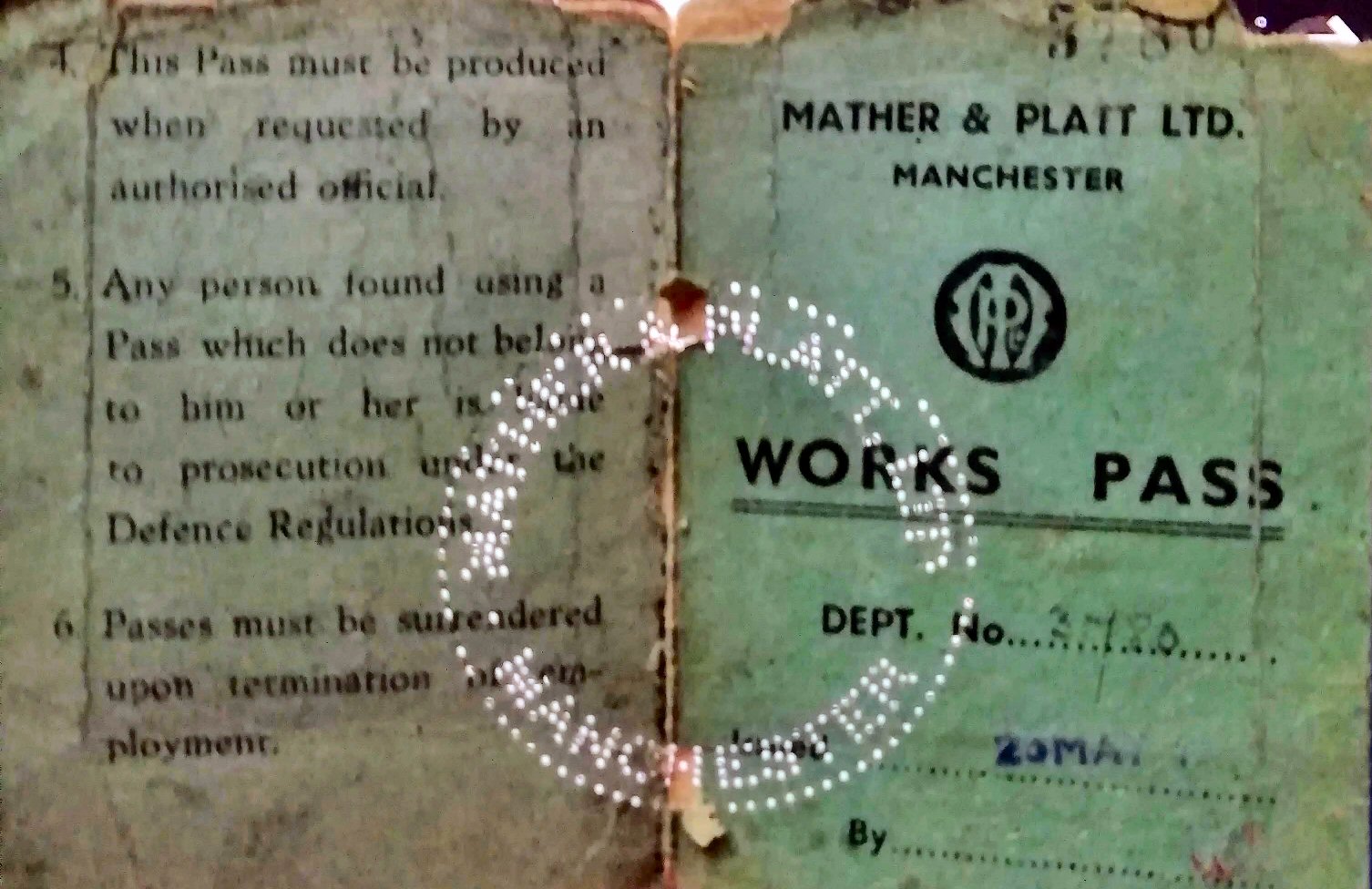 My Grandad's Mather & Platt Works Pass

William Mather, had been born 1838 to Wm and Amelia Mather. William senior, and his brother "Cast Iron" Colin had started a small business in 1836,It servicing the Salford textile bleaching industry with simple well-made rollers and equipment.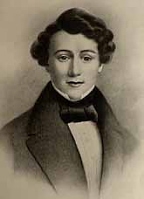 William Mather, Senior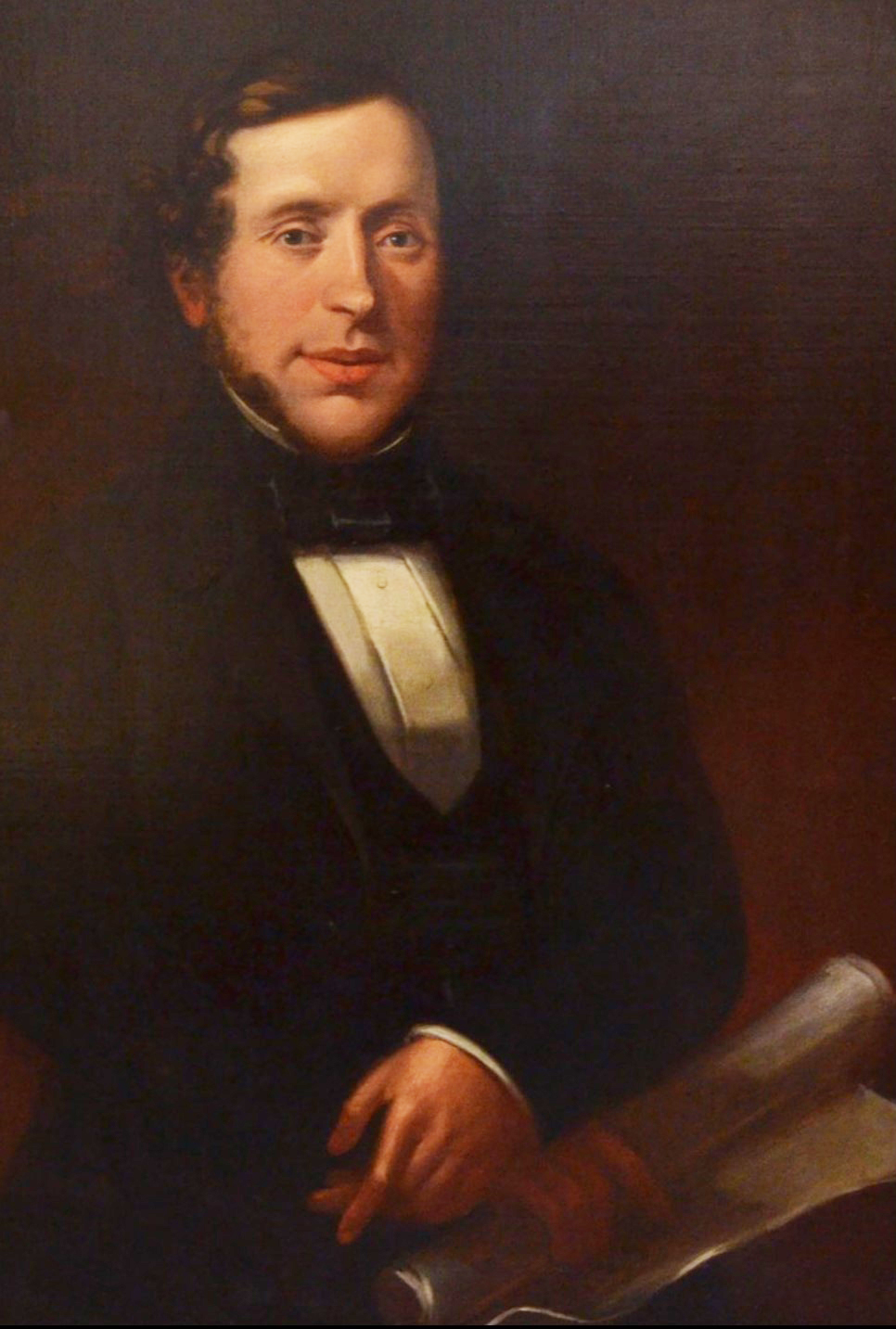 Cast Iron Colin

John Platt leased The Salford Iron Works from 1837 onwards, and the Mather and Platt partnership was established in 1845,and had exhibited a textile finishing machine and an eight coloured roller printer at the Great Exhibition of 1851. William become assistant manager of Mather and Platt Ltd. upon the death of his father in 1858. with Colin retiring shortly after 1863, and William Platt retiring in 1872, leaving William Mather in sole control. They went on to produce centrifugal pumps, in 1883 obtained sole right to produce automstic sprinklers, later working on submarine motors and elctricity generaton.



See this great site by Marcel Boschi covering the history of Mather & Platt Ltd.

Sir William was elected Liberal MP for Salford in 1885, and later for Gorton 1889-1895.

He is noted for the introduction of an 8 hour working day for his employees.

In 1891, their daughter Alice, aged 25, married a son of another prominent Prestwich Family , John Themistocles Petrocokino, 24, Merchant, son of Themistocles Petrocokino of Sedgley House.

The following information was kindly contributed by Marcel Boschi through his personal connection with Fontainebleau, and the sad event that took place there.

In 1893 a tragic accident took the life of their 3rd daughter, Grace Emma aged 17. This extract from the chapter of the book "The Right Honorable Sir William Mather" by Loris Emerson Mather, dedicated to Grace Emma Mather was written by Alice Mather, sister of Grace and Loris Emerson:

" These little books were sent far and wide as a greeting for New Year. Unfortunately, when Grace left us - we could not go ; but those books are treasured by many friends to-day in America, India, Ausralia, and in many places in Europe, forming a link with those happy days when life was no much more simple and no much fuller of portry and romance than it is to-day.

All the same, it must be admitted that findling a quotation for every Sunday was not always easy, and not infrequently there was a great run on the library bookshelves just before supper time !

Two great sorrows stand out in the lives of my dear parents, who had their fair share at troubles, like anyone else in the wirld, but these two were really tragedies for us all.

The first one was the sudden death of our sweet sister, Grace (their daughter), who died at Fontainebleau on june 11th, 1893, at the age of seventeen.

It was at her own wish that she went there to learn French and other things, with some other English girls, at home of three French ladies, the Mesdemoiselles Ferber.

She was very happy there, and besides pursuing their studies she and other girls made many delightfull excursions to place of beauty and historical interest. Grace was very happy there, a great favourite, her sunny nature endearing her to all.

She loved the beautiful forest, and she also took great delight in the garden belonging in the house ; but, alas ! it was due to this garden, so it was thought, that she contracted diphteria (of which she died, having been ill only forty-eight hours) when she went to get water from an old pump or well, in order to water some lovely Angel (Madonna) lilies, which were just coming into bloom, like herself.

My parents were summoned, though not urgently. However, they left at once, only to arrive too late and to find their darling had passed away, which the lilies strewn arround her.

On the Sunday evening, though her throat pained here, she was talking cheerfully with her favourite Melle. Ferber, when she aked for the case containing all our photographs, and had it placed upon the bed ; then, while laughing and talking, she ask Melle. to unfasten the band round her neck, and while she did so she fell back in her arms and passed away with only a sigh.

It was the first break in our very united family, and a crashing blow to our dear parents and to us all. It made especially on my sister Florence, next in age to Grace, as they were the closest of companions.

Grace was always unselfish, joyous, and full of mirth, she would always have shed happiness on others had she remained on earth, but with her great powers of enjoyment and love of beauty she would also have felt sorrows deeply, and this she has been spared.

Her name was Grace Emma Mather, the initials being G.E.M., by which she was often called, and no name could have been more fitting, for that is what also she-a "gem"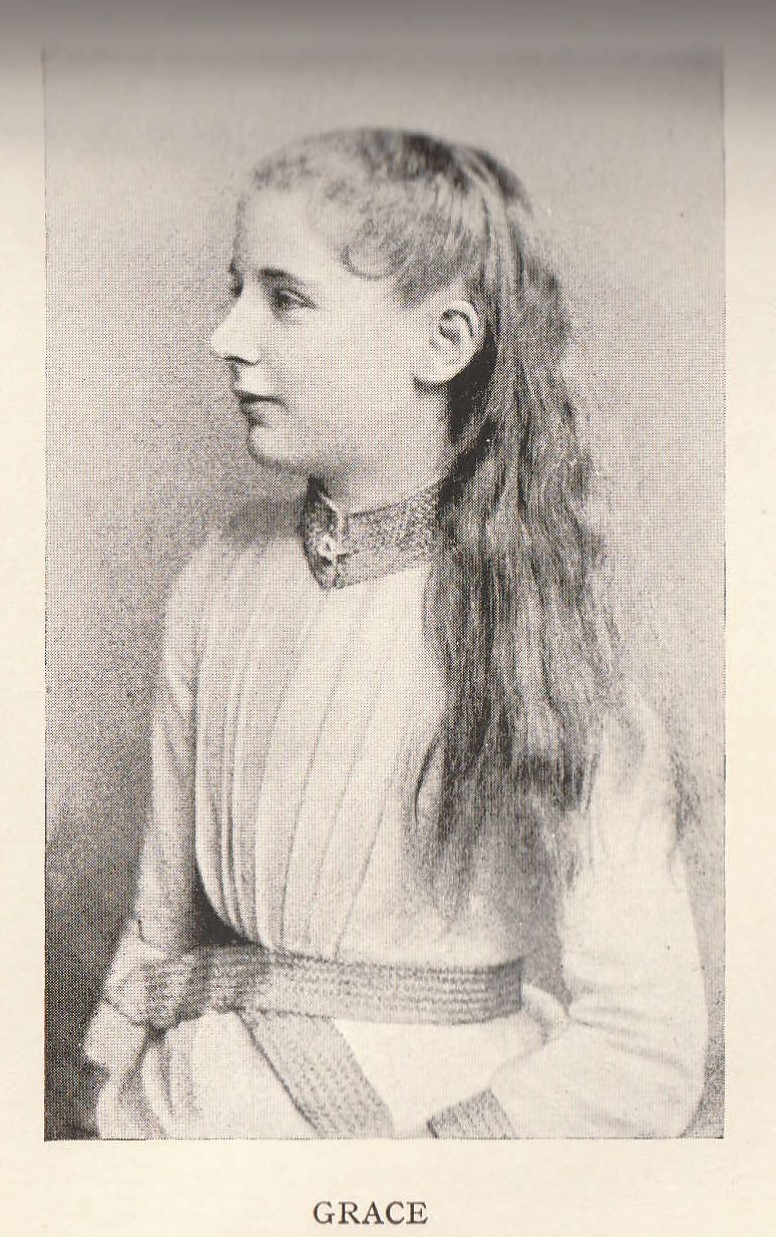 Grace Emma Mather


Grace's grave stone has a poem placed on the four sides of its plinth

"The light of her young life went down
As smiles behind the hill
The glory of a setting star,
Clear, suddenly, and still."

'Hold her 0 father-
And let her hence-
A messenger of love between
Our human hearts and Thee.'

'And half we deemed she needed not-
Changing of her sphere.
To give to Heaven a Shining One
Who walked an Angel here.'

'Still let her mild rebuking stand
Between us and the wrong,
And her dear memory serve to make
Our faith in goodness strong.'


In 1899 a second horse riding accident befell the family, eldest son William Ernest was riding his horse near Middleton Road when it bolted. As the horse tried to take a corner, it slipped on the stone pavement beneath it's hooves and fell, throwing William. He suffered a broken collar bone and a bleeding scalp, but managed to walk into a cab and reach a doctor. However after returning home, he died some hours later from a fractured skull.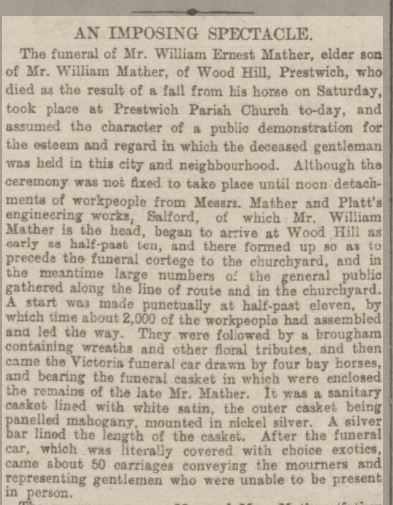 WE Mather Funeral

Upon the family grave stone is written this for William Ernest:

'There should not be a shadow of gloom in naught that reminds us of thee.'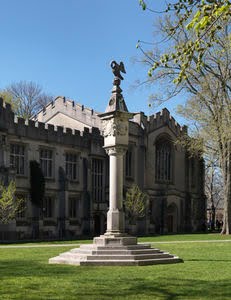 Mather Sundial

Sir William was knighted in 1902 for his re-organisation of the War Office during the Boer War. He was also on the Council of Manchester University, donated a sundial to the University of Princeton in 1907, made a member of the Privy Council (1910) and laid the foundation stone of Our Lady of Grace Chapel and School, which opened in 1931.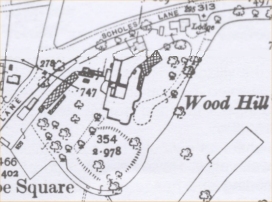 Woodhill, 1915 showing considerable greenhousing

After his death in 1920, Sir William was buried in St. Mary's graveyard on the same plot as their 2nd son William Ernest, along side the grave of their 3rd daughter (Grace Emma). Williams wife, Emma, died almost one year after William.
Slightly to the rear and to the side of Grace lies a sloping headstone, with a polished granite plaque, inscribed: In Loving Memory of Colin Mather born 4th Sept. 1853 died 24th March 1933. Also of Louisa Spear, his wife, born 20th June 1854, died 5th April 1933. Also Roy Crago Mather born 16th September 1885 died 20th August 1965. Also his wife, Margaret Isabel, died 7th October 1976.
This Colin was the cousin of Sir William, and also worked at the Salford Iron Works, and lived at Wrenwood on Hilton Lane. His son, Roy Mather went on to be director of Mather & Platts in 1942, manager-Engineer in Chief of the General Machinery Department in 1945, and retired in 1956.Read more here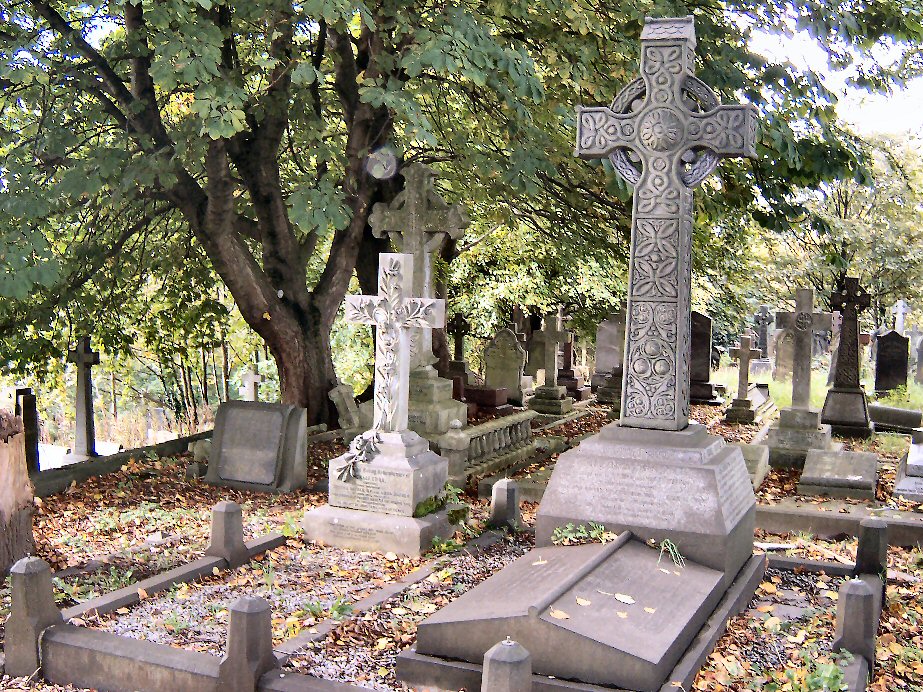 Mather Family Graves
[St Mary's NS1]
Wood Hill House went on to be used by the North Manchester Tennis Club and Madge Watson School of Dancing.


Click here to see a photo of Woodhill from Bury New Road [Courtesy of Manchester Libraries, Information and Archives, Manchester City Council]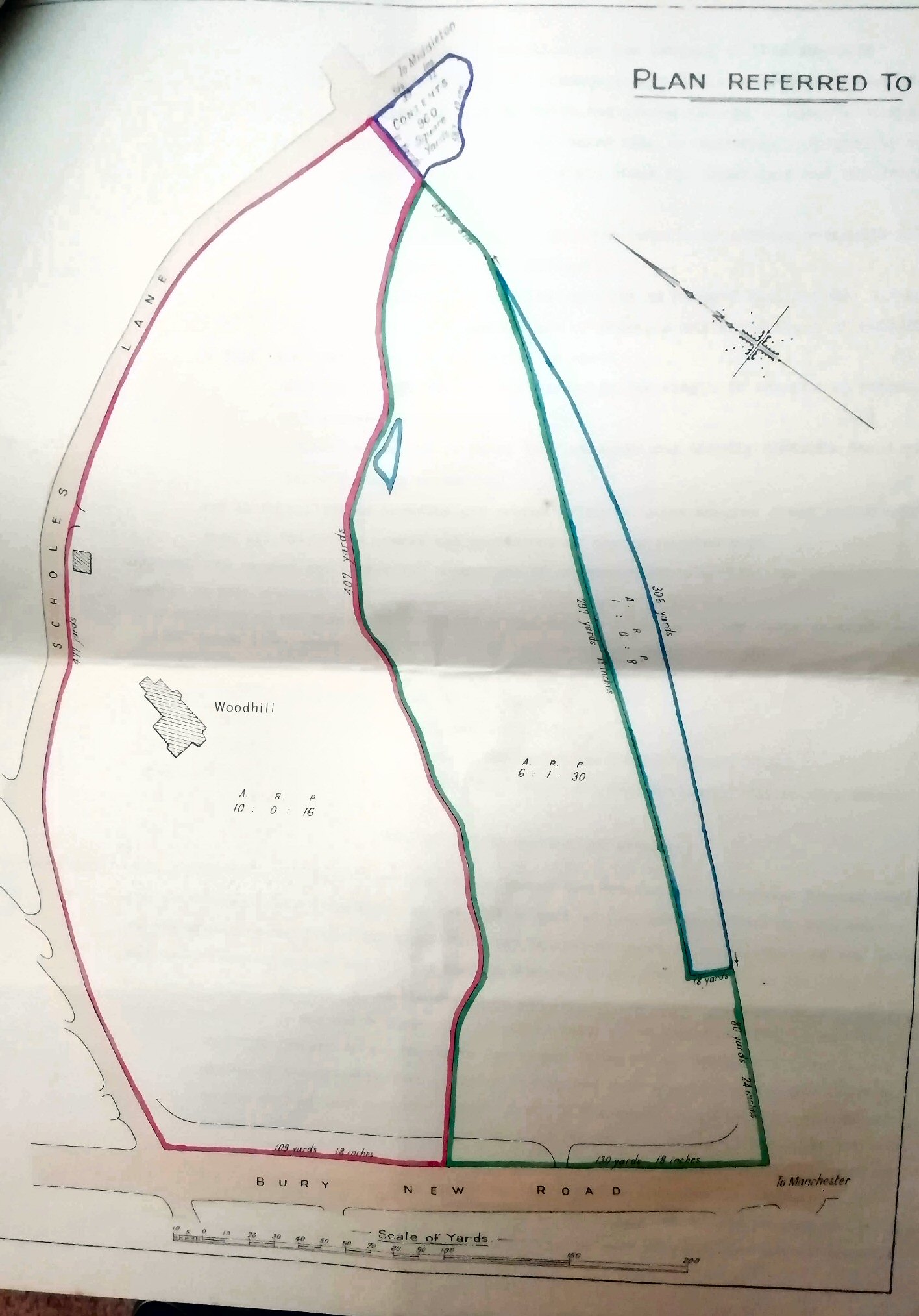 The land around the hall was surveyed in the late 1920's (note the entrances to the cottages at Hope Square to the left of the map and the entrance to Ostrich lane at the top) - credit:Carole Worsley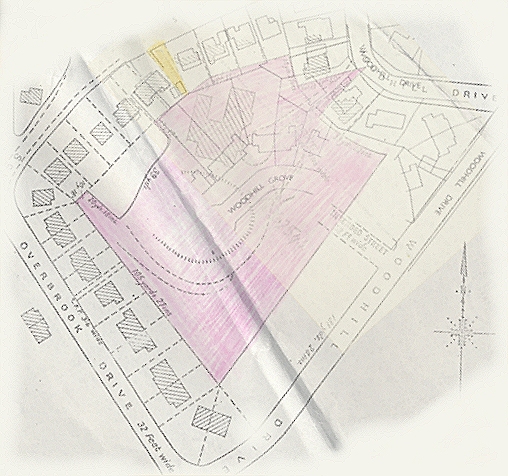 1935 - the final demise of the House. This shows some of the present day properties in relation to the House.


The land around was sold off for housing, with the exception of "Barley Croft" which was to the East of the estate and was sold to Mr McConnel of Bent Hill in 1865. The house itself was demolished in the late 1920's and the fields are now occupied by Overbrook Drive, Woodhill Grove/Drive and also Breeze Mount. [The builder and joiner assigned the development of the Woodhill estate lived in Breeze House, Kersall]