! side panel> <! side panel>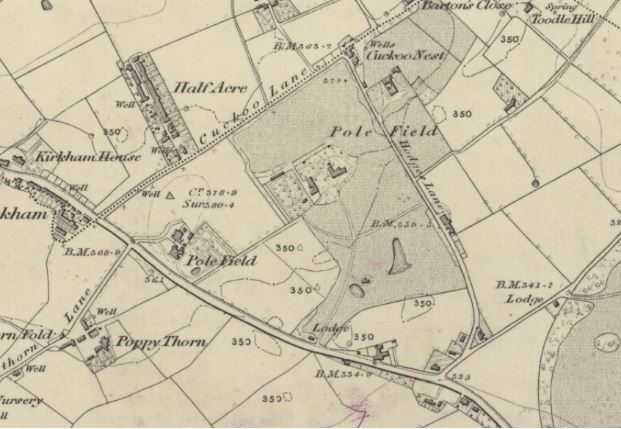 Polefield

many thanks to Martin Harper


and Alan Wentworth of P&WHS

Upon his death in 1561, Sir Robert Langley, Lord of the manor of Prestwich, conveyed to one of his four daughters, Dorothy, the land now known as the Polefield Estate. At the time of Its transfer it was in the occupation of Nicholas Eckersall. Polefield was one large field, with foot and bridle paths running across It in different directions. Dorothy was the wife of James Assheton, of Chadderton, who was patron for two of the Rectors of St Mary, William Langley (1569) and John Langley (1611). Subsequently, Polefield was divided into three parts.

The first part, named as Polefield House (In front of which stood the pole/beacon used for important communications), the entrance to this stood opposite Poppythorn Lane on the present day Bury Old Road.

The second, Polefield Hall, which sat behind Polefield House and was originally accessed from Hodge Lane (present day Polefield Road), later accessed by a lodge at the junction of Heywood Rd and Bury Old Rd. The site is covered today by the North East edge of Polefield Circle.

The third was simply called Polefield (but also known as the Pippin Tree Estate), this sat at the top of Hodge Lane, near the junction with Cuckoo Lane.

[The current road layout of the housing estates in the Polefield area today honours the line of Hodge lane, running Southeast to Northwest]

[ 1775... Sarah Stringfellow (dau of James Stringfellow of Whitefield) married Richard Scholes of Polefield)]

The visitation of the Bishop of Chester in 1778 recorded James Starky Esquire as living at Polefield. Mr Starky was listed as being churchwarden of St Mary's between 1759 & 1761. James Starky was buried prominently inside the South porch entrance to St Mary's in 1779, which was the main entrance to the church until 1805, meaning parishioners would have crossed his grave every week. IN 1780 his executors sold polefield to the Egerton Family of Heaton Hall.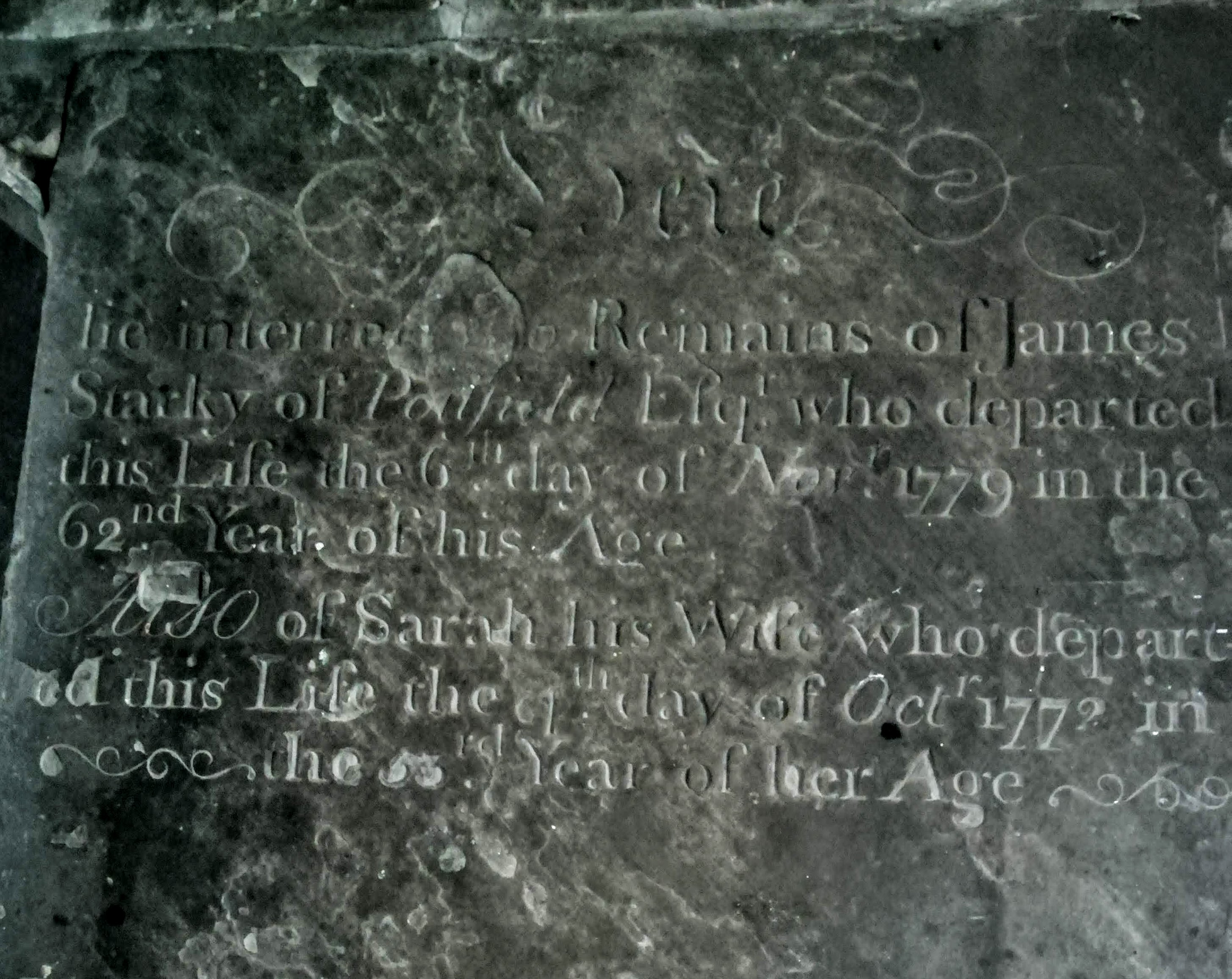 Polefield House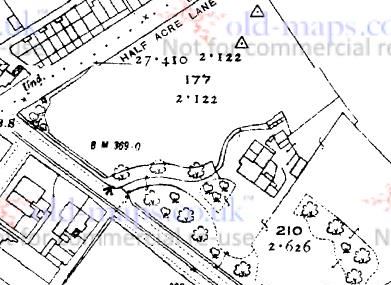 Polefield House


The Wilson family had long been residents of the Glebelands,Poppythorn and Polefield House areas of Prestwich, they had taken the position of churchwarden on five occasions between 1646 and 1725, and were classed as "yeoman". Back in 1666 the hearth tax had recorded that James Wilson had a house of 7 hearths, and a later descendant turned out to be Clive of India (see Clifton) when in the 18th Century Nathaniel Gaskell married Rebecca, daughter of James Wilson of Poppythorn and land owner of Polefield.

Rebbecca Gaskell, daughter of Nathaniel Gaskel and Sarah Wilson, was the mother of Major General Robert Clive, a.k.a. Lord Robert Clive of India. Rebecca's sister married Daniel Bayley of Hope Hall, Manchester, who was the deputy lieutenant of Lancashire.


Robert Clive, the man whose achievements laid the foundation for the whole British Raj, and who is implicated in the Bengal Famine of 1770, was one of thirteen children, and had been sent by his father Richard Clive M.P., to live with his aunt & uncle Elizabeth and Daniel Bayley, in 1728 (when he was just aged 3).

During his 7 years that he spent in Manchester, it is said that Robert Clive would have visited his grandfather Nathaniel Gaskell at Clifton Hall, and also further relatives at Brick Farmhouse in Whitefield.

The Grade II listed Brick Farmhouse on Griffe Lane in Whitefield, has a dated inscription showing that it was once owned by Robert Clives 1st Cousin three times removed (the son of his great great grandfather's brother).

Adam
Gafkell
Octob
21
1681

Clive is also claimed to have attended Stand Grammar School, his route taking him over the Irwell at Bradley Ford.

See inside Brick farmhouse...it came up for sale in 2018


In 1842 the uppermost of the three storeys of their house in Poppythorn, fell down killing one person. When the rubbish was cleared away a beam was revealed on which was carved the date 1552. A window in one of the lower rooms contained stained glass, part of which bore the arms of the Clothworkers Company and the Initials J.W.M. with the date 1658. This related to James Wilson, who, In 1655 married Mary Smith, daughter of a merchant of St. Giles, Cripplegate, London. James Wilson was a clothier and his marriage to Mary brought James a fortune of £500, and in the 1666 hearth tax he was recorded as having 7 hearths (3 less than the Rector) However…... their son and heir William Wilson became bankrupt in 1692. His mother was a creditor for £877 and William at that time owned the three Pole Fields. In 1701, James Wilson, Gentleman, leased the Poppythorn Estate from the Rector of Prestwich (William Assheton) so It seems that his fortunes must have recovered. William Wilson of Poppythorn died December 5th, 1730 and James Wilson of Poppythorn died 1748. The members of the family are Interred beneath the pews In the Lever Chapel at St Mary's.

Polefield House later passed by purchase to the Lancashires. John Lancashire of Polefield was churchwarden of St Mary's in in 1769 & 1815, and he later bequeathed Polefield House to his cousin, George Scholes, also of Bent House and High bank in about 1830.

[Lands in Heaton Fallowfield, formerly owned by the Gaskell familiy were bought from James Lancashire in 1773]

[1841 only shows a Thomas Oakes , gardener resident. 1861 census showed Benjamin Heap, merchant, with his family and servants living at Polefield House.]

Between 1870 (when his wife died) and 1912 (his own death) Polefield House was occupied by Alderman Benjamin Carver J.P. , he was a cotton merchant who held the house under a lease of the trustees of Colonel Ridehalgh. The Colonel of the Westmoorland volunteers, had lived at Fellfoot on Windermere and had died in 1887 when jumping from a runaway hansom cab in Manchester.Benjamin was church warden of St Margaret's from 1885-1888 and topped off the extension to St Margaret's Church in 1899.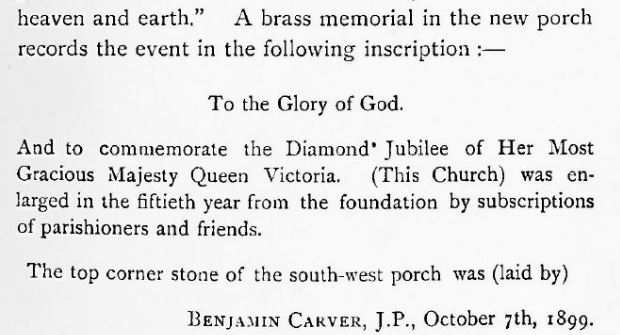 Benjamin went on to donate the land in front of St Margaret's Church in honour of Queen Victoria's Diamond Jubilee, he arranged to get the scrub land walled and planted and it was then opened in 1901 with a grand ceremony, including a band and procession, with Benjamin opening the gates with a golden key.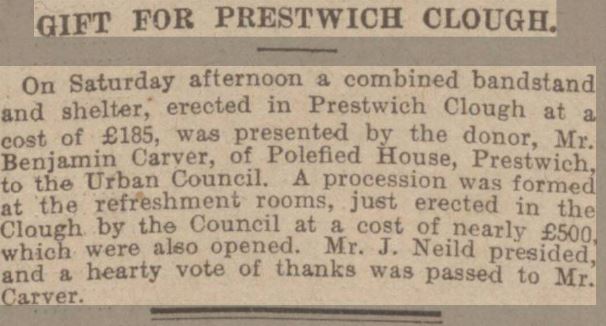 Benjamin Carver donated the bandstand in Prestwich Clough (1907)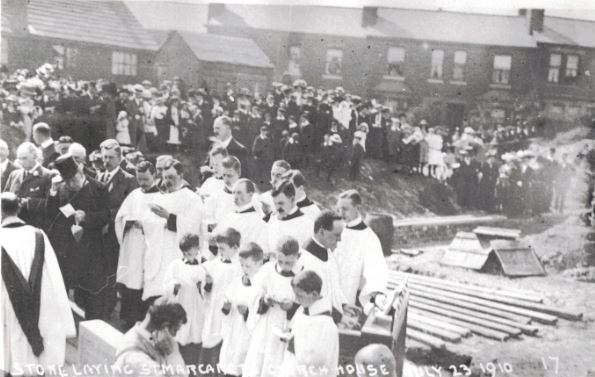 Benjamin Carver (top hat & trowel) laying the stone for St Margaret's Church House 1910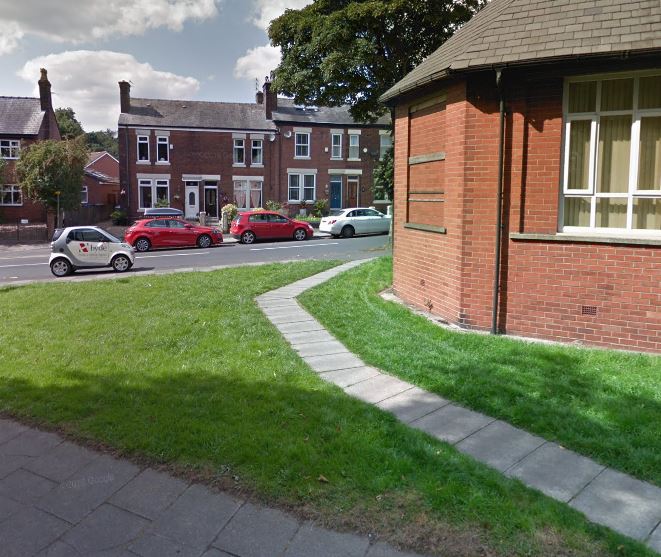 St Margaret's Church House today


In 1910 Benjamin added two treble bells to the peel at St Mary's. All of Benjamin's 6 children were born in Gibraltar, where he was President of the Chamber of commerce(1882-1885) and running part of the family business, Carver Brothers. This business stretched to Morocco, Egypt, America and imported Cotton into Lancashire. When he died in 1912 he was worth 16 million in today's money. He is buried in St Margaret's by the railings next to Carver Ave.

Benjamin is buried in the Old section of St Margaret's churchyard, and Polefield House was demolished some time after 1918.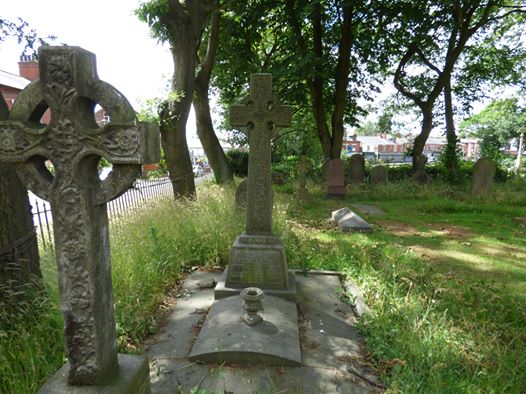 Benjamin Carver's tomb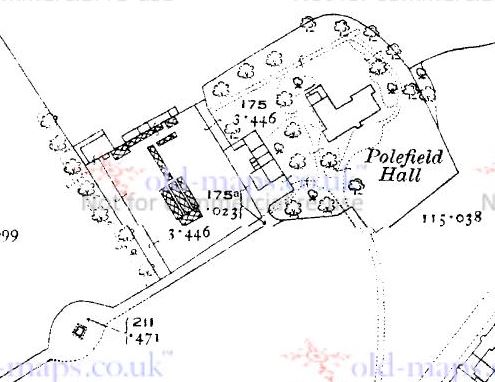 Polefield House through the ages
Polefield Hall


1830 records the passing of John Greenwood of Polefield, aged 60. Thomas had been churchwarden in 1834 and a local benefactor, donating the the annual Aged Men's Christmas Party. Thomas Greenwood was listed as a manufacturer in Prestwich when he took a position on the Grand Jury at New Baily, Manchester (alongside the likes of George Scholes). In 1838 Thomas Greenwood Esquire of Polefield attended a dinner for the Pilkington Operative Conservative Association at Stand, and was listed as a Hereditary Governor of the Royal Manchester Institution in 1839. The institution met at what is now Manchester Art Gallery, with the aim of raising the art and cultural image of Manchester.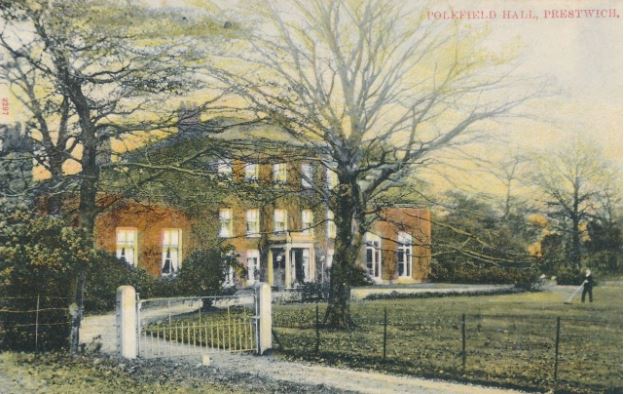 The census of 1841 showed Thomas as a merchant, resident at Polefield, with his wife Sarah, daughter Susannah and mother, Agnes. They also had 3 servants resident. Next door 2 more servants lived.The position of gardener indicate these properties constituted Polefield Hall shown above with considerable gardens. In 1843 Thomas was selling his livestock….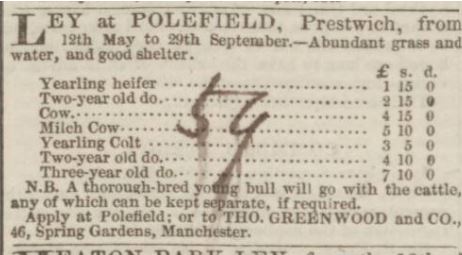 And by 1844 the house was being let.





The census of 1851 and 1861 shows a Frank Ashton, merchant and descendant of Frank Ashton circa1784, living at Polefield, with his wife Margaret, and also his sister in law Sarah Greenwood, indicating a connection with the previous residents.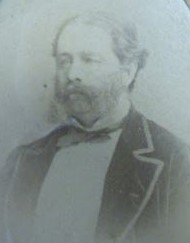 Frank Ashton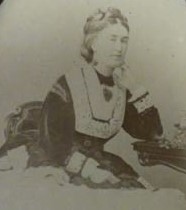 Margaret Ashton

Frank, born in Prestwich 1820, had first married Susan Greenwood, a daughter of John Greenwood of Polefield in 1845, thus he took residence of Polefield Hall.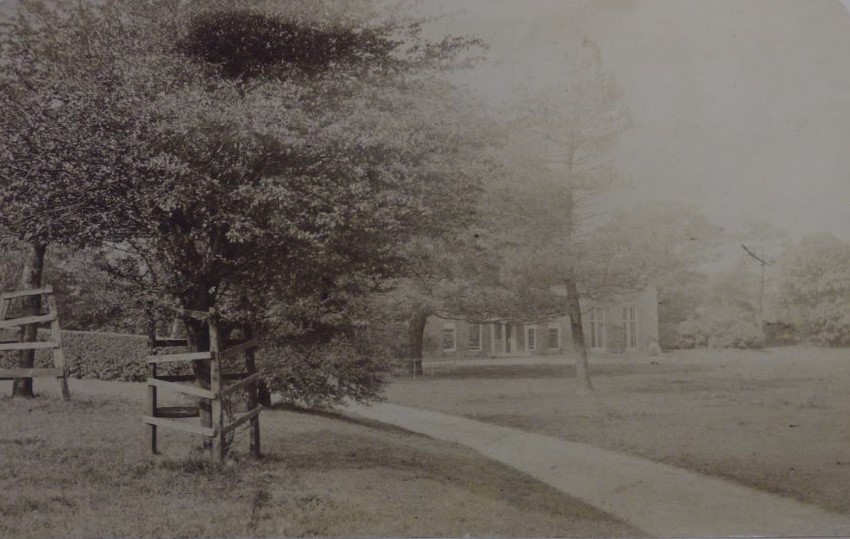 The approach to Polefield Hall ~1850s

[in 1840 Hannah Greenwood had married Thomas Scholes of Highbank]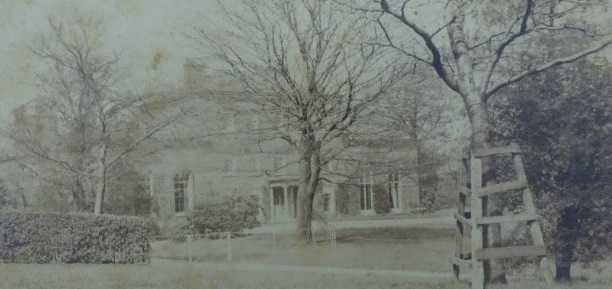 The approach to Polefield Hall ~1850s

Frank was a grandson of Thomas who died in 1787, and son of John Ashton of Barnfield, Prestwich.
[Samuel Ashton Esq. (magistrate) lived at Wood hill]
The Ashton family lived in Polefield Hall and leased Polefield House to a Yeoman family called Wilson.
The family business, Ashton & Co. had been operating as Samuel & Thomas Ashton up until 1862, with mills at Ramsbottom, Salford and Farnworth. The earliest records indicate the Ashton family had ships and traded as "Ashton & Hyde" to South America and throughout Europe as far back as the 1750's.

Frank was a Major in the 6th Lancashire Rifle volunteers, and went on to be Mayor of Salford 1851–1853.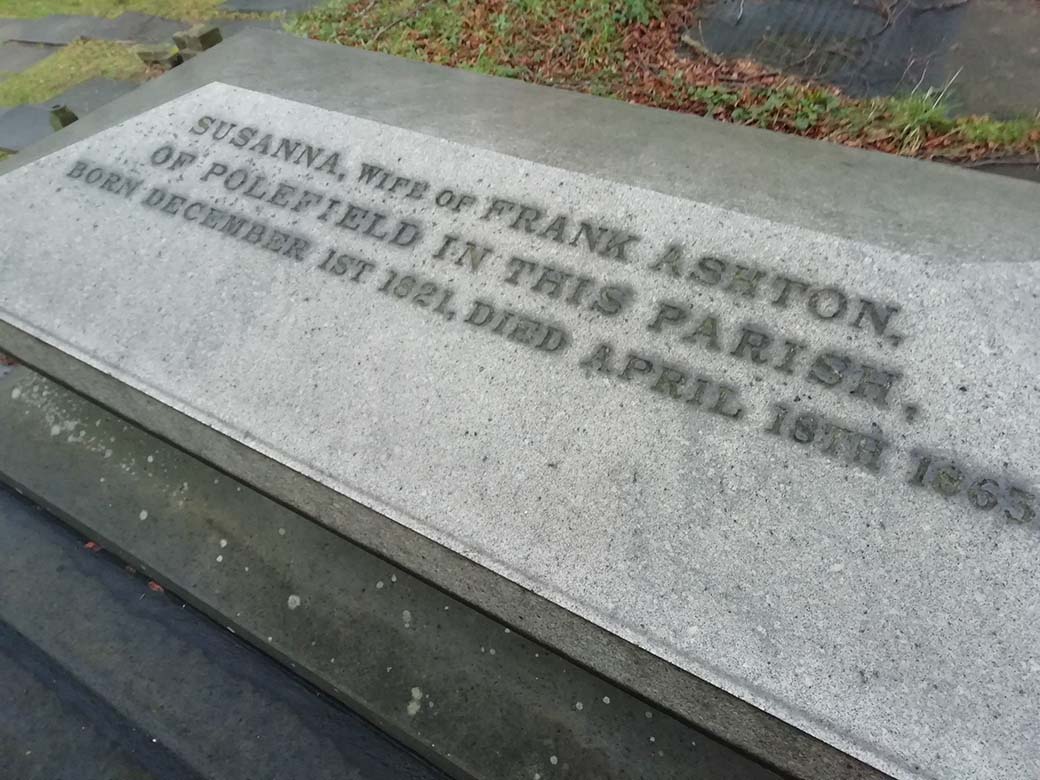 Susanna, wife of Frank Ashton of Polefield, died in 1863, and appears to be buried alone in St Mary's, Frank retired in 1864.

John Howarth Ashton, Merchant in the East India Co., Magistrate and Lieutenant in the Yeomanry, and cousin of Frank Ashton of Polefield Hall was in residence in 1871.

In 1874 Major Ashton made a gruesome discovery in a pond on his land….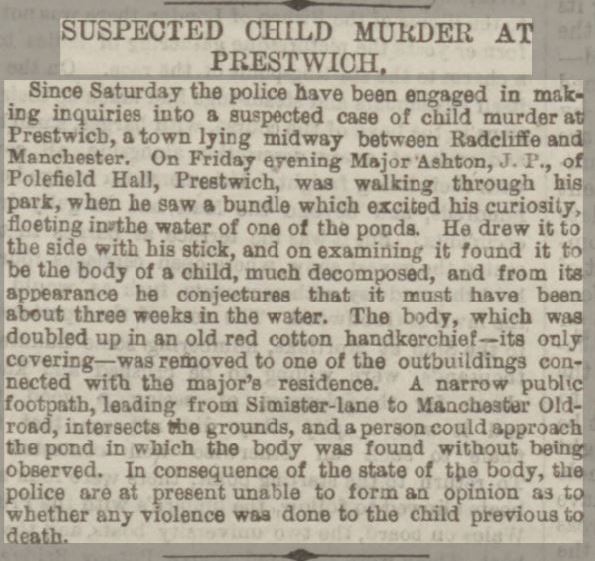 In the winter of 1878 a fine horse-chestnut tree "the finest tree of any sort near Manchester" that stood at the lodge entrance to the Hall, on Bury Old Road, was damaged beyond repair. This tree had even given its name to a residence in the 1841 census.





The trade directory of 1884 shows Frank Ashton Esq. of Polefield, Kirkhams, from the census returns we can conclude that he was in fact living at Polefield Hall.





Other census returns show:
1881 a barrister called Samuel Taylor was living at the Hall
1891 Ann Grant living on own means
1901 shows a retired mining engineer called Thomas Ashworth and his family plus seven servants living in Polefield Hall.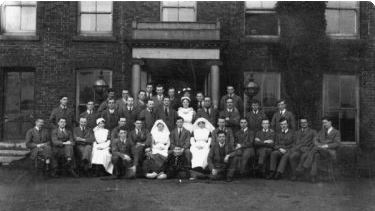 WW1 Hospital
The Hall was used as a military Hospital during WWI, with the Hon Mrs Vivienne Cawley, wife of Robert (2nd Lord) Cawley, Commandant Of The East Lancs Red Cross Hospitals and in charge of Polefield Hall, Langley House and Sedgley Hall during WW1.

The Hall was eventually demolished in the 1930s to make way for housing.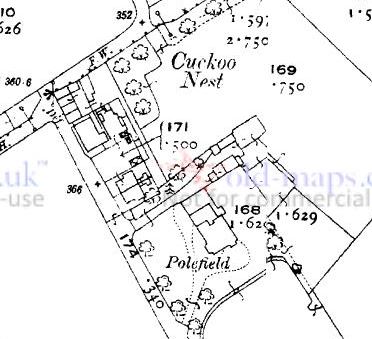 Polefield


In 1841, at Polefield, near Cuckoos nest, John Bowker Esquire, lived with his family and 3 servants in residence. [A further property contained one more servant Joseph Maycock, with his wife and child.]

In 1829 John had been award a medal from the Manchester Agricultural Society for draining 14 acres of land, and 1833 Mr Bowker appears to have stood up for two of his staff who were charged with stealing some guns in Stretford, by confirming they told him they found them in his field in Prestwich, they were released. In 1836 both the Bowker and Greenwood families are recorded attending a fancy dress ball.

John Bowker was also a benefactor of the National Schools, was listed as church warden in 1806, and in 1819 John, along with other local gentleman such as George Scholes and Rev Lyon, contributed to the building of a workhouse on Rainsough Brow- on the same site where previously some cottages had been utilised for the same purpose. In 1851 John is listed as a landowner, and the land he owned, the Pippin Tree Estate, now lies under the Heaton Park Reservoir.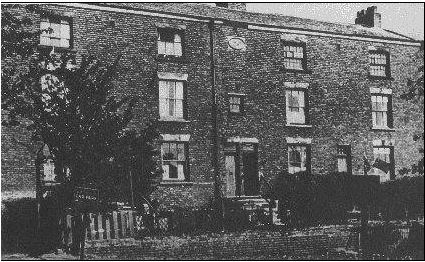 Further census entries show:
[1891James Mitchell Farmer. (listed as Polefield house)] [1901 &1911 showed Thomas Townsend, solicitor resident.]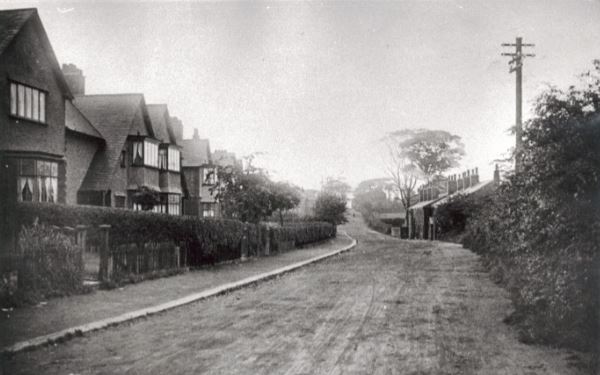 view up Hodge Lane towards Cuckoo Nest & Polefield in the distance ( prior to 1933)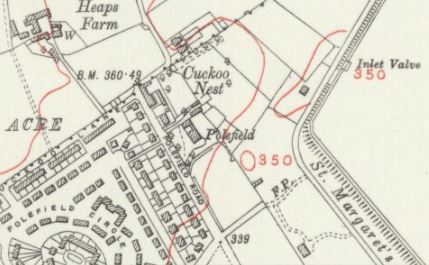 This Polefield was the last to remain standing, and was still recorded on the map of 1932.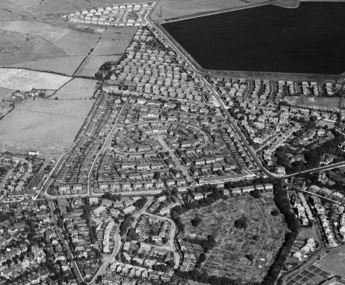 Polefield 1950's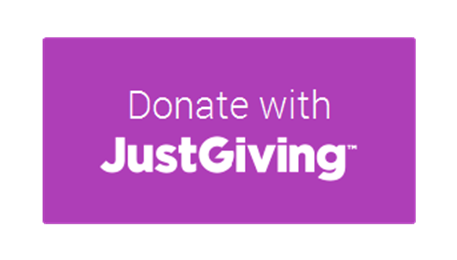 Donate to the upkeep of the St Mary's Churchyard




Your kind donation will go towards tools, or employing professional stone masons to reinstate stonework damaged by time, trees, animals or humans.