! side panel> <! side panel>
Prestwich Remembers


How Prestwich remembers the fallen of all sides in all conflicts.


For a list of Commonwealth War Graves at St Margaret's and St Mary's see

here.


For a list of WW2 family memorials at St Mary's see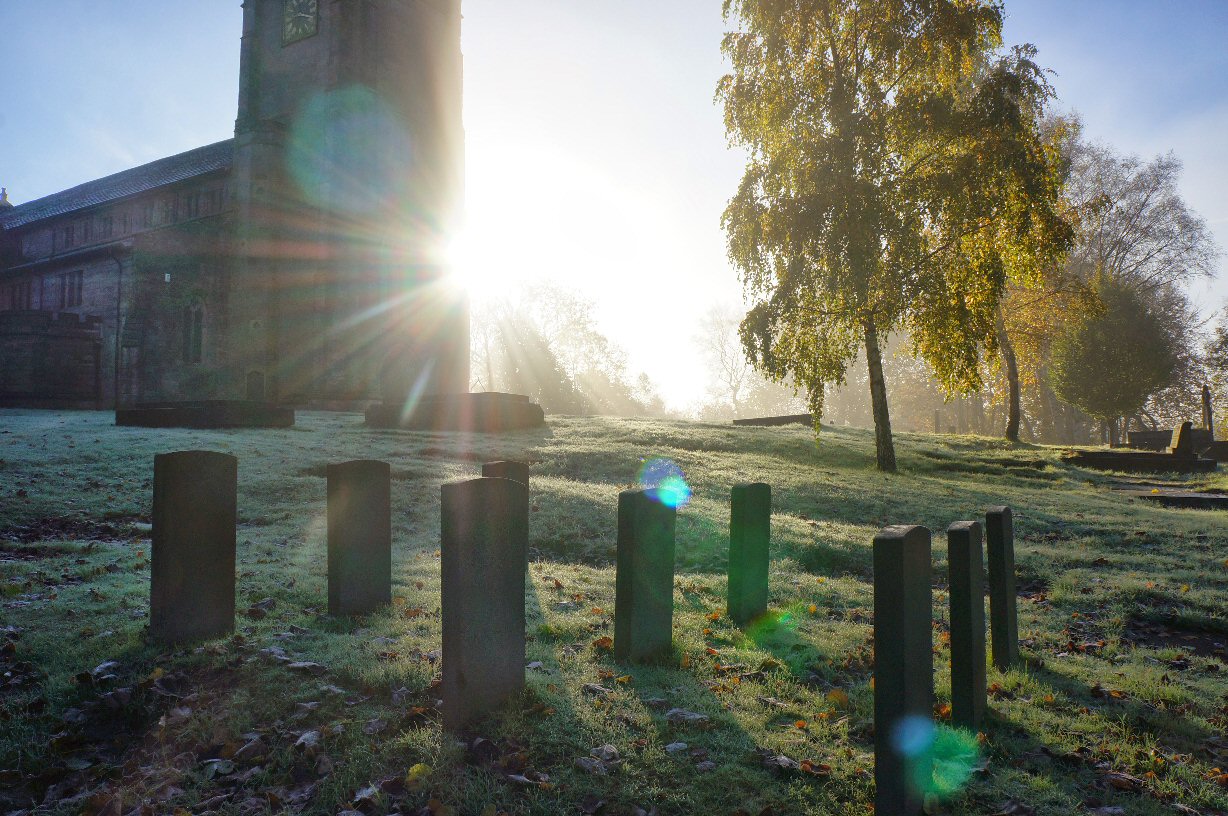 here.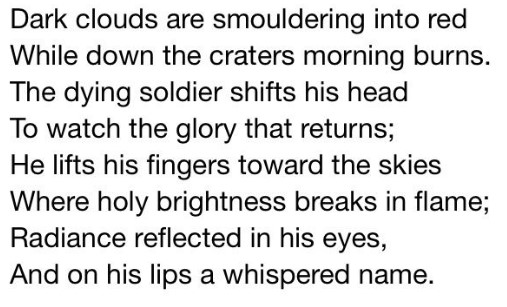 How to Die, by Seifreid Sassoon, 1918
The people of Prestwich have headed off to fight for their King, Queen or country for centuries. St Mary's grave yard contains a grave slab comemorating William Blenkinsop who was in the 10th Regt. of Foot for 36 years. He was born in 1790 and died in Prestwich in 1852. Another 19th century soldier, William Percival was born in Prestwich in 1792, and served in the 16th Light Dragoons in the Peninsula War, also fighting at the Battle of Waterloo. William died, in Prestwich in 1883 aged 92. Two other 19th century soldiers in St Mary's graveyard are Edwin Thorpe, who served in the 7th Dragoon Guards and died of fever during the Egyptian campagin in Egypt in 1883. Finally in 1899 John Gray was buried in St Mary's churchyard after serving as Brigade Sergeant Major in the Royal Artillery.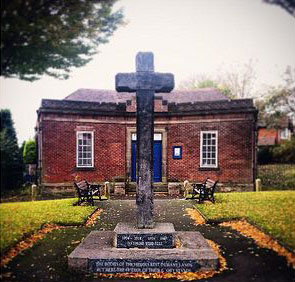 Memorial at PADOS
Prestwich has two war memorial crosses, the oldest cross is the one that now stands outside PADOS on Rectory Lane. This cross originally stood on Gardner Mount (know as Spion Kop after a battle in the Boer War) and is grade II listed. It is the only known remaining example of a temporary monument to the fallen of WW1. While communities around the country collected funds to build more permanent monuments, they erected wooden crossees, usually from timber or plywood, with the intention that they would be replaced by stone ones, such as the Croos of Sacrifice constructed at St Mary's Church.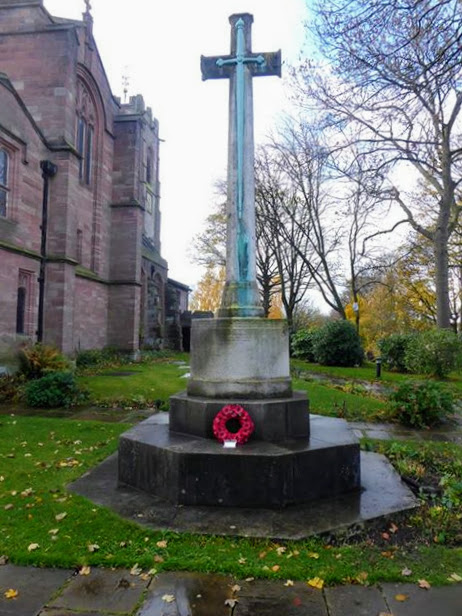 St Mary's War Memorial
The stone cross at St Mary's was erected as a 'memorial for all time to our brothers, who gave their lives for us in the sacred cause of justice and freedom.' The cross, of Portland stone on an octagonal base, was unveiled in 1921. It was designed by the architect, Isaac Taylor, as an exact replica of the memorial crosses designed by Sir David Bronifield for the British cemeteries in France.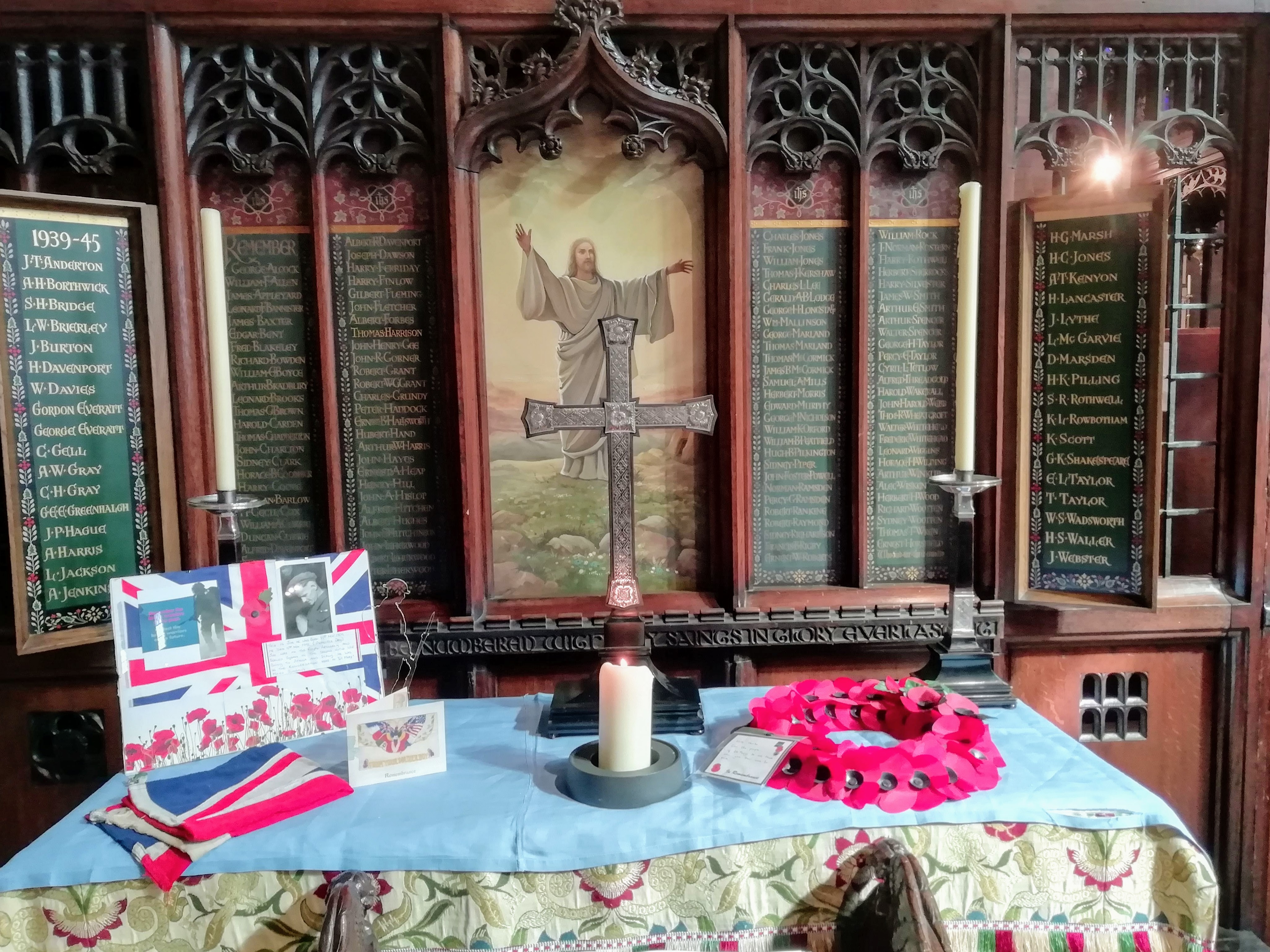 Wilton Chapel
In the same year, a war memorial screen was placed in the Wilton Chapel, the gift of the Mothers of the Fallen, with panels of names around a central image of the Risen Christ, painted by E.W. Tristram. This memorial now lists 108 fatalities from WWI and a further 33 from WW2.
The WWI memorial on the Walkden plot in the churchyard, is actually in commemoration of Leut.J Rostern who was killed in action 1918, and a window was placed in the church in his honour.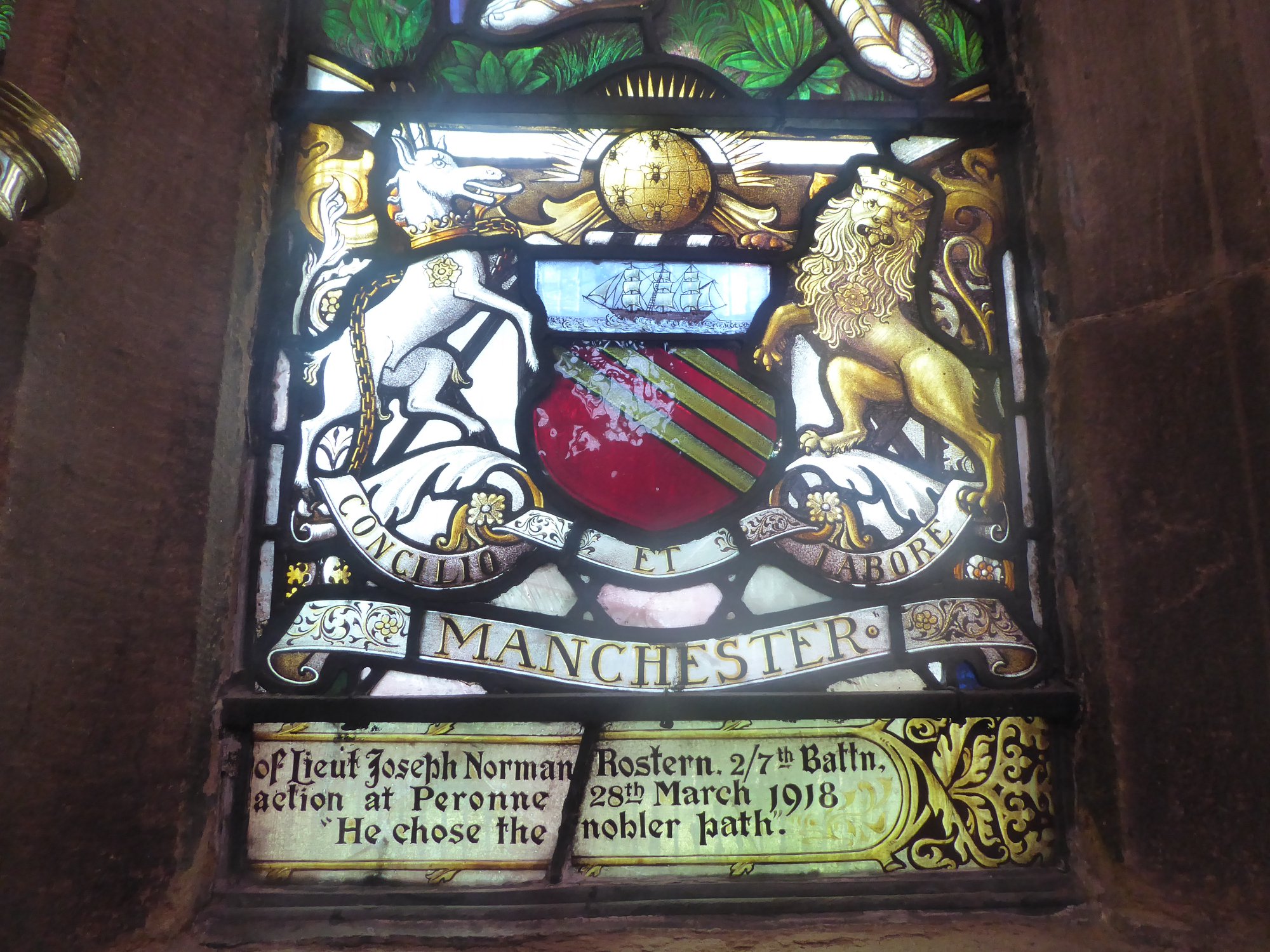 Rostern Window
Six of the bells were re-cast in 1919 as a Thanksgiving for Peace by the Walkden family. Though their family plot now includes memorials to losses in both World Wars.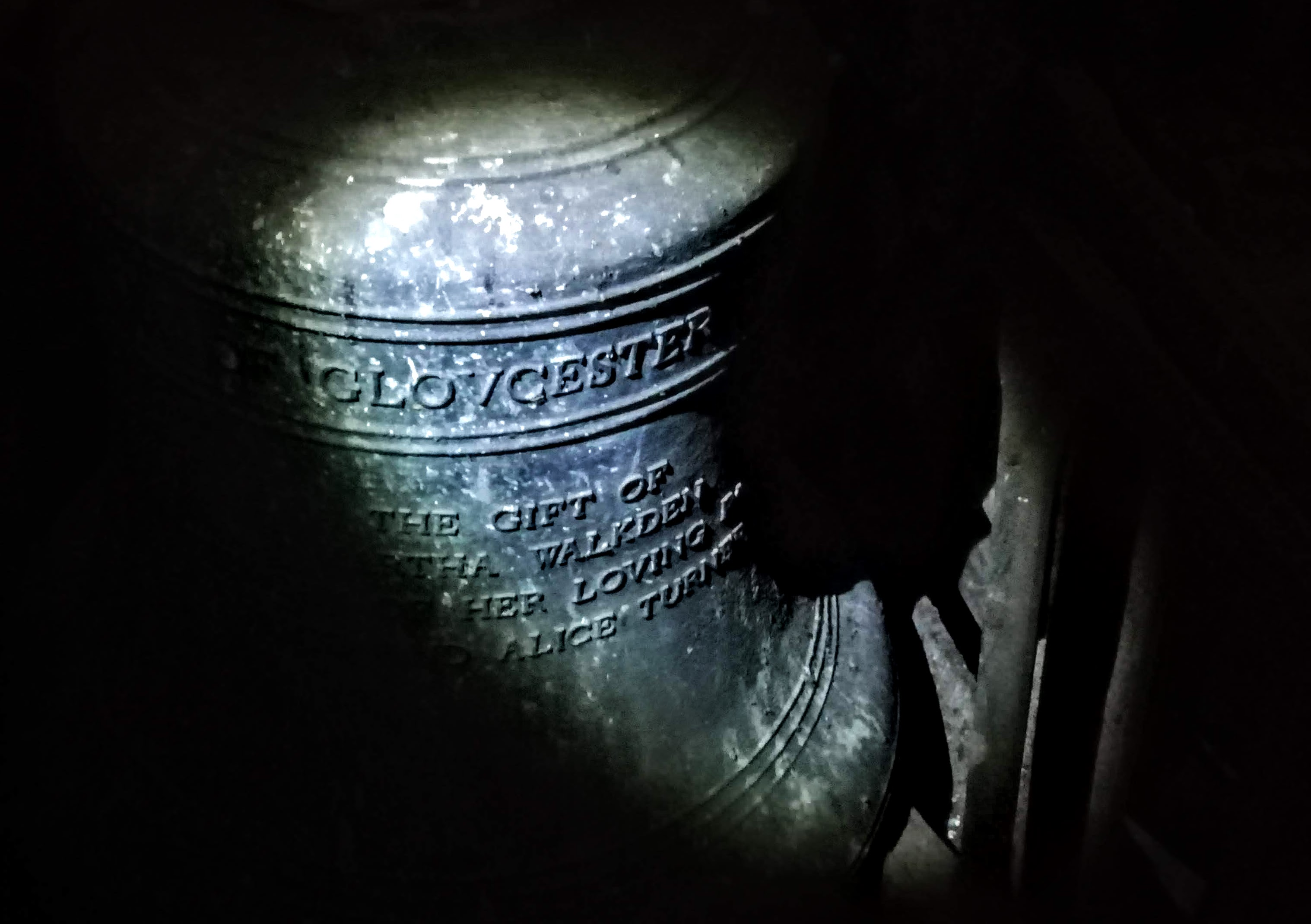 St Mary's Bells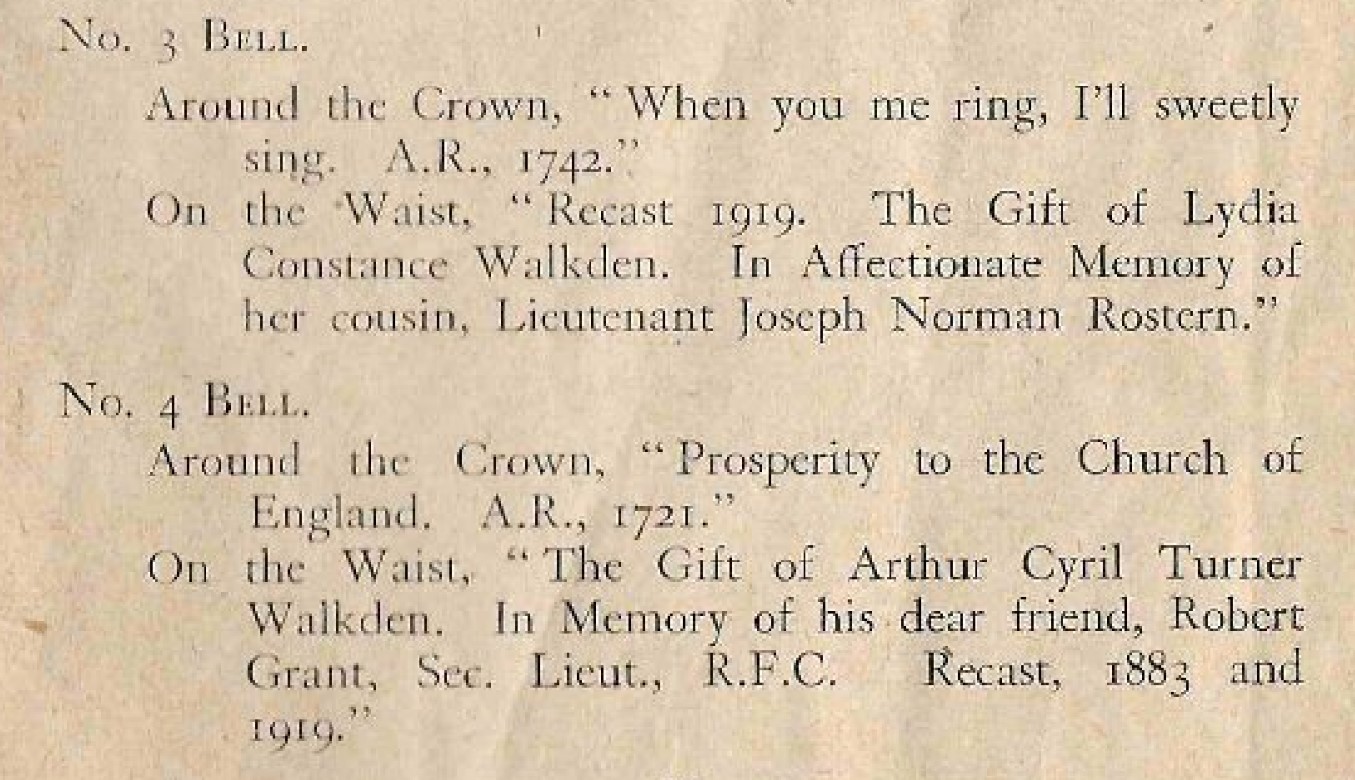 Walkden Bells 3 & 4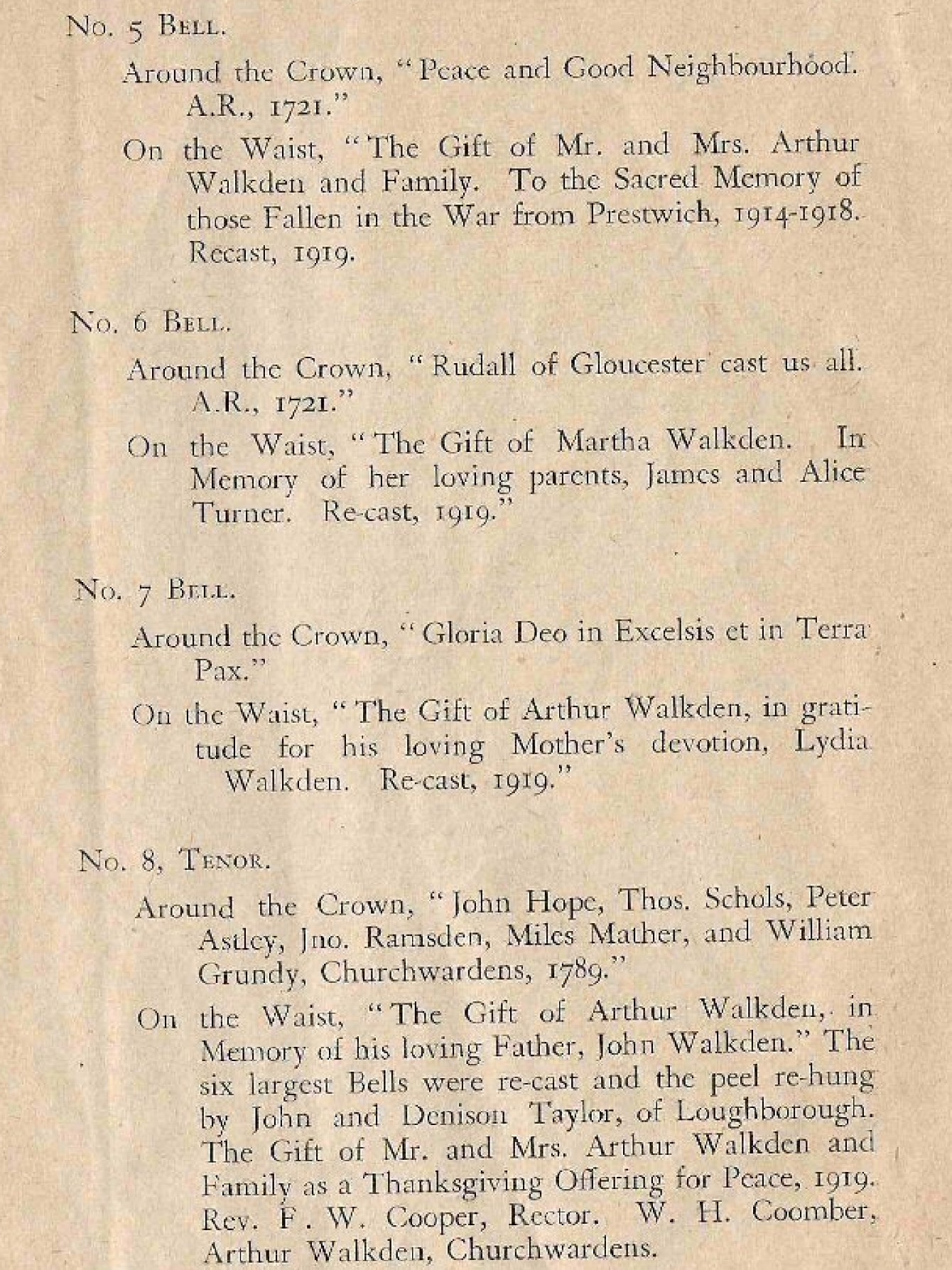 Walkden Bells 5 to 8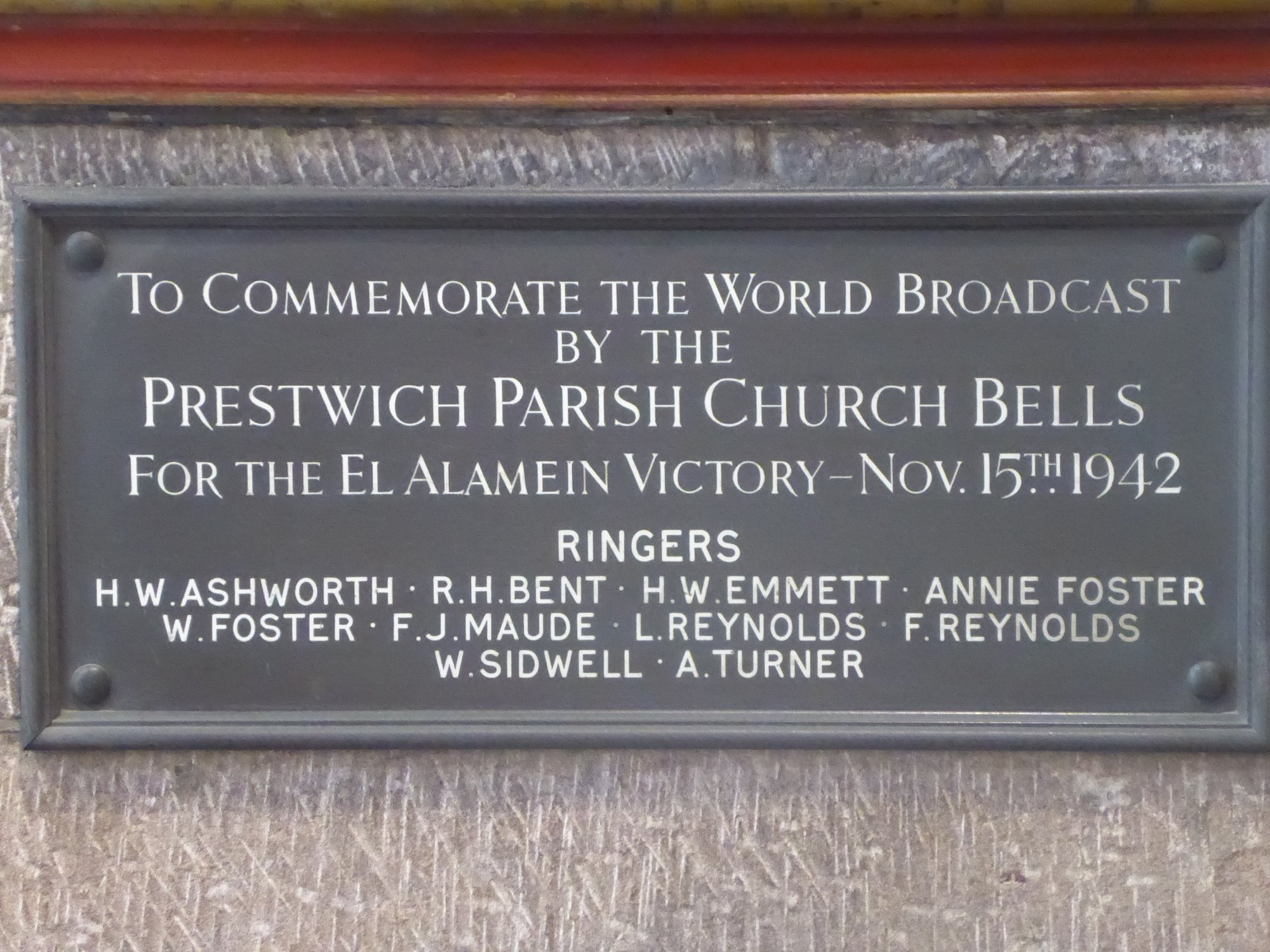 St Mary's Bells
A plaque in St Mary's records the event of the world-wide broadcasting by the BBC of the bells to mark the victory at El Alamein in 1942

St Mary's Graveyard itslef contains 48 Commonwealth War Grave Commission Graves of service people that died on service in the UK. 30 of these are soldiers who died during WWI or shortly after. There are a further 55 family graves that mention fallen soldiers from WWI and 12 from WW2. These 67 plots are for soldiers who are buried in other countries or have no known grave.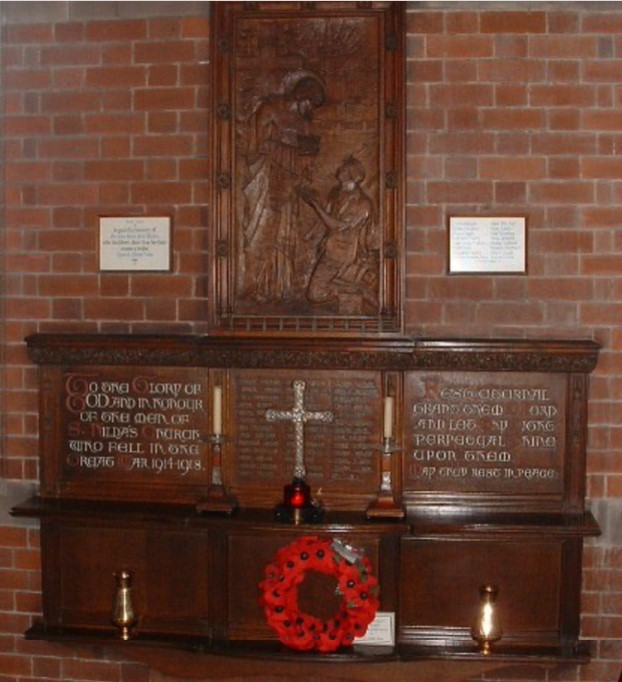 St Hilda's
A memorial plaque in St Hilda's Church and two glazed sheets list 38 WWI fatalities.

Joseph Holt, of the local brewery family who lived at Woodthorpe on Bury Old Road, joined the 2nd Volunteer Battalion of the Manchester Regiment in 1904 and qualified in musketry. After the re-organisation of 1907 which introduced the Territorial Force his unit became the 6th Battalion Manchester Regiment. He was promoted to Captain on 20th December 1911 and was killed in the Battle of Krithia. The oak chancel screen in Grade II listed St Margaret's , designed by Dan Gibson of Windermere and carved by Simpson of Kendal, was erected to Joseph's memory by his parents in 1920. This depicts a kneeling soldier – said to be based on Joseph Holt – and the flag of the 6th Manchester Battalion. [ The Holt family plot resides in ST Paul's churchyard on Kersal Moor]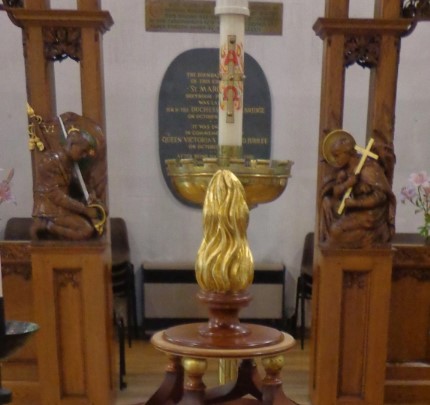 Capt. J Holt in St Margaret's
A further section of wooden panelling, also by Gibson & Simpson - who did most of the woodwork in the church of St Margaret's Church lists the names of 91 fallen sodliers from WW1, and further panels are in memory of Denham Walker, 2nd Leut. 56th East Lancs and the three Davenport sons lost 1915-1917.

St Margaret's graveyard itself contains 27 graves and memorials to fallen service personnel read more here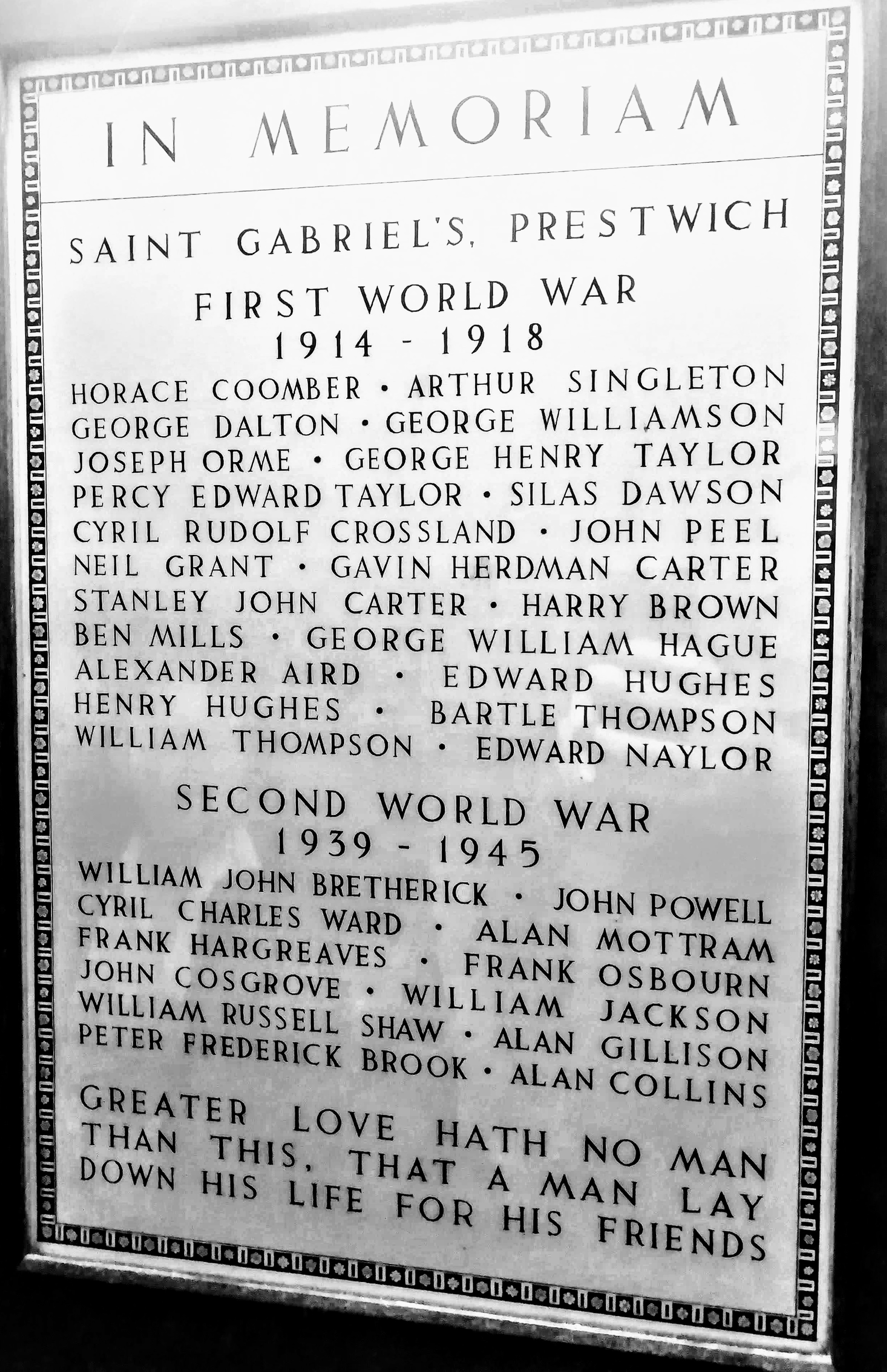 St Gabriel's Roll of Honour
A roll of Hour in St Gabriels, Sedgley Park, lists 31 fallen soldiers. there is also a window in the North West corner in honour of Major Frank Hargreaves.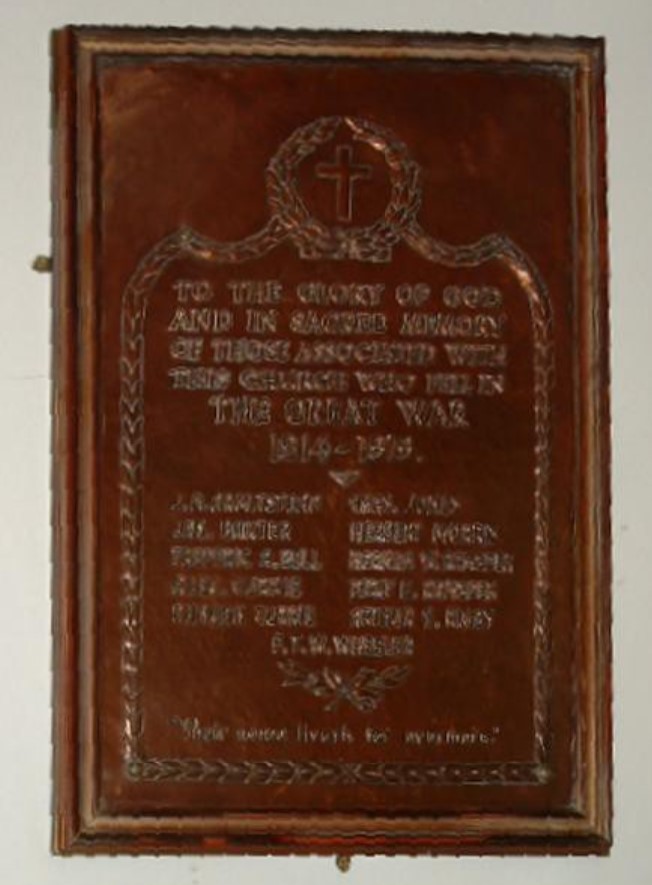 Methodist Plaque
A plaque in the Methodist Church on Bury New Road, lists 11 fallen soldiers from WWI.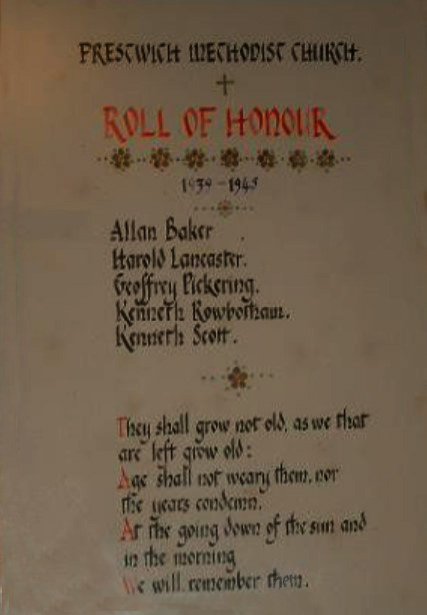 Methodist Plaque
A Roll of Honour in the Methodist Church on Bury New Road also lists 5 fallen soldiers from WWII.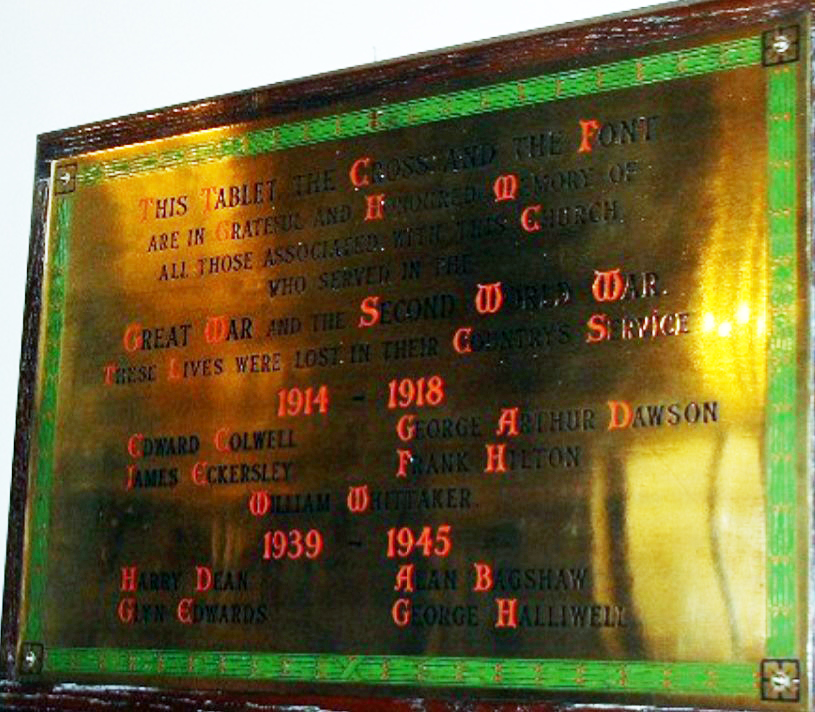 Methodist Plaque
A Brass plaque in Heaton Park Methodist Church lists 9 fallen soldiers from both World Wars.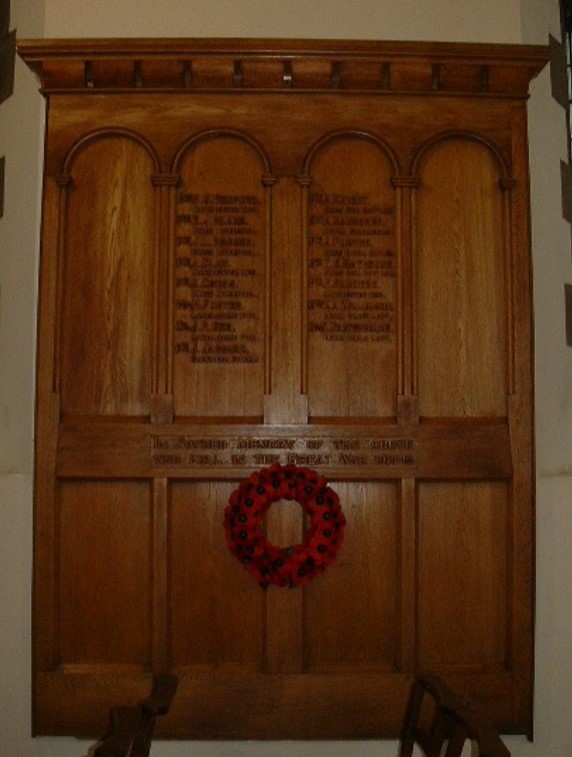 St George's Panelling
A wooden panel in St George's Church, Simister lists 15 fallen soldiers from both World Wars.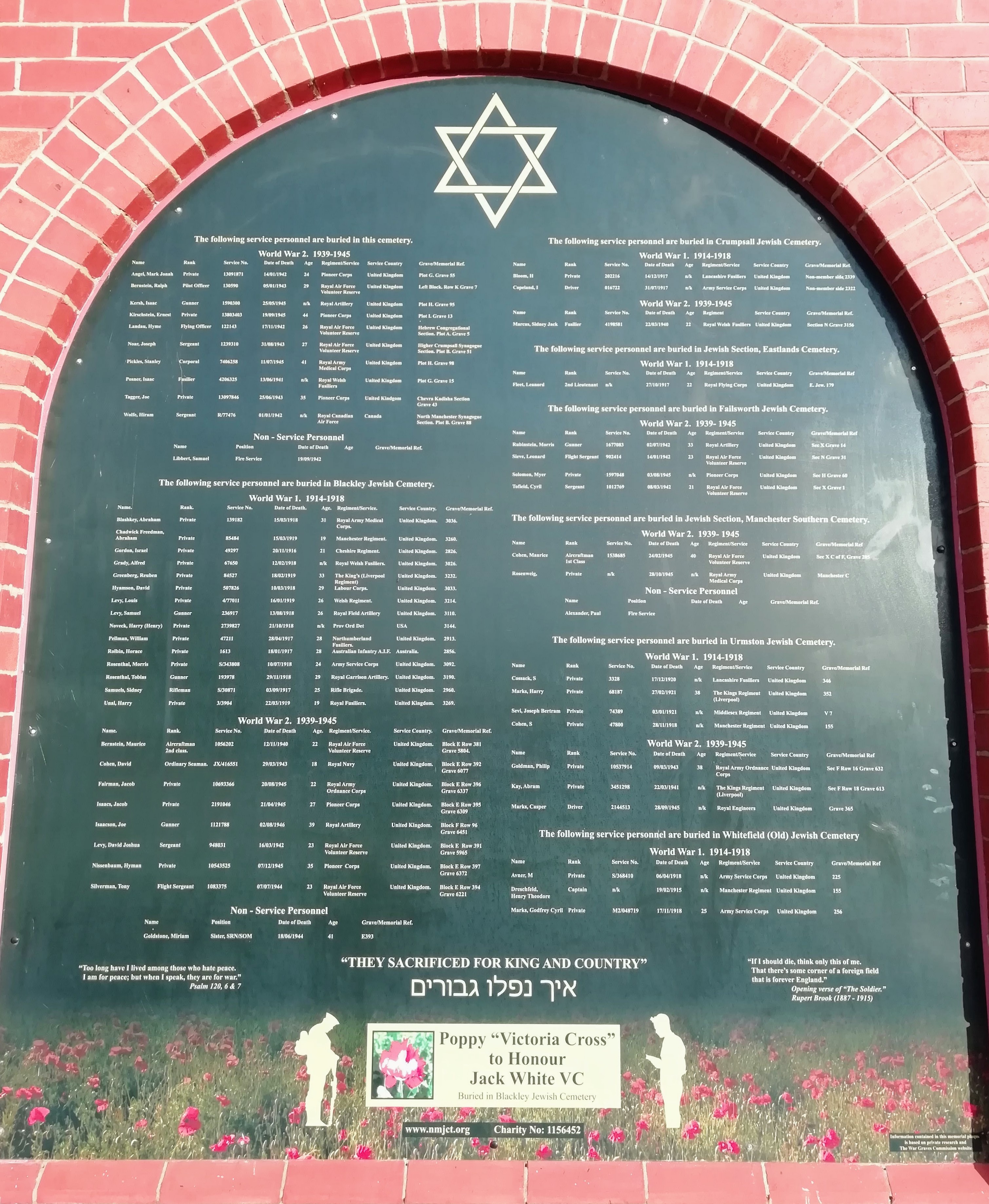 Rainsough Jewish Cemetery
The Jewish Graveyard on Butterstile Lane at Rainsough, contains a memorial to all the lost Jewish service personnel (WWI & WW2) from Greater Manchester, including 11 burials in the graveyard and a memorial to Jack White buried in Blakeley, who was awarded the Victoria Cross for saving an officers life and all his company's kit, when his pontoon came under heavy fire in the middle of a river crossing.

[It also lists 3 burials in Whitefield (old) Jewish Cemetery]

There is also a memorial (Eternal Flame) in the Hebrew Congregation Synagogue on Bury New Road, a Wooden board with 2 names on in the Holy Law South Broughton Congregation on Bury Old Rd, and a plaque to Sgt Pilot Arthur Marder killed in service, in Sierra Leone 1942 in the Higher Prestwich Hebrew Congregation on Bury Old Rd.


Memorials to the fallen also appeared in private clubs and work places. A metal panel in Prestwich Cricket & Tennis Club lists 17 fallen soldiers from both WW1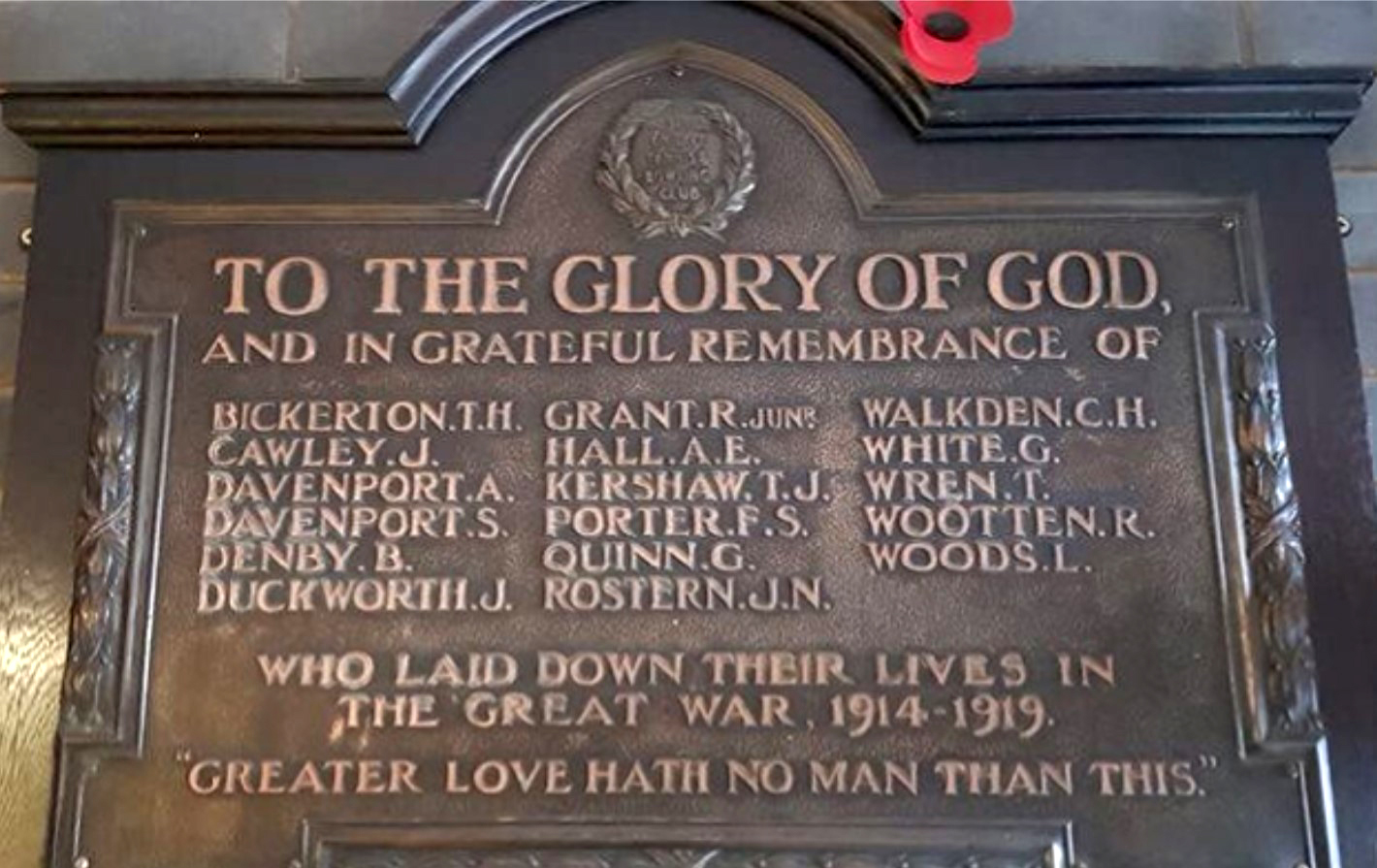 Cricket Club
There is also a memorial in Prestwich Golf Club. [photo required]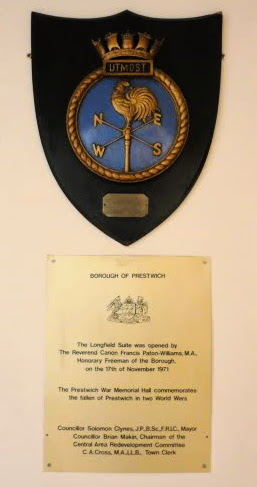 HMS Utmost (Memorial Hall)
The communities donations (including a football kit doanted by Sedgley Park Rugby) towards HMS Utmost (WWII Submarine) are also recorded on a plaque that used to be in Prestwich Memorial Hall (but was relocated to Bury alogn with the Jolly Roger from the sub). A further plaque to HMS Utmost is in the Remembrance Chapel in St Mary's Church.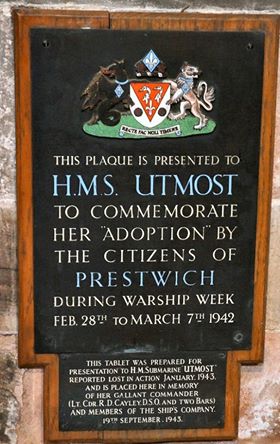 HMS Utmost (ST Mary's)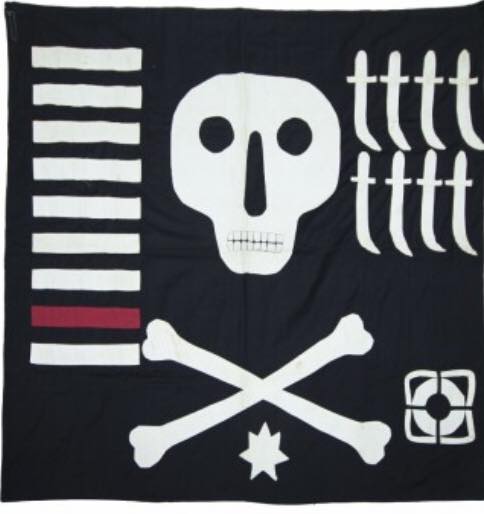 HMS Utmost Jolly Roger
5 panels that make up the Prestwich Roll of Honour in the Longfield Suite in Prestwich, listing 180 WW1, and 116 WW2 fallen Soldiers.



[Photo Album] Memorial Hall, Longfield
Read a leaflet on how Prestwich Remembers the fallen here.

Prestwich St Mary's Burials

Prestwich St Margaret's Burials

If you have any photos to contribute please use the contact menu on the right.