! side panel> <! side panel>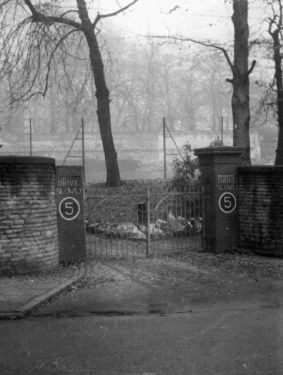 Sedgley Mount


The map of 1891 (above) shows how Sedgley Mount stood along Bury New Road in Sedgley Park, where the Jewish school is now. In the map of 1845 the area was still parkland belonging to the big house called Sedgley Park.


Richard Fort of Sedgley Hall sold his land in 1854.Leading to the building of several large residences...

Sedgley House
The How
The Holme
Brook House
Woodcliffe
Beechcroft

Sedgley New Hall

The census of 1861 shows Adam Faulkner, a merchant born Flixton, with his wife, two children and his mother in law. Adam, his wife and their eldest son had all died before the decade was out, and in 1871 the property was between owners with just a gardener resident.

In 1880, Henry Lee M.P. was living at Sedgley Mount, but by 1881 had moved to Sedgley New Hall

The census of 1881 shows Mary Higgin, the widow of a Barrister in law, living at Sedgley Mount with her sister and 6 servants. Her husband had been a Justice of the Peace for Manchester, appointed "Recorder of Preston", and was well known in the area. In 1891 the property was not listed, but a Dr Kershaw, Chairman of The Palace Theatre, was resident...and burgled.




In 1901 a widow called Catherine Alexandroff, born on the Greek island of Siros, with her son, a shipping merchant, by the name of John Alexandroff (born Salford) were living at Sedgley mount. Her husband Alexander, warden of the Greek Church and a member of the Manchester Cretan Committee, had died in 1899, bequeathing £20,000 (£2.3m today) and Sedgley Mount to Catherine, and both are buried in St Mary's churchyard.

[the grave stone also comemorates an Olympia Aslan who died at Sedgley Mount in 1901]


By 1911 John was head of the household, living with his Greek wife, along with 3 young children. Interestingly they had 4 visitors staying on the census day. A married couple from Greece, Jaques and Hypatia Tombazis, and a George C Scaramanga, an East India Merchant, who listed his birthplace(in 1856) as New York.

Marietta Scaramanga married one of the Ralli brothers, Pandia Ralli, a trading family with operations across the mediterranean, read more about them here Heathlands

George "Coco" Scaramanga was a Levant merchant for the East India Company and had appeared in 1861 living at Sedgley New Hall, listing his birthplace in the census of 1861 as Italy/Austria (born 1825).

[ The Greek Merchant Themistocles Petrocokino had moved to Sedgley House in 1875 and is also buried in St Mary's churchyard. Both the Petrocokino and Alexandroff families were also listed as next door neighbours in Broughton in 1881]

Here is a Link to photo gallery of Greek Graves in St Mary's Churchyard.

In 1936 a consulting surgeon by the name of James Macalpine, aged 72 lived at Sedgley Mount with his wife, a secretary, sewing maid,parlour maid, two housemaids and a cook !



In the 1940-1950s the house was extended and used as the Manchester & Salford Jewish Grammar School and Synagogue, and the site is still in use as a Jewish School.