! side panel> <! side panel>

The Scaramanga Family
One short headstone at St Mary's in Prestwich has an eye catching surname to anyone who grew up watching or reading Ian Flemming's stories of a secret agent named James Bond...specifically "The Man with the Golden Gun".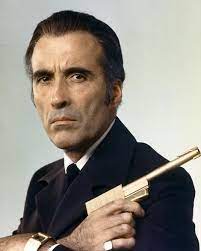 Francisco Scaramanga


Bond's enemy in that story was Francisco Scaramanga, an assassin for Castro's secret police and drug runner for the KGB, who was played by Christopher Lee the real life cousin of Ian Flemming. The fictional Francisco was also known as "Paco" Scaramanga, which again pulls us to this headstone, when we find that the father of Nicholas C Scaramanga was "Coco" Scaramanga. Could the fictional "Paco" be linked to the real life "Coco"?

If you just want the answer then scroll down until you see the bond villain again...or keep reading to find out more about the Greek Merchants of Higher Broughton and Prestwich.

In 1876, Nicholas Constantine Scaramanga (b:1866), had held an auction of the contents of the family home, Park Mount, Higher Broughton (opposite the Fire Station on Bury New Road today). The house & contents were all sold and by the census of England in 1881 the family had gone. A sad event confirms where the family had relocated to, as Coco's wife Hypatia died in March 1881, in Athens, Greece, and Coco died in the same city 4 years later.


What's in a name?
Coco is a nickname for "Nicholas" and the name means'victory of the people'. The naming convention in Greece is to have a second name which was your father's forename. However this isn't always the case, and for Nicholas Constantine Scaramanga, we find he was actually the son of Coco George Scaramanga (as his name is recorded in 1871). He in turn was the son of Georgios, who was son of Nicholas (b:1748). Nicholas (b:1866) could obviously also use Coco too, but that may have been confusing until after his father's death in 1885. Greek naming habits can also give a personal second name too, and it seems to be the case here that "Coco" had been handed down in memory of the ancestor.




Passenger lists show that Nicholas had left for Malta in 1937, aged 70, however he died in Whalley Range in 1948 and was buried in St Mary's churchyard, Prestwich.


Nicholas's father Coco was living at a house called Park Mount by the census of 1871. This house stood opposite the present day Higher Broughton fire station, and by now the couple had seven other children. Living in the neighbouring house (Park Point) were the Schilizzi family (we will meet them again later).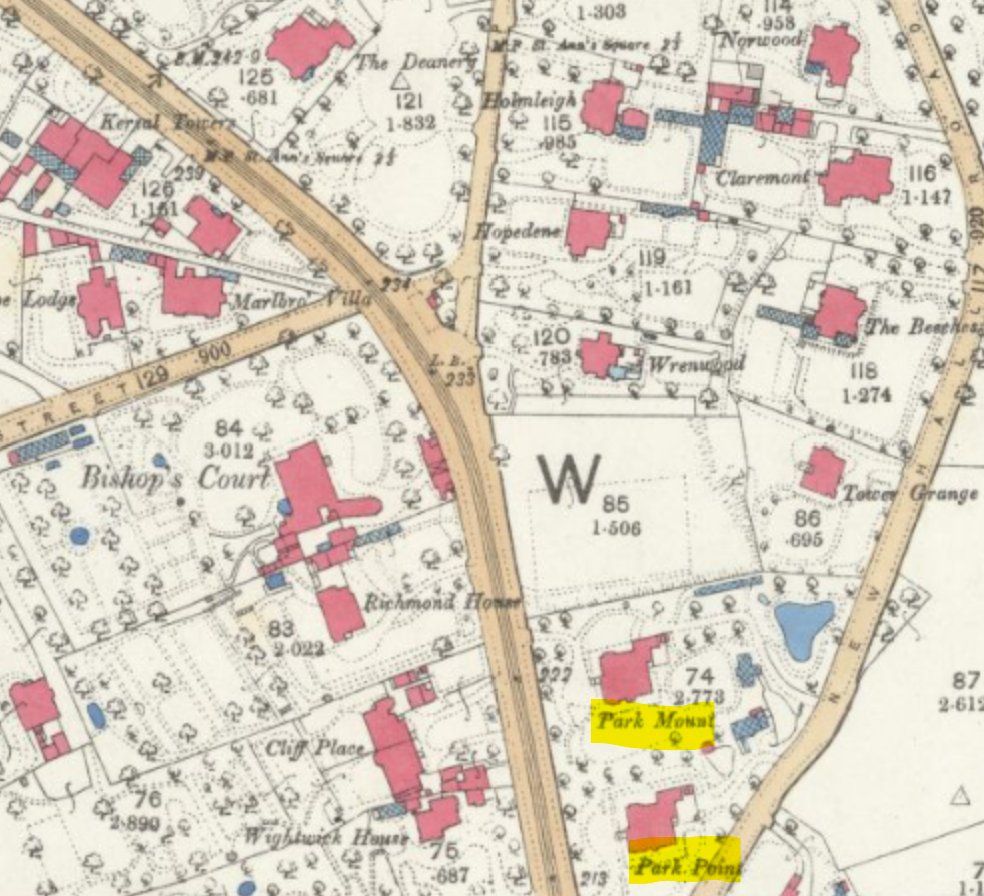 Park Point & Park Mount 1889


Going back to the 1861 census, we find Coco aged 36 (born 1825) living in a large property near Sedgley park. Coco and Hypatia at this point in time had four children, Virginia (born in Liverpool), George (born in New York, 1856), Argentiana and Clementina (both born in Manchester). They lived in a large house as they also had nine servants living with them... a Greek governess, two monthly nurses, another nurse, housemaid, butler, parlour maid and a cook !

The sequence of the census returns shows the enumerator collecting the census walked from The Holme on Sedgley Park Road, then took in Sedgley Hall, Brook house, Sedgley New Hall and Park Hill, before recording the Scaramanga family then turning back towards Sedgley House (GMP Sedgley today).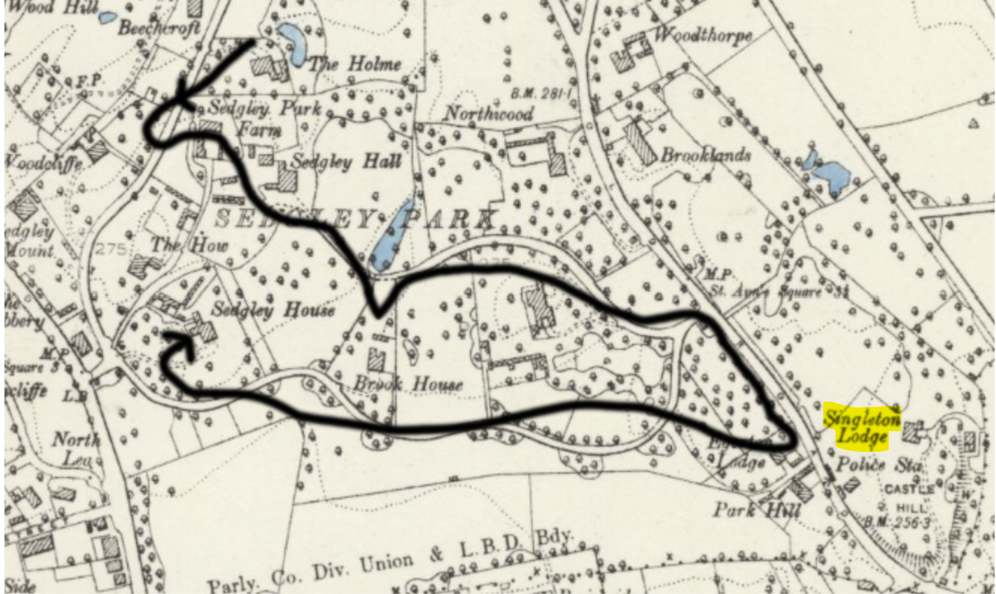 The census route of 1861


Based on this route, Coco's house is presumed to be Singleton Lodge on Bury Old Road. (The original Singleton was renamed Brooklands)

Coco was listed as a Levant Merchant (Levant is a term used to describe the Eastern Mediterranean lands), and he worked for the East India Company. He was a UK and Greek national, but had been born in Trieste Italy/Austria in 1825.


Trieste
Trieste is a deep water port at the top of the Adriatic and was considered the end of the old maritime "Silk Road", a network of trade routes between East and West in use from the second century BCE until the mid-15th century.

It is still a strategic port today.


Coco's appearance in 1861 appears to be the first of several Greek Merchants to reside in Prestwich.




1861 Scaramanga Family


Coco applied for naturalisation in 1864, which allowed him to own land and vote in the UK. The cheaper process of denization that was also open to him, did not allow foreign nationals any political rights. Coco listed his address as 3 Kersal Terrace, Higher Broughton, and states that he had lived in the UK since 1840, aged 15. Kersal Terrace seems to have been be somewhere around Park Lane on Bury New Road. A few properties up from Park Mount.

In 1867 "Coco" Scaramanga was listed as a partner in Argenti Sechiari & Co., of Peter Street, Manchester, Finsbury Circus, London,as well as Marsielle and Calcutta. Coco's marriage was witnessed by Ambrose Argenti and Argenta Argenti.


Looking back further, the 1851 census shows George C. Scaramanga (25), Cotton Merchant, was living 10 doors up from the Rialto corner, as many call it, the junction of Bury New Road and Great Cheetham Street in Higher Broughton.

With him were his wife Hypatia (nee Negroponte) and his brother Petro. Coco and his brother had been born in Trieste Austria (1825 & 1829 resp.), and his wife had been born in Smyrna, Greece (1833). Coco & Hypatia's marriage was witnessed by Ambrose and Argenta Argenti in Finsbury Circus, 1850.



Hypatia Scaramanga,Nicholas's mother & Coco's wife, died in Athens, 1881


Finsbury Circus Greek Merchants
In the 1841 census of Finsbury Circus, London we find a small cluster of Greek Merchants living in the Finsbury Circle:

No.25 Demetrius Scaramanga (25) & Thomas Psiachi (20)

No.26 Constantine Ralli (30) & Panseli and Paul Rodracanachi (both 20)

No.43 Ambrose Argenti (35) & his wife Henrietta (20) and daughter Mary. Also present are Pandia Argenti (40) Stephen Sechiari (25) with his brothers Ambrose & John. Also present is Nicholas Scaramanga aged 15 (born ~1826).

This Nicholas Scaramanga is the brother of Coco, and Henrietta was their elder sister. In 1820 Oriettou 'Henrietta' Scaramanga had married Ambrose Leonidas Argenti, both of Greece, and they had relocated to London.

Coco had been listed as a partner in Argenti Sechiari & Co., of Peter Street, Manchester, Finsbury Circus, London,as well as Marsielle and Calcutta.


We can see from above that Coco's partnership in Argenti Sechiari & Co. was a result of family ties between the Greek Merchants who came to Manchester via London.

The Ralli business dissolved upon the death of Pandia, and the Russian arm passed back to the Scaramanga family.

Coco's son George (b:1856) continued the family marriage pattern when he married Marigo, the daughter of Peter Schilizzi who was living next door at Park Mount in Higher Broughton in 1871. George gained employment as a merchant for Argenti, Schilizzi & Co. In addition Virginia, the daughter of Coco, married a son from next door, Demetrius G Schilizzi.

By 1901, this first son George was living in Sussex Square, Paddington, London, with his wife called Mary, and eight servants, as shown in the 1901 census. Ultimately George worked for the Ralli Brothers Co., representing them as a member of the Baltic Exchange in 1913.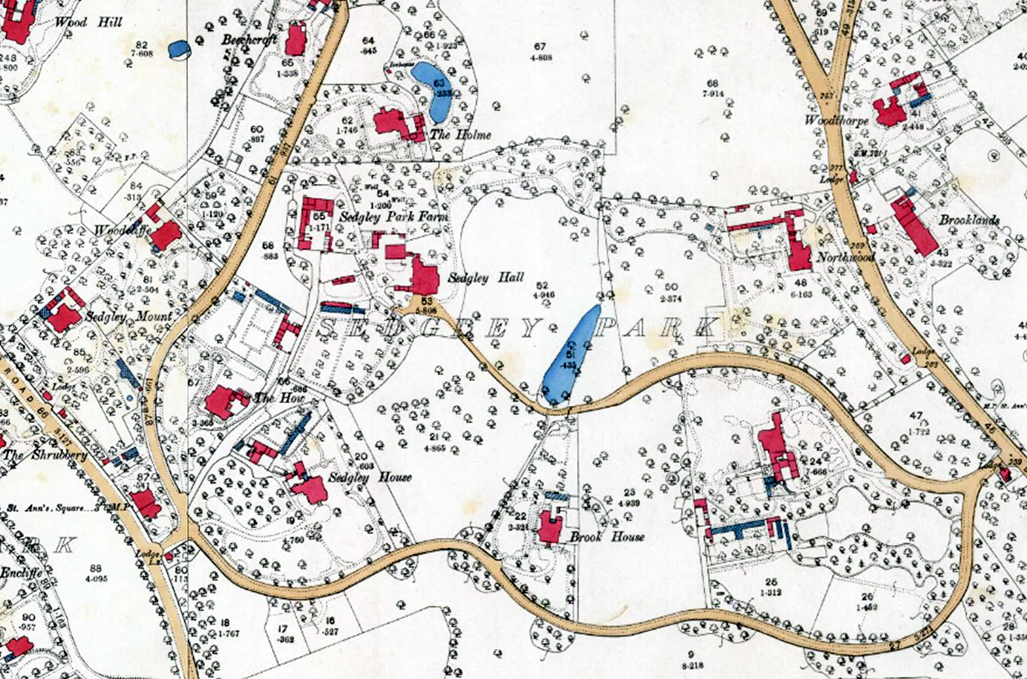 Sedgley Park in 1891


In the census of 1911, George Scaramanga, first son of Coco, and now an East India Merchant, was visiting John Alexandroff and his family, a Greek Shipping Merchant, who lived at Sedgley Mount in Prestwich. Visiting with George was Virginia Schilizzi, his sister who had married the boy next door, but she was now widowed.

In contrast, by 1891 the second son of Coco had returned to Broughton. While his brother was in Paddington with 8 Servants, Nicholas Scaramanga (born 1867) was living at Bowker Street, off Great Cheetham Street, Higher Broughton, with two lodgers, Emanuel Demetriadi, a foreign correspondent from Turkey, and Stamati Sycha, an East Indian shipping merchant from Greece. This did place him close to the Greek church, but it was hardly the kind of residence the family had become accustomed to.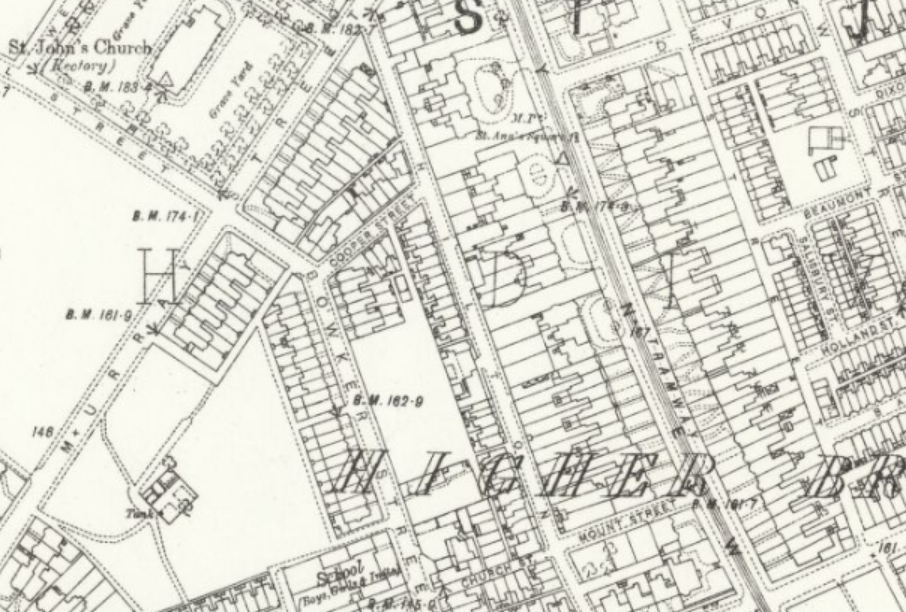 Bowker & Murray Streets 1888


In 1911 Nicholas was lodging in Murray Street, again not far from the Greek Church on Bury New Rd. in Higher Broughton. Aged 43, his occupation was listed as Sponge Merchant.

By 1935 Nicholas was still in lodgings, but at Park Villas, Bury New Road in Prestwich. Nicholas Scaramanga died in 1948, whilst living in Whalley Range, and is buried in St Mary's Churchyard in Prestwich. His brother George had died in Dec 1942, in Lausanne, Vaud, Switzerland, an independent country during WWII.

From these differing tales of the two brothers we can deduce that the family business took a downturn, around the time that Coco sold up and relocated to Athens. George managed to secure a position with the Ralli Brothers, but Nicholas fared less well.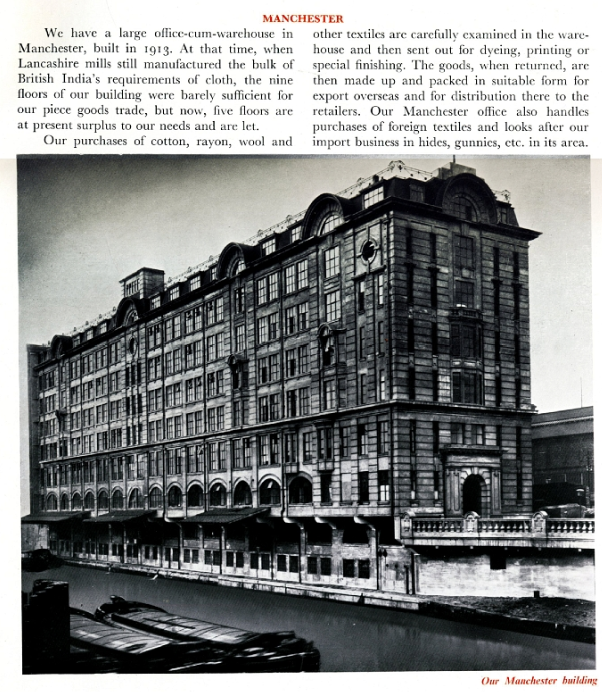 The Ralli Building stood next to the site of the Mark Addy Pub.

The Ralli family name lives on in the Ralli Quays development. Read about the Company (1951) here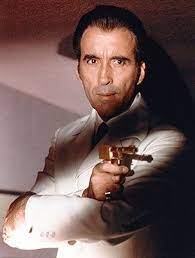 Francisco Scaramanga


Regarding the hunt for a connection to the Bond villain, Ian Flemming is said to have took inspiration for the name from a fellow student at Eton. Flemming shared a lasting rivalry with a George Ambrose Scaramanga and following several altercations Fleming decided to use the animosity he felt towards George Scaramanga for the influence behind one of his most famous villains.

This annoying school kid, had been born in 1911, the son of Ambrose George Scaramanga (b:1869) and Nina Schilizzi (b:1879). Both surnames you're familiar with unless you skipped to this bit.

Ambrose was born in Sussex in 1869 to George C. Scaramanga. George was a Merchant and Landowner, born in Maria, Greece in 1827.

Nina was born in 1879, the daughter of Fanny and Theodore (b:1840 Constantinople). Theodore Schilizzi was the son of Emmanuel T. and his wife Vierou Argenti.

Both these Schilizzi and Scaramanga families were living in Paddington, London in 1881. The "Broughton" Scaramanga and Schilizzi families were living in Finsbury Circus in 1841. Though Coco's son George was living in Paddinton in 1901, there is no obvious link in London.

If this was an episode of the BBC's "Who Do You Think You Are?", they would tell me to jump on a plane and carry on my research in Greece :-)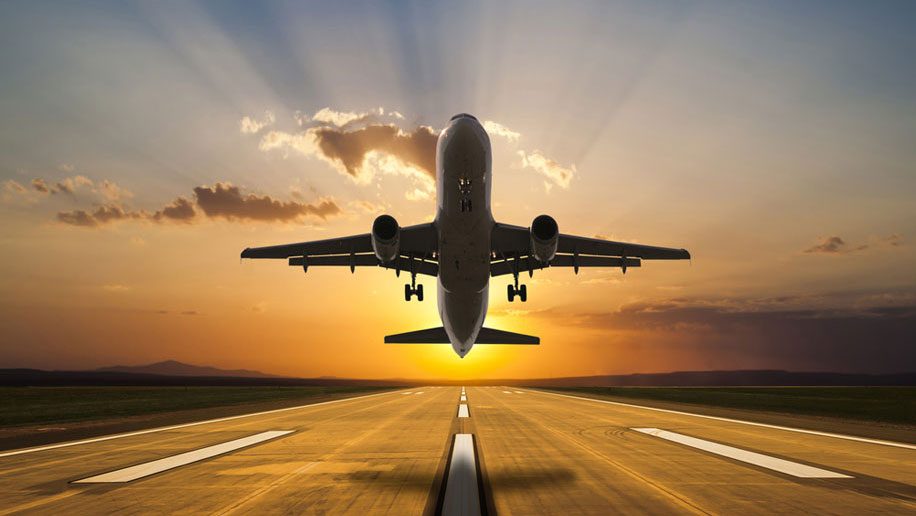 Fly Off

Here is a Link to a photo gallery of Greek Graves in St Mary's Churchyard.



UPDATE: I found the link between the two Scaramanga families, and didn't need my passport! As I had already found out, the link wasn't in the UK, I had to go back a bit further to join the two family branches. The greatgrandad of Nicholas who is buried at St Mary's, was also the 3xgreatgrandad of George Ambrose Scaramanga who inspired the name of the Bond Villain.

Georgios Scaramanga was born about 1698 on the Greek Island of Chios a.k.a. Scio. He had two sons, Dimitrios (b:1729) who descends to George, and Nicholas "Coco" Scaramanga (b:1748) who descends to "our" Nicholas. This Nicholas was not the earliest found to carry the name "Coco" though. His greatgrandad was born on Chios about 1630, Nicolas 'Coco' Petros Scaramanga.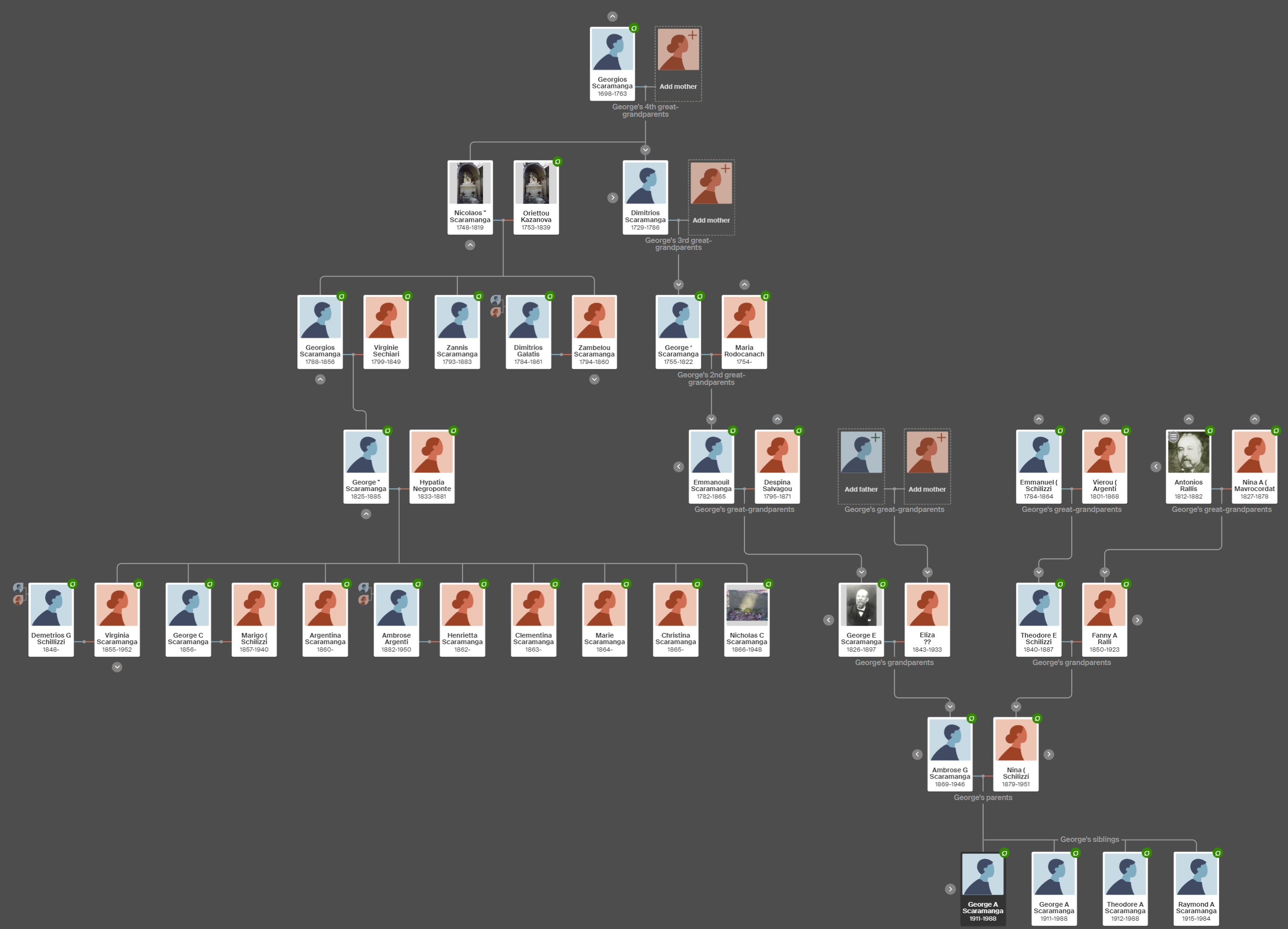 The Scaramanga family Tree

If you scour that familytree you may spot the links to the Argenti, Sechiari, Schilizzi(x3) and Ralli families.

Please donate to help The Churchyard Action Group maintain St Mary's Churchyard. It wont be spent on flights to Greece, but it will help us to get in materials, tools, and professionals.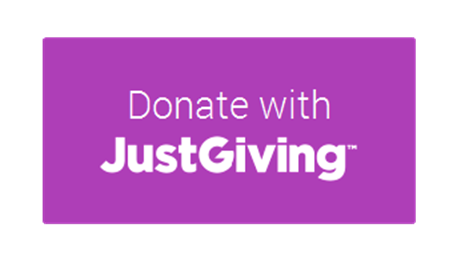 Donate to the upkeep of the St Mary's Churchyard



Here is a Link to a photo gallery of Greek Graves in St Mary's Churchyard.



You can also read more about some of the Greek Families buried at St Mary's here.