! side panel> <! side panel>
The How, Sedgley Park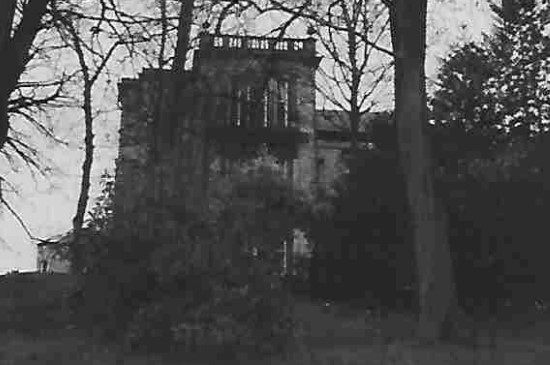 The How


Richard Fort of Sedgley Hall sold his land in 1854.Leading to the building of several large residences...

Sedgley House
Sedgley Mount
The Holme
Brook House
Woodcliffe
Northwood
Beechcroft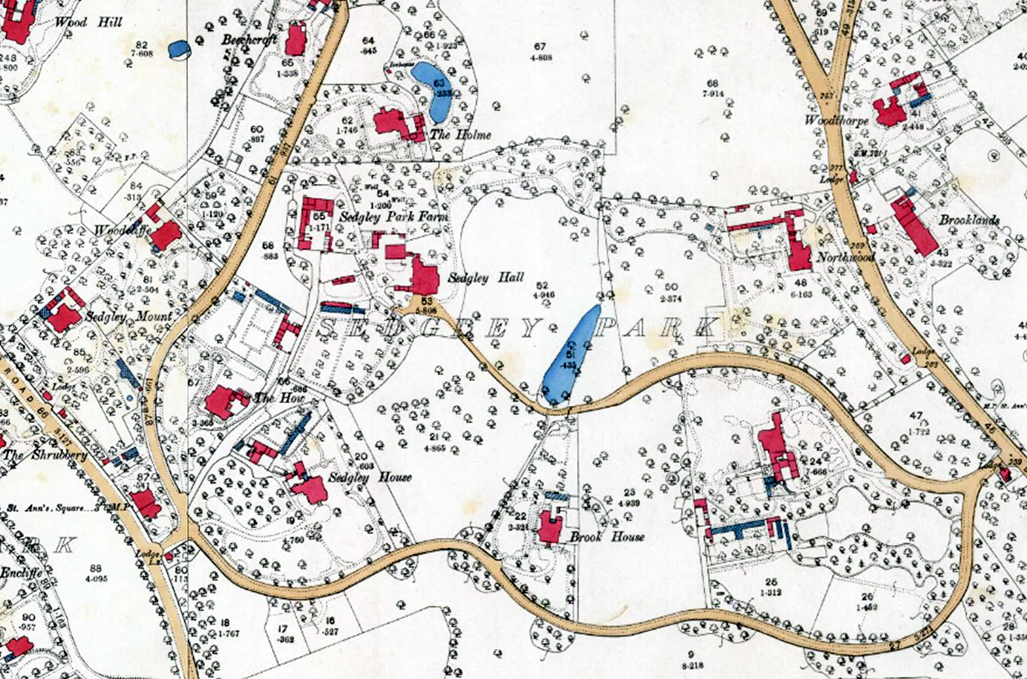 Sedgley Park in 1891


| | |
| --- | --- |
| | The land for The How, was purchased in 1861 by Arthur Henry Heywood who was partner in his father's Bank. |
The Vicar & the Slave Trade Nathaniel Heywood had been Vicar of Ormskirk during the English Civil War, and had two son's Richard and Nathaniel. Richard went to Ireland and ended up adopting his nephew, Arthur. Arthur grew up to marry the daughter of General Arthur Graham of Armagh, and went on to have two sons Benjamin & Arthur. These brothers found fortune in the Slave Trade, investing in over 133 slave voyages between 1745 & 1789)


Benjamin Heywood of Clifton Hall , just over the Irwell, was the son of Benjamin the Slave Trader, and became the founder (in 1788) of the influential Heywoods Bank in Manchester Benjamin was also the great grandfather of Arthur Henry Heywood, of The How.

Arthur's father, Sir Benjamin Heywood, found himself in sole ownership of the "Heywood Brothers & Co." Bank in 1829, and later renamed it to "Sir Benjamin Heywood Bart. & Co.". In 1848 Sir Benjamin had a new property built for the Bank at St Anne's Square, designed by John Edgar Gregan.


| | |
| --- | --- |
| | Another son of Sir Benjamin, Oliver Heywood supported the Mechanic's Institute, Chetham's Library, Manchester Grammar School and Owen's College. He also had a statue that stood infront of the Orangery at Heaton House, but has since been relocated to Albert Square, beside the statues of Prince Albert & William Gladstone. |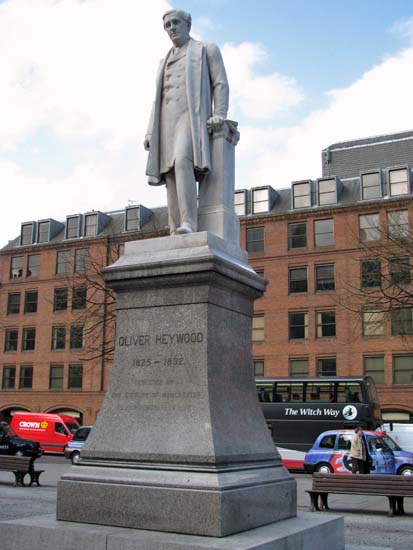 Oliver's Statue in Albert Square


The sons of Sir Benjamin later renamed the business back to "Heywood Brothers & Co." [See Heywoods Bank]




| | |
| --- | --- |
| Sir William Holland moved in to the How in the 1860's and expanded the property. William's family built & ran Victoria Mills in Miles platting as W Hollands & Sons, after moving business from the Adelphi Mill in Salford. | |
Sir William became prominent in the textile industry, becoming chairman or president of the Fine Cotton Spinners and Doublers Association, the Textile Institute, the Machinery Users' Association and the Manchester Chamber of Commerce. He went on to become an alderman on Manchester City Council and then the MP for Salford North. He was knighted in 1902 and in July 1910 he was made Baron Rotherham of Broughton, in the County of Lancaster. His involvement in William Holland and Sons came to an end in 1898.[ see Victoria Mills]


| | |
| --- | --- |
| Brooksbottom Mills, Summerseat | The 1881 census for The How, shows Isaac Hoyle, a Cotton Merchant, born Bacup 1828. Isaac was the 4th son of Joshua, who had founded Joshua Hoyle and Sons Ltd, cotton manufacturers, of New Hey Mill in Bacup, and had bought & rebuilt Brooksbottoms Mill in Summerseat near Bury from John Robinson Kay. Isaac was a magistrate for the City of Manchester, director of the Manchester Chamber of Commerce and, and MP for Heywood (1885-1892). Isaac was living at The How with his wife and 4 children. At Summerseat, Isaac also built terraced cottages for his workers: "61 cottages, 18 petties (outside toilets), three ash pits and a gas works". The Gas works provided Summerseat with street lighting. |
He also funded the extension, in 1899, of the Summerseat Primary School which had been opened by JR Kay in 1863. Isaac had also established trusts to cover the hospital bills and provide convalenscence of his workers, another fund to support a nurse, and also one to send local boys to techincal schools. He also helped fund a local gas works to provided street lighting.




| | |
| --- | --- |
| Isaac's son John F Hoyle went on to be a Manager of Albert Mill in Heywood with nearly 20,000 spindles in operation. | |
Another of Isaac's sons, Richard, later lived at High Bank on Scholes Lane, and in 1904 presented the pulpit and the lectern at St Hilda's Church. Attached to the North side of the Pulpit is a brass plaque with the following inscription: "To the Glory of God. This Pulpit was placed in the Church of St.Hilda, Prestwich by Richard Hoyle Esq. of High Bank, in the year of our Lord, Nineteen Hundred and Four".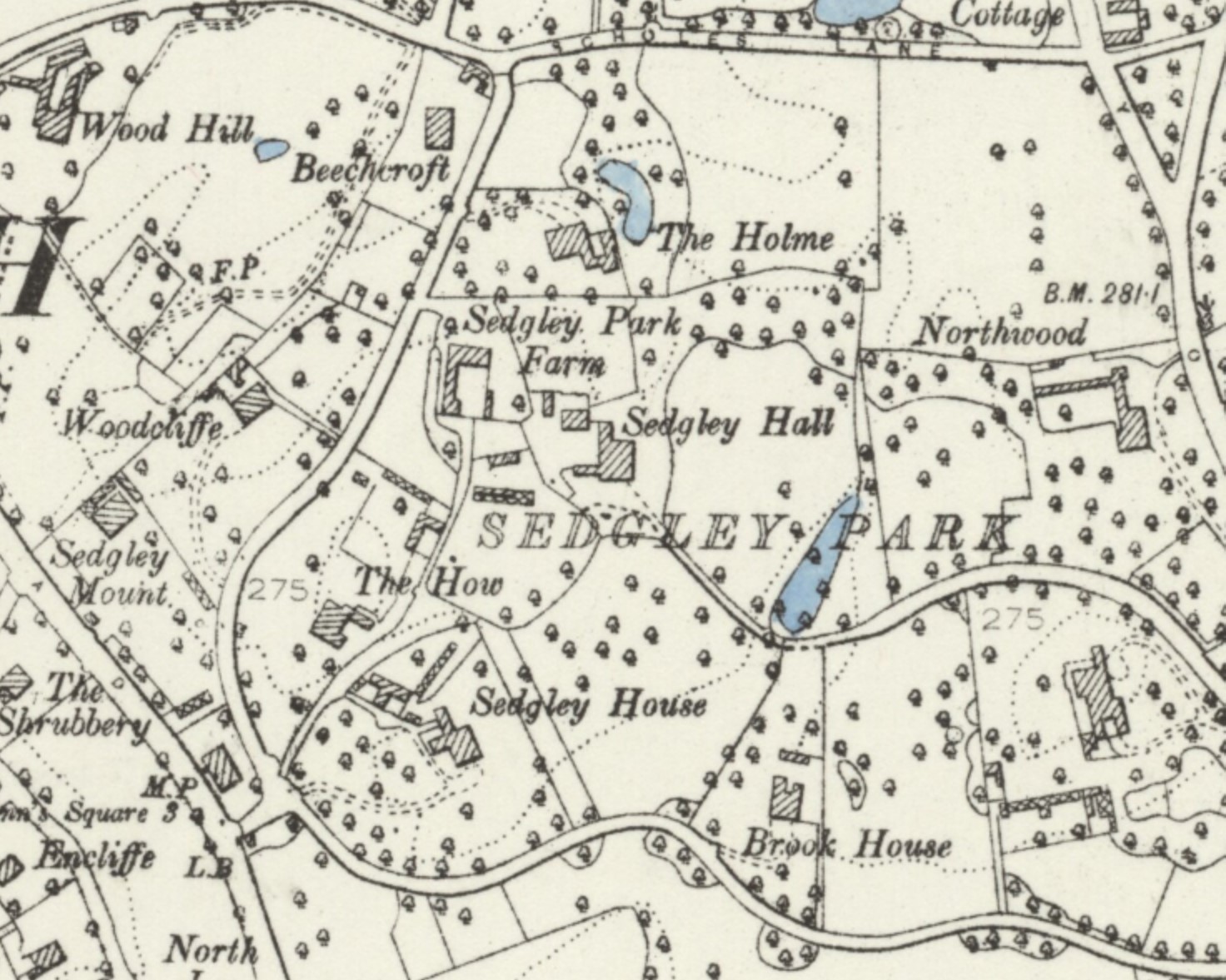 Sedgley Park in 1891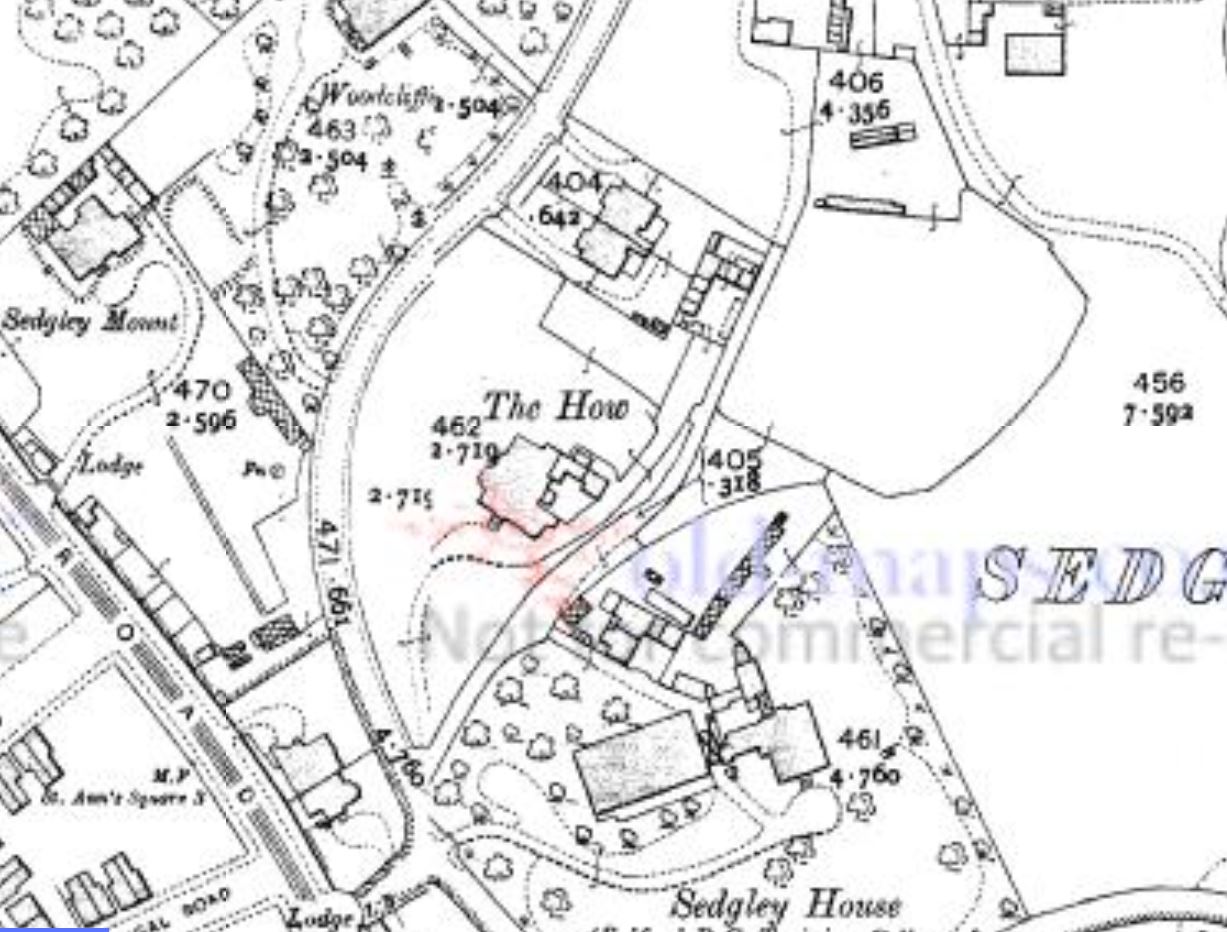 Sedgley Park in 1909


The 1891 & 1901 census do not show any families present at the property. But by the map of 1909 we see that some of the garden of The How has been developed into two large semi-detatched properties, Cranbrook and Gardenhurst. In 1910, George Piper a traveller for a Soap company lived in The How, and by 1910 James Byron was leasing the property from Issac Hoyle. Isaac died in 1911 and is buried in Wimbledon.


| | |
| --- | --- |
| | [Cranbrook & Gardenhurst : Cranbrook was vacant in 1901, but in the 1911 census, it was occupied by Richard Howarth Clayton, a civil engineer with the L&Y Railway, |
| | William Settle, mining engineer lived there by 1909, |
Constantino Prodromes Demetriades, a Greek Shipping Merchant (see Heathlands) had moved in by 1927, and by 1939, Lewis Lichfield, a cotton goods merchant was in the property (Lewis's son, Geoffry L., stated his abode as the Hazeldean Hotel when he married Desiree Desmet in Brussels, 1947).


| | |
| --- | --- |
| Gardenhurst was occupied by Frederick Bebbington, produce merchant in 1901 (he was a cheesemaker, nominated as clerk for Prestwich District Council in 1899, but declared bankrupt after losing his money betting on the horses by September 1901), | |
Charles Marmaduke Anderson, agent, lived there in 1909 and by 1939 Francis Paton-Williams, Archdeacon of Manchester and Rector of St Ann's Manchester and St Mary's Prestwich (1940- 1967) was living there. Francis was was awarded Freeman of the Borough and opened the Longfield Suite in 1971.]


[in 1910, a tram conductor called Charles Francis Cross along with his wife & daguhter resided at How Cottage, with a Policeman called Robert Littleproud boarding with them.]

In 1926 the How was bought by the nuns of the neighbouring Sedgley House and the How was finally demolished in 2001 to make way for a car park for the Police training college.

An OS photo of the entrance to The How (with the building in the background) can be seen on the Timepix website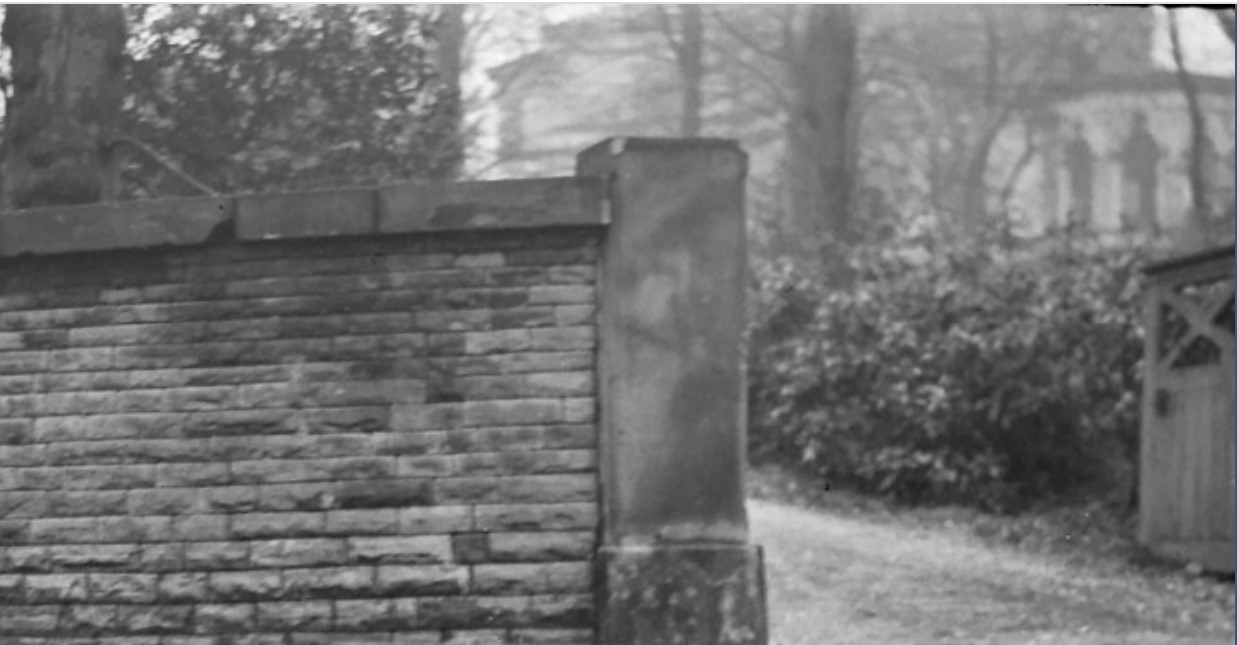 Timepix website
Further info and photos can be found in Ian Pringle's "Prestwich from county parish to suburban town".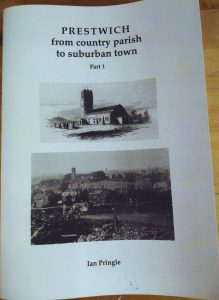 Heritage Society publication