! side panel> <! side panel>
The Lords of the Manor of Prestwich


Article based upon a post by Alan Jennings Facebook )
And with thanks to Peter Corbally of P&WHS for the family trees and further research


One of the earliest mentions of the place of Prestwich is a grant from about 1220, which refers to William, the vicar of Prestwich and Robert the Rector. Read more about the rectors of Prestwich here.

However the first reference to the family "de Prestwich", thus implying the place of Prestwich, is in the Pipe roll of 1194.


This records that Robert de Prestwich paid 4 marks to King Richard as a good will payment, as one of the men of the rebellious John, Count of Mortain.


Robert is recorded to have held 4 oxgangs in Alkrington and 10 oxgangs in Prestwich and Failsworth, and we can presume from this that he was about 30 or 40 years old, probably inheriting the manor from his father, so was born about 1150, thus giving an indirect reference to Prestwich as a place name of about 1150.


An OxgangAn oxgang was the amount of land tillable by one ox in a ploughing season. This could vary from village to village, but was typically around 15 acres - a football pitch is about 2 acres, so Robert owned about 210 acres or 105 football pitches.
Robert de Prestwich had been one of three local knights (along with William de Radcliffe, and Adam de Bury), who were caught up in Prince John's attempted coup while his brother King Richard The Lionheart was imprisoned in in Erdberg near Vienna (March 1193). King Richard had been returning from the Third Crusade in the Holy land.

All three knights held land owned by Roger Baron de Montbegon of Hornby Castle near Lancaster, and about this time William de Radcliffe (of Radcliffe Tower) who was High Sheriff, had married the Baron's daughter Cecelia. As part of their deal with the Baron, the three knights owed him 40 days of Knight's service a year, and in 1193 the Baron called on them to support Prince John's rebellion. Fighting broke out in England between forces loyal to King Richard and those being gathered by Prince John, but John's position was weak and he agreed to a truce.


The de Bury familyFrom 1193 to 1219 Adam De Bury held the manor as "one knight's fee of ancient tenure". In the 14th century, Alice De Bury married Roger Pilkington, and the manor of Bury passed into the possession of the Pilkington family until 1485 when the lands of Sir Thomas Pilkington were forfeited because of his allegiance to Richard III.

Radcliffe Family link to PrestwichGeoffry, a son of William de Radcliffe went on to marry a daughter of Adam de Bury and one of William's great great granddaughters Amabel, married Adam de Tetlow. Their son Jordan de Tetlow married Alice de Prestwich. Jordan and Alice's daughter Joan, married Richard de Langley, which led to the Manor of Prestwich being held by the Langleys for over 200 years.

Changing allegiancesKing Richard was released in February 1194 and re-coronated at Winchester in March. Richard forgave his brother John, sayign he was only a child (aged 27) and named him as heir.John had his lands confiscateted, except those in Ireland, and served Richard loyaly in France before he became king in 1999. Baron de Montbegon was fined 500 marks for his support of the 1193 rebellion, and his land was temporarily confiscated. Later the baron ended up supporting the First Baron's War in 1215, against King John who was refusing to accept the Magna Carta, that he himself had sealed.
Robert de Prestwich is next mentioned in 1201 and 1205 as a contributor to the tallage (tax) and scutage (money paid in lieu of military service).

Robert died in 1206, and his son Adam inherited the estate, paying King John 5 marks for succeeding his father.

In 1210 he held 10 bovates(the latin word for an oxgang) in Prestwich and Failsworth in Salfordshire in chief of the king in thenage. He also held 4 bovates in Alkrington in the east of the parish of Prestwich under Roger de Montbegon, Baron of Hornby.

In 1212, [Ref] (in the earliest account of Alkrington) Adam was listed as a member of the Montbegon fee of eight knights, and held 4 oxgangs of land 'of ancient tenure' by 4s. He was listed as holding land in Prestwich Great Heaton, and Failsworth.


Mysterious Alexander de Prestwich/Heaton About 1200, a grant to Cockersand Abbey (near Cockerham, Lancashire) by Alexander son of Edward de Prestwich, with the assent of Adam his heir, gave an acre and toft (homestead) of his land in Heaton, between Terebrook and Mereshaw, next to his mill.

It is thought this heir Adam, was Adam de Heaton. One charter of Alexander son of Adam de Heaton is also recorded and by another he gave to Peter son of Adam de Radcliffe his part of Puchlincheles in Heaton, the boundaries beginning at the brook and going across to the bounds of Middleton, thence to Hich and down to Puchlissale brook, and up the brook to the starting point; the rent was 40d., and a third part of the forinsic service for the vill was also due. Thomas de Prestwich (1200-1260) was a witness to this grant. To Alexander, Thomas his son succeeded. In 1292 Thomas de Heaton and Joan his wife secured two messuages, a mill, and lands in Prestwich and Heaton from William son of William de Hopwood.
In 1235 the Manor of Prestwich passed to Adam's son Thomas de Prestwich. He made a grant to his daughter Joan in about 1260, of half of Heaton formerly held by Thomas son of Alexander, and about the same time a John de Prestwich was recorded as rector of Whitwell in Derbyshire.

In 1257 a John de Prestwich was recorded as owning just over 14 burages in Salford.

The Prestwich Manor came to Sir Adam de Prestwich in 1275, this could have been the son or grandson of Thomas (aged ~60)...It all gets a bit messy as some think there may have been two Adam's or simply that Adam married more than once...anyway...one son (John) by Adam's first wife Alice de Trafford, went on to head up the Prestwich family of Hulme Hall in Manchester.

Adam de Prestwich found himself in trouble with Sir Alexander de Pilkington in 1277, for alledged damage of fosse (defensive ditches) in Pilkington. Then in 1278 a claim for a tenement in Prestwich was made against Adam de Prestwich by Robert son of Robert de Nettleham but it was dismissed.


Pendlebury Manor A Master Sergeant of Salford called Ellis, died about 1216, and his son Adam succeded his father in the sergeantry and in the Lordship of Peneburi (Pendlebury).
In 1274 Ellis, son of Roger came to a violent death, and Amabel, his widow claimed dower in various lands against Roger de Pendlebury. A short time afterwards, Amabel having received her dower, she and Roger de Pendlebury had to defend a suit brought by Adam de Pendlebury, who satisfied the jury of his title to the manor. Ellis had a brother, William and daughters Maud, Lettice and Beatrice. Maud married Adam son of Alexander de Pilkington, and had a daughter Cecily.


The Pendleburg (Pendlebury) Manor had come into the possession of the Prestwich family when, in about 1291, Adam de Prestwich had married Cecily Pilkington, a Great Grand daughter of Ellis, who was Master Sergeant of Salford (and benefactor of Cockersand Abbey like Alexander Prestwich in 1200). However Adam de Prestwich also seems to have married Agnes de Trafford, and in 1292 came into possession of Wickleswick & Shoresworth through this marriage.


WickleswickThis is an old placename, also called Whittleswick, and now refered to as Trafford Park. In 1016 King Cnut invaded and his army was led by Ranulph. Ranulph gained victory at the now lost village of Whickleswick near the Roman river crossing of Trayford on the Irwell. Cnut was crowned King in 1017 and he awarded Ranulph lands at the site of the victory. Ranulph took the name Trayford, later known as Trafford.


So if Pendlebury only came to the de Prestwich family in 1291, where did the Prestwich family live before then? Which property could possibly be old enough and big enough for the Lord of the Manor? Could the original manor house have been Deyne Hall? After all it was located in Prestwich rather than Pendlebury.


Read more about Deyne Hall here.

Also some time between 1291-1316 Adam and Alexander de Prestwich were plaintiffs as executors of the will of John, rector of Whitwell. This John appears to be the son of Adam.

[ref: In 1300 Adam procured a release of all her rights in the manor from Beatrice daughter of Ellis de Pendlebury for £100]

In 1297 Adam de Prestwich granted to John his son all the lands in Heaton, a hamlet of the vill of Prestwich, which he had acquired from Adam son of the widow of Heaton, and from Robert de Nettleham, with common of pasture, &c., in Awekeshowe; a rent of 40d. was payable to the grantor ref:. John and his wife Emmota and all their heirs were also granted land in Prestwich Alkrington, and Pendlebury.

However,Adam's 'son and heir' John, who had married Emmota by 1297, seems to have surrendered the manors to his parents. Adam also had another son Henry, to whom he gave Whittleswick in Barton ("a messuage, eighty acres of land, six acres of meadow, ten acres of wood and 100 acres of pasture in Barton"). It's not clear how this land in Barton had come into the posession of the Prestwich Family, perhaps via a family link to Gilbert de Notton of Barton, who possessed land in Little Heaton back in 1212. About 1300, Adam married Alice de Wolveley or Woolley (possibly North West of Wolverhampton today), and her children were made his heirs. So it happened, that after his death about 1316, the Manor of Prestwich was passed to Sir Adam's second wife, Alice.


The Ancient arms of the Prestwich Family. "Gules a mermaid proper crined or holding a glass and comb of the last". Also used by the branch that established in Hulme Hall.

In 1321 Alice who now held the manors of Prestwich, Pendlebury, Alkrington and Wolveley, petitioned the King for redress against the men of Cheshire who had entered her land and taken goods worth £200.

Alice died in 1331 and her son Thomas inherited the manors, and he leased out Prestwich, Alkrington and Pendlebury to Richard de Radcliffe to use for his life for a fee of 100 marks of silver. Thomas was known as Thomas de Wolveley, and was probably living there.

"Let all present and future know that I Thomas son of Adam de Prestwich and Alice de Wolueley have given and granted to Richard son of William de Radcliffe, my manors of Prestwich, Alcrinton and Pennebury with their appurtenances."

However his brother Robert de Prestwich claimed that he had right to the manor of Pendlebury, and won his claim when Thomas failed to appear in court. Thomas released Alkrington and Prestwich to William de Radcliffe, and finally released his claim to Pendlebury in 1345.

When Thomas died in 1345 and Robert died childless in 1349, the manors passed to Agnes daughter of Thomas. However the girls were just children and William de Radcliffe had been appointed trustee. He placed Margaret into the Nunnery of Seaton, which meant by law that she was written out of any inheritance, and arranged for his son, John de Radcliffe, to marry Agnes. Thus John de Radcliffe claimed the Manor of Prestwich, but unfortunately he died childless. In the meantime Thomas's sister Alice, Agnes's Aunt, had married Jordan de Tetlow.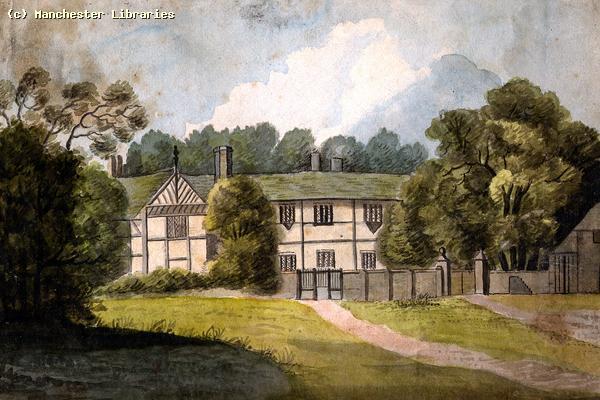 a water colour of the hall from 1836 [Courtesy of Manchester Libraries and Archives]


In 1341 a John de Prestwich the younger, the great grandson of Adam and Agnes de Trafford, by their son John (and his son John), appeared in the Wilton Deeds when John (then of Hulme Hall) gave up his rights to land called "Rodoun" in exchange for a rental fee from Thurstan de Holland. Ref: Wilton Deeds.


The 15th century Arms (the family of Hulme Hall, recorded 1533) "Ermine, on a chevron (field), a bezant between two Leopards' faces erased Or; on a chief of the last a Wolf passant Sable between two fleurs-de-lis Gules"

Agnes's sister Margaret left the nunnery, but due to church and secular law her role as a nun precluded her from inheriting land and property. The Manor passed instead, to her cousin Joan, daughter of her aunt Alice de Tetlow (nee Prestwich).

Alice's mother in law was Amabel de Radcliffe (great great granddaughetr of William de Radcliffe - mentioned in the pipe roll of 1194)

Joan Married Richard de Langley, and when Richard died in combat in France (1369) and Joan died in 1374, the Manor passed to their son Sir Roger Langley, aged 14 and already married to Marjorie, daughter of Sir Thomas Booth, of Barton.

The claim to the Manor by the de Radcliffe family was finally dropped by Richard and his wife Isabel in 1371...but that still left the Hollands...

Agnes de Prestwich's sister Margaret, the ex-nun, had married Robert de Holland ofClifton Manor, just over the Irwell, and he (obviously) held a different view on her being overlooked for the inheritance of the Manor. Robert de Holland took matters into his own hands in 1374 and seized Prestwich by force from Sir Roger de Langley and his protector, High Sheriff of Lancashire.

The High Sherriff was then Sir John le Boteler, Lord of Warrington, a renowned warrior and close friend of John of Gaunt and had fought alongside Richard Radcliffe in 1372 when they shared command of a contingent of 200 Lancashire archers in Gaunt's historic but unsuccessful march across France from Calais to Bordeaux, so not a man to be trifled with.

The history states the following:

Robert de Holland with many others assembled with him and armed in breastplates and with swords and bows and arrows by force took possession of the said lordship of the Duke in defiance of the Sheriff and to the contempt of the Lord Duke

The young Roger Langley and his sister fled from Tetlow heading west wards to the Irwell river, and Pendlebury beyond it, they escaped to the shelter of the forest, cared for by loyal retainers until rescued by the Duke of Lancaster (John of Gaunt). Robert held the manor until 1389.


In 1375, Thurstan son of John de Prestwich released all his rights to Robert de Holland, and gave a similar release in 1416 to Robert de Langley. The de Prestwich line continued at Hulme Hall.

In 1389 there was an affray at Spotland near Rochdale when Robert de Holland and his friends and retainers ambushed William de Radcliffe as he rode home from Rochdale, William escaped safely through the shower of arrows and, reaching his manor gathered together his sons William Richard and Robert and with Robert de Howarth and William Jenkinson, his friends and a party of servants they came upon the Holland faction with Swords, Bows, and other weapons " to the great fear of the whole parish there assembled "

In that same year, Robert appeared before the Justices of the County on account of his involvement in a number of other affrays and trespasses, he admitted these and was fined £10. Evidence was also given on his seizure of the Manor of Prestwich, but this was not finally decided until 1394 although there was a suggestion that he had left Prestwich by this time.

In August 1394, a trial before the justices that had begun in the court of the Dutchy in 1389 ( to determine the dues from the Manor of Prestwich) came to an end. The Archbishop of York who had been making inquiries on behalf of King Richard II and sent a certificate dated 28th June to the King. This declared that Margaret, daughter of Thomas de Prestwich, had been a nun at Seaton.

Robert de Holland denied that Margaret was a nun, and here we have the words of Margaret herself who appealed for dispensation on the grounds that

"In her eighth year or thereabouts certain of her friends compelled
her against her will to enter the priory of nuns at Seaton, the order
of St Augustine, and to take on her the habit of a novice, she had
remained there as in a prison for several years always protesting that
she had never made, nor ever would willingly make any profession, and seeing
that profession must exclude her from her inheritance she feigned herself
sick and took to her bed. But this did not prevent her from being carried
to the church at the instance of her rivals and blessed by a monk in spite
of her cries and protests that she would not remain in that priory or in
any other order, on the first opportunity she went forth from the priory,
without leave and returned to the world, which in her heart she had never
left and married Robert de Holland, Publicly after Banns and had issue (children)."

However, the Judgement went against them and Robert de Holland was ordered to pay to the Duke of Lancaster the profits of the Manor for the last five of the seven years (1374- 1381) i.e. during Roger de Langleys minority. The John of Gaunt window in Agecroft Hall which Roger later built is said to have been placed there as a tribute to Lancaster for his help.


The Hollands still claimed Prestwich though, with fights and deaths occurring over the matter, until finally they relinquished their claim in 1416.

From an Agecroft Hall Museum leaflet (Virginia):

Because of its rich estates, medieval Lancashire was worthy to give its name to one of the contesting factions of the War of the Roses. Among these estates, neither the greatest nor the least, on the bank of the little river Irwell, was the manor of Pendleburg, which was held from the crown on an annual rent of sixteen shillings. As early as 1376 a village of Achecroft is mentioned in the vicinity of this manor, and in a deed of 1390 this name was given to the chief "messuage" (mansion) of Pendleburg. The name probably was pronounced then as it was later spelt - Agecroft. Its original spelling indicates that the site must at some time have been an ache (wild celery) croft (field). (see names and places)

Thus, while the renowned John of Gaunt was still alive, and coupled the title of Duke of Lancaster with that of King of Castile, the Pendleburg manor passed into the hands of Joan de Tetlow as sole surviving heir ( as cousin of Margaret de Prestwich). About 1350, Joan married Richard de Langley , member of a family that had come to England with William the Conqueror and had built a church at nearby Eccles, as early as 1100.

Richard Langley's career in the clergy had taken a dive when he fatally stabbed another clerk in the neck with a bodkin (arrow head) at Oxford in 1343. He was found guilty, but he went on to become the Lord of the Manor of Prestwich through his marriage to Joan, and took residence in Agecroft Hall.

Sir Roger 1360-1393
Sir Robert 1378-1446
Sir Thomas 1407-1472
Sir John -1496
Sir Robert 1462-1528
Sir Thomas 1473-1527
Sir Robert 1520-1561

Agecroft remained in the male line of the de Langley's until 1561, when, with the death of Sir Robert de Langley, the property passed to his daughter, Anne,who married William Dauntesey (Dauntsey), son of Richard Dauntesey of Lavington Wilts., gentleman usher to Queen Katherine Howard, fifth spouse of the oft-married Henry VIII.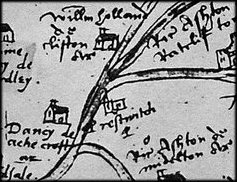 1590 Map showing Dauntsey's of Agecroft
Read about the Origins of the Langley Family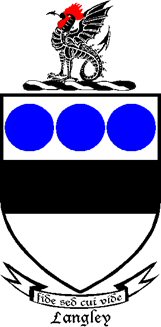 here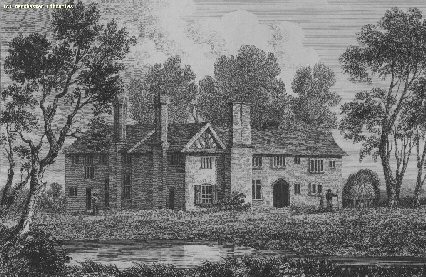 early sketch of the Hall prior to the Elizabethan re-facing of the South and East Wings in the 16th Century - note the double chimney (later to be triple) and lack of extension to the right - at this time the Hall was an "L" shape. [Courtesy of Manchester Libraries and Archives]


[read more about Agecroft hall here]
When the last Langley, Sir Robert Langley, died in 1561 the whole estate was divided up between his four daughters who were co-heiresses. Prestwich went to Margaret Langley.

Margaret Langley was married twice, first to John Reddish of Reddish who died in 1569 and secondly to Richard Holland of Denton and Heaton. Margaret had one son, Alexander Reddish, by her first husband and three daughters by Richard Holland. Margaret and Richard Holland lived alternately Debton Hall and at Heaton Hall ( possibly the Heaton Old Hall ) and this period, from about 1575 to 1616, was the only time at which the Lord of the Manor of Prestwich lived at Heaton Hall.

Margaret's only son, Alexander Reddish, inherited Reddish and Romiley at the age of five from his father and was the heir to Prestwich but he died before his mother in 1613. Margaret Langley herself died in 1616 and was buried at St Mary's. Presumably she was buried with her ancestors in the South Aisle ( the former site of the Langley Chapel ). She was also probably the last Lord of the Manor to be buried at the Parish Church. The Parish Register records her death thus …

25 Sep 1616 Margreta Holland vxor Richi Holland
de Heaton Armigeri
funera solemniza 8 Oct 1616

[Armigeri means the family had the right to bear a coat of arms. Knights generally had a coat of arms but other individuals who were not knighted could also be granted a coat of arms.]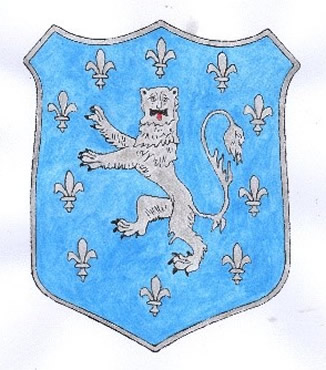 Holland Family Arms (can be seen on the ceiling of St Mary's


The manors of Prestwich and Reddish were intended for Margaret Langley's grand-daughter Sarah Reddish but she was only twelve at the time of her father's death. So those two manors were held for life by Katherine Reddish (nee Dethick), the widow of Alexander, in trust for her daughter Sarah.

Katherine Dethick was the heir to Newhall in Derbyshire from her father and the heir to Longford also in Derbyshire through her mother.

Sarah Reddish as the heiress to several prosperous Lancashire manors must have been quite a catch. She married Clement Coke, the 5th son Sir Edward Coke the celebrated lawyer and Lord Chief Justice, in about 1618. Sir Edward Coke, was the Attorney General who prosecuted Guy Fawkes. He was later Lord Chancellor and probably had the pick of wealthy heiresses in his care for his younger sons to marry.

Sarah and Clement Coke lived at Longford Hall in Derbyshire but Sarah unfortunately never came into her intended inheritance in Lancashire. In 1624 Sarah died aged only 23, 7 years before her mother. Leaving three young children. It was the eldest of these, Sir Edward Coke (1618-1669) who eventually became Lord of the Manor of Prestwich when his grandmother Katherine Reddish died in 1631.




Sir Edward Coke, 1618-1669, who was Lord of the Manor of Prestwich in the mid-seventeenth century was made a Baronet by King Charles I in December 1641. What service he rendered the King or the State to merit this honour has not yet been ascertained.

He was also a Cavalier who fought for the King during the English Civil War ( 1642-46). Archives show that he was tried by the victors at Chesterfield in 1646 and was possibly fined and had some of his estate sequestered.

Whatever his punishment was for supporting the losing side in the Civil War he seems to have atoned for it pretty quickly because he was one of the men appointed to run Derbyshire as a Magistrate in 1650 by Cromwell.

This Sir Edward might have been the Coke who built the Old Ostrich Tavern in Bury Old Road which is said to date from about the 1650s. An ostrich with a horseshoe in its beak is the crest of the Coke family. There were also "Ostrich Inns" in other villages associated with the Cokes – Longford in Derbyshire ( the inn is still there ) and East Creake and Weasenham in Norfolk. Also the Church Inn in Prestwich, where the Heritage Society currently meets, seems to have been called the Ostrich Inn from about 1780 to 1830.


This might suggest that the Coke family or their land agents built inns owned by the Lord of the Manor in each of their manors as a business proposition and part of the development of their assets. The Old Ostrich Tavern in Prestwich could have been the base for the Cokes when they visited this outpost of their empire.

Sir Edward Coke died in 1669 and was succeeded by his eldest son Sir Robert Coke. This man was a politician and M.P. for Derby in the Restoration period. The Cokes of Longford were M.P.s for Derby on and off about 200 years so it must have been something of a pocket borough for them. But Sir Robert Coke died childless in 1688 and the Longford, Prestwich and Reddish estates passed to his brother – another Sir Edward Coke.

This second Sir Edward Coke was Lord of the Manor of Prestwich from 1688 to 1727.

This Sir Edward also died without issue and the baronetcy died with him but he willed all his estates, no matter what their origin, to his distant cousin ( also called Edward Coke ! ) from the Norfolk branch of the family.

The Sir Edward Coke who died in 1727 was a descendant of the Robert de Prestwich of 1194 ( the first Lord of the Manor we know about ) and was effectively Robert's heir and representative across 530 years and twenty generations, being the gt-gt-grandson of Margaret Langley. The new Lord of the manor in 1727 was NOT a descendant of the de Prestwich's, he was just a Coke relative who was bequeathed all the Derbyshire Cokes' estates as a job lot. The link between the blood and the land, which spanned five hundred years at least, was broken. Prestwich just became part of the property portfolio of a very wealthy family who had little interest in it apart from the money it provided to help maintain their privileged lifestyle. Thus the Lordship of the Manor went up for sale, and the land was divided into plots and put up for auction.


On an October afternoon in 1777 Thomas Coke held the famous sale in an upper room at the Ostrich Tavern, just the year after inheriting the manor via his mother. He summoned all his main tenant farmers (eight or so important Prestwich men ) and put the leases to their holdings on the table. He lit a candle and his tenants were asked to buy their land from him before the candle burnt out at prices specified by him with no discussion. Otherwise their land would be sold to the highest bidder. Most signed up with alacrity, only John Scholes held out till the last minute, muttering about blackmail, but he finally gave in as the candle guttered and died.

The sale of the largest farms in Prestwich in 1777 raised about £6000.

Peter Drinkwater was a famous Manchester mill owner, friend of Robert Owen, who bought the title and remaining lands of the Lord of the Manor of Prestwich from Thomas William Coke in 1794. He lived at Irwell House in what is now Drinkwater Park. Read more about Drinkwater here.

Thomas Drinkwater's daughter Harriet Julia Birch, who had married the Rector of Prestwich (also appointed as an executor to his will), was the last Lord of the Manor of Prestwich when feudal titles were abolished in 1912.




See the passage of the Manor through the generations(large image) Credit: Peter Corbally
The above tree shows Adam de Prestwich, born 1320 with at least 2 wives. An alternative though discredited view is that there were two Adam's, shown in the the tree below.

Click here to browse the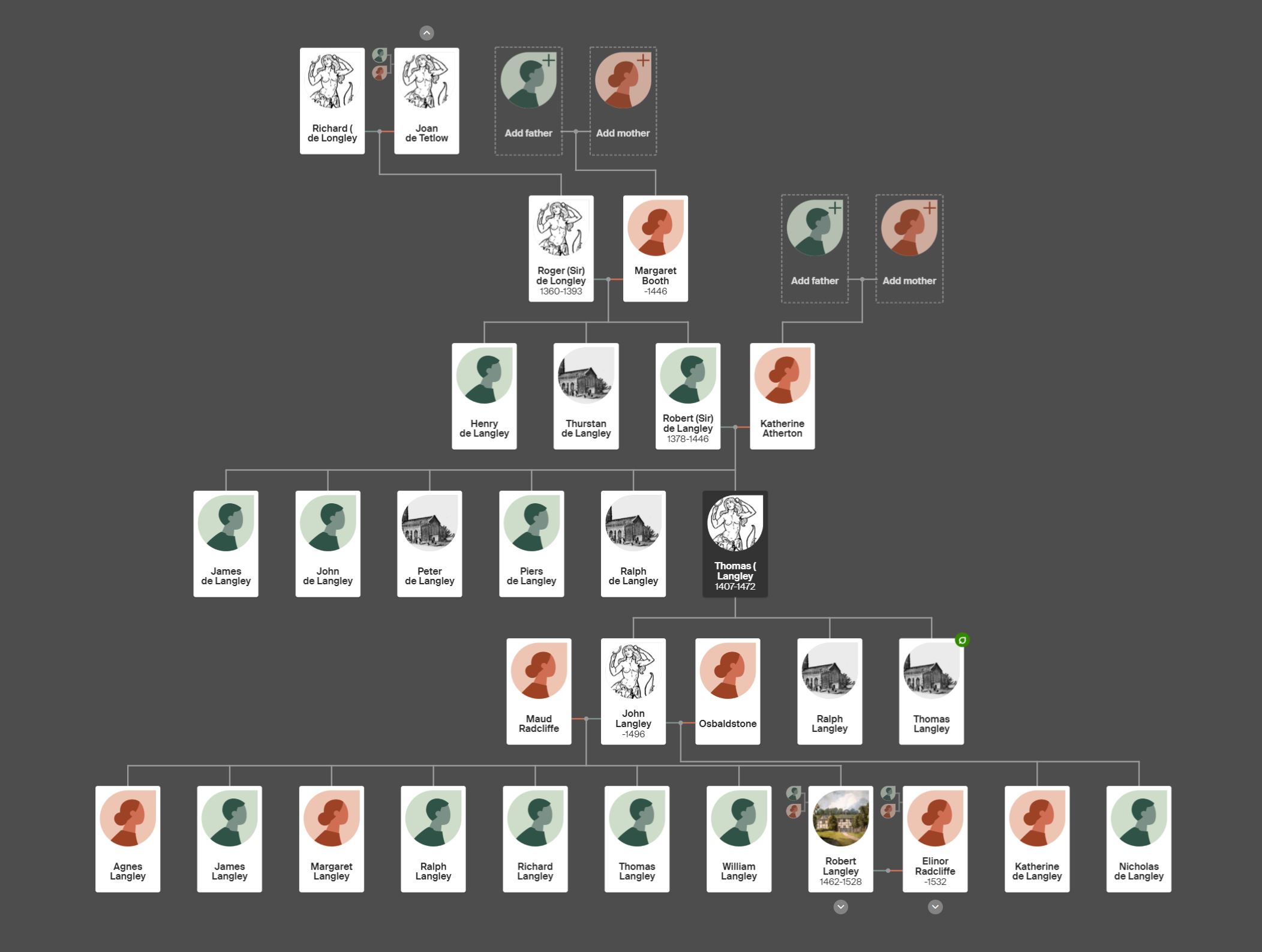 Family tree on Ancestry.co.uk. (Ancestry account required - no subscription required)




See the family Tree (large image)
Or click here for the tree in webpage format)
Legends of Agecroft Hall....
Babes in the Wood
Legend has it that the tale of the Babes in the Wood was inspired by an incident at the Hall during the Reign of Edward III....
Lady Joan de Langley(formerly Joan de Tetlow b: abt.1330), was grieving the death of her Lord (Sir Richard de Langley b:1325) in the French Wars, and left her son (Roger b:1360) in the wardship of John of Gaunt, Duke of Lancaster.
On the morning of the Feast of Ascension (the 40th Day after Easter Sunday) in 1374, the villainous Robert de Holland "with many others assembled with him, armed in breast plates and with swords, and bows and arrows, by force took possession of the said lordship of the duke, in defiance of the Sheriff, and to the contempt of the Lord Duke".
Young Langley and his sister escaped to the shelter of the forest which covered the slopes of the Irwell valley, cared for by loyal retainers until Lancaster rescued them.
(extract from The Dark River - Cyril Bracegirdle - ISBN 0 8542 7033 7)
Ghost of Thomas Langley
Thomas, Cardinal Bishop of Durham, who's bed was removed from Agecroft to the Dorset home of the Dauntseys upon the relocation of the hall, laid a curse on the family for deserting the old faith, and that the line should perish for want of an heir. As it happened, the line of succession was broken due to the Black death (around 1349), eventually falling into the possession of his cousins, the Hulls, and each successor had to adopt the name of Dauntsey.
Tea
Agecroft is also credited with introducing Tea to England. A member of the family in 17th century sent home some "chaw" whilst serving with the navy in China. Unfortunately he did not provide instructions, the leaves were boiled, then the juices drained off and disposed of. The remaining leaves were not very appreciated.
Clogs
A Langley is also credited with introducing clogs to Lancashire.