! side panel> <! side panel>
St Margaret's
The Church :
A brief History of St Margaret's Church. (combining the works of Nicholls 1905, Middleton 1902, Wilson 1980)

In 1851, St. Margaret's Church was erected at Holyrood on land given by the Earl of Wilton. He also contributed £500 towards the £2,000 which the Church cost.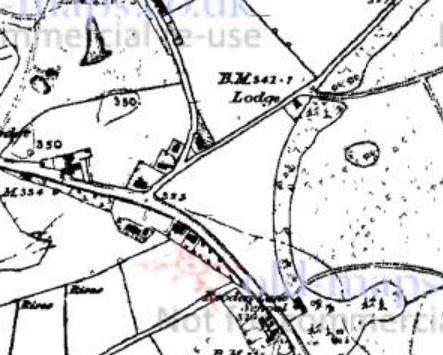 1850
The need for a second church in the township arose from the increase of the population in Rooden Lane and immediate district. The foundation-stone was laid, by the name of St. Margaret, Prestwich, amid much outward circumstance, by Her Royal Highness the Duchess of Cambridge, on October 3, 1849.

After rejecting the original naming suggestion of St Thomas, in honour of Thomas Lord Wilton, St Margaret's was opened on 26th October,1851 by H.R.H. the Duchess of Cambridge. Before the ceremony of laying the foundation stone, a service was held in Prestwich Church. Among those present were Princess Mary Adelaide of Cambridge (mother of the future Queen Mary), the Grand Duke and Duchess of Mecklenburg Strelitz, Prince Alexander Schonberg, the Earl and Countess of Wilton, Mr. and Lady Charlotte Lyster, Baron Knesbeck and the Bishop of Manchester. St Mary's originally had a chantry in honour of St Margaret, which had been renamed.

The reason why the Duchess of Cambridge was invited to perform the opening ceremony may well have been the unpopularity of the Cambridges with Queen Victoria and the Prince Consort, who disapproved equally of the Earl of Wilton. If anything, they disapproved even more strongly of Princeaa Mary Adelaide.

Originally planned to accomodate 500 people, in 1863 the nave of the Church was lengthened by another bay at the expenae of the Earl, who also added twelve feet to the chancel in 1871, built a new vestry enlarged the organ and removed it to the old vestry at the east end of the north aisle. In 1884 this organ was sold and a new organ was installed. The roof of the organ chamber was raised and the north porch removed to its present position and enlarged.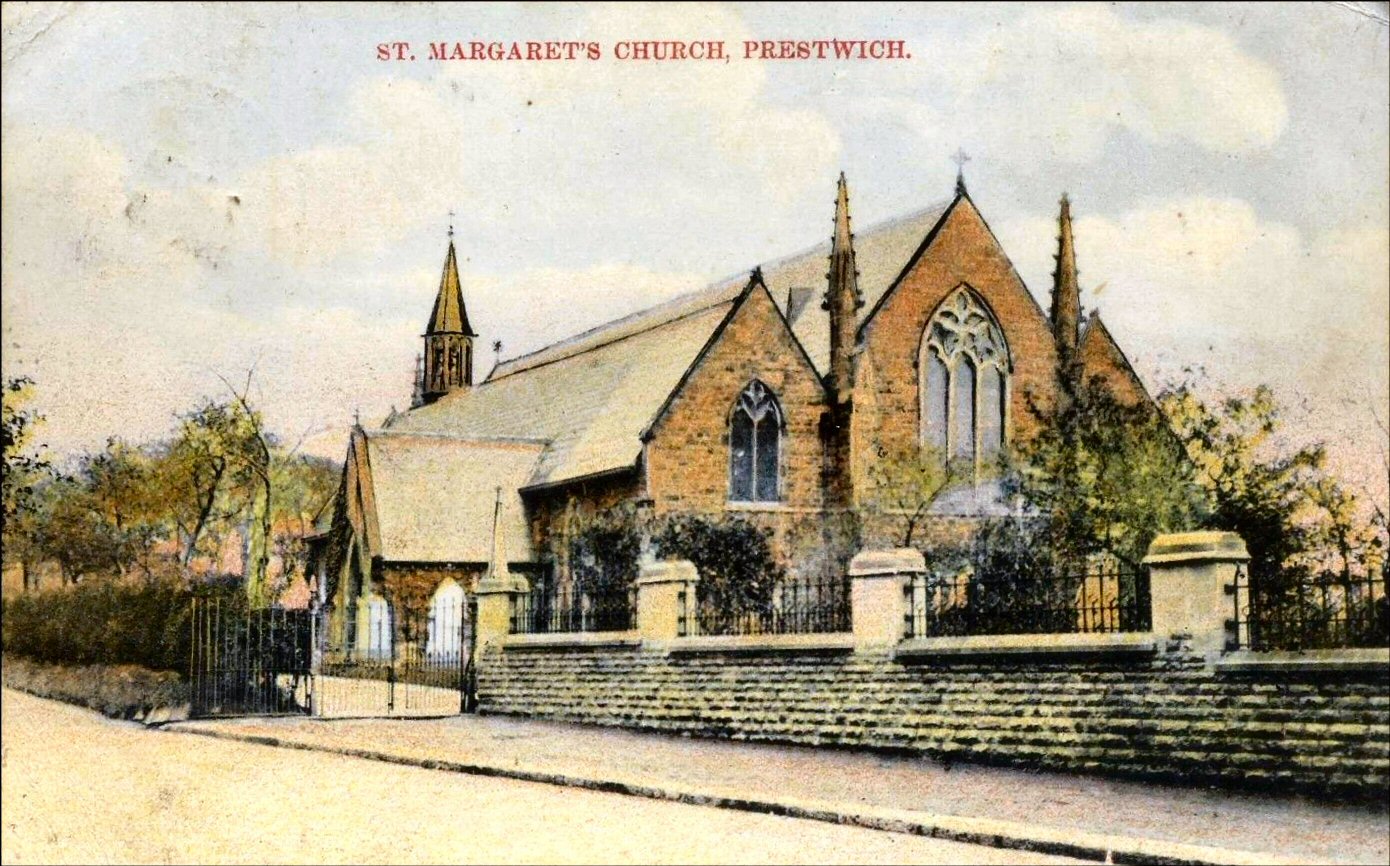 1906

CURATES AND VICARS OF ST. MARGARET'S HOLYROOD, FROM 1857 TO 1901.

1857-1870. Edward Thomas Billings, M.A., Emmanuel College,Cambridge, Curate-in-Charge.
1870-1871. Francis John Atwood, B.A., Worcester College,Oxford, Curate-in-Charge.
1871-1885. Stanley Swinburne, M.A., Worcester College,Oxford, Curate-in-Charge.
1885-1891. Stanley Swinburne, M.A., Worcester College,Oxford, first Vicar.
1885-1888. William Henry Tasker, B.A., Victoria University,Manchester, Assistant Curate.
1888-1889. Charles Wallington, Literate, Assistant Curate.
1889-1891. William Smethurst Naylor, M.A., Worcester College, Oxford, Assistant Curate.
1891-1892. George Royds, B.A., Durham, Assistant Curate.
1892-1901. Joseph Herbert Kidson, M.A., Hertford College,Oxford, Vicar.
1892-1894. Benjamin Saunders Lloyd, B.A., Lampeter,Assistant Curate.
1894. Herbert Milnes Walker, M.A., Clare College,Cambridge, Assistant Curate.
1895-1901. William Molineux, M.A., Worcester College,Oxford, Assistant Curate.

In 1892, a Miss Douglas of Lagos Villas, Guest Rd Prestwich saught damages in court after William Smethurst Naylor (Curate 1889-1891) broke a promise of marriage with her. William had expressed his love for the lady who had been engaged with the Sunday school attached to the church, as a music teacher. They had been introduced to each other by Mr Swinburnes (forer Vicar of St Margaret's).

He declared "a love for her such as a man could only feel once in a lifetime". Janet, advised William to speak with her parents, and the pair were engaged in October 1890.

William introduced Janet to his stepmother and sister, staying for a week at their residence in St Annes.

William was appointed a curacy in Burnley, and the marriage was set for April 1891. She wore his ring and wedding presents started arriving.However his love letters, which numbered over 50, took a turn and he requested the enagement be broken, stating "believe me you will not regret it". He said it was his fault, but tht she should say they had come to a mutual agreement to avoid negative talk.

Miss Douglas was awarded £300 damages by the jury.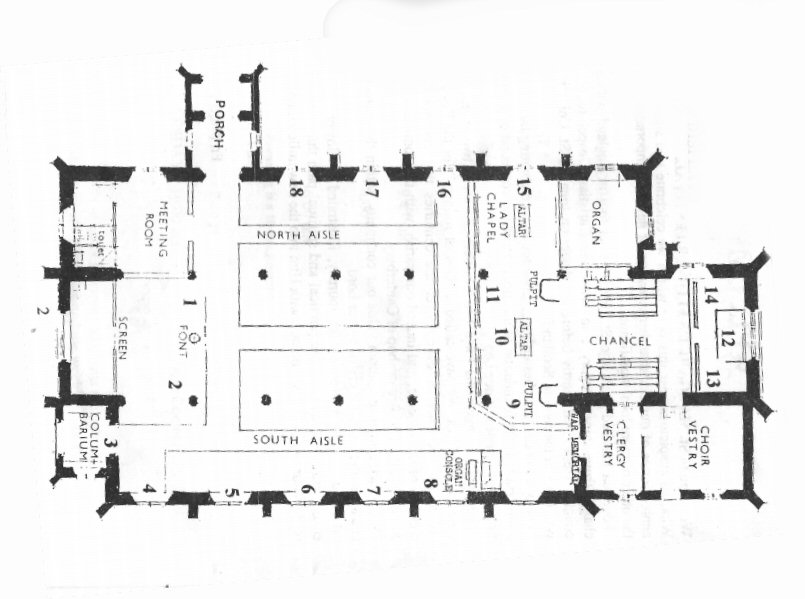 Until 1885 the present parish of St. Margaret was part of the ancient parish of Prestwich, and, as such, it was worked by the rectors and curates of Prestwich,of whom the Rev. E. T. Billings was the first curate-incharge.

WARDENS OF ST. MARGARET'S CHURCH, FROM EASTER, 1885, TO 1901.

1885-1889. Richard Denham Walker, appointed by parishioners of St. Margaret's.

1885-1888. Benjamin Carver, appointed by Vicar of St. Margaret's.

1888-1889. Henry Gorton Gregory, appointed by Vicar of St. Margaret's.

1889-1890. Tom Kenyon, appointed by Vicar of St. Margaret's.

1889-1899. Richard Hothersall, appointed by parishioners of St. Margaret's.

1890-1901. Thomas Collin, appointed by Vicar of St. Margaret's.

1899-1901. Walter Egerton Walker, appointed by parishioners of St. Margaret's.

Mr. R. D. Walker was from 1858 to 1885 (as the representative of Great and Little Heaton) one of the six wardens of Prestwich, by the appointment of the rector of Prestwich. The first clerk at St. Margaret's was John Davenport.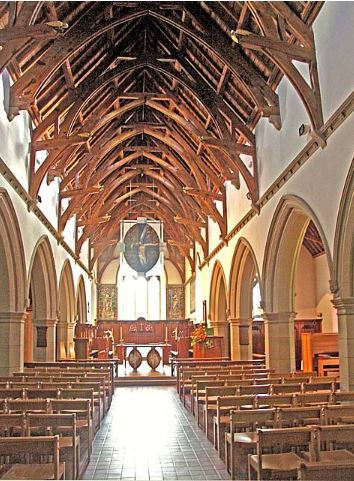 Amongst the old local characters who have lived in Prestwich, we may notice " Old Mat," or Matthew Heywood, who formerly lived in one of the old thatched cottages called " The Dish,"

By trade he was a slater, and we believe a native of Simister Lane, as was also his wife. He was a hearty and hale man, exceedingly active, and of strong nerve, for we have seen him when he was eighty years of age running about the slates on the house tops quite nimbly. He was one of a family of nineteen, all of whom were christened in Prestwich Church. He could turn his hand to almost any ordinary work, which usually falls to the lot of a labouring man. He was very entertaining, and delighted to relate stories of Lancashire life, especially about his native place. He was a poet of no ordinary degree, and he was often invited up " to th' Ho," as he was accustomed to call Heaton House, to recite his verse, to the delight of Lord and Lady Wilton and their friends. He died 22nd January, 1885, aged 86 years, and, with his life partner, now lies interred in the graveyard of St. Margaret's Church, Holyrood.

Come, all that are fond of a rhyme ; .
Come, listen to one that I've got;
You'll allow me to take up your time,
While a history I give of " Old Mat."

In a pair of knee breeches he's dressed,
On his head a grey billycock hat,
White stockings and scarlet plush vest—
I'm sure you'd admire " Old Mat."

Once in Simister Lane he did dwell,
Where his wife and he often did chat;
Saying, to flit it would now be as well—
" I'll go nearer my work," says " Old Mat."

He was told of a snug empty cot,
Then he started as sharp as a cat;
He found it a grand little spot—
"I'll inquire the rent," says "Old Mat."

He's a poet, though slater by trade,
Very handy at jobbing and that,
And many a good haystack he's made—
An ingenious man is " Old Mat."

If you wish to keep pace with the times,
And liye like an aristocrat,
I'd have you to study these rhymes,
And take for a model "Old Mat."

Old Mat by Matthew Heywood, mid 19th century


In 1884, subscribers erected a memorial window to Thomas, The 2nd Earl of Wilton in St. Margaret's, althought the family vault lies in St Mary's Church prior to the burial of the 4th Earl.

A stained glass window was given by W.Graham of Langley House in 1864 and two panels of stained glass were given by Miss Marion Tomlin of Langley House about 1894. She also gave the lectern.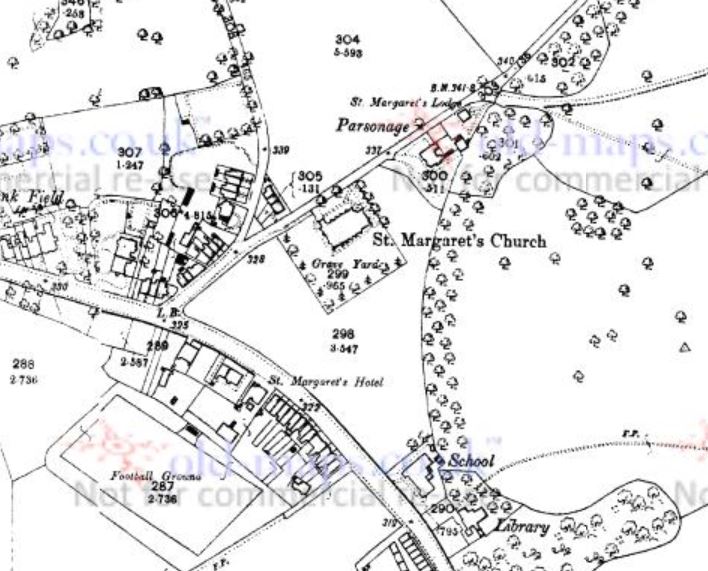 1891
In 1899 the church was enlarged, and a second porch built in commemoration of the Diamond Jubilee of Queen Victoria. Also that year, Benjamin Carver, J .P. , of Polefield House gave to St. Margaret's the land between the Church and Bury Hew Road, so that it would not be built upon. This land was later laid out in gardens, opened by Mr Carver with a golden key to the gates. Mr Carver also donated the bandstand to Prestwich Clough laid the stone for St Margarets Church House in 1910. Mr Carver is buried in St Margaret's by the railings next to Carver Ave.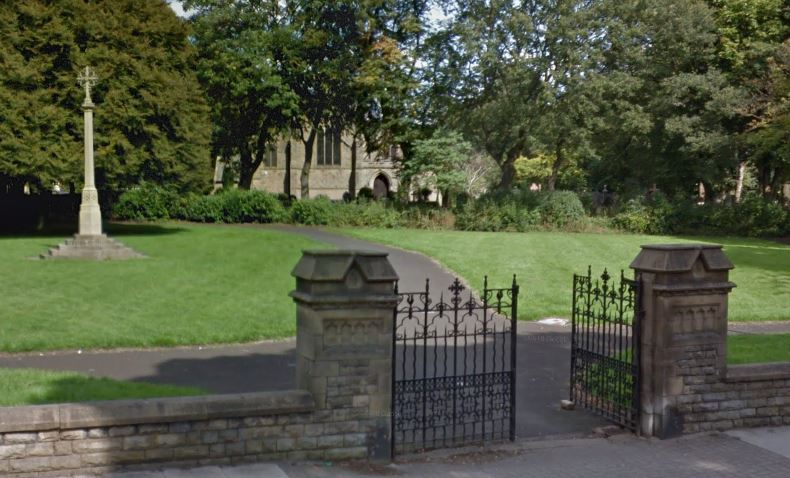 Also In 1899 Edward Holt, of the Holt family of brewers, began the process of enriching St Margaret's with beautiful carved oak work by the Kendal craftsman, Arthur Simpson, with a gift of new choir stalls designed by Dan Gibson. Over the following 21 years, the church was enhanced with a new high altar, reredos, panelling, bishop's throne, rood screen, war memorial and other items, largely designed by Gibson and made by Simpson.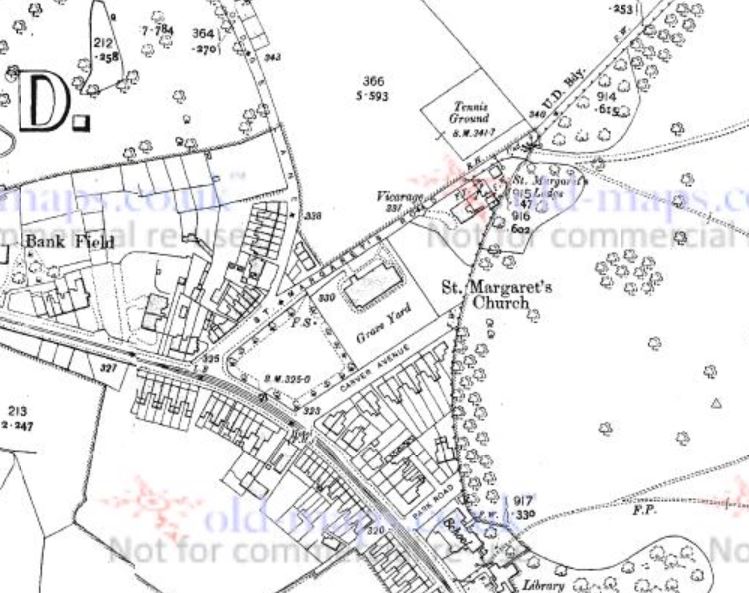 1909
After Mr. Carver's death In 1912, a Memorial Cross, 25 feet high was erected to his memory in the gardens by the parishioners. The Cross and shaft were blown down and broken by a violent gale on New Year's Day, 1916. The following May It was replaced by a similar but smaller Cross. The Church House was built In 1910.

In the churchyard of St. Margaret's, a short distance from the main gate, is the vault in which lie the bodies of the 4th (1898), 5th (1915) and 6th (1927) Earls and also the 6th Countess.

The Churchyard Extension (1909) contains the war graves of 27 service personnel, 11 of World War I and 16 of World War II.

Joseph Holt, of the local brewery family who lived at Woodthorpe on Bury Old Road, joined the 2nd Volunteer Battalion of the Manchester Regiment in 1904 and qualified in musketry. After the re-organisation of 1907 which introduced the Territorial Force his unit became the 6th Battalion Manchester Regiment. He was promoted to Captain on 20th December 1911 and was killed in the Battle of Krithia. The oak chancel screen, carved by Simpson of Kendal, was erected to Joseph's memory by his parents in 1920. This depicts a kneeling soldier – said to be based on Joseph Holt – and the flag of the 6th Manchester Battalion.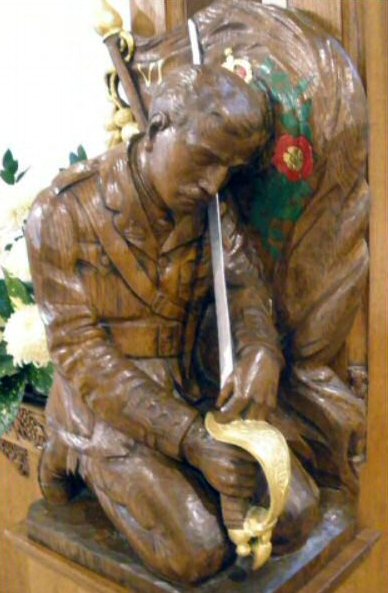 In 1951 St Margaret's celebrated its centenary with a year of festivities and special observances, and published a sounvenir booklet: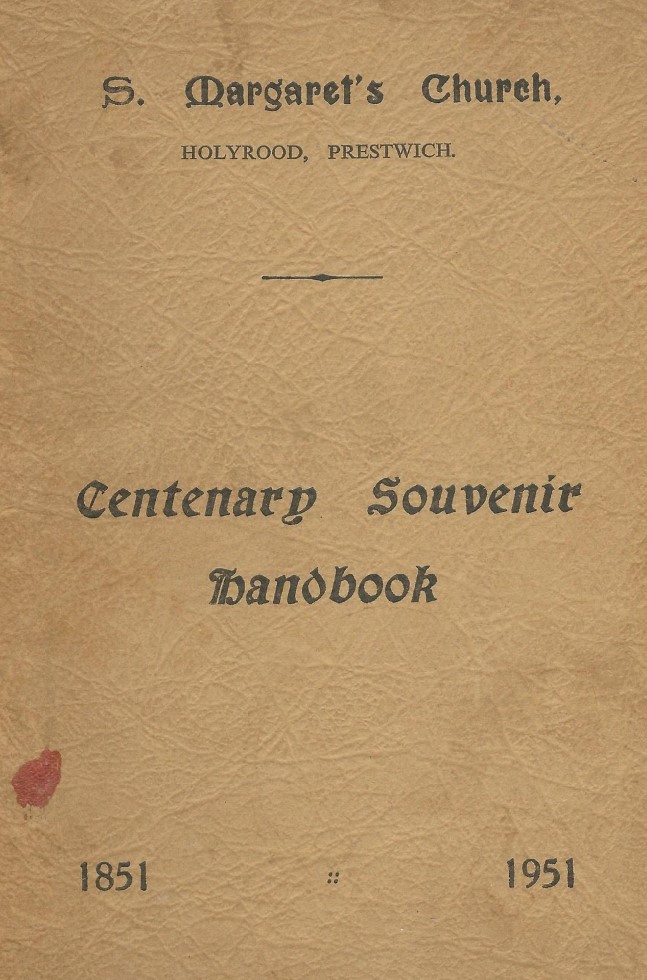 1951 Centenary Handbook
In 1960 the south-west porch, built in 1899, was converted for the interment of the cremated remains of the dead. Subsequently, two Garden of Remembrance were added to the Churchyard: at the west end of the church in the 1990s, and at the east end in 2007.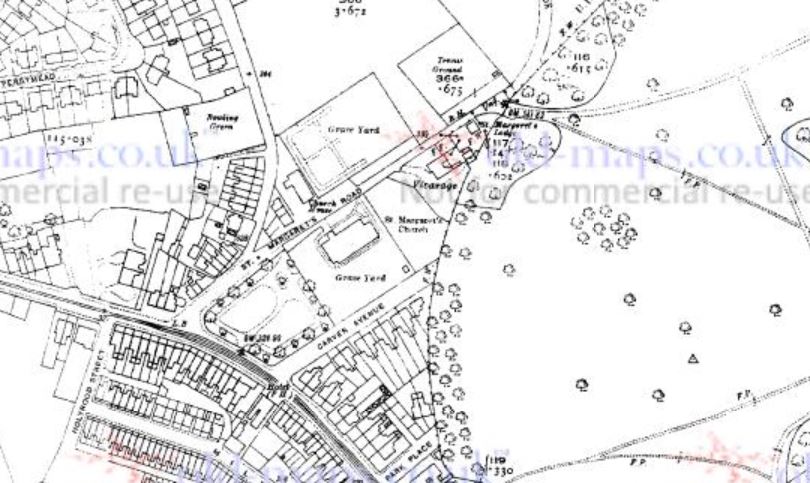 1920
In February 1985 the church was damaged by arson, when the 1884 Foster and Andrews organ, the Lady Chapel and a number of other fittings were completely destroyed. The ensuing restoration, by E. G. Thorne, included the complete renewal of even those parts of the building which had not been directly affected by the fire.