! side panel> <! side panel>
Artisan Naturalists


[Thanks to Alan Jennings and Prestwich Heritage Society who's posts I have pieced together here along with oodles of info from other books & online sources]


Contents:


James Percival Snr. (1777-1863, aged 86)

Richard Buxton (1785-1865, aged 79/81 years)

John Horsefield (1792-1854, aged 62)

James Percival (1826-1902, aged 74)


The Artisan Naturalists from Andy Marshall on Vimeo.


John Horsefield


John Horsefield was born in 1792 to Charles Horsefield of Whitefield, and baptised at St Mary's in Prestwich.




Baptism of John in 1792
John became a hand loom weaver and lived at Stone Pale, near Besses O'th'Barn. Although most textile manufacture was by then factory based, he preferred to keep his independence and learned plant classification and identification while working at the loom. His father Charles "could never write, and could scarcely read" but he belonged to a local botanical society from which he borrowed the copy of Lee's Botany that John used to learn the Linnaean system. To learn the twenty four classes of living things (The Linnaean system) John recalled :

"I wrote these 24 names down on a sheet of paper, and fixed it to my loom-post, so that when seated at my work, I could always have opportunities of looking it over"

Handloom weavers in Lancashire were noted for their commitment to self-education and self-improvement. They were drawn to botany,politics,poetry,entomology,science and mathematics and made real contributions in those fields. They were known as "scientists in humble life" and the botanists were later termed Artisan Naturalists. Their achievements were remarkable considering the circumstances of their lives. Alongside we have also and shoe makers, who again being self employed had a fair control of their "free time".

By 1808, aged just 16 John started to attend botanical meetings and soon found that learning from more experienced botanists was very productive, given the lack of books and low levels of literacy in the working classes.

This communal method of learning was little understood by middle-class observers. In 1811, Robert Lyall, house-surgeon to the Manchester Infirmary, wrote that he:

"had the curiosity" to attend one of the Sunday meetings held at an inn in the suburbs of Manchester. Over thirty "Gardiners, Weavers, Colliers, Fustian Cutters and other tradesmen"

"Every individual paid a shilling to the Inn-keeper for as much beer
as he chose to drink.... After some draughts of beer, the members
seated themselves in regular order; & each in his turn produced his
flowers, which were one by one handed round the table, after the
Chairman or some neighbouring member, had aloud pronounced its
Linnaean name.

The societies were not just for the men either, in August 1812, Horsefield went to a botanical meeting in Tyldesley with his sister and a young woman, Esther Eccorsley, who later became his wife.

In later years John would use this principle of communal learning during his presidency of the society which started in 1830, naming random specimens on the desk in front of the attendees, before passing the specimens round the room for all to examine. John explained...

"we instruct one another by continually meeting together; so that the knowledge of one becomes the knowledge of all, and we make up for the deficiency of education by constant application to the subject"

John Horsefield was an onlooker at the Peterloo Massacre of 1819 and recorded that he had turned towards politics after the lack of an upturn in trade, which had been hoped for following the end of the War with France in 1815. The population had been calling for Parliamentary Reform, with meetings, petitions, strikes and marches planned through 1816 - 1818. William had attended meetings in Bury and Middleton, and in 1817 a crowd of 5,000 had gathered at St Peter's Fields in Manchester. On That day, they were dispersed, without injury, by the King's Dragoon Guards. However in 1819, a gathering of over 50,000 gathered at St Peter's Field, and was this time dispersed by the violence of the Manchester and Salford Yeomanry, led by Hugh Hornby Birley, with 18 killed and over 400 injured.


You can read more about John's observations in this publication available from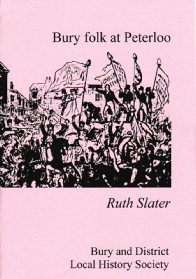 Bury LHS




John was one of the first founding members of the Prestwich Botanical Society in 1820 and in 1830 became its President.


Read the notebook of Richard Buxton, describing how by chance he met John Horsefield on Kersal Moor in 1826: Bury New Road Project

Horsefield's increasing destitution in later years led both the Prestwich Botanical Society and the membership of the general meetings to exempt him from paying his share of liquor money, which was seen as a fair exchange for his skills.

He created Trigridia Conchiflora Watkinsoni, a hybrid between a Tiger Lily (Pavonia) and a Shellflower, as well as his daffodil, Narcissus Bicolor Horsfieldii. Being poor he sold the Tigridia corms to a nurseyman called Watkinson who registered the new plant with the RHS in his own name! The Heritage Society obtained some of his daffodil bulbs and grew them on. They are now planted around John's famous grave in Prestwich Parish Churchyard.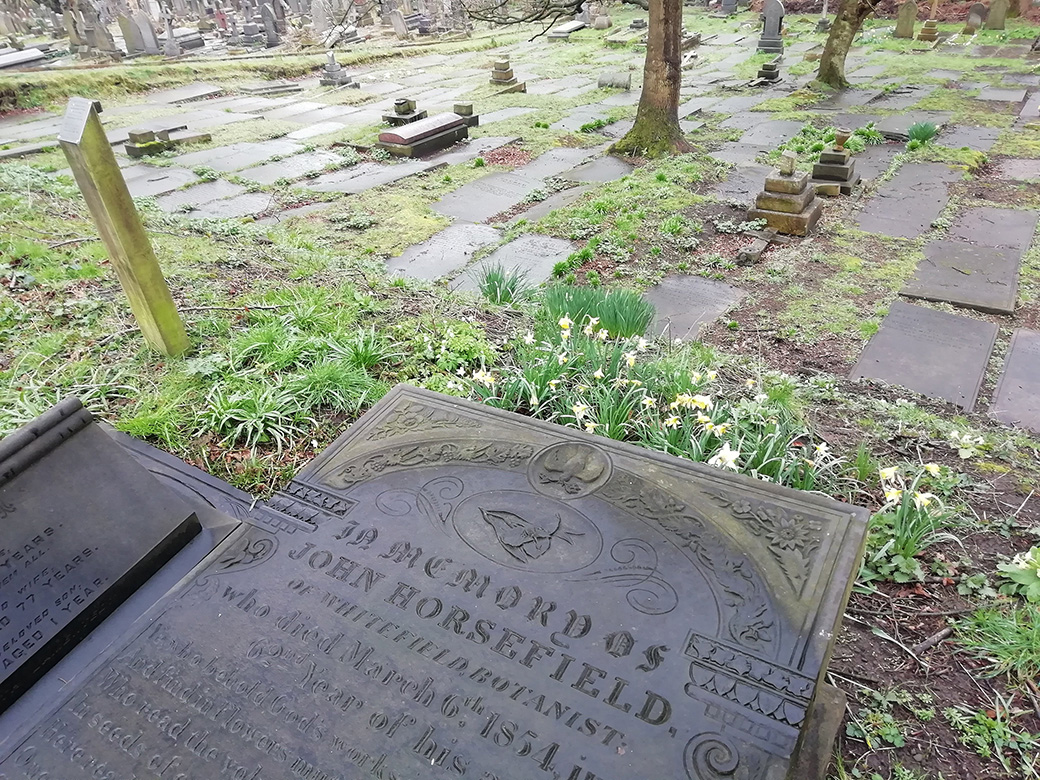 [St Mary's D2]
When Horsefield was engaged In the construction of an orrery, a mechanical model of the Solar System, he asked local joiner/carpenter/dealer Gideon Coope to make him a gilded ball to represent the sun. "Aw'll mak thee one", said Gideon, "an' charge thee nowt for It; but let me tell thee, fancy folk like thee're allus poor."



The Prestwich Botanical Society (as did many botanist societies in the region) met at several public houses over the years. The Society was founded in 1820 in the Cock & Trumpet Bury Old Rd. (rebuilt as the Parkside in 1900) and also met at the Ostrich Tavern ( until 1850). In 1852 the meetings of the Society were held at Besses o'th'Barn Inn, and they then went on to rent a meeting room above the Naturalist on Bury New Rd. where the Society had a library of several hundred books. The Inn was renamed the Railway and Naturalist when the railway came along in the 1870s.

During the 1840s John had to defend the artisan Botanists from criticism that knowing the names classes of plant was worthless without knowing their uses. This he rebuffed stating that herbalists who

"wish to avoid ... mistakes ... may receive the necessary information, gratis, at almost any of our meetings, provided they only ask for it".

A life of grinding poverty was only relieved towards its end, when a subscription fund was set up to support him, he died in 1854 aged 62. A wealthy Shale Gas businessman and Geologist, called Edward William Binney, funded his gravestone (along with that of William Sturgeon). Such was his fame that a death mask was made of him by a phrenologist when he died ( which hasn't been traced as yet.) A verse from "The Manchester Poet", Charles Swain (buried elsewhere in St Mary's) also adorns the top of the table tomb.


John died in 1854 and the presidency of Prestwich Botanical Society passed to James Percival Jnr.((below)). John's famous tomb in Prestwich churchyard shows a plant in the car-touche which is probably his Tigridia. Although Horsefield cultivated the bulb of this orchid he had to sell his creation as he was on hard times, so it is now named after the man who purchased the bulbs.

Horsefield's grave stone is listed grade II due to the poem by Charles Swain that is on it's surface:


Read Swain's Poem
"Ye who behold God's work in Nature's ways,
And find in flowers mute anthems to His praise,
Who read the volume of eternal love,
In seeds of earth as in the stars above.
Here read a name whose fame shall long endure,
One of poor birth, but gifted although poor.
God - unlike man - the humblest spirit lifts,
Nor asks his wealth before He sends His gifts!
Where'er Botanic science could be learn'd,
New links disclosed - new species yet discerned.
Where'er by wood or lane or heath or hill,
God ope'd the book that taught Botanic skill.
There HORSEFIELD'S foot from dawn to eve was seen,
To learn - to teach - to be what he has been,
An honour to the soil that gave him birth:
A mind of truth - a heart instinct with worth:
Oh, may that spirit for whose loss we grieve,
Our God accept - our Saviour Lord receive."


Read a more in depth article about John Horsefield at Wikipedia

Go Back to the top

James Percival Snr.


In 1777 James Percival was baptised by his parents Nathan & Ann (nee Hardman) at St Mary's Church in Prestwich. Nathan had worked on the farm at Sedgley Hall, for the father of Richard Buxton (below) .




Baptism of James Snr. St Mary's Jan 5th 1777


In 1826, John Horsefield was spotted "botanising" on Kersal Moor by Richard Buxton (below) . John was president of the Prestwich Botanical Society and John suggested to Richard that they drop in on an old botanist called James Percival who lived not far away at Hope Square. James was 15 years older than John, and although Richard had been born not far from Hope Square, just 9 years after James Percival, he had never met James due to the family moving to Manchester when Richard was 2 years old. Sadly James was not in, so the two men had a good look around his garden (!) and then agreed to meet up again another day. It also transpired that James Percival Snr had worked for Richard's father at Sedgley Hall Farm.

The following week all three men met at the bottom of Hunt's-bank, Manchester, at seven o'clock in the morning and headed off to Baguley Moor, Cheshire.
Read the notebook of Richard Buxton, describing how by chance he met John Horsefield on Kersal Moor : Bury New Road Project


In 1841, James Snr. was listed in the census of Hope Square, Prestwich, near where the Friendship Inn stands today. He gave his occupation as a gardener to a local gentleman and was aged 65. James was known as "owd pass" and it is also known that he was a member of the Prestwich Botanical Society. He was friends with two other famous local botanists John Horsefield and Richard Buxton, and it was James Snr who registered Horsefield's new hybrid daffodil, "Narcissus Bicolor Horsfieldii" with the RHS.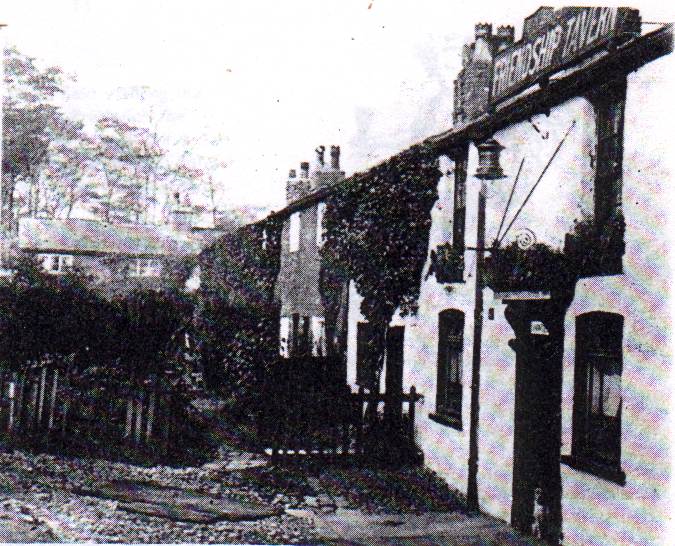 Hope Square, Prestwich
In November 1827 James's daughter Ann had given birth to a son at Hope Square. She named her son James and listed his father's name as Benjamin Kay on the Baptism Register at St Mary's.




Baptism of James Jnr. St Mary's Jan 6th 1828
By the time of the 1841 census, seventeen families were living in Hope Square, 10 of those belonged to just 3 families. Three were Percival families and three were Kay families, two were Barlow and two were Knott. So it's fair to say that the Percival and Kay families knew each other quite well...and in fact...there were weddings between the two families.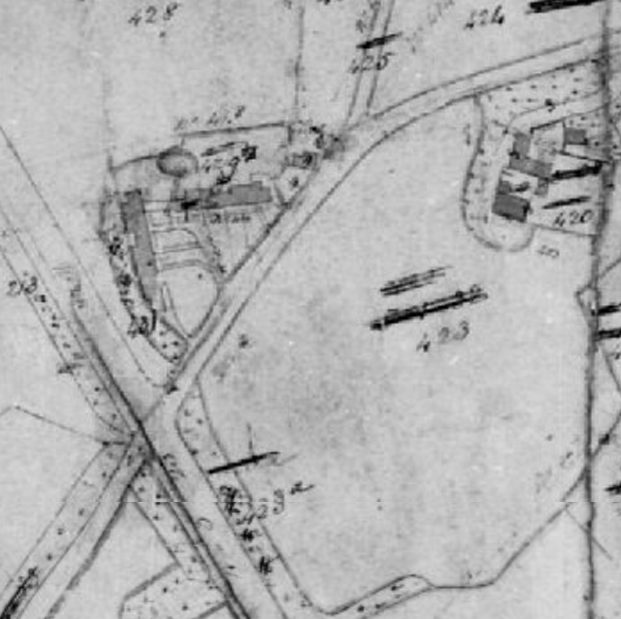 Hope Square (1839)
The Hope Family & Hope Square Hope Square is first mentioned in the registers of St Mary's in 1801, when Mary Wroe, the wife of Thomas (deceased) was buried.

The first mention of the Hope family at St Mary's was in 1603/4 with the burial of Anna, the daughter of George Hope, though it is not recorded where they lived, and several later entries refer to a family from Unsworth. The first Hope family stating their abode as Prestwich was in 1766, when John & Ann of Hilton Lane baptised their daughter Esther, though sadly she was buried just a few months later. The original bell #8 of St Mary's was provided by a churchwarden called John Hope along with the other 5 churchwardens, in 1758.The trade directory of 1772 listed John Hope as one of 4 whitsters (later called bleachers) of Prestwich.

In 1773 John Hope married Betty Holland, both of Prestwich.

Along with his brother, Daniel, they ran the Spring Vale Dye Works and Hope Farm tending to the fields over most of Butterstile hills, both stood on Hilton Lane.

John Hope bought lands in Prestwich when the estate was split and auctioned by Thomas Coke in the Ostrich in 1877. John probably lived at Hope Hollow on Hilton Lane, before then having Butt Hill house built in 1788. Both he (1773-1775) and and Samuel Hope (1777-1779) were churchwardens under Rev. Levett Harris at St Mary's. John Hope died in 1800, but the Hope family continued as manufacturers of smallwares and Thomas Hope (son of Thomas of Manchester who died in 1833) lived at Hope Hollow in 1850, with descendants still present in Prestwich until the 1920s. The family gave their name to Hope Square and Hope Brook which supplied the Dye works with its water, and the name lives on in the area of Hope Park today.

The Report of the Medical Officer to the Sanitary Committee in 1886 reported that the water supply at Hope Square was contaminated :

A group of cottages forming Hope Square have an
efficient drain passing into Mr.Ashton's land and soon
to Singleton Brook. The ground in front of the houses
is very wet for want of proper drainage, the water lies
after rain in a very unhealthy manner. A very little
expense would remedy this. The privys here are also
badly constructed. The stables of the contractor who
is constructing the new reservoir have contaminated and
entirely spoiled the water with which this group of houses
were supplied. The inhabitants now have to fetch it from
considerable distances.


James Snr. probably acted as a father to his grandson James, especially as Ann appears to have died/moved away before 1841, and he must have passed his love for plant life down to his grandson as he grew up to become President of the Lancashire Botanical Society (Read more below) ).

Living next door was Andrew Percival (b:1808 though census reports his age as 30 in 1841, he's 42 in 1851), a porter and the son of James Snr, with his wife Martha and one servant. By 1851 Andrew had become a beer seller. Andrew and Martha converted two of the end cottages at Hope Square, at the Scholes Lane end into what became the Friendship Tavern. The Tavern was first licensed in 1847, and Andrew inherited his father's occupation of Gardener alongside the operation of the Tavern.

It is tempting to think of the four Prestwich Botanists around the turn of the 1840-50s: James Snr.(aged 74); James Jnr (aged 24); Richard Buxton (65); and John Horsefield (59) sat drinking in Andrew Percival's Friendship Tavern discussing their latest observations.

However, it's known the Prestwich Botanical Society (as did many botanist societies in the region) met at several public houses over the years. The Society was founded in 1820 in the Cock & Trumpet Bury Old Rd. (rebuilt as the Parkside in 1900) and also met at the Ostrich Tavern ( until 1850). In 1852 the meetings of the Society were held at Besses o'th'Barn Inn, and they then went on to rent a meeting room above the Naturalist on Bury New Rd. where the Society had a library of several hundred books. The Inn was renamed the Railway and Naturalist when the railway came along in the 1870s.

A blue plaque has been placed on the latter pub to record the meeting place.

James Percival Snr. died in 1863 at the grand age of 86, and he is buried in the churchyard of St Mary's in Prestwich.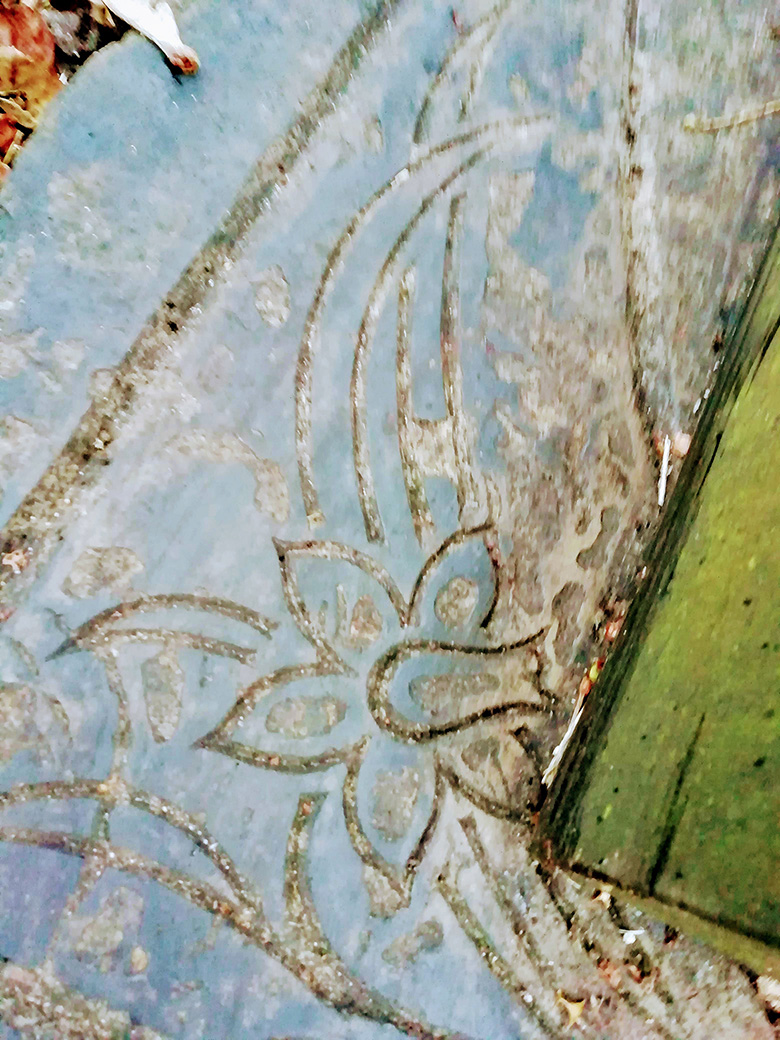 The slab believed to be that of James Snr. has a daffodil carved on the corner of it, recording his link to Horsefield's flower. The grave is located in




Go Back to the top

James Percival Jnr.


James Percival Jnr had been born to Ann Percival at Hope Square in 1827. On his birth registration his father was listed as Benjamin Kay. No trace can be found of Benjamin, and it was often the practice to record the fathers surname but be more creative with his forename. The Kay families also lived in Hope Square and the families did intermarry.

It's looks like James, aged 13, was without his mother by the census of 1841 as he was living with his grandparents, James Snr. and Martha and their children Andrew,

A few doors away from James and Andrew, lived John Percival (born 1781), the brother of James Snr. and an agricultural Labourer. He had married Ann Kay, they had three children living with them: John (1826), William (1813) and Mary (1816), plus another family relative George (born: 1821) with Elizabeth (1836) and James (1840).

Next Door to John, lived his brother Robert Percival a Cotton Weaver (born 1796) with his wife, sister, their three children and a second cousin, Ann (daughter of Aaron).

John naming one of his sons William points us to another of the Percival brothers... William (born 1792) who was the brother of John, Robert & James Snr. and served in the 16th Queens light Dragoons in the Peninsular Wars and at the Battle of Waterloo.

Back with the Botanist... James Jnr. did not follow his grandfather into gardening as a profession though, by 1851 hew was recorded as a Fly Maker (making flying shuttles for the weaving industry). Ten years later he was recorded as manufacturing 'pickers' from buffalo hide, still living with his grandfather at Hope Square.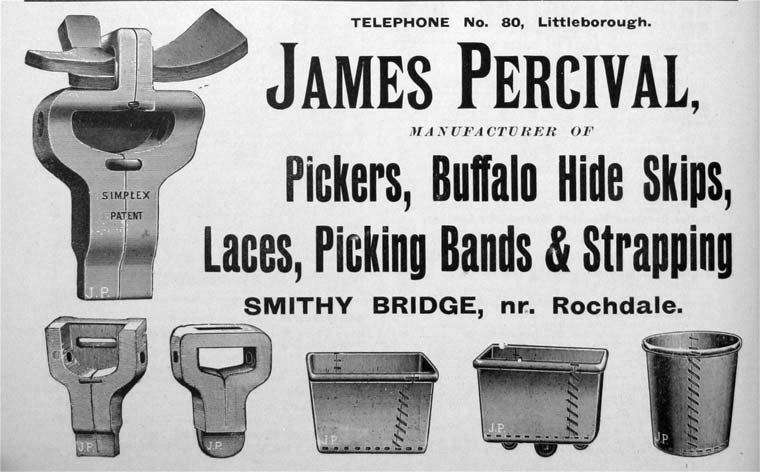 Advert, 1917
'Pickers' were the gadgets that smacked the flying shuttle backwards and forwards on the loom. Metal pickers wouldn't do - a spark was too dangerous in a textile mill.

From his grandfather's kitchen tabletop his business flourished, he started manufacturing from tough buffalo hide more items needed in a mill, such as skips and straps as well as pickers. With his success he built a factory called Fair View Mill, along with two houses not far from the canal and railway at Smithy Bridge near Littleborough.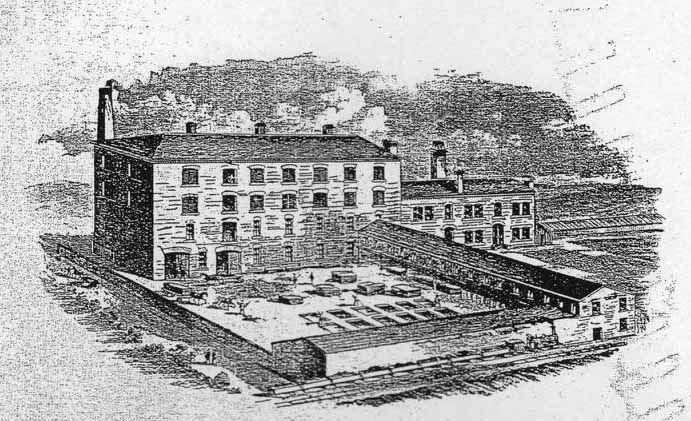 Fair View Works (1923)
James Jnr. went on to became the President of the Manchester botanists, and at their meetings he would show off by naming dozens of random samples placed on the table at meetings. Some of his specimens are recorded at herbariaunited.org with specimens of sedge grasses and moss dating from between 1865 and 1884 held in not just Manchester Museum, but those of Aberystwyth, University of Birmingham and the Natural History Museum in London.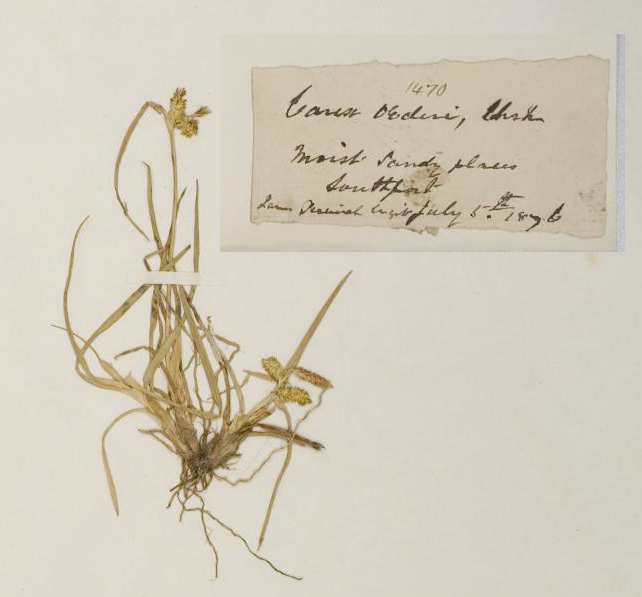 Carex Viridula "Little Green Sedge" collected by James from "moist sandy places, Southport" in July 1876
James Jnr. grave stone sits on top of what is thought to be that of his Grandfather James, also a keen botanist.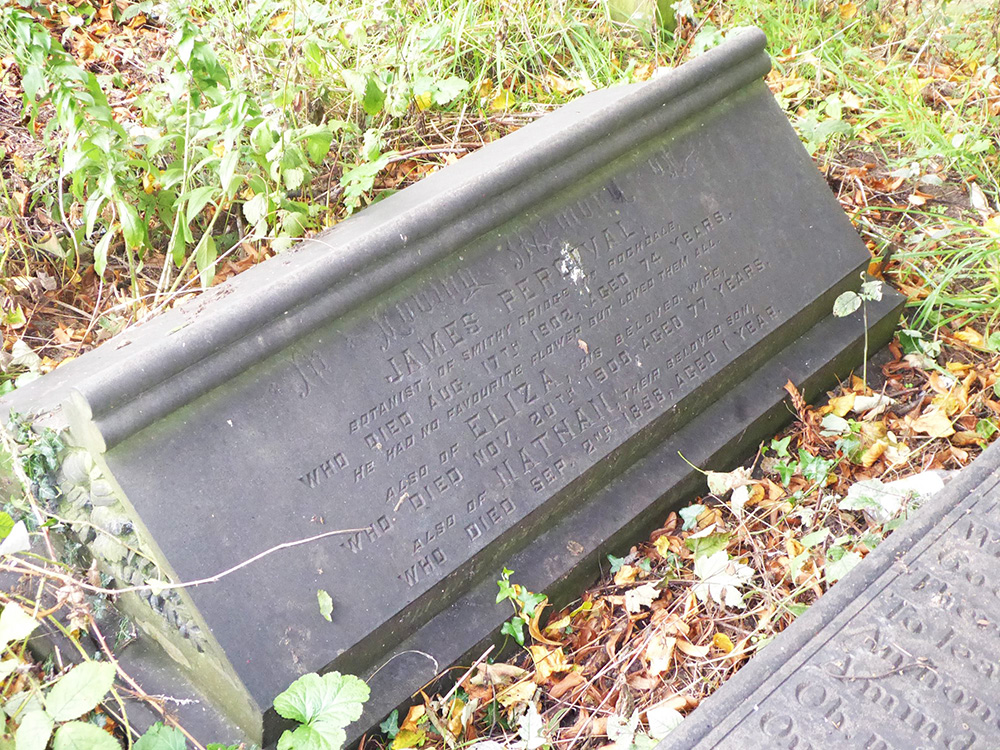 Back in Hope Square, Andrew and Martha Percival kept the Friendship Tavern into the 1870's, Martha died in 1873 (aged 70), Andrew died in 1877 (69), and by the census of 1881, William Reckless from Nottinghamshire had taken over the Tavern. There were no Percivals living at Hope Square.

William Percival, the Waterloo Veteran, was living in Longfield with his wife Margaret, when he died in 1883.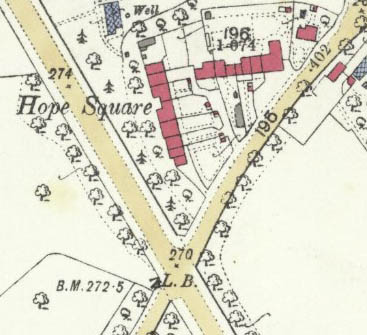 Hope Square (1893) showing 15 properties
The land of Hope Square was sold by the Hope family, and the present day Friendship Inn was completed by Holts in 1927. The old tavern was demolished soon after and with this the birthplace of the Percival botanists was lost.

The New Friendship Inn edges out the Old Tavern (1932)
Go Back to the top



Richard Buxton


Richard Buxton was born in 1785 to John & Ann (nee Horton) at Sedgley Hall Farm, and was baptised at St Mary's.




Richard's baptism entry 1785



When he was 2 years old his family fell on hard times and they moved to Bond Street in Ancoats, where he worked as a clog maker, using his free time to study botany. At the age of 12 he was apprenticed to a maker of children's small leather shoes named James Heap in Port Street Manchester.

Later he went to work with James Hyde. When trade was good, he had to work from 6.00am until 9.00pm and earned about 14 shillings to 15 shillings per week, about 70 to 75 pence in today's money.


At the age of 16 Richard was illiterate but with the aid of the Common Spelling book, he taught himself to read. In June 1826 he was "botanising" on Kersal Moor when he met John Horsefield (above) who introduced him to other local botanists such as James Percival (above).

He used his free time of which there was little, to study Botany, gaining a reputation as one of the finest botanists in the country, with particular knowledge of mosses. His was a life of poverty, relieved by charitable donations and sales of his Manchester Botanical Guide - "the poor can enjoy the pleasures of studying science as well as the rich". Richard, in his 1849 Guide, mentions the aqueduct 35 times when referring to the location of particular plants.He died at Limekiln Lane, Ardwick.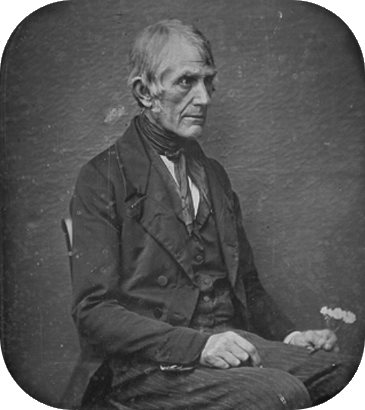 A daguerreotype of Richard Buxton. by John Benjamin Dancer.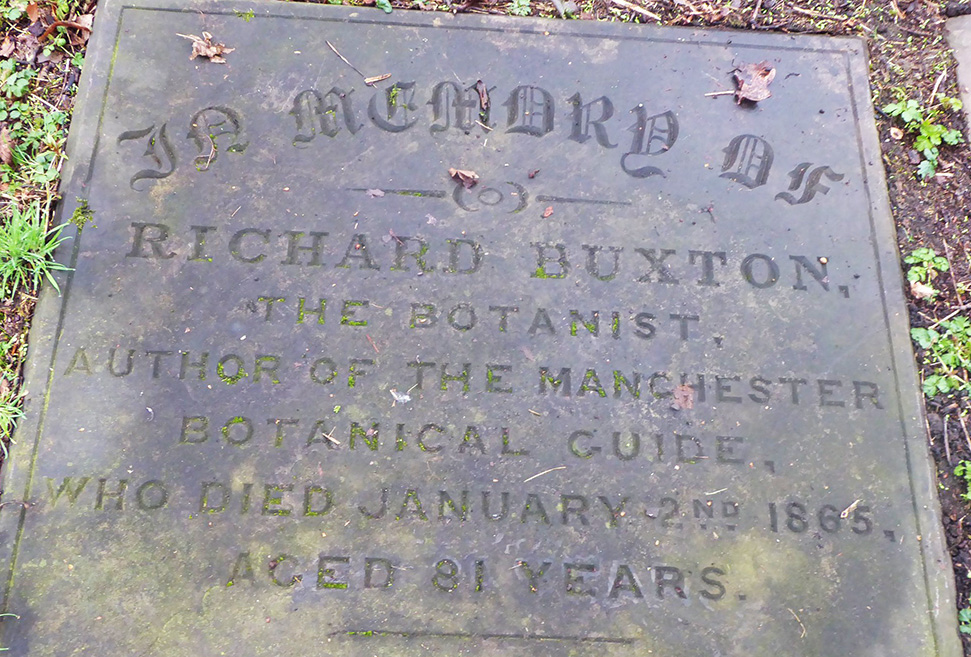 [St Mary's NORTH]
Read a more in depth article about Richard Buxton by Nicholas Ritchie at Wikipedia


Read the notebook of Richard Buxton, describing how by chance he met John Horsefield on Kersal Moor in 1826: Bury New Road Project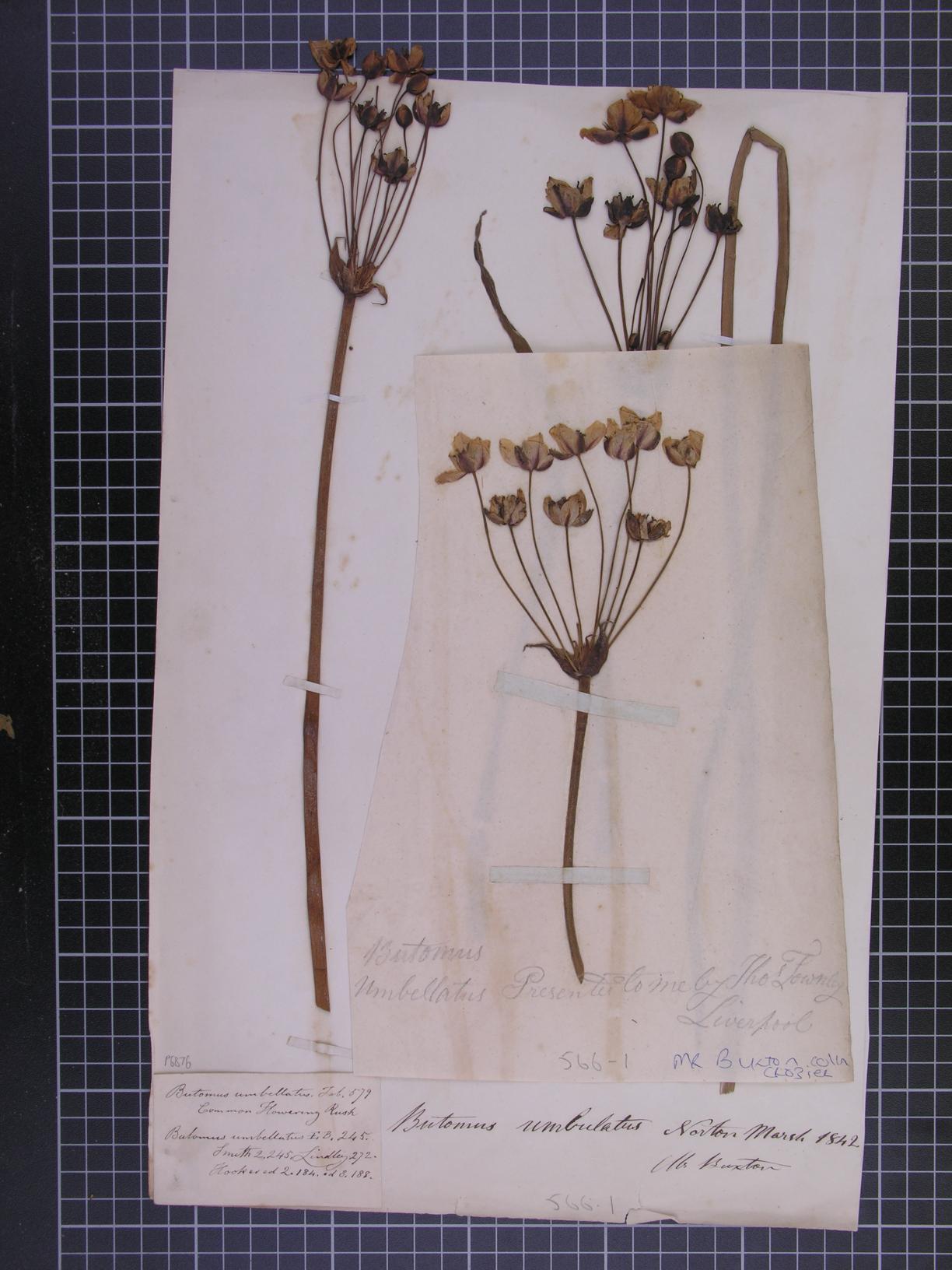 A Sample of Sedge submitted by Richard




Some of Richard's collected specimens are recorded at herbariaunited.org with specimens of sedge grasses dating from around 1862, held in Manchester Museum.
Richard was one of Nature's gentlemen and the Geologist Edward William Binney acknowledged him as "the most profound thinker of his class" and helped fund his gravestone.

[Edward Binney also funded the gravestone of William Sturgeon]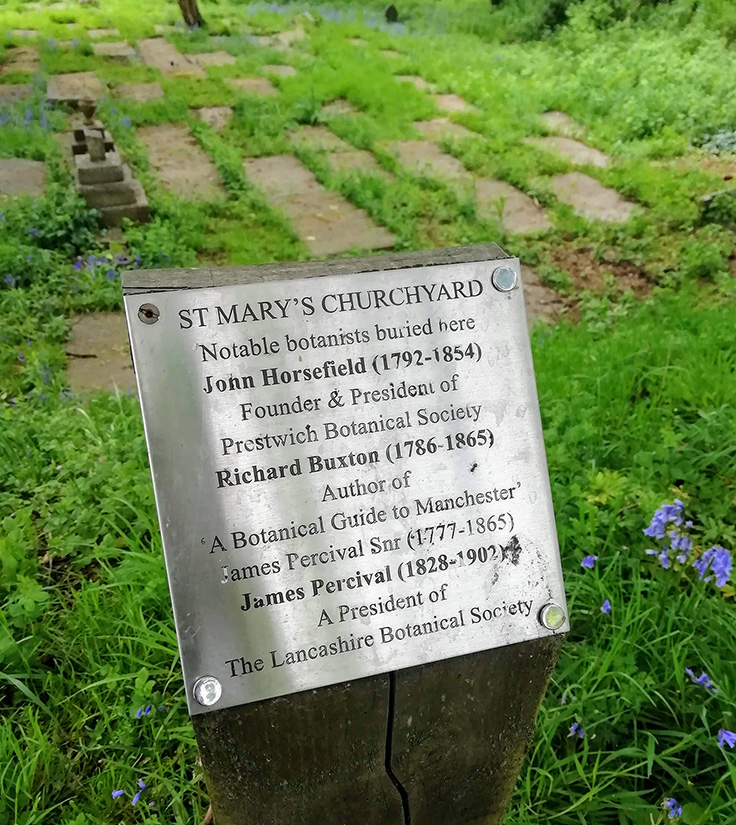 A notice has been positioned on a post near the graves of the Naturalists.

The Naturalists met all over Manchester to collaborate, discuss and document their discoveries.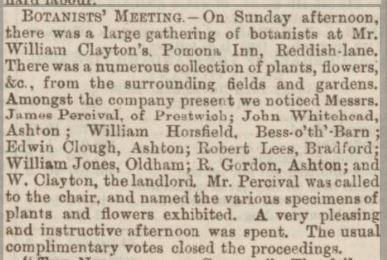 On Sundays only travellers were allowed to drink in a Public House, and in 1850 when the Naturalists were found drinking in the Ostrich Tavern on Bury Old Road during the hours of divine service, the landlord Joshua Barge was fined £5. Considering that the working week was 6 days, the Naturalists could only perform their activities on a Sunday. The middle classes had a bit of a dilemma as they wanted to curtail drinking, but encourage education, and the Naturalists were caught up in the middle.

The Society were founded in the Cock & Trumpet Bury Old Rd. in 1820 (rebuilt as the Parkside in 1900) before meeting in the lounge at the Ostrich Tavern (until the events of 1850), and then went on to rent a meeting room above the Naturalist on Bury New Rd. (renamed the Railway and Naturalist when the railway came along in the 1870s) where they held their display cabinets and library.

A blue plaque has been placed on the latter pub to record the meeting place.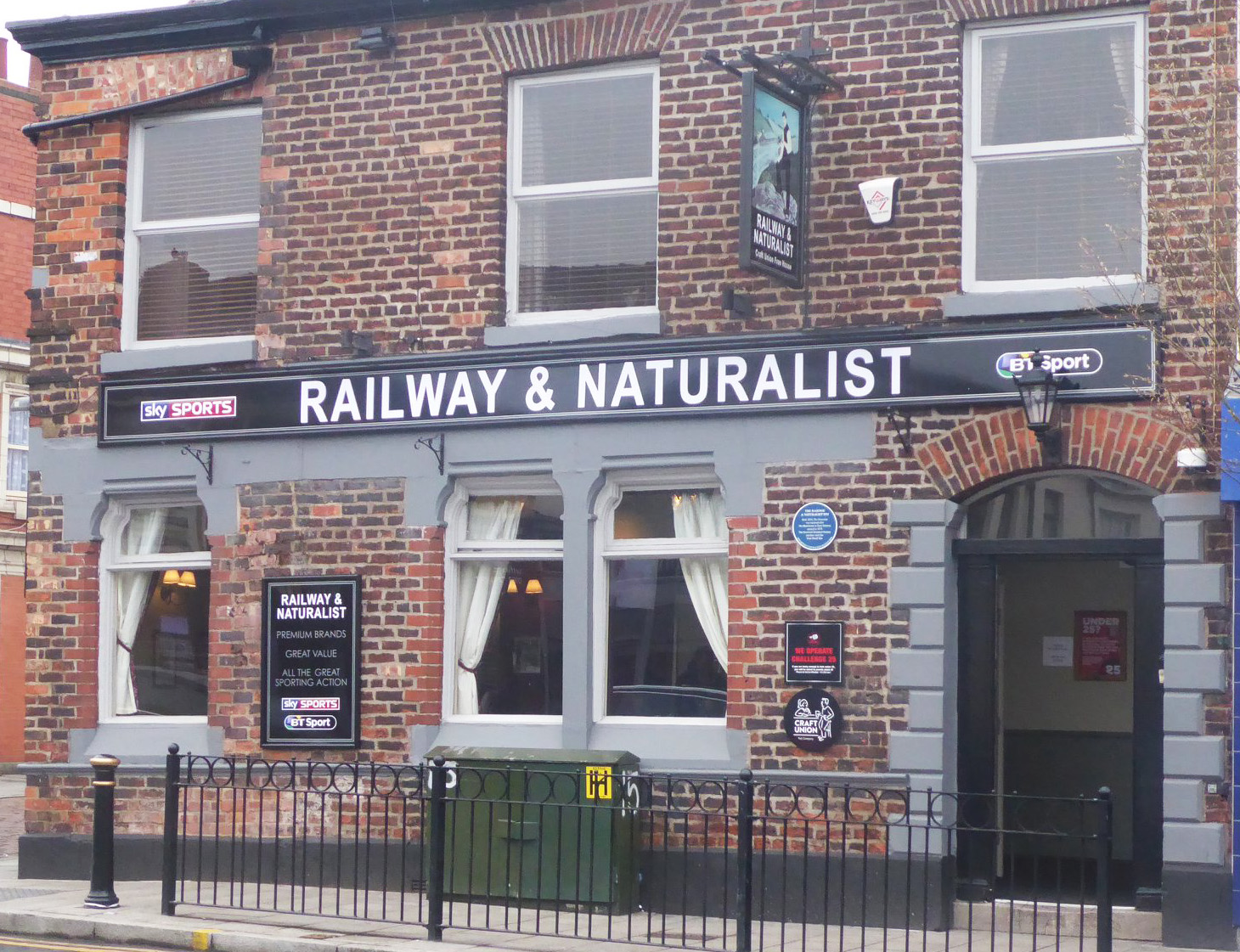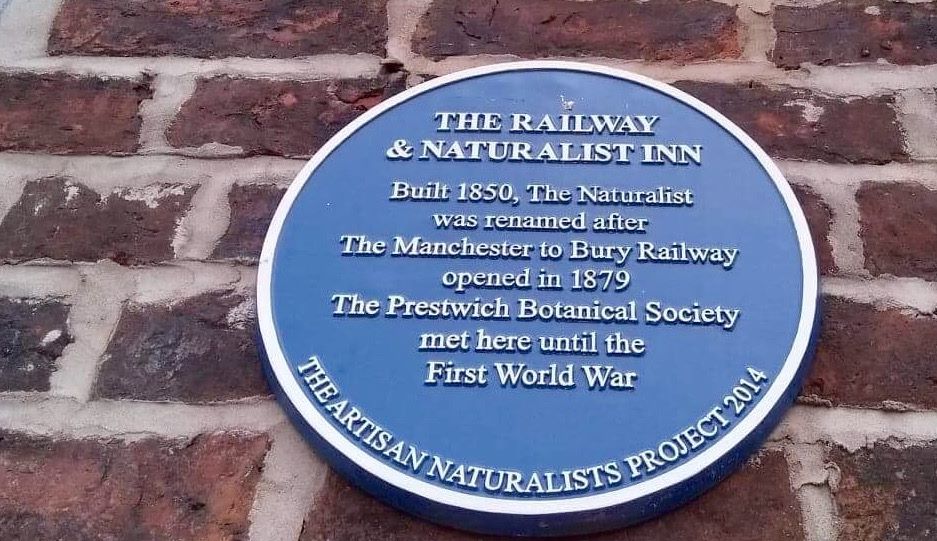 Hear more about the naturalists (skip to 9min 54Secs) in this interview with Bill Cottam giving a tour of the churchyard
[credit to at maidstone.blog]...


Go Back to the top

Become the next Artisan Naturalist of Prestwich... add your observations at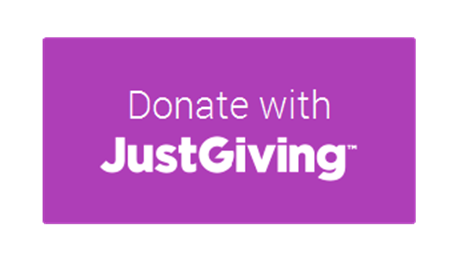 Donate to the upkeep of the St Mary's Churchyard




Your kind donation will go towards tools, or employing professional stone masons to reinstate stonework damaged by time, trees, animals or humans.