! side panel> <! side panel>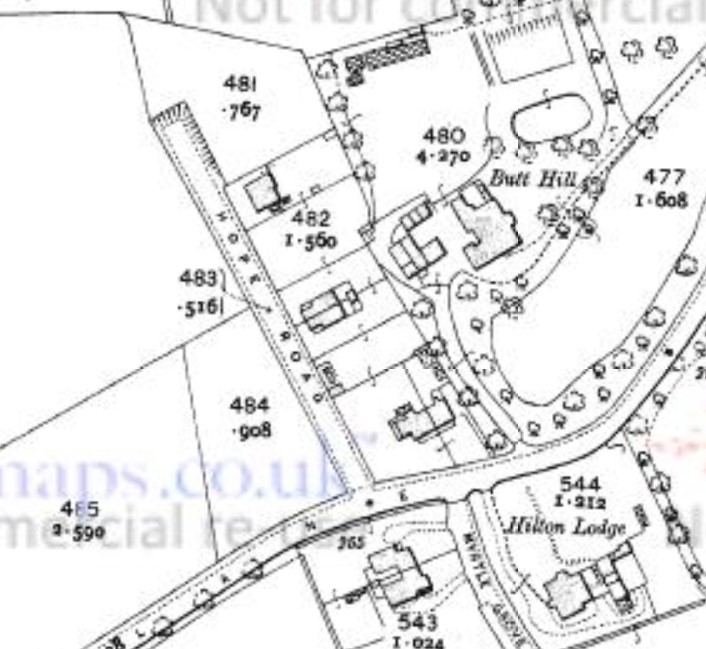 Hope Road, Hilton Lane
Hope Road, on Hilton Lane, was laid on land to the left/West of Rookwood & Wrenwood. Around 1902, two properties were built along the Eastern side of the road, the first being a large semi-detached property behind Wrenwood.

A second, detached property, was built further up towards the end of the road, this dead-end is now the junction with the Barnhill and Agecroft East roads. The land between the two original properties was set aside as another plot, but has since had three further houses built upon it. A fourth property now also sits between Wrenwood and the large semi-detached house.


The 1911 census shows that in this first property, house number 1, the architect Everard Leeson lived along with his wife,two children, and one servant. Everard's sister Jessie was also staying at the house when the census was taken.

In 1907-08, Everard had designed a Methodist Church in Glazebrook.


Shortly after, he used his design for this church as a basis for the Manley Park Methodist Church in Whalley Range.


These churches still stand, as does Everard's most notable construction, The Manchester Ice Palace in Derby Street, Cheetham Hill.
Opened by Lord Lytton on October 25 1910, clad in white marble, it hosted the National Ice Skating Championships a year later and the World Championships in 1922.

The Ice Palace was the only ice hockey rink in Britain during the early 1920s. A game between The Army and The Rest was played at the Ice Palace in November 1923 to select the British team for the 1924 Winter Olympics.

It was closed in 1915 and used to manufacture observation balloons for the war effort. It reopened on November 21, 1919. It was requisitioned by the Ministry of Aircraft Production in 1941 and later reopened as an ice rink on March 21, 1947.

A plant owned by The Crystal Ice Co. sat across the road and provided the ice. At the end of each day, the churned ice from the rink was pumped through an underground pipe to the iceworks. Fresh iced water was then pumped back to refresh the rink's surface overnight.

The ice plant across the road produced 100 tons of ice every 24 hours, in 4'x3'6"x1' blocks for various uses. It was owned by The Crystal Ice Co. who also had premises on Mulberry Street,Hulme. This lead to Everard also designing the Mulberry Street Dairy, later part of Lancashire Hygienic Dairies (LHD),these Ice works in Hulme are unfortunately long since gone.


Read an M.E.N. article on the Ice Palace here.



Watch Martin Zero's video on the Ice Palace


The other half of the split property on Hope Road was occupied in 1911 by James Alfred Henry Catton aka "Tityrus".


In 1886 James Catton began to contribute football reports for the Athletic News newspaper (Manchester). He initially used the pen name of "Ubique". Later he took the name "Tityrus". Catton wrote of the first use of netting in a football match and was a supporter of the game turning professional. Eventually he became the editor of the Athletic in 1900 and was acknowledged as the most important football writer in Britain.

The first season of the Football League began in September, 1888. James Catton responded by publishing The Athletic News on Monday instead of a Saturday. Much to the delight of Catton, his home town's team,Preston North End, won the first championship that year without losing a single match and acquired the name the "Invincibles". In 1891 sales reached 50,000. Two years later he had doubled to 100,000.

He was an original member of the National Association of Journalists in 1894 and the National Union of Journalists soon after it was founded in 1907.

By the end of the First World War "the Athletic News was the voice of football and the paper of the discerning football enthusiast." From 1913 to 1915 he was also the president of the football referees union.He retired as editor in August 1924 aged 64. He moved south and continued to write in semi retirement. Among his eulogies, Trevor Wignall, the Daily Express' chief sports correspondent, commented that Catton's reports had been one of the "few things that mattered" for young lads in the early 1900s.


James was also described as "The man who got Arsenal into the First Division" following his support of their admission in 1919. James buried his 7 year old son at St Mary's in 1918, and his wife too, in 1931 [NS3]. James was interred at Wimbledon in 1936 and his name added with gold lettering to the monument at St Mary's.

Read an article about James here.


The third residence on Hope Road in the 1901 census was listed as "Fernroyd", occupied by 3 sisters, Eleanor M., Alice G. and Florence H. Birley. The first two ladies had been born in Prestwich between 1855-1857, and the third was born in Irlam o'th'heights, in 1861. They were all children of Thomas Hornby Birley and his wife Frances Sophia. Thomas was a cotton spinner (manufacturer) and came from a successful family from Blackburn. In 1854 the land for the British School on Rooden Lane, was conveyed to Thomas Hornby Birley Esq. of Prestwich, along with Robert & James Chadwick of High Bank. Between 1853 and 1857, Thomas christened 4 daughters at St Mary's and by 1881 Thomas was living at a large property in Pendleton called Somerville House, with 9 of his children and 8 staff!

His father Hugh Hornby Birley, had traded as Messrs Birley and Co. manufacturers of waterproof fabrics and India rubber articles, at purpose built Mills powered by a steam engine manufactured by Sir William Fairbairn. He partnered with Charles Macintosh in 1824, and Macintosh bought the Mills (which had been started in 1814) in 1860 and became a household name that still lives on today. The Mills that HH Birley built were later sold to Dunlop, and still stand as apartments behind Oxford Rd Station in Manchester.




Hugh himself lived at Broom House in Pendleton and had been Boroughreeve of Manchester (1814-15), a magistrate, deputy lieutenant of Lancashire and a commander of the Manchester and Salford Yeomanry. In 1819 Hugh Birley was asked to take his cavalry to the hustings at St Peter's fields in Manchester to allow the speakers to be arrested and removed. He led sixty cavalrymen, made up of local business owners not really trained as a military unit, towards the hustings and when surrounded by the crowd they drew sabres and started to inflict serious harm onto the crowd. Further charges by the 15th Hussars and the Cheshire Yeomanry then made things worse. with at least 11 deaths and 600 injured. Read more at Peterloo & Prestwich

In 1842, a strike at Birley's Mill in Chorlton-upon-Medlock, also saw soldiers, with bayonets fixed, deployed to disperse crowds. Hugh was also involved with the founding of Owen's College, Manchester, which went on to become the University of Manchester. He also founded the 'Royal Victoria Gallery for the Encouragement of Practical Science' in Manchester. Birley was chairman and the directors included engineers such as Sir William Fairbairn.

[in 1853 a Richard Birley was living at Sedgley Hall, this is possibly the nephew of Hugh by his brother Joseph, this brother had given evidence at the private court case brought against Hugh following Peterloo. Joseph was also father of Hugh Birley Conservative MP for Manchester from 1868 to 1883.]


Alice moved from Fernroyd, and went on to live at 8 Clark's Hill in Prestwich. The property had originally been a converted farm house, and has since been demolished and replaced by a care home. Alice was valued contributor at St Mary's Church where she had been christened in 1857.



Clarks Hill is a pedestrian walkway in Prestwich, running between the Red Lion on Bury New Rd and Rectory Lane. It was partially widened for cars but was never completed.


Upon his death in 1845, Hugh was placed in the Birley family vault, underneath present day St Peter's square in Manchester, and with the church having been demolished in 1907, his grand daughter Alice who died in 1910, lies in St Mary's Churchyard in Prestwich, beside her is another sister Cicely Frances Birley (died 1932) who was christened at St Mary's in 1853, she became a Deaconess in the Church of England.



To view the Birley family tree on Ancestry.co.uk. click here (free account required)
(


By 1911, Fernroyd was occupied by William Chadwick Broadbent,his wife, son and a servant. He was a Master Cotton Spinner aged 29.

William was the eldest son of James Lees Broadbent, who was in turn the eldest son of John Broadbent, a wealthy third-generation cotton spinner and manufacturer who grew up in Broughton, Salford, where he was a director of the family business, John Broadbent & Sons.


The business was established by his grandfather, John Broadbent of Oldham, who became a master cotton spinner employing 80 hands by the age of 42, and 170 people by 1881.The business, operating 24,000 spindles in 1891, was based at Oakfield Mill in Droylsden. By the same year the company had expanded to include Dawson's Croft Mill in Greengate, Salford, running 11,000 spindles. They were spinners and doublers at a time when demand was at its peak.


Into the near modern era, a dentist, Mr.Peel moved into Fernroyd. His dentist's clinic was originally in Sedgley, next to where the Sedgley Methodist Church was located.


Feel free to join the churchyard volunteers maintaining the graves shown above and others, on Tuesday mornings.
Or donate to help us get in the professional tree surgeons and stone masons.