Rev. Cooper, rector of St Mary's noted in 1908: "A new church will soon be needed in Sedgley Park, and a site must be secured at once". He had become Rector of Prestwich in 1900 and saw many new houses appear in Sedgley Park, after Sedgley Old Hall had burnt down in 1903 (once home to the First Bishop of Manchester - James Prince Lee D.D.), and Sedgley New Hall has been sold in 1905. Within four years of Sedgley New Hall's sale, 1100 people had moved into the area, in 220 new homes on the Sedlgey Park Estate.


Canon Cooper also bequeathed two paintings to the church, "The Entombment", and "The Presentation of Our Lord in the Temple".


The curate, Rev. Michael S. Bell was given the task of securing the new Church, and was Sedgley Park's first Anglican minister, but in 1909 he left to become a missionary in Guatemala City (along with another Curate from St Mary's - Rev. Bury).

Rev. Bell signed up with the Australian Imperial Force (AIF) during the First World War, acting as a Chaplain on His Majesty's Australian Transport (HMAT) SS Borda and Australian trrop ship & hospital boat, which made several journies between, Alexandria, Mudros, Port Suez, Fremantle (Australia) and Plymouth. Seriously wounded, Michael returned to Britain in 1917, becoming Vicar of Over Kellett in Cumbria. Fighting ill health, he died there in 1926 aged 47.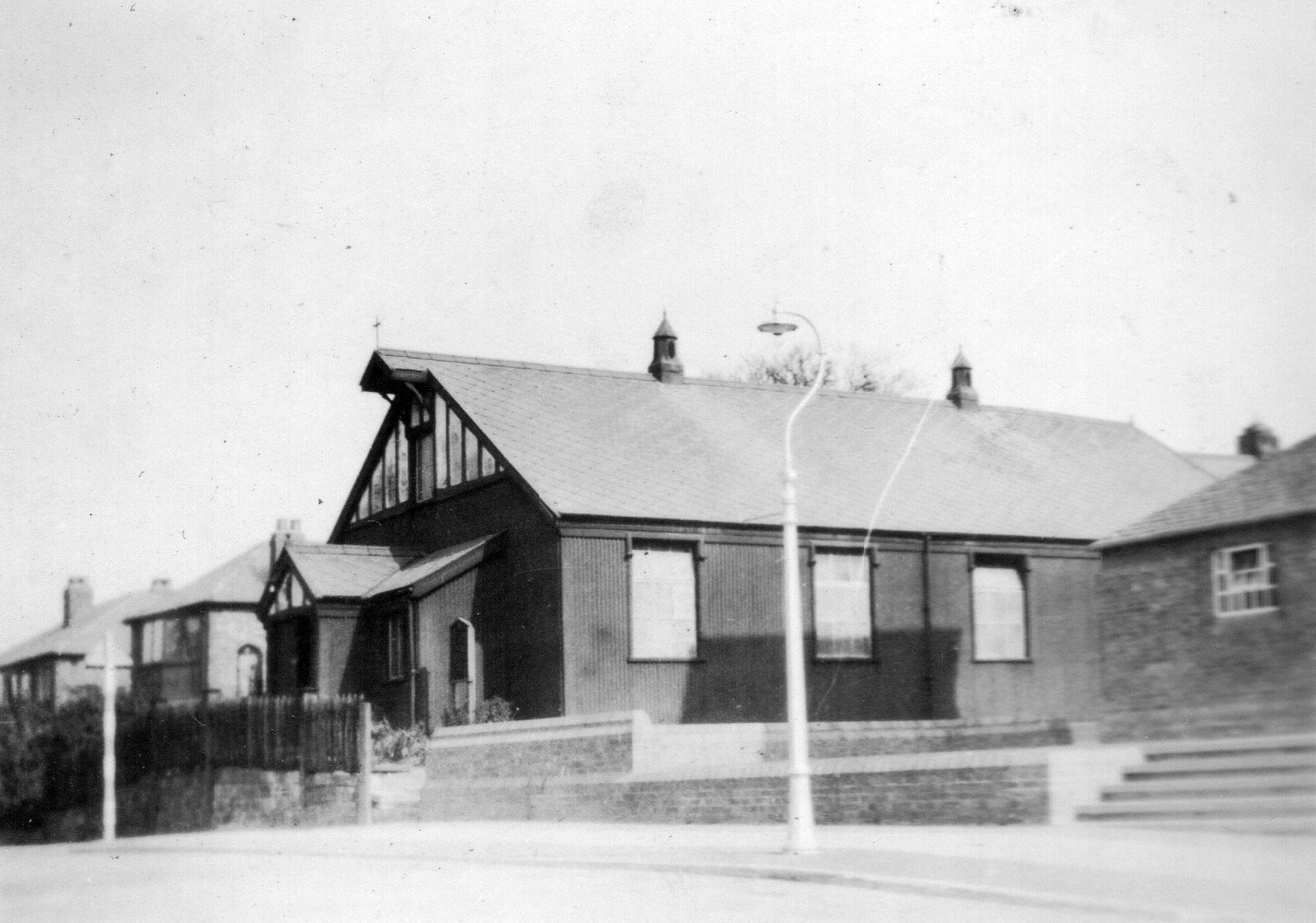 The Tin Church (with the steps & Lady Chapel of the new church)


In 1910 a site was found for the church, and an temporary iron church with a tiled roof to seat 300 people was begun. The church coast £800 (an overspend of 60%) was built on the site of what is now the vicarage garden. It was dedicated on 31st October, by E.A. Knox D.D. (Bishop of Manchester), it was a very wet night and the Bishop got lost on his way to dedicate the church, saved by a local Ada Sykes, who pointed him in the right direction. The church was referred to as "The Tin Church" by the local community.


S.G.O. Pugh was Priest-in-Charge between 1915-1918, he lived at 17 Fort Road -named after Lawrence Fort who lived at (& haunted)Sedgley Old Hall . Rev. Pugh also introduced St Gabriel's first Scout and Guide companies.


In 1918 Arthur C. MacIntyre became Priest-in-Charge. He arrived on Whit Sunday and began a service for children on Sunday mornings; a choir; a Men's Society "to help forward the kingdom of Christ"; and also saw the need for a parish hall. He moved to Wardle in Rochdale in 1920.


In 1921 J. W. Felix became Priest-in-Charge. He began a Children's Corner for children to decorate and in which they could pray. He also oversaw the opening of the Parish Hall on land next to the church.


The church hall was built in 1924 and dedicated by Bishop of Manchester, William Temple.


St Gabriel was established as its own parish in 1926, and Brian Willett became St Gabriel's first Vicar, but it was still only a temporary structure. William Temple, the former Bishop of Manchester and later Archbishop of Canterbury, discouraged the spending of money on the Tin Church in favour of spending money on a new church.


From 1930 the Church Hall was being used as a School for Infants, this was before the present Sedgley Park County Primary School was constructed.


In 1932 the foundation stone of the new church building, on land between the Tin Church and the Parish Hall, was laid by the Lord Bishop of Manchester, Dr Guy Warman. The Architects Isaac Taylor and W. Cecil Young were engaged to design the new church, which is now Grade II listed, and also they designed the Vicarage which was built behind (to the East) of the original Tin Church.


Also in 1932 the School moved from the Church Hall and into their own premises,with the Hall remaining a social centre for the Sedgley Park community.

"St Gabriel's is a carefully considered amalgam of 17th century brick and timber motifs within a massing derived from contemporary Dutch and North German sources that make for a fine, distinctive composition. It is one of the firm's finest churches".



St Gabriel's was Consecrated on 30th September 1933 by the Bishop of Manchester, Dr Guy Warman. and at the east end there are "handsome choir stalls and pulpit designed by the architects, of timber and combining solid arts and crafts workmanship with C17 elements." "Built of Blockley brick with Westmoreland slate roof, it has a squat west tower and is built on a "basilica" plan with an eight bay nave with clerestory windows.At the east end there are "handsome choir stalls and pulpit designed by the architects, of timber and combining solid arts and crafts workmanship with C17 elements."
The Church bell, originally rang out over Britain's worst Victorian slum, Angel Meadow in central Manchester. It was given to St Gabriel's after it's original home, St Michael's, was closed (1930) and demolished (1935). St Michaels was once described as "one of the ugliest churches in Manchester situated in one of the most crowded and notorious parts of the City".


St Gabriel's font dates from 1934 and is an "Ancaster stone tulip shaped bowl on chamfered based with carved wave motif below the rim and a wooden lid".


The single storey north chapel which was formerly a children's corner, and had been used for weekday services during World War II, as it was easily blacked out, was remodelled as a Lady Chapel in 1952 with a stained glass window, dedicated in 1954 in thanksgiving for the coronation of Elizabeth II by Rt. Rev. F Wood (Bishop of Middleton).


In 1984 the Hall was damaged by fire and the site sold to Dr Olive Duddy, who created what is now St Gabriel's Medical Centre. The funds from the sale were used to revise the West end of the Church to incorporate a "narthex" or porch, along with an upper meeting room.

You can usually find the above information on display at the church, along with further local history and art displays during the Annual Prestwich Arts Festival and Heritage Open day weekends.


[Refs: britishlistedbuildings.co.uk & manchestervictorianarchitects.org.uk &P&W Heritage museum ]