! side panel> <! side panel>
Hilton House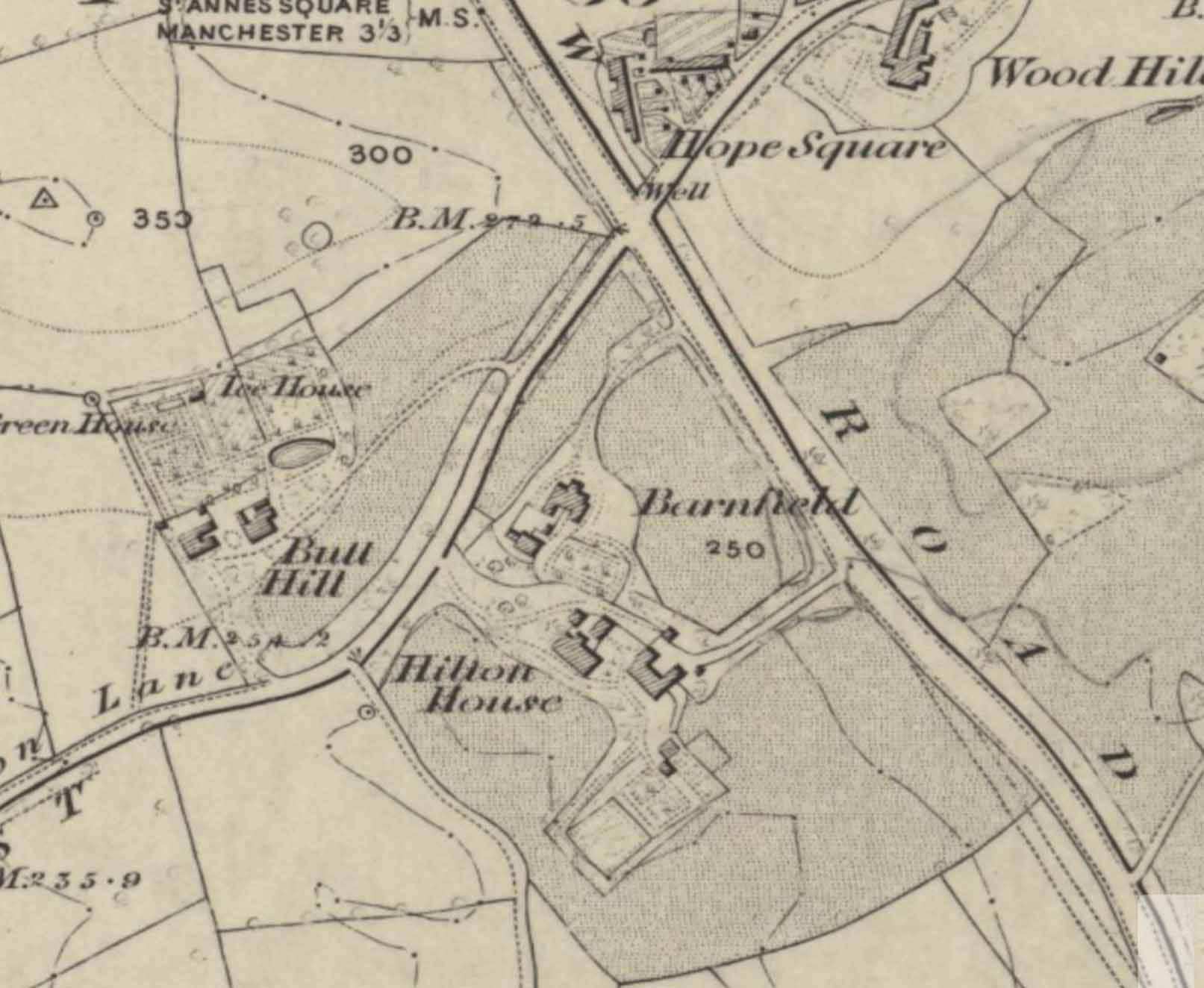 Hilton House 1848


The earliest mention of the Hilton family in Prestwich is the naming of a chantry on the North side of the Church of St Mary's. Hylton's Chantrie, was later known as the Wilton Chapel, and was founded by Ellis Hylton, Esq. The founder's name does not appear in the pedigree of Hultons of Farnworth & Hulton (west of Bolton), and all that has been discovered of him is that his name occurs in a brief list of Lancashire Grand Jurymen "all being justices of the peace," in the reign of Henry VIII (1509-1547).

Read more about the Hilton family



Hilton House 1839


The earliest mention of Hilton House is found in the Piggot & Dean Directory of 1838, which shows John Munn was resident ( he was also in the directory of 1824, but his abode was only recorded as Hilton Lane). John was a yarn and cloth manufacturer, as well as a churchwarden, and traded as John Munn & Co. (est. 1805 by J & R Munn), with property in Fountain St, Manchester. His father John Munn (senior) had died in Prestwich in 1826, and is buried at St Mary's, location unknown. Being one of the "cotton kings" John had invested some of the family fortune in land, in several places such as Kent and Herefordshire, and also in Prestwich, owning several parcels of land in the Hilton Park area. In 1847, John Munn of Prestwich was granted a game certificate, allowing the killing of animals on his land. His neighbour John Clegg of Butt Hill was also granted a certifcate (cost £4).


| | |
| --- | --- |
| Hilton House Gate Posts | Hilton House stood behind Barnfield near the junction of Hilton Lane and Bury New Road. Its driveway linked the two roads, with an entrance just north of Bland Road on Hilton Lane leading through to another entrance on the south boundary of Barnfield on Bury New Rd. |


By 1851, John Munn (junior) had moved to Park Hill on Park Lane in Whitefield, and the 1851 census shows no results for Hilton House due to the poor condition of the census.


Colonel MunnRobert, a son of John of Stand, achieved Colonel and was the longest serving officer in the Volunteer movement in England.
The registers of St Mary's provide the information for Hilton House though. They show that John Turner, another manufacturer & cotton spinner, along with his wife Ellen, were living at Hilton house during the 1850s. Baptising three children between 1852 and 1857. Refering back to the census, and visually searching for the family they are found.

The index of the census of 1861 also falls short, this time by listing only three family servants at the house, with the head of the household absent. However, St Mary's provides the information again, with James Burton, also a manufacturer, and his wife Ellen, baptising their children there, between 1858 and 1862. James died in 1865.



John A. Bremner & Co.


| | |
| --- | --- |
| At the next census in 1871, another family had moved in, John A. & Jane Bremner, along with their daughter and 4 servants. John was a magistrate, a member of the Mancheater Board of Guardians, Fellow of the Royal Statistical Society, deputy treasurer of Manchester Royal Infirmary, and merchant trading as John A. Bremner and Co. Lubricating Oil Manufacturers. John died in 1877 and is buried in St. Mary's churchyard. | Bremner family plot |
The next family to occupy the house was that of Robert Bridgford. Robert was heavily involved with the Volunteer Batallions movement. In the census he is listed as Lieutenant in the Herefordshire Volunteers, but for over 34 years he was in command of the 2nd Volunteer battalion of the Manchester Regiment, for which he gained due recognition - and the war office repeatedly extended his term of office.

He was knighted a Companion of the Bath in 1885, after he had led his men in South Africa during the Boer war, where he was taken prisoner. His son also served in the same conflict.

The Volunteer battalions were a citizen army of part-time rifle, artillery and engineer corps, created as a popular movement throughout the British Empire in 1859 after the war in Crimea highlighted a lack of soldiers, combined with a fear that France were about to invade Britain. Originally Independent of the Army they eventually became part of it, and you'll see references to them during World War One. Every year they held a gathering in Heaton Park, parading for the public, holding mock fights and generally building morale and numbers and raising funds.

What could possibly go wrong?

What went wrong

Next door at Hilton Park (1881), the Munn family that we first saw back in 1838 made a reappearence. This time it was John Munn (born in Prestwich and aged 41) who was present, he was the son of John Munn of 1838, suggesting that the family had retained ownership of at least some of the land they owned in Hilton Park. John was recorded as a land auctioneer, and also as Captain in the 3rd Royal Lancs Militia so probably a good aquaintance of Robert Bridgford. His wife Sarah was listed as "captain's wife".


| | |
| --- | --- |
| | Hilton Park which stood to the south of Hilton House (along Bury New Road), and Hilton Lodge, which stood to it's West (along Hilton Lane) appeared somewhere between 1871 and 1881. |
| This John Munn, left a visible mark on the locality, placing a gate lodge at the entrance to his house from Bury New Road ~1900. On the tower of the (North) lodge he placed his family crest which is still visible today. ("Vincit Omnia Veritas" - "Truth Conquers All Things"). A Southern Lodge was placed at the corner of George Street and Bury New Road, with Hilton Crescent joining to the two lodges. By 1881, several large houses had been built along this road (Shrubbery, Encliffe , Uplands. Thorndale and North Lea), between the two lodges and this was called Hilton Park. The North Lodge and Shrubbery were used as a Fire Station during the 1950's. | |
By 1891 Robert Bridgford was still resident at Hilton House, aged 54, and he was now a Land Agent & Surveyor.

Robert died in May 1905, after his long illness that he had contracted in Africa, and now he lies at rest in St Mary's Churchyard.


| | |
| --- | --- |
| The 1901 census showed that a manufacturing Engineer from Ireland, Edward Donovan had taken up residence at Hilton House. Edward worked at the Broughton Bridge Iron Works in Salford. He was still at Hilton House in 1911, however he had been widowed by then. | |
| | The housing of the 1920's started to replace the large houses and their expansive gardens, and Hilton House had been demolished by 1932. |

Watch a video of the area developing over the years.