! side panel> <! side panel>
Sir Robert Bridgford K.C.B.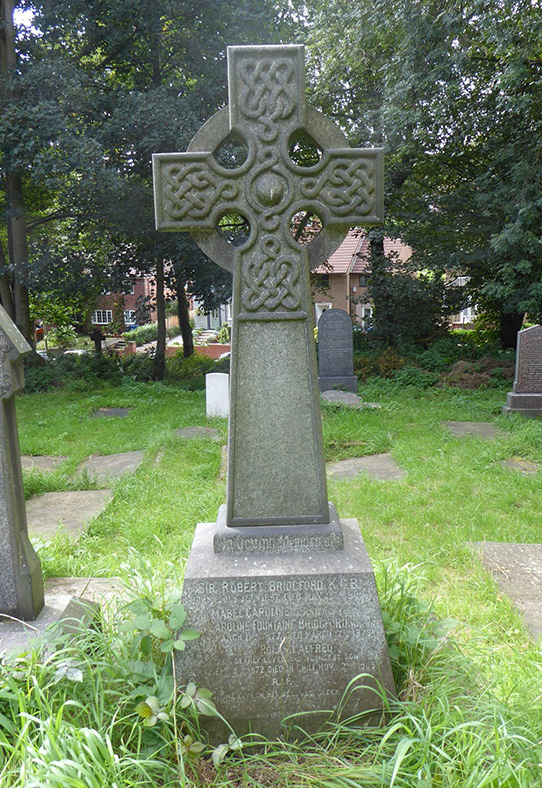 Commander of troops during the Boer War (based upon article by Alan Jennings Facebook )
A grey, granite Celtic cross on a plinth in St Mary's Churchyard, commemorates Sir Robert Bridgford K.C.B.



We immediately knew that he was a knight of the realm and also the K.C.B. told us that he was a knight commander of the order of the Bath.

He had been born August 1836 one of 13 siblings, his father James came from Manchester and Robert was active in his fathers business Messrs J T. Bridgford & Sons Land Agents etc.


The census of 1881 shows the family living at Hilton House, on Hilton Lane.



Robert was heavily involved with the Volunteer movement, for which he gained due recognition - for over 34 years he was in command of the 2nd Volunteer battalion of the Manchester Regiment, and the war office repeatedly extended his term of office.

The Volunteer battalions were a citizen army of part-time rifle, artillery and engineer corps, created as a popular movement throughout the British Empire in 1859 after the war in Crimea highlighted a lack of soldiers, combined with a fear that France were about to invade Britain. Originally Independent of the Army they eventually became part of it, and you'll see references to them during World War One. Every year they held a gathering in HP, parading for the public, holding mock fights and generally building morale and numbers and raising funds.

What could possibly go wrong?

let's start with pick pockets....not the volunteers fault, but the crowds that turned out to see the Volunteers attracted some unwanted attention.


Jumping from the hostilities in 1877, the disorder extended onto the streets in 1883....



...unfortunately in 1885, things took a deadly turn, when an incident happened in the Crown Inn Rooden Lane...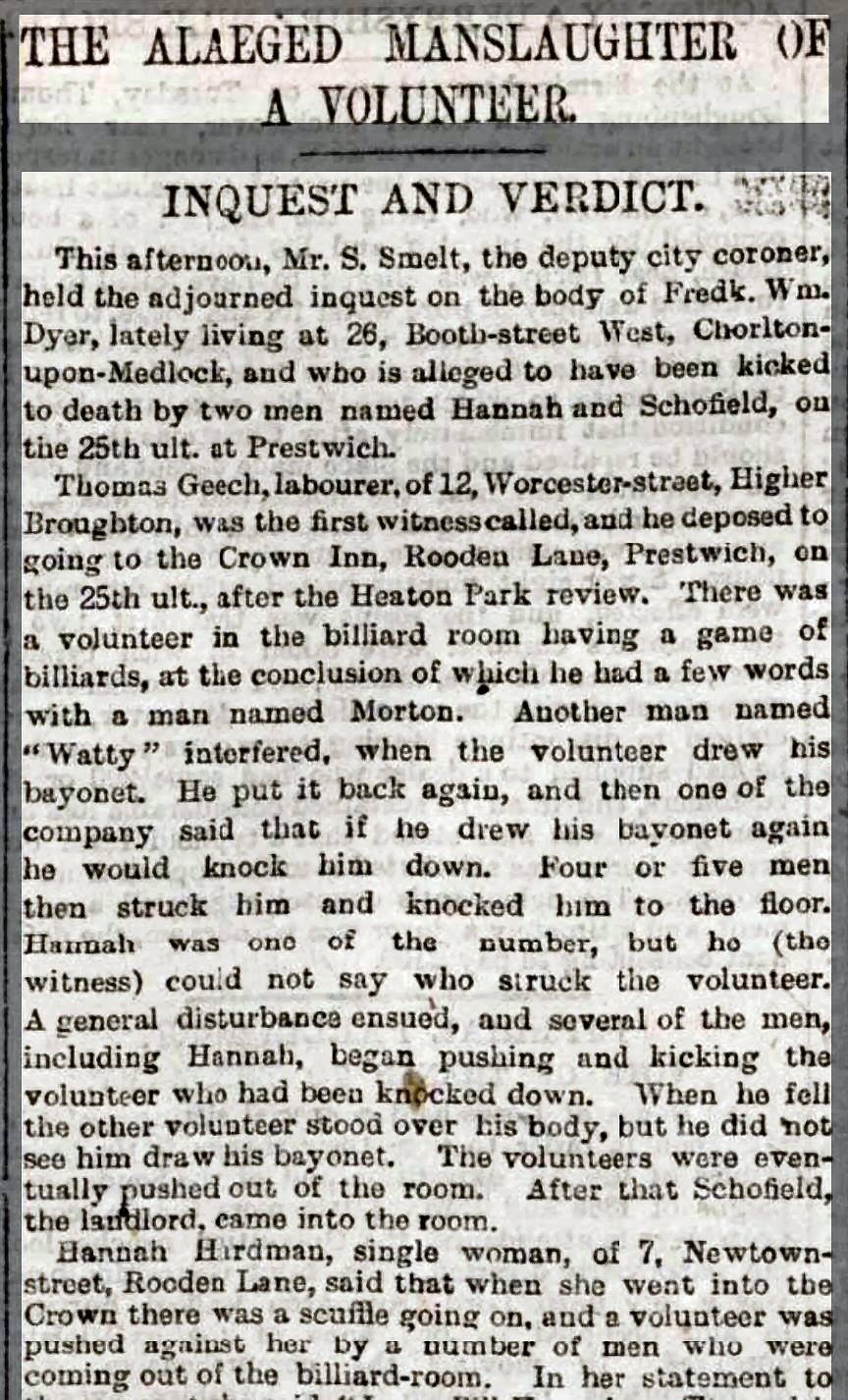 Hannah was charged with manslaughter, but unreliable evidence meant she was not convicted. The Crown Inn used to stand on Bury Old Road, near the junction with Newtown Street.

Meanwhile,back on topic.... Robert Bridgford was J.P for both Lancashire and Herefordshire and bred pedigree Hereford cattle. In the London Gazette of November 19th, 1903 he was nominated as Sheriff in the Kings Bench Division and received a Knighthood.

He had been created a Companion of the Bath in 1885, after he had led his men in South Africa during the Boer war, where his son also served at the same time. It was in 1901 in South Africa, while he was Lieut. Colonel, that he contracted a serious illness after working himself into the ground training the Imperial Yeomanry.

It was reported during the Boer war that General Spens had detached the 14th mounted infantry under Robert Bridgford to search a number of Farms in the area of the Vaal river junction, they had marched all night and at daybreak encountered a party of Boers whom he chased for a long distance.

Then whilst his men were scattered on a wide front as a result of the pursuit, he was suddenly attacked by the enemy, who wearing Khaki, were able to advance to close quarters. With a very superior force, the casualties were heavy, the outer 50 soldiers were all but wiped out, then the enemy set about the inner ring. Most were killed or injured and the Major with some of his men was taken prisoner. Before long General Spens arrived with reinforcements, the prisoners were recovered and the Boers retired out of reach.

[He and his wife Caroline had 8 children, one of whom was Major General Robert James Bridgford. Both father and son were serving in South Africa. Robert James went on to serve in Egypt and throughout the First World War, from Brigadier General in the BEF 1914, through to Divisional and Brigade Commander in 1918. Robert James, as Captain, was mention in dispatches 1901, awarded both the the Queen's and King's medals, was made Companion of the Bath (C.B.), Companion of St Michael & St George (C.M.G.) and received the Distinguished Service Order (DSO) in 1901 ]

Robert died in May 1905, after his long illness that he had contracted in Africa, and now he lies at rest in our Churchyard.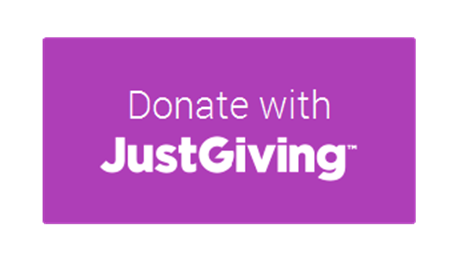 Donate to the upkeep of the St Mary's Churchyard




Your kind donation will go towards tools, or employing professional stone masons to reinstate stonework damaged by time, trees, animals or humans.