! side panel> <! side panel>
Clough Tea rooms


Clough lane was the main track to Prestwich Clough Dye Works which had been in operation since at least 1795. The stream of Prestwich Clough, fed the Dye works, and the Old Engine Cottage had once been a yarn bleaching croft using the water from the stream itself. Josiah Ryder is recorded as the crofter at Old Engine, and it is thought that he used small lodges to store a supply of water into lodges from the stream and the fields above, providing a more consistent supply.

The adjective "Engine" implies that the cottage at one time may have even benefited from a water wheel or other machine to convert the energy of the stream.


An Engine?The word Engine derives from "ingenium" or "ingine", a talent or ingenuity
What was a Whitster? A whitster, or whitner, removed the impurities such as seeds shell and waxes from cloth by dipping and stirring the cloth in large containers of alkali, a mix of potash and lime ((bowking). Once bleached, the cloth could then be dyed, but first would be laid out, or hung up on tenter frames (secured with tenter hooks) to dry in communal or private bleaching crofts. This practice led to names that live on today, such as Whittaker.As chemical replacements for natural substances (such as urine) were discovered the Whitsters became Bleachers, and machinery was introduce to the industry.
The 1841 census which progressed down Clifton Road, before turning up Prestwich Clough, shows and agricultural labourer (James Hilton) and a farmer (Robert Leak) resident at Prestwich Clough. Robert Leake had actually been a "bleacher, dyer, dealer and chapman" of Prestwich Clough just 2 years earlier, when he had unfortunately been declared bankrupt in 1839.

In 1851, two households were listed as living in a cottage in Prestwich Clough, Mary Entwistle, a weaver, was present with 2 daughters, and James Hilton was still there with a lodger.

By 1861 we finally see "Old Engine" mentioned, with Willis Knight, Blacksmith from Gorton, resident.


In 1871, a Master Stone Mason called Isaac Ogden was living in Clough Cottage, along with his wife and four children. By 1881 Mr Ogden had moved his family up to Rectory Lane. It's unclear if anyone was living in the Old Engine Cottage, but there was a farmers assistant and his wife and two children listed next to the Knott family of Clough Farm.

The 1891 census lists Clough Cottage, with Thomas Grimshaw, yarn bleacher along with his wife 3 children and two lodgers. Thomas had been listed in the censuses from 1851.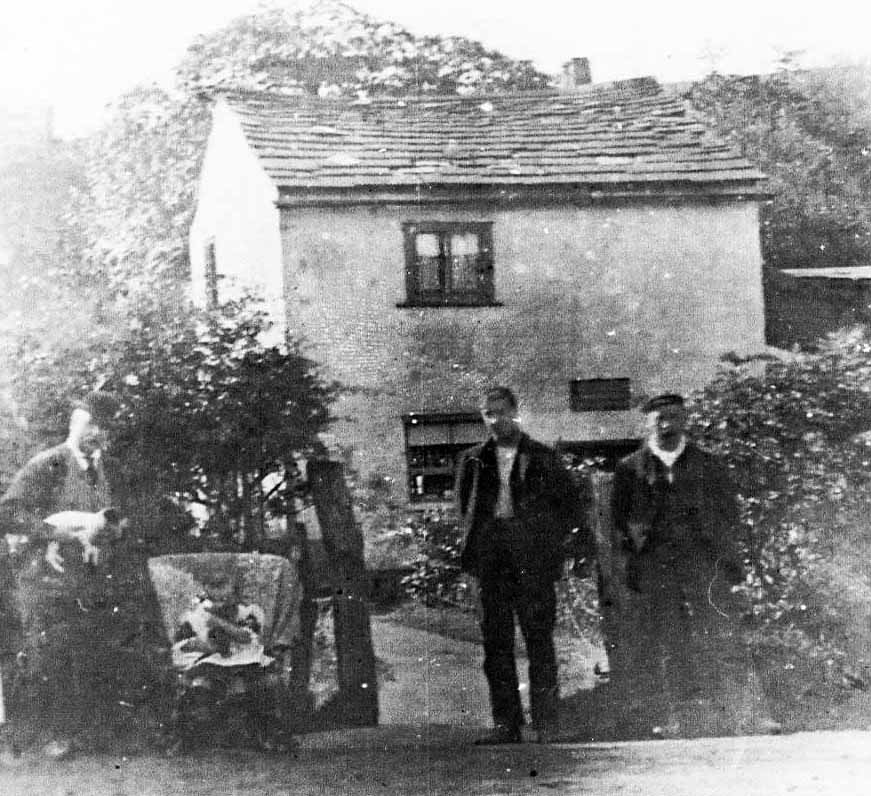 Engine Cottage (could this be Thomas Grimshaw ?)
In the 1901 census, Thomas Grimshaw, now aged 52, was listed as a caterer at "Clough House", with his wife two son's and one boarder. This shows that the tea rooms pre-date the formal creation of Prestwich Clough as parkland (which didn't happen until 1906). Perhaps the above photo shows Thomas and his sons (and maybe a granddaughter).


In 1902 the Council approached Mr Gardner who owned some of the land, with the intention of securing the land from being built upon. In 1905 a mortgage of £3,000 over 43 years was secured, of which £2,000 was to be used to purchase and layout 14 acres of land in the Clough, to which Mr Gardner donated a further 9 acres.
In 1906 Prestwich Clough was "dedicated to the use of the public for ever" by Benjamin Carver of Polefield. Mr Carver had donated the land in front of St Margaret's Church in honour of Queen Victoria's Diamond Jubilee, he arranged to get the scrub land walled and planted and it was then opened in 1901 with a grand ceremony, including a band and procession, with Benjamin opening the gates with a golden key.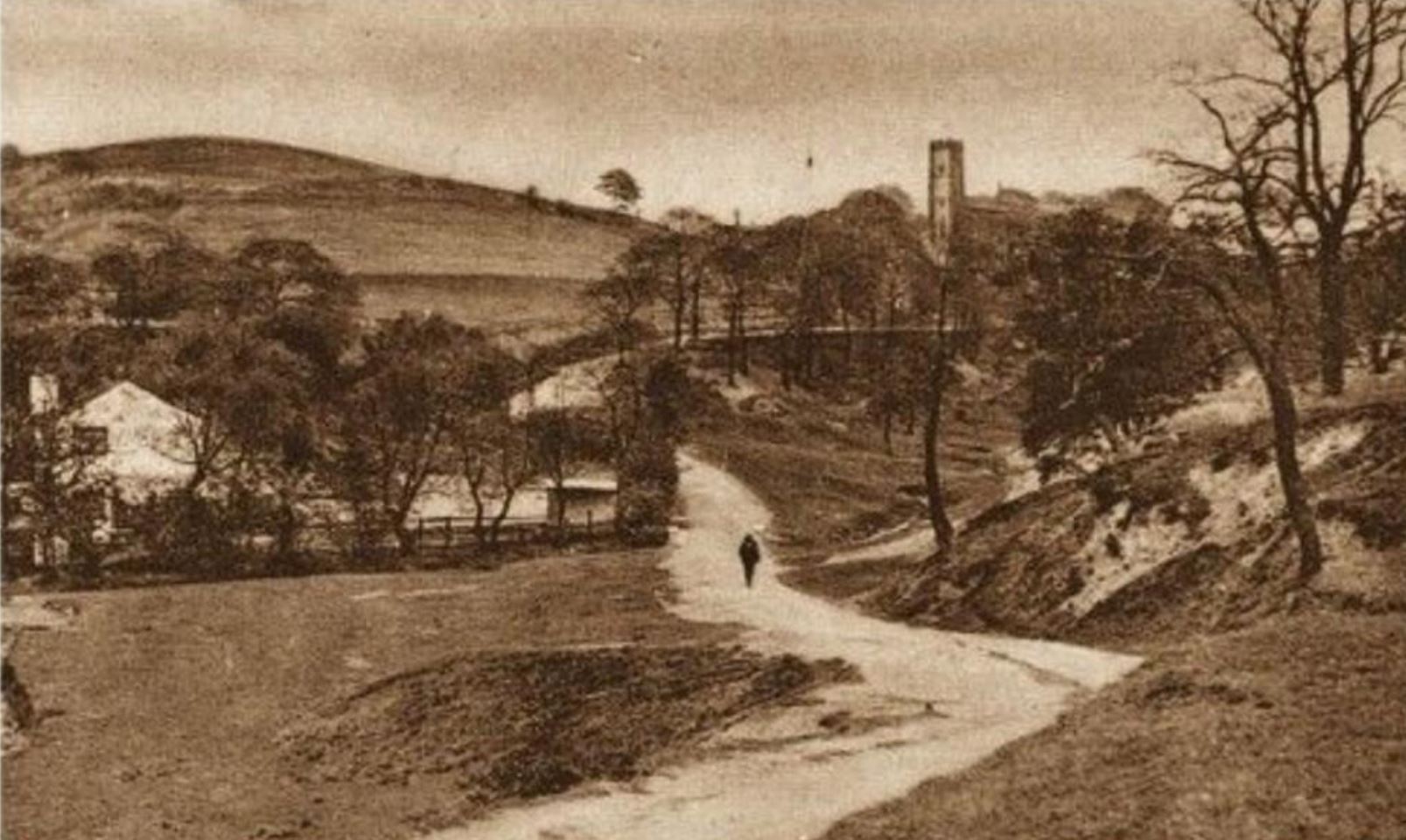 The Old Engine Cottage from the South (suggesting a substantial chimney)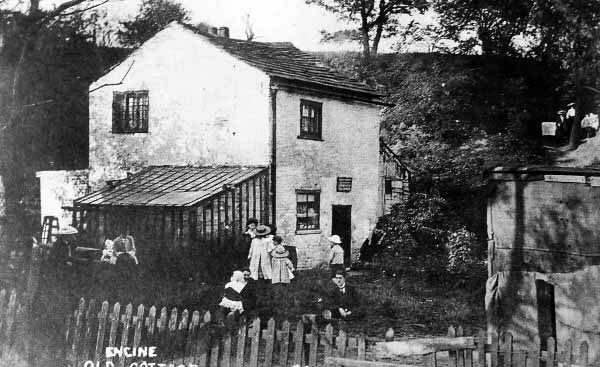 Engine Cottage Tea Rooms (note the raised area to the right - shown in the 1891 map above)


In 1906, it was proposed the tea rooms and road access be improved.


Despite the reservations, in1906 the council borrowed £500 to build a new tea room with two cottages attached. One of which was called Ivy Bank. The tea rooms were still run by the Grimshaw family.

The bridge was later replaced with a concrete bridge, before the current one. You can catch the concrete bridge in this slice from The Ghosts of Motley Hall.


Also in 1907, Benjamin Carver again donated to Prestwich, this time with a Bandstand for the Clough.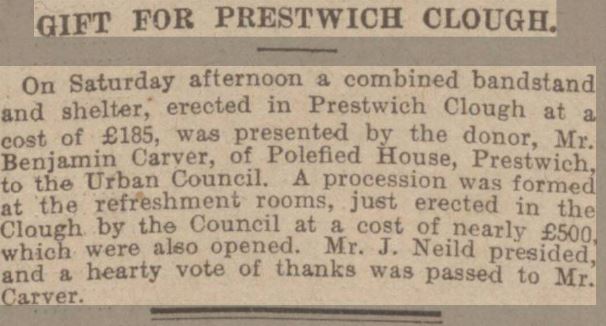 Benjamin Carver donated the bandstand in Prestwich Clough (1907)


By 1909, the pressure for housing had raised its head, with the threat of Gardner Mount being sold off, but a local protest meeting saw a resolution passed stopping the council from selling the land.

Peter Rougham recalls the Clough from his childhood on the P&W Heritage website:

"Well the trees have grown bigger of course and there are more of them, it isn't as open as it used to be. The café there was run by the Grimshaws. You could buy crisps, ice cream, sweets and that kind of stuff. They may have done teas, but we never went for one. In front of the café was a nice grassed area with the stream running through. If you saw it today you wouldn't believe it. We used to picnic there. It was quite nice, but it's completely different now."


Follow the guide to the numbered posts in Prestwich Clough (with photos)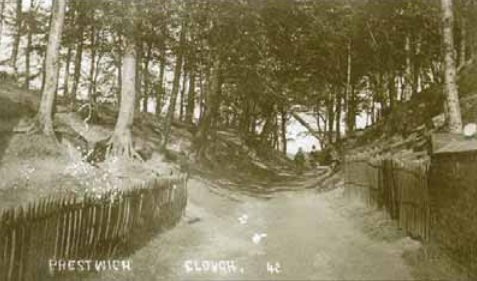 Prestwich Clough Heritage Trail
Watch these videos showing the development of Prestwich Clough