! side panel> <! side panel>
Charles Swain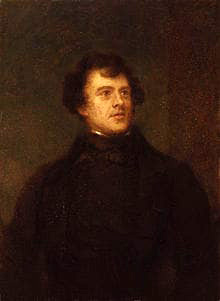 Charles circa 1833 by William Bradley


With credits to Alan Jennings on Facebook
Charles was born on the 4th January 1801 in Every Street, Manchester to an English father and a French mother. He began work aged 15 as a clerk in a dyeworks. In January 1827 he married Ann Glover and the couple went on to have five daughters and a son of whom four daughters survived in to adulthood. After 14 years, Swain left the dyeworks to become a bookseller, the venture did not last long and two years later he joined Lockett & Co a firm of engravers and lithographers in Manchester.

He went on to buy the engraving department from the firm and to run it himself. His poems were published from 1822 onwards, his most famous being " The Mind" written in 1832 which was dedicated to his friend Robert Southey, the Poet Laureate.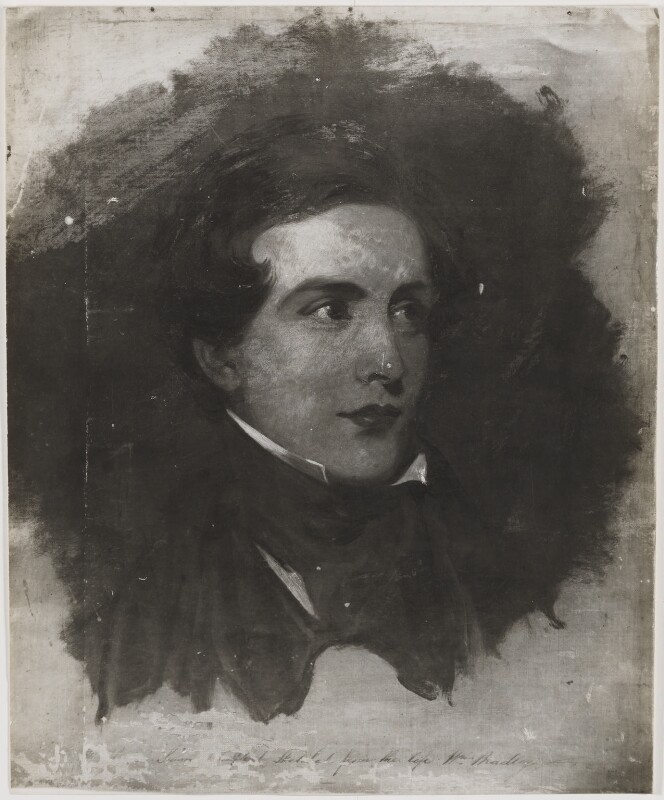 Charles circa 1833-37[National Portait Gallery]


Of Swain, Southey said:

"If ever a man was born to be a poet Swain was and if Manchester is not proud of him now, the time will come when she shall be"

Nathanial Hawthorn remarked that many of Swain's songs were Household words in America and the Dialect poet Ben Brierley described Swain as the Laureate of the North.

A Violet In Her Hair

A violet in her lovely hair,
A rose upon her bosom fair!
But O, her eyes
A lovelier violet disclose,
And her ripe lips the sweetest rose
That's 'neath the skies.


Swain also wrote a full-length poem as an epitaph for the gravestone of the famous Naturalist & Botanist, John Horsefield, who also lies in St Mary's Churchyard :

Ye who behold God's works in Nature's ways
And find in flowers mute anthems to His praise
Who read the volume of eternal love
In seeds of earth as in the stars above
Here read a name whose fame shall long endure.
One of poor birth, but Gifted although poor:
God – unlike man – the humblest spirit lifts
Nor asks his wealth before He sends His gifts!
Where'er Botanic science could be learn'd
New links disclosed – new species yet discerned
Where'er by wood or lane or heath or hill
God op'ed the book that taught Botanic skill
There HORSEFIELD's foot from dawn to eve was seen
to learn – to teach – to be what he has been,
An honour to the soil that gave him birth:
Oh, may that spirit for whose loss we grieve
Our God accept – our Saviour Lord receive.

The above epitaph for John Horsefield is noted by English Heritage as an element of their rationale for listing Horsefields tomb as a Grade II monument.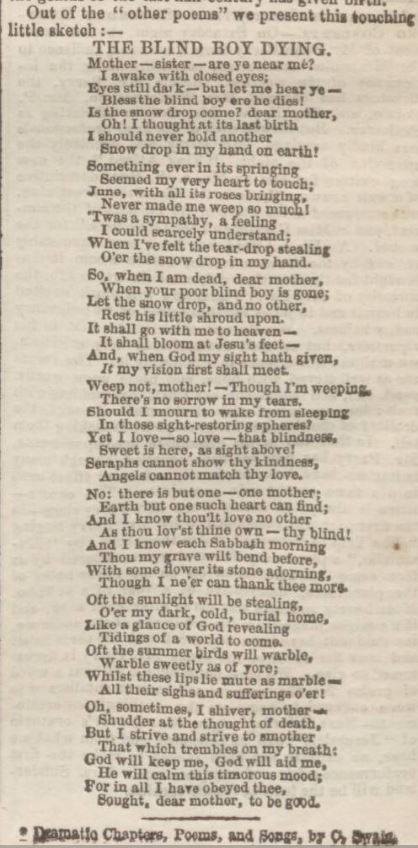 The blind boy dying (1847)

In respect of this poem, some snow drops have been planted on Charles's grave and can be seen in January/February each year.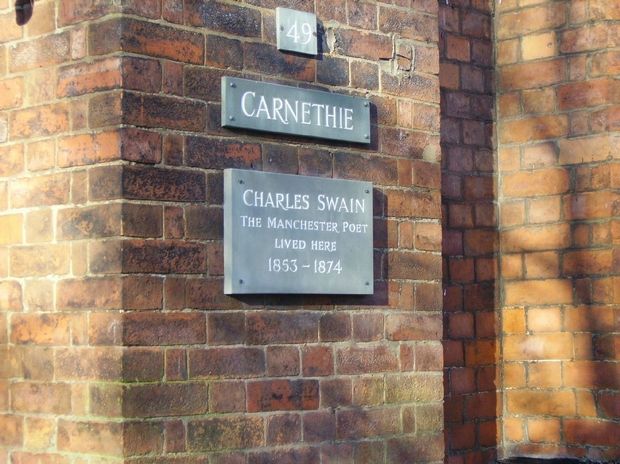 Carnethie



Swain's home "Carnethie" on Prestwich Park, now Prestwich Park Road South is the only house in Prestwich with a commemorative plaque. It was bought for him by friends, who got the same architect that designed Prestwich Hospital to design his house in Prestwich Park. Isaac Holden, of Wellbank on Lowther Rd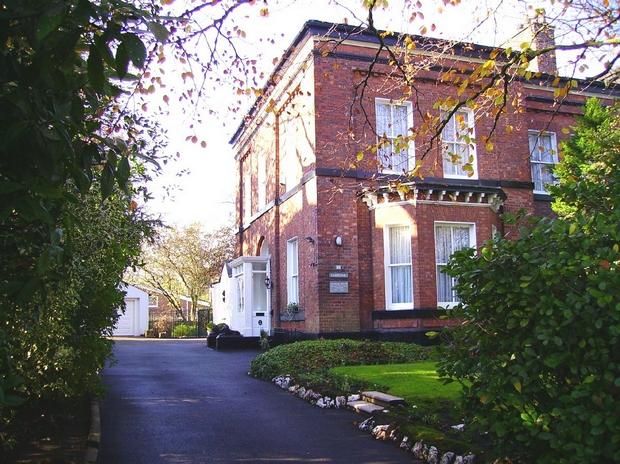 Carnethie


He died there on the 22nd September 1874 as a result of an epileptic fit. You can see both graves when you visit our church, as well as many other famous and interesting graves. Listen to the Tour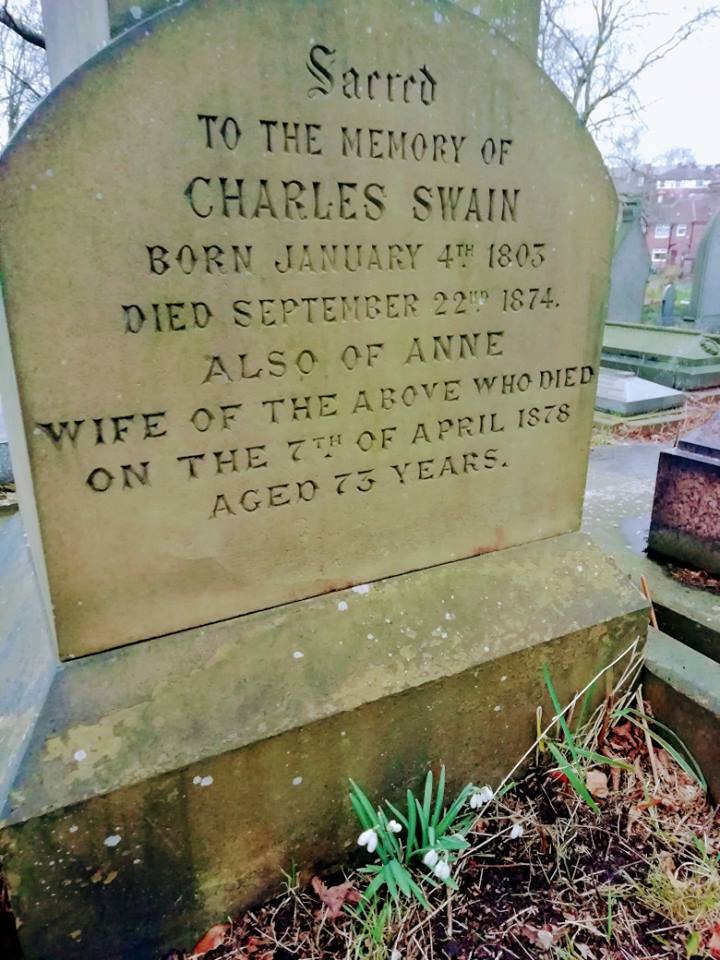 The grave of Charles Swain + snow drops
Other selected works:

"We Live in a Very Strange World"