! side panel> <! side panel>
Frederick Tavaré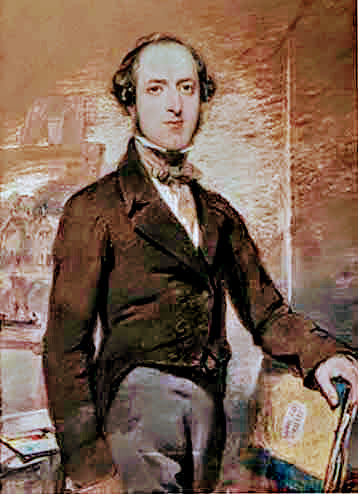 Frederick Tavaré (1816-1863) father of FL Tavaré by Robert Crozier


Credits & thanks for info & images go to Jim Tavaré & Family on Facebook
Frederick was a cousin of Charles Swain the Manchester poet.


In 1802 the uncle of Charles Swain, Charles Tavaré, had married Catherine Owens. They had eight children, and he recorded that five of his children had died by the time of his UK denization (Oath of allegiance) in 1821. Charles Tavaré had been born to Dirk & Mary Tavaré in Amsterdam (1771). Having travelled from Amsterdam to Manchester in 1791, he worked for eight years as a foreign clerk for James Harrison Esq. (J.P.) and then for Gideon Bickordike, and could speak in nine languages.

Up until 1813 Charles Tavaré had operated a Dye works in Pendleton, in partnership with Roger Smith. he also partnered with Andrew Burgess in Hulme, which is where Charles Tavaré lived. In that year both these partnerships were dissolved, however Charles Tavaré was still in partnership with George Horrocks, as Horrocks & Tavaré (dyers bleachers and finishers) of Factory street (1818-1820). In 1820 Charles was living on Canal Street, when his daughter Louisa was born.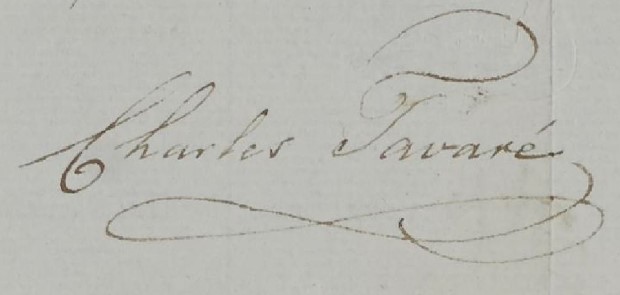 Signature (1820)


Denization allows for the petitioner to purchase property in the UK, they will no longer be an alien, but falls short of making them full citizens, it's also a lot quicker and cheaper to obtain.


The Nünes De Tavaré familyThe Nünes Tavaré line originates in the Portuguese Israelite Religious Community for Sephardic Jews in the Netherlands. Sephardic Jews have been living in the Netherlands since the 16th century with the forced relocation of Spanish but above all Portuguese Jews, from their home countries due to the Inquisition. Catherine, sole surviving daughter of Charles (as of 1880) stated that her grandfather was "Nünes de Tavaez", but that the "de" was dropped by her father when he arrived in England.

The Nünes name was passed down by Charles's son Frederick to his son Alfred Nünes Tavaré, and other descendants were given the name along into the 20th century, such as Bertram Nünes Tavaré, who servied as a 2nd Lieutenant in the Manchester Regiment in WWI.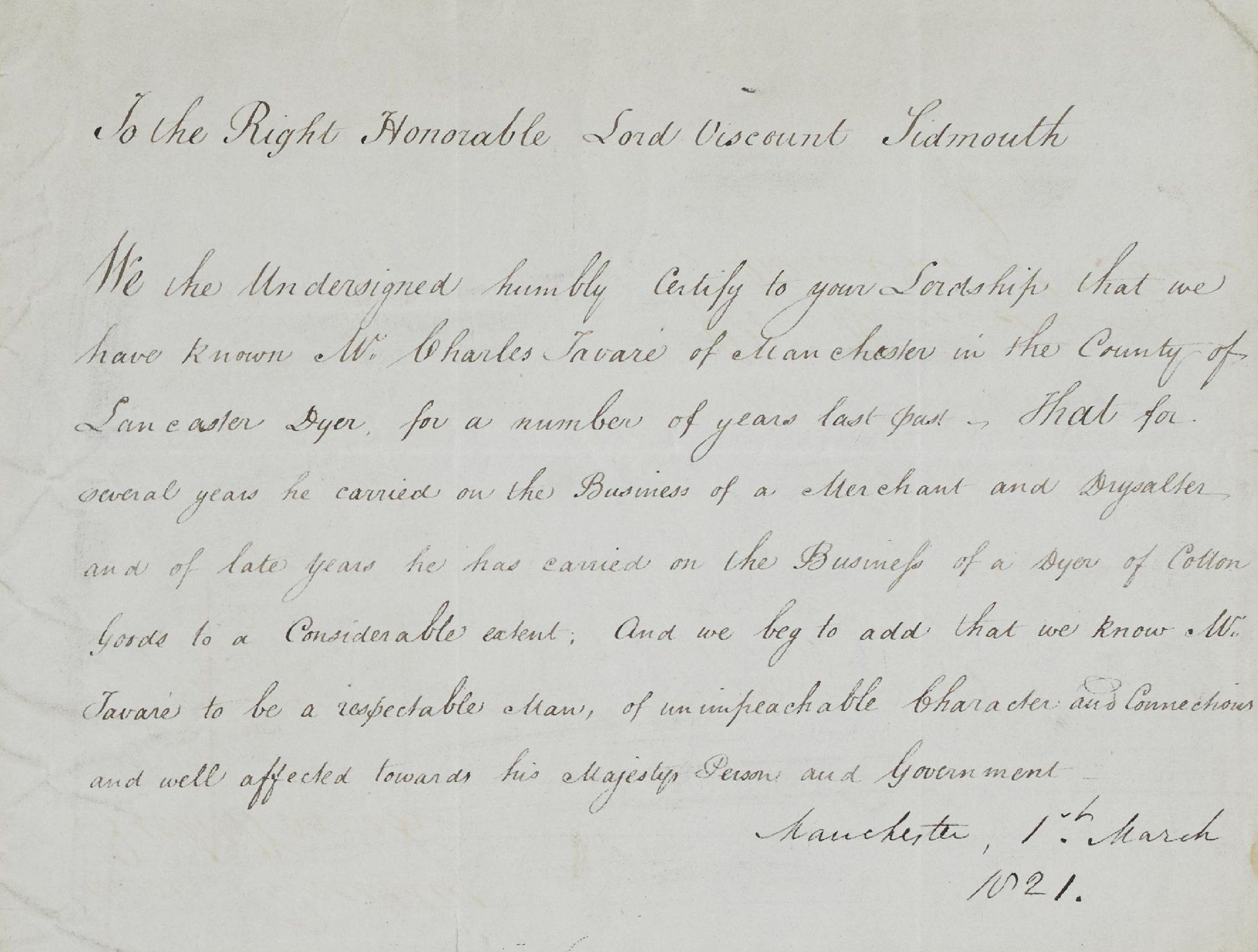 Certificate of Good Conduct for Charles Tavaré


The Certificate above was signed by the Borough Reeves of both Manchester & Salford along with several constables and local merchants.

By 1825 Horrocks & Tavaré were trading at New Islington Works which stood on Canal Street, backing on to the Islington Branch Canal in Ancoats,Manchester. His nephew Charles Swain was also partnering with George Horrocks as Horrocks & Swain machine makers also of Canal Street. However in March 1827 the partnership as machine makers was dissolved. The Tavaré name lives on in the locality as Tavery Close today, but there was originally a Tavery Street further North in the 19th Century, which he had built (along with 1 or two other streets) for his work force.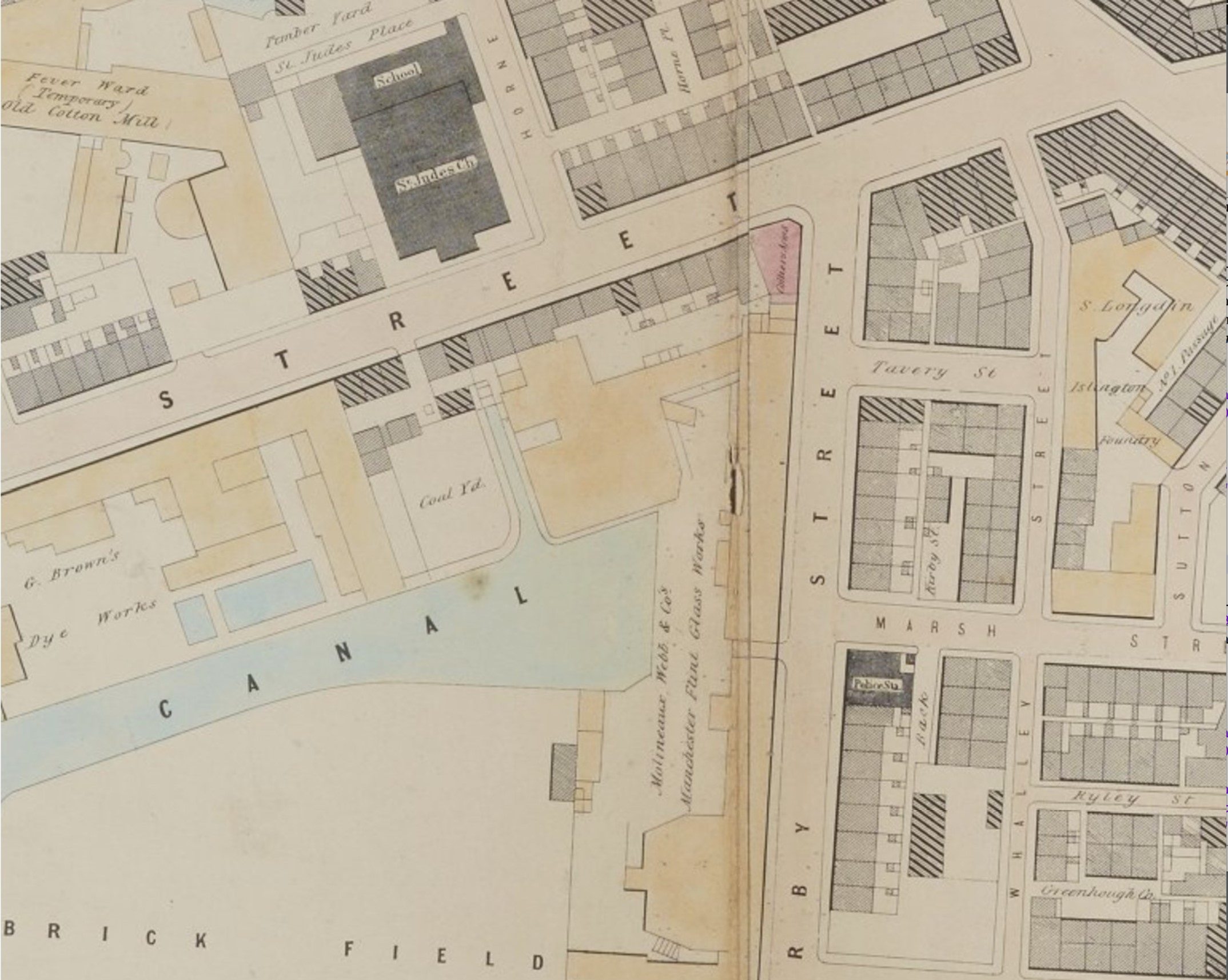 Tavery Street and New Islington Dye Works (1850)


Also in 1827, Charles Swain dedicated his publication of "Metrical Essays on Subjects of History and Imagination" to his dear uncle Charles Tavaré.

Then in 1832 a bankruptcy notice for Charles Tavaré was posted, which lists him as a dyer, dealer and chapman.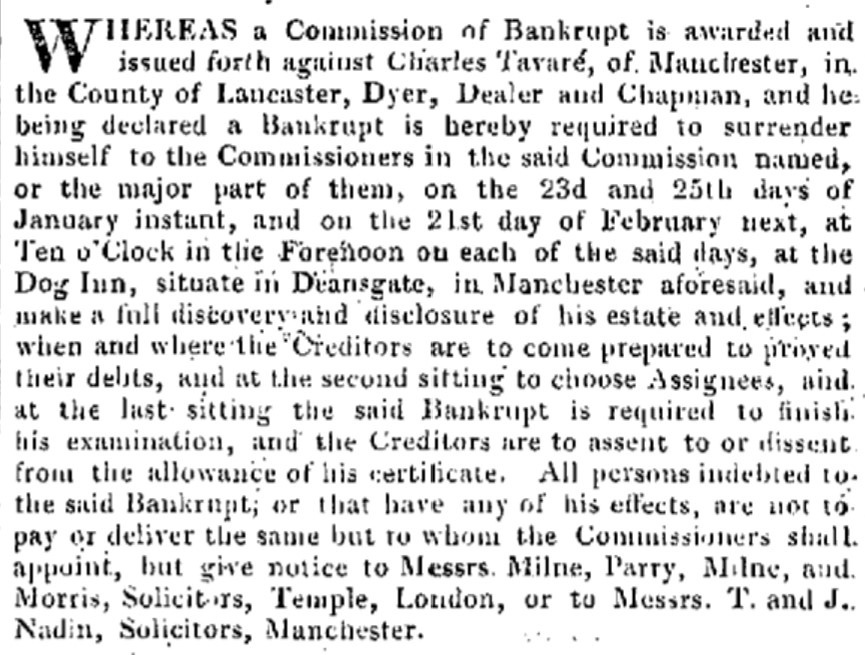 1832 Bankruptcy Notice


The Chapman OccupationChapman can be used to mean dealer or merchant but it also has a second meaning, that of a hawker of "chapbooks" or broadsheets. Which gives a possible link into Charles Swain's change of career mentioned above.
The Dog Inn, DeansgateThe Dog Inn contained Hardy's Concert Room where shows and comic readings from Hamlet took place. It stood on the corner of Quay Street and Deansgate.


Three years later Charles Tavaré died aged 63, and despite his financial issues in his last years, his obituary spoke well of him. His abode was Charlotte St. and he was buried at St Mary's Church in Manchester, now titled Parsonage Gardens, maybe in the same grave as his sister (and Charles Swain's Mother) Caroline (d:1827) . Also in the same churchyard lay Charles Tavaré Swain (aged 5), the only son of Charles & Anne Swain, and Henry Edward Swain (aged 1) the brother of Charles Swain.

Charles Swain had inscribed on his uncle's headstone:

If learning, talent, virtue claim a tear,
Long will thy worth be mourned and honoured here.





Obituary of Charles Tavaré


The first son of Charles and Catherine Tavaré was also called Charles, he went on to work at an engraver's office, possibly the same business that Charles Swain "The Manchester Poet" owned).

Frederick Tavaré was the second son born to Charles and Catherine, and had been born in 1810. He is listed as head of the household in the census of New Bridge Street, Cheetham in 1841.He was an Artist (aged 25), living with his brothers Edward (warehouseman aged 20), Henry (warehouseman 20), Charles (an engraver aged 15) and sisters Julia (30) and Catherine (25). Also present was his mother Catherine aged 60.


The Manchester School of Design opened in 1838, to promote the art of design of textile fabrics, including both ornamental designs and those of human models. The school later decided that life classes had to be discontinued and its chief members formed the United Society of Manchester Artists, and ran classes of their own in an attic over Rose's china shop, in King Street. Of which, W Brookes, R Crozier, F Tavaré, T Letherbrow (founder of The Letherbrow Club, a private literary and artistic society in Manchester), and a few others were the founding members.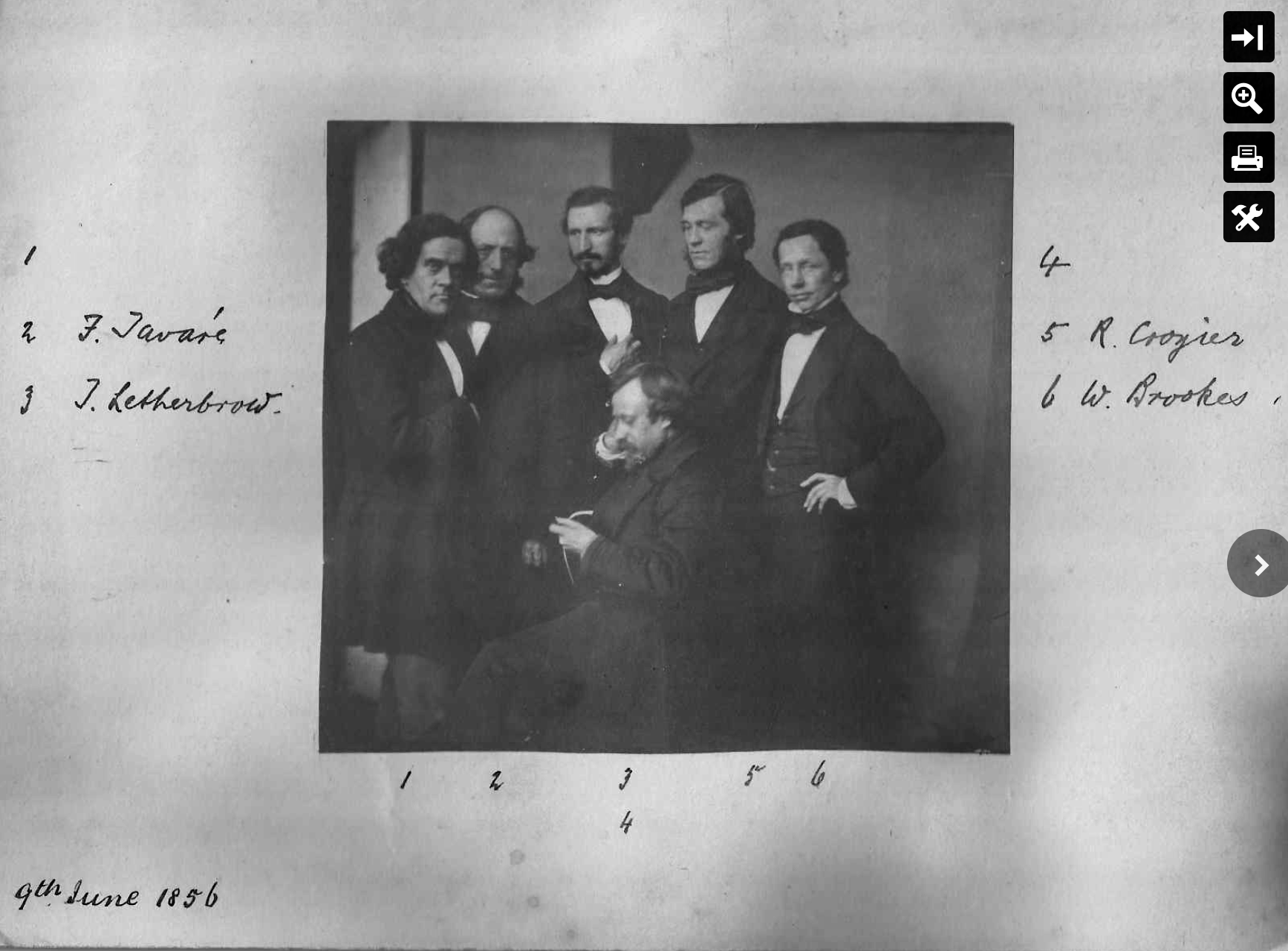 F Tavaré with Messrs Crozier, Brooks & Letherbrow


The above photo shows these four artists in 1856, plus two others unnamed. I think that stood next to Tavaré, numbered 1, is actually his cousin, Charles Swain, the Manchester Poet (and also Lithographer). But the seated man (4) remains a mystery....

In the following census, Frederick Tavaré is listed, aged 40 - so he seemed to have age 15 years during the intervening decade ! He was living at 7 Bury New Road Cheetham in North Manchester. In this census house numbers were quite unreliable, there were no odds or evens sides as we have today. In this case there were actually more than one number 7 recorded. Looking at Slaters Directory from 1853, it reports their address as 7 Broom Terrace, Bury New Road. So it was number seven within a block or terrace of properties.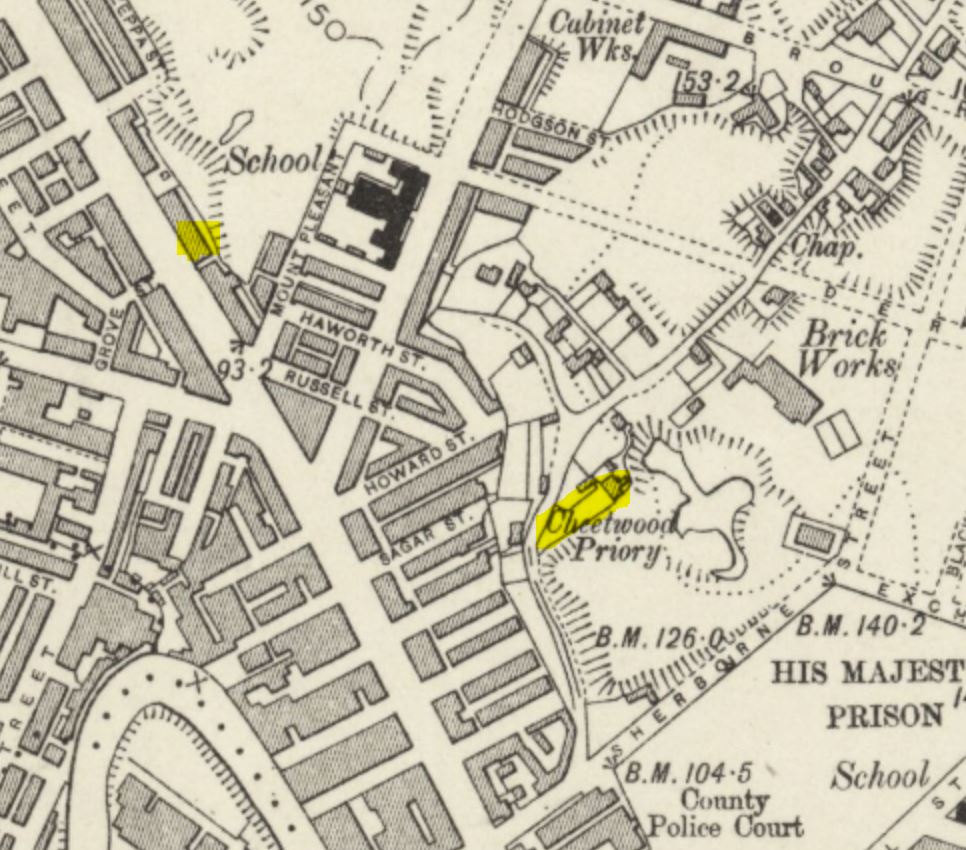 1915 map, showing the locations of the Tavaré house on Bury New Road, and the Swain house at Cheetwood.


Checking the pages around the Tavaré family in the 1851 census, we see that they were the 25th property up from Sherbourne Street at Strangeways. Based on the enumerator covering "the north east side of the new turnpike road to Bury commencing with Sherbuourne Street, and ending with Fairy Lane" - this places them between Jury and Sagar Streets - the car park of the Al Maidah restaurant today.

However...the enumerator actually started from the Greek Chapel on Waterloo Road and then continued onto Bury New Road. Re-interpreting the census returns, places the family 25 doors up from Waterloo Road. This is confirmed by checking the 1861 census (when they were recorded at 92 Bury New Rd - and also the current property numbering on Bury New Rd.)

Frederick was listed as an "Artist, Landscape Painter", living with his wife Anne (aged 39), two children: Frederick L. (recorded as deaf & dumb, aged 4) and Charles E. (11 months). The family also had a nurse living with them.

This same census return included a Mr Frederick Engles a German Merchant, living further down on the continuation of Bury New Road, called Great Ducie Street. He was a lodger in a guest house where the Travel Lodge Hotel is located now, or where the Old Boddington's Brewery Office block (and pub) used to stand.

Although Engles is associated with Marxism, and during his visits here he surveyed the working conditions and over crowded housing of the working class, the Bury New Road corridor was decidedly middle class. Residents had occupations such as surgeons, milliners, dressmakers, librarians, watchmakers, tea dealers and even a German Dr of philosophy (and that wasn't Mr Engles!).

Nationalities included Welsh, Irish and Scottish along with Greek, German, and Prussian.

In this cooking pot of cultures lived Frederick Tavaré, a landscape artist, born in Manchester.

Frederick had five sons and one daughter with Anne Morris between 1838 and 1864.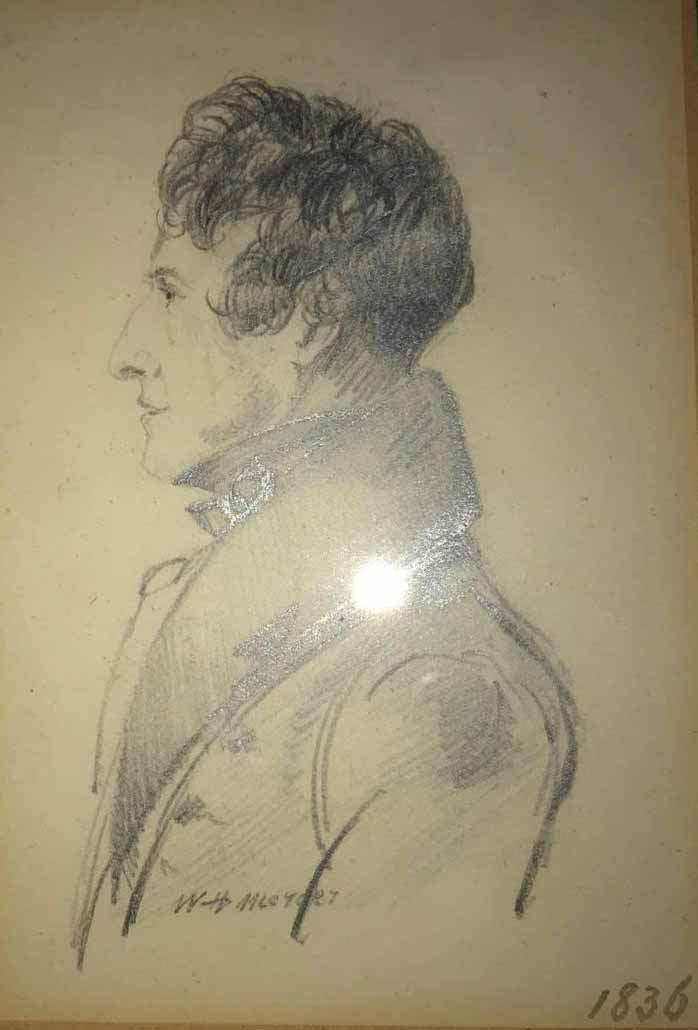 Frederick Tavaré (1836)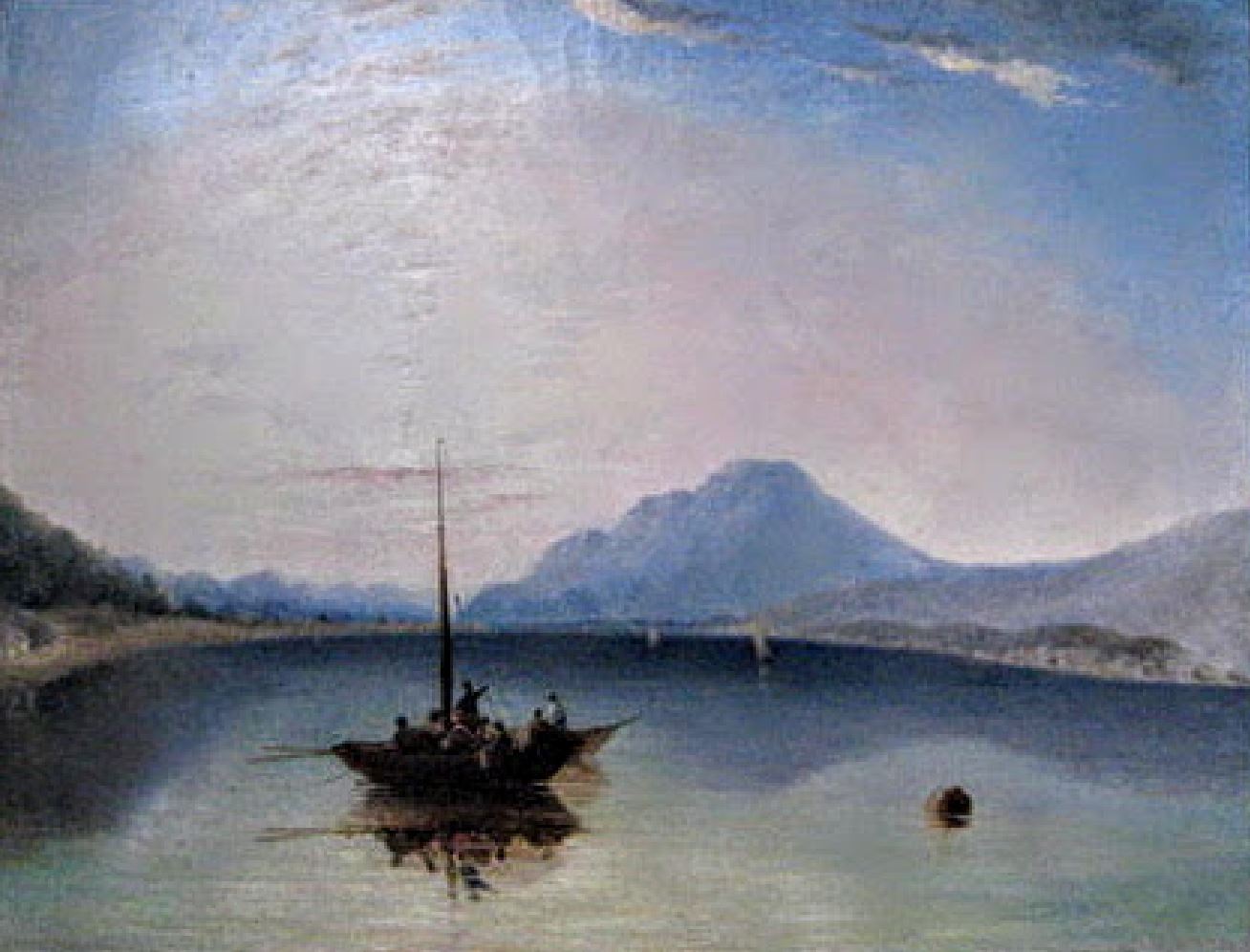 Glen Lomond, F Tavaré (1845)


The Trade Directory of 1853, shows Frederick living a 7 Broom Terrace Bury New Road.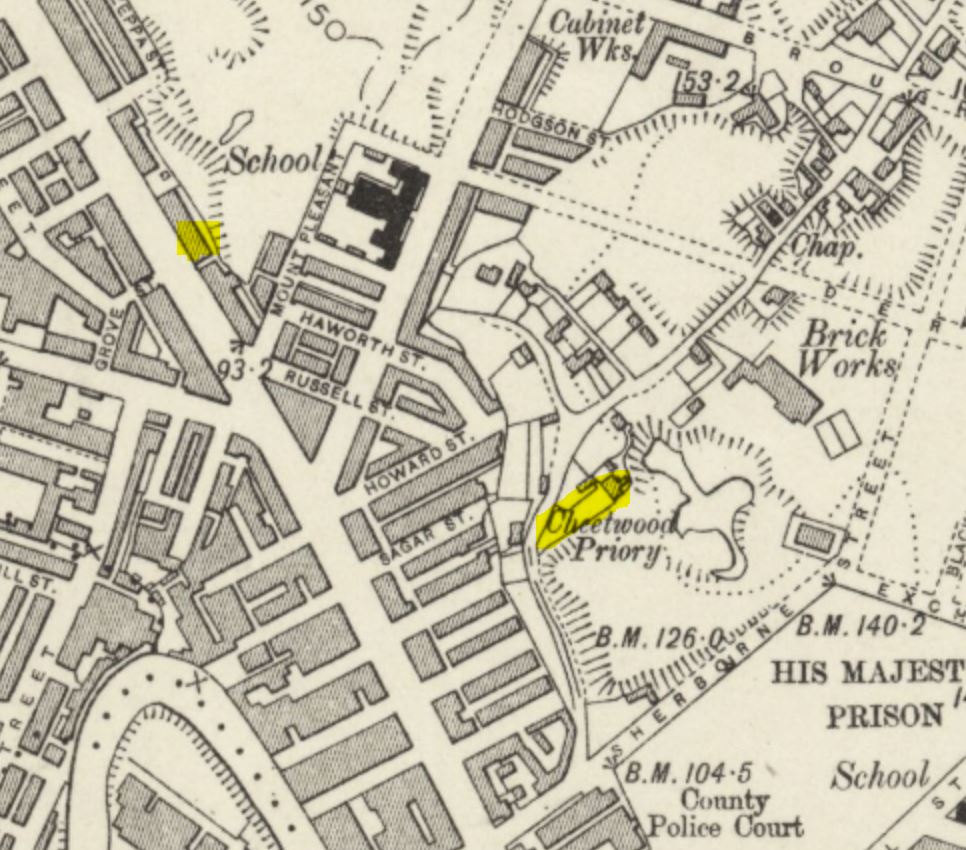 1857 map, showing the locations of the Tavaré house on Bury New Road, and the Swain house (Cheetwood Priory).




In the census of 1861, widowed Catherine (81), is recorded living at 22 Moreton Street, Cheetham, with three of her children, Juliana (teacher of French, aged 53), Catherine (46), and Charles (warehouseman aged 40).

Catherine moved to Rusholme, died in 1862, and was buried at St Luke's church in Cheetham Hill. St Mary's church in Manchester, where her husband had been buried was had closed it's doors in 1890, and been demolished in 1891.

In 1864 Frederick had given a middle name of Swain to his son Edwin, in honour of his cousin. Then in 1868 Frederick died at the age of 58,and was placed with his mother at St Luke's.

In the probate record of Frederick in 1869, Ann is recorded as living at 92 Bury New Road, with the estate worth less than £126,000 in today's money. The census in 1871 places her at number 92 too, aged 50.The east side of the road had now been designated with even property numbers. With her were her five children.Frederick L (24), Charles E. (21), Annie E (19), Alfred N (12) and Edwin S (7).

Given present day property numbering this would seem to be around the same location as number 7 Broom Terrace from the census of 1851. Frederick was outlived by his sister Catherine, who wrote to the local paper with her recollections of the artists Henry Liversage & Alfred Vickers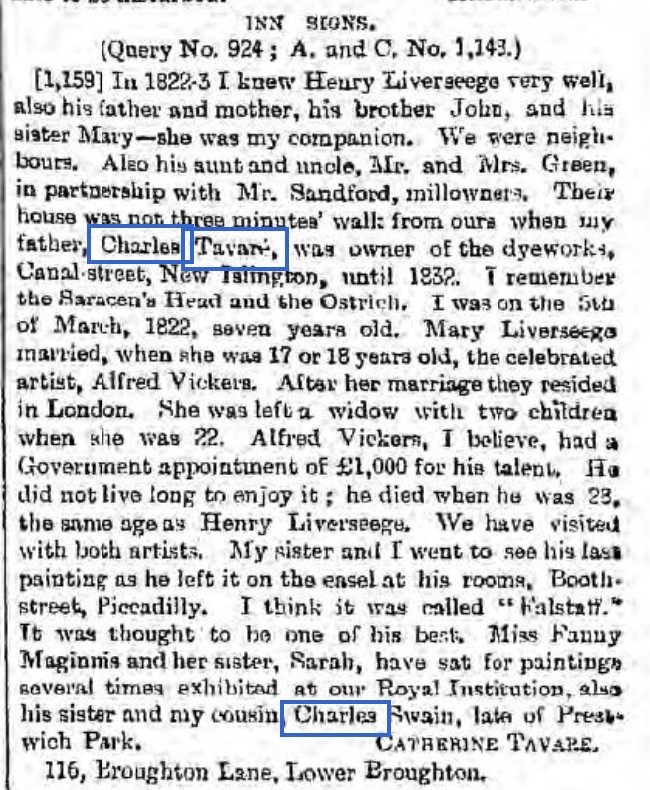 Letter from Catherine to the newspaper(1893)


Frederick and Ann's third son Frederick L Tavaré, was born in 1846 and went on to be an artist himself, recording some old buildings of Manchester. Read more about FL Tavaré here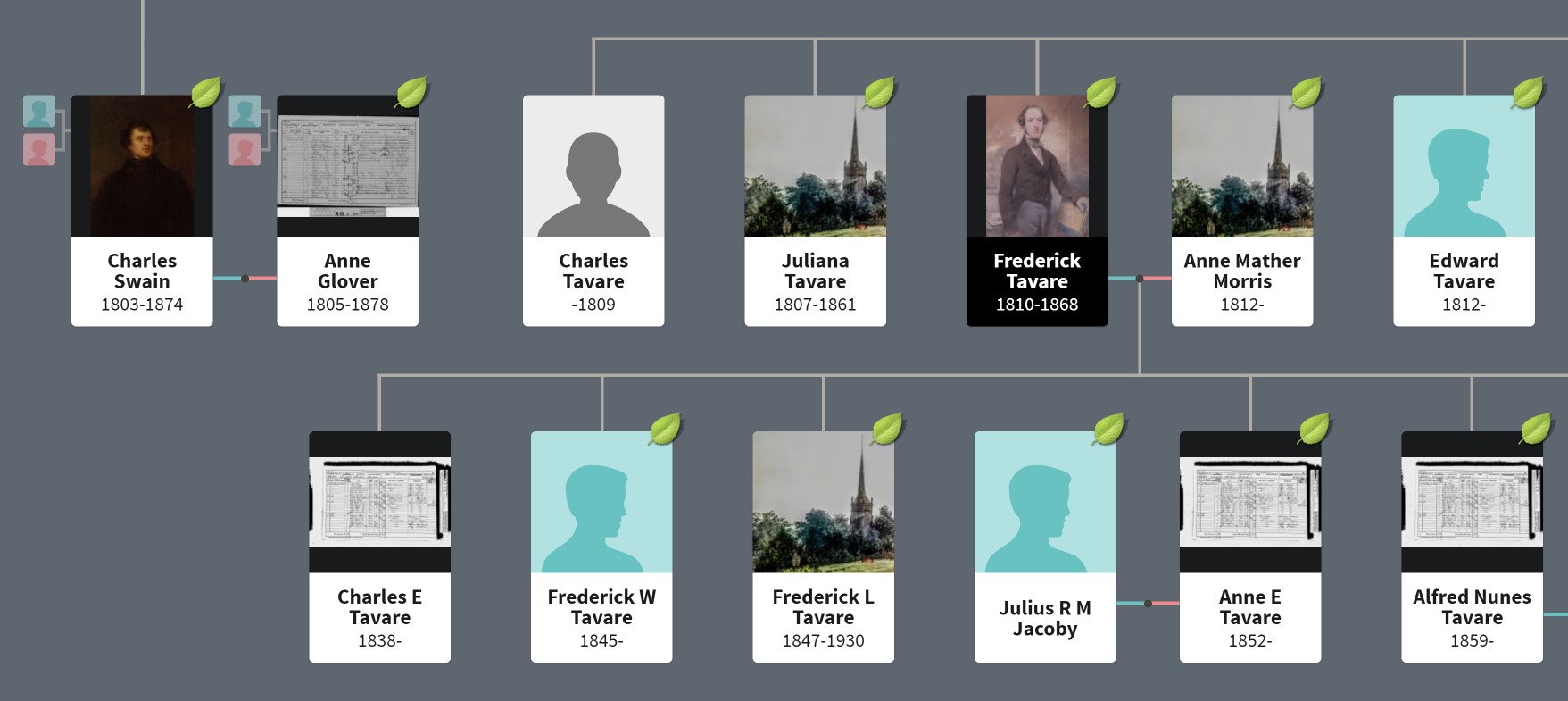 To view the Swain/Tavaré family tree on Ancestry.co.uk. click here free account required)
(