! side panel> <! side panel>
Gabriela Valette


Based upon research,photos by Martin Harper Facebook and also snippets from [Ref]


A pair of flat grave stones in the Churchyard of St Margaret's in Prestwich, lie on top of the family vault of Gabriela Valette who was captured along with her mother-in-law, in the painting above.


| | |
| --- | --- |
| Gabriela Valette was the first wife of Pierre Adolphe Valette, a French painter and art school teacher of the famous Salford painter LS Lowry. | Pierre Valette (self portrait) |
| | Gabriela had been born in 1881, the daughter of Anna de Bolivar, and the only granddaughter of Joseph and Marion Fennel (of Brentwood House & 21 Belgrave Crescent in Eccles, and Brooms Lodge, Cheetham Hill). |


On the family grave slab is inscribed that Joseph Fennel had been "Consul In Manchester For The Republic Of Venezuela From 1895 to 1903". In the 1891 census of Broom Lodge in Cheetham Hill, Joseph was listed as a builder, born in Ireland, and Gabriela their granddaughter was living with them. Joseph's wife Marion, died in 1897 and Joseph died in 1903, at which time his address was listed as 21 Belgrave Crescent, Eccles.


Anna, also refered to as Madame Bolivar, had been born to Joseph and Marion in County Offay in Ireland in 1856. The family had moved to England, and Anna married Jesus Maria Bolivar in Eccles in 1880 (born in Puerto Rico, he was the son of a merchant Pedro Bolivar). Anna was also a relative or descendant of Dr de Bolivar, notable for selling his collection of Peruvian grave-goods to the British Museum in 1907.

At some point Jesus must have travelled to America with Anna, as she gave birth to her daughter Gabriela in Bogotá, Colombia, in 1881. Anna died back in England in Rusholme, 1924.
The Bolivar SurnameThe surname Bolívar originated with aristocrats from Ziortza-Bolibar (Spanish: Puebla de Bolívar), a small village in the Basque Country of Spain. The family had settled in Venezuela during the 16th century. Simon de Bolivar was a Venezuelan military and political leader, who had witnessed the coronation of Napoleon as King of Italy in 1804. He led what are currently the countries of Colombia, Venezuela, Ecuador, Panama, Peru, and Bolivia to independence from the Spanish Empire. Bolívar is one of the few people to have a country named after him !
Anna's epitaph reads :

In life beloved and in death lamented.

Como Siempre

Hasta La Vista.


Gabriela was also well travelled as in 1903 she was, seemingly alone, onboard the Orinoco from Southampton bound for La Guayra in Venezuela. But she returned sometime after, as within 6 years she had met and married Pierre Valette in Salford.

[Ref]

Pierre Valette was born in 1876 in the industrial town of St Etienne,France, and came to England in 1904.

He brought the syllabus of his French experience and pioneered Impressionism in Manchester with a series of large oil paintings depicting urban architecture, waterways, industry and the dynamism of the city, captured in atmospheric variations of light, pollution, fog and haze, and commented 'There is a beauty in Manchester'.

He was one of the first painters to paint Manchester, the first to see the beauty in the hard working city. But Valette was also an extremely modest person and he didn't write manifestos or letters to other artists. So it remains a great mystery what drew him to Manchester.

He settled in Manchester and studied at the Manchester School of Art, going on to teach there from 1906-1920. One of his students was LS Lowry, anotehr became his wife.

Valette's talent, however, goes beyond his Manchester cityscapes. He was a skilled painter of still life, portraits and the contrasting sun-drenched landscape of southern France.

While in Manchester Valette married Gabriela, one of his students and their son Pierre Antoine Ferdinand Vallette, was born shortly afterwards in 1909.

Gabriela died in 1917 aged 36, and her abode was listed as 8 Herbert Street, Moss Side. She pre-deceased her mother Anna, of 75 Clarendon Road, Chorlton-on-Medlock, who died in 1924. Gabriela was buried in the family vault with her grandparents, Joseph and Marion. Her son Pierre died in 1920, and is also placed in the family vault at St Margaret's.

There are portraits of Gabriela, along with her mother, Valette's brother and his son, Pierre.




Two years after Gabriela's death, her widow Pierre married a fellow french national, Andree Pallez, a lecturer in French at Manchester University.

After Valette, Lowry was the second major painter in the North West to focus on the industrial scene. He recalled that his 'first idea of doing it' was 'about 1912 or 1913' (when Valette had already exhibited many of his major 'Manchester-scapes'). 'I was taught then by a gentleman by the name of Valette. He was what I would call a typical product of the Impressionist school but I didn't want to paint like the Impressionist school'.

While Valette painted Manchester, celebrating the architectural magnificence of the industrial buildings, the vibrancy of the city or the languor of the canals, Lowry depicted the industrial landscape and the mills of Salford and Greater Manchester in a more stylised manner, with greater attention to the people in the streets.

Lowry gradually found his own artistic style and the influence of Valette, still to be seen in the pastels 'Coming from the Mill' and 'The Lodging House', started to wane. 'I could have been subconsciously influenced by Valette', he admitted, grudgingly, in later years. By the mid-1920s, Valette's influence became even less pronounced, with Lowry eventually declaring, 'We did not see eye to eye at all about my paintings; I did not show them to him again.'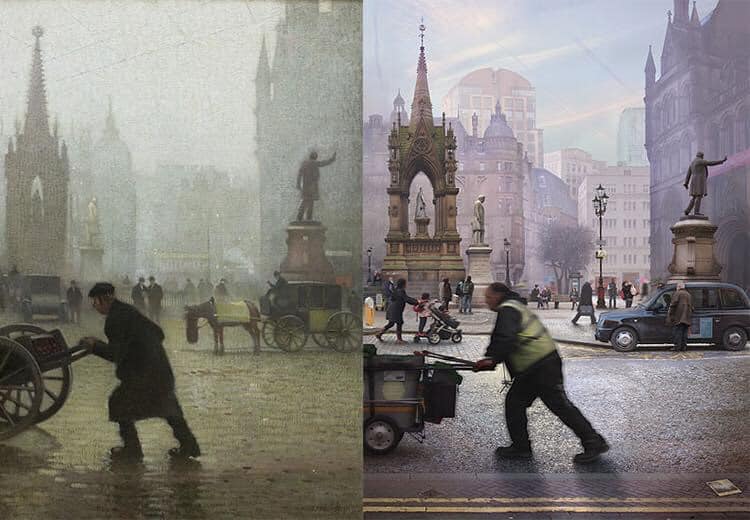 Albert Square 1910 (Valette) & 2015 (Emily Allchurch)




In 1928 Valette left Manchester, due to ill health and following the death of his mother. He moved permanently to Blace in the Beaujolais region of France, settling in a cottage which he inherited from his mother and where he had spent many holidays. He frequented local artistic circles and, like Van Gogh after his move from the north to Arles, new colour and light bursts from his paintings.

There is a commemorative blue plaque to Valette, located on the site on Manchester School of Art on Grosvenor Street, in Manchester, inscribed "Adolphe Valette (1876 - 1942) French painter and teacher in the School of Art 1907 - 1920

Lowry once said of Valette :

"I cannot over-estimate the effect on me of the coming into this drab city of Adolphe Valette, full of French impressionists, aware of everything that was going on in Paris."

In the extension to the Manchester Art Gallery, in what was the Anthaneum, is a room devoted to Adolphe Valette's work.

The room displays a superb group of impressionistic paintings of Edwardian Manchester, painted between 1908 and 1913, which represent Valette's most significant artistic achievement. It usually has some Lowry paintings on display too.

View some of the Art Gallery's Valette collection here