! side panel> <! side panel>
Longfield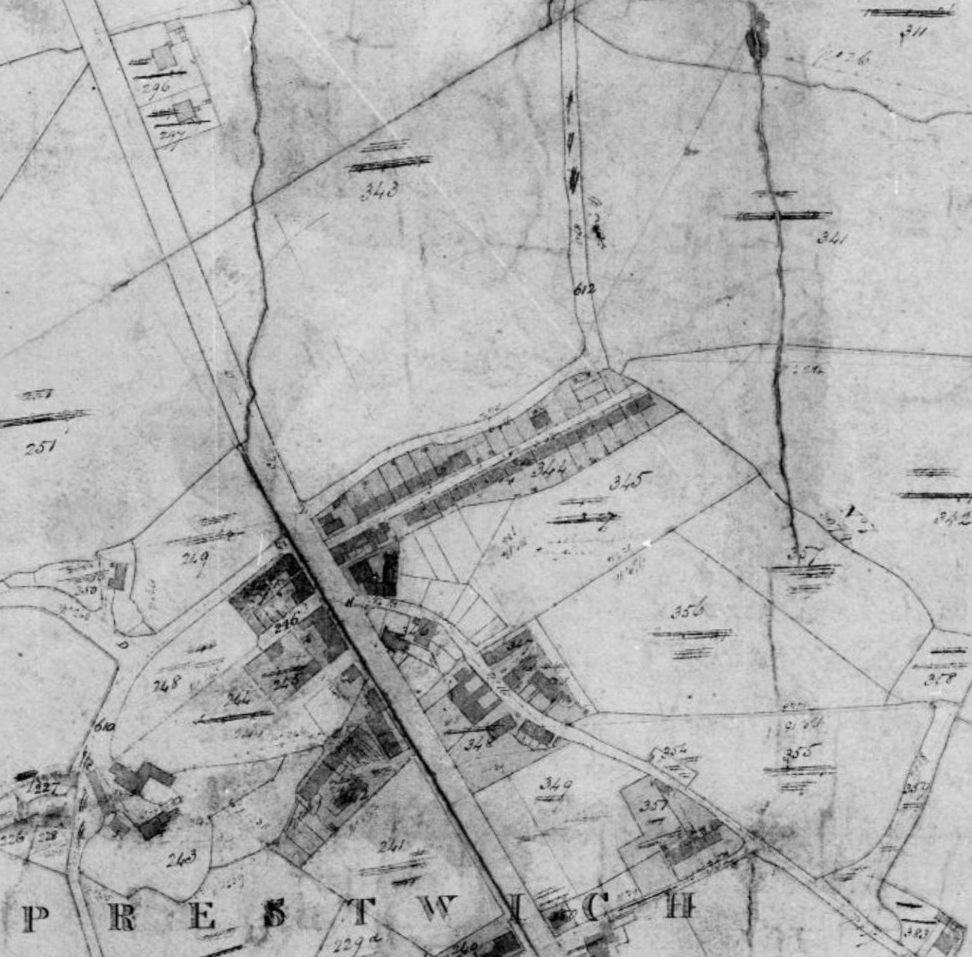 Longfield 1839


| | |
| --- | --- |
| The road of Longfield ran to the south of the much older Poppythorn lane. Prior to Bury New Road being constructed in 1827, the main route from Prestwich village to Bury and Manchester was via Bury Old Road. Poppythorn Lane and Bent Lane/Rectory Lane linked the village to Bury Old Road in each direction. | |
From the 18th century Longfield had been a centre of the silk hand-loom cottage industry, with cottagers spending some time performing agricultural jobs, and some time at the loom. By the 19th century dye works had opened up at Myrtle Grove & Prestwich Clough, and the Clegg's had opened a warehouse on Bury New Road for winding and warping to supply the hand loom weavers. This was later expanded (1850) to include manufacture of cotton and silk.

Prior to 1820 the Wesleyan Methodists had met in a cottage on Longfield owned by Stephen Cass, this gives us the earliest reference to Longfield. The first Wesleyan Methodist Chapel in Prestwich was actually opened on Newton Street, off Rooden Lane in 1820. Then in 1830, a room was rented back in Longfield by John Heywood, Charles Knott, Joseph Fletcher and Robert Briggs. They fitted the room out with forms to sit on and a pulpit for the Methodist meetings, until in 1841 a chapel was built on Bury New Road. The Newton street Chapel was rebuilt in 1865 in Rooden Lane, and the present Bury Old Road Chapel was opened in 1928.





The first mention of Longfield as an abode found at St Mary's church is for the baptism of Jane Briggs, daughter of Robert (see the Methodists above), who was a weaver in Longfield in 1832. Robert's elder brother William had a son Noah Briggs (born 1838), who was to become very influential in the development of Prestwich.


The tithe map of 1839 shows that there were cottages running along both sides of Longfield. To the North of Poppythorn Lane, which formed the rear property line of the cottages, was pasture land called Slack Meadow. This meadow was owned by John Drinkwater, and the tenant farmer was Andrew Pickstones. The road, cottages and their gardens belonged to William Holt (and others). To the south of Longfield lay another meadow called Back field, which was Glebeland (owned by the Church). Francis Tasker was the tenant of this meadow, as well as being landlord of the Red Lion.



In the 1841 census, Longfield returned 45 households, with most working as mainly weavers or warpers and some as bleachers plus one coal merchant, one tailor and one slater. The first shops had appeared about 1838.



Watch a video of the area developing over time.


By the 1851 census there were 48 households, and by 1861 66 households were recorded, including Mangle Row (8) Ivy Terrace (5) and Ashworth House (5).

That same year a collection of Longfield residents, including the Briggs family mentioned above, had been instrumental in the foundation of the Prestwich Industrial Co-operative Society. This had a great influence on how Prestwich developed over the next century and ultimately led to the Tower Buildings Store being built. Read more about The Prestwich Co-op here

A notable resident lived on Longfield and is recorded in the 1881 census. William Percival who was receiving a military pension, lived there along with his wife Maragret. You can read more about William's service during the Peninsular Wars and at the Battle of Waterloo here


In 1901 a post office in Longfield opened up, behind (and now used by) what is now Barclays Bank. Prior to this a post office had been located on Bury New Road, between Warwick Street and Sherbourne Street (now Melissa Berry Estate Agents). By this time there were 12 post boxes in Prestwich, and 12 postmen carried out five collections and 3 deliveries per day. Prestwich must have been well treated for post services, as the Post Master of Manchester lived at The Roost on rectory Lane.

A rain hopper on the present day Barclays Bank, on what remains of Longfield hints that it was originally a branch of the Union Bank of Manchester.The Union Bank of Manchester (est. 1836) was affiliated with Barclays Bank in 1919 and was fully incorporated into Barclays in 1940. The Prestwich branch was built in 1900, by Waddington William & Son. Fittingly, with the history of Longfield, William Waddington also designed numerous Wesleyan Methodist Chapels.

Union Bank of Manchester

Longfield Shop



Mrs Buntings Bakery Shop (with a passageway through to Rectory Lane)



In Mrs Buntings backyard you could buy a warm pie through the window.





With the arrival of the railway, Longfield had already lost half a dozen cottages 1879. The remaining cottages along Longfield (some now converted to shops) and those along teh parallel section of Poppythorn Lane were demolished in 1965 to make way for what was to become the Longfield Precinct, including shop units, Social Suite, including a cushioned dance floor, and fit for the 20th century...the obligatory car park.

The cottages along Longfield and those along a section of Poppythorn Lane were demolished in 1965 to make way for what was to become the Longfield Precinct, including shop units, Social Suite, including a cushioned dance floor, and fit for the 20th century...the obligatory car park.


Longfield and Tower Buildings, (1935)

See some more photos of Longfield at Bury Image Archive





After the demolition the contractors refused to continue and it was two years, during which the centre of Prestwich was just a pile of rubble, before construction began with a new set of willing contractors.


Longfield Precinct

The library which had been opened at the junction of St Mary's Rd & Rectory Lane in 1933, was also moved to the Precinct in the 1970's.

Prestwich Precinct on the telly (2014)



Longfield Suite Dance Hall(2013)


| | | |
| --- | --- | --- |
| The Retreat | The precinct is currently home to an artwork called The Retreat. Originally consisting of a green glass sweep, it was vandalised and fenced off for two years before being rebuilt in granite. It is engraved with inspirational words and phrases following brain-storming workshops with pupils of Prestwich Community Arts College. | Prestwich is a place |


The Retreat rebuilt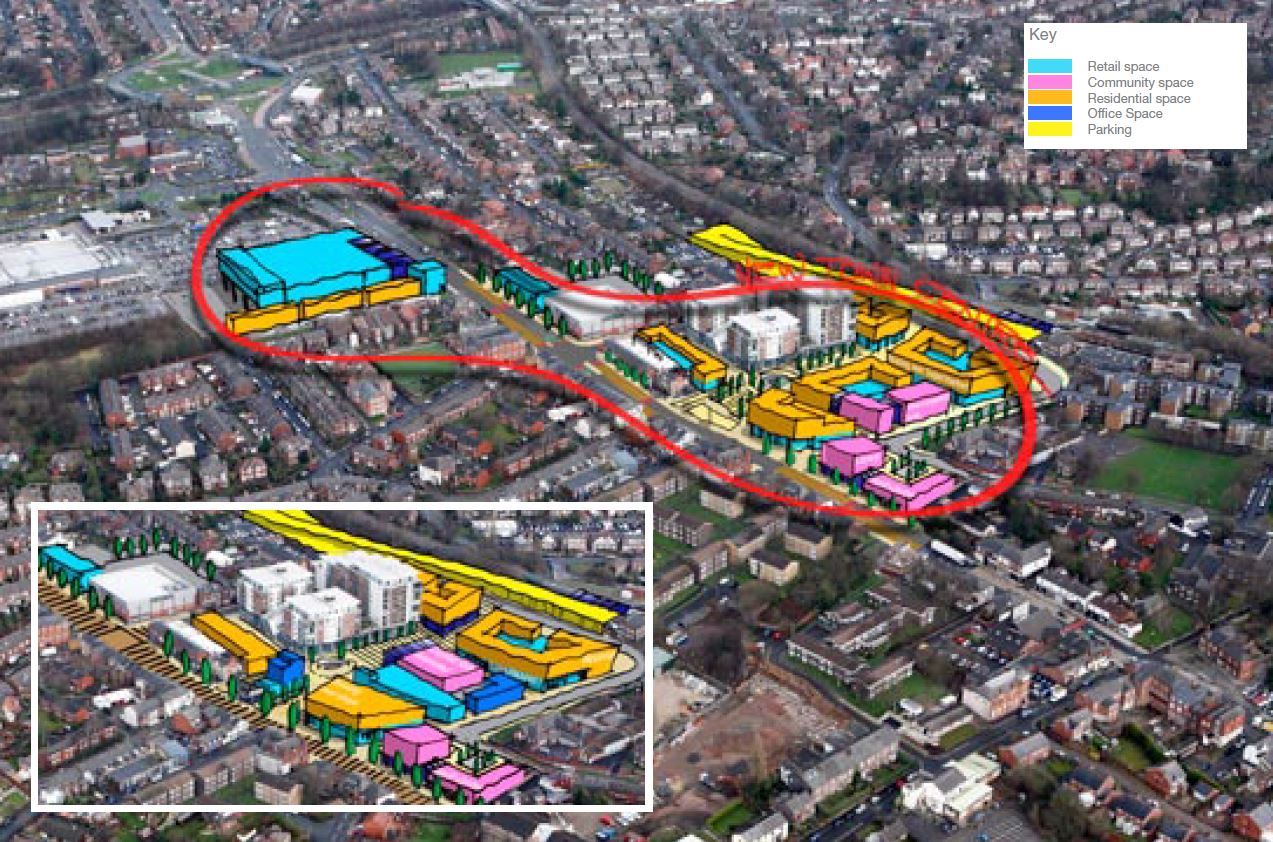 A Regeneration Illustration (2009)
The Precinct is due to be demolished in 2023, with a new development overseen by Bury Council to provide housing employment and civic spaces for decades into the future.