! side panel> <! side panel>
Sir William Fairbairn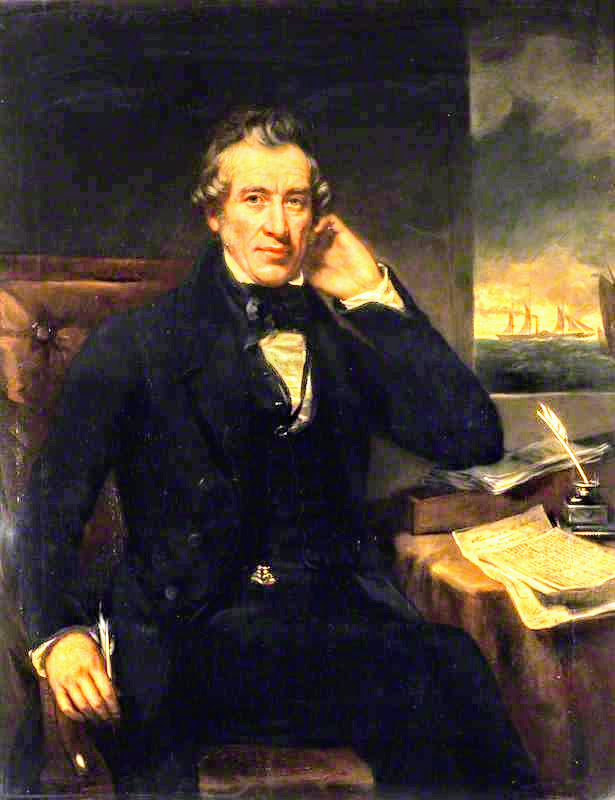 Sir William with his "ironclad" in the background
Mechanical Engineer (based upon article by Allan Jennings Facebook ) and with thanks to Anthony Leslie Dawson for the Water Street Bridge photo and background info.
Sir William Fairbairn 1st Baron Ardwick, was born to a Unitarian family on February 19th 1789, in Kelso in the Scottish Borders

He first turned his mind to machinery whilst looking after his poorly younger brother Peter. William created a push chair to help him move Peter around more easily.

Peter went on to be knighted himself, was also an engineer creating machinery for preparing and spinning silk, and also improved machines for making rope yarn. Later he became Mayor of Leeds, where a statue of him now stands in Woodhouse Square. Part of the intellectual and engineering elite gathered around Mill Hill Unitarian Chapel in Leeds, which included the influential Lupton family, Joshua Tetley, and James Kitson. The Chapel was known as "the mayor's nest" as several mayors had attended there.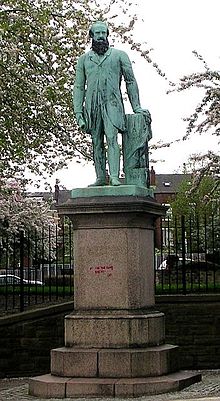 Peter Fairbairn


William came to Manchester in 1813 setting up as Fairbairn & Lillie, makers of machinery for Cotton Mills, his skill as a mechanical engineer earned him an International reputation. He attended Cross Street Unitarian Chapel all his life where there was a memorial bust erected to him in the Old Chapel, later destroyed in the Manchester Blitz.

In 1822, engineer Joshua Routledge entered into a short-lived partnership (dissolved 1824) with William Kay of Bury Lancashire to supply iron pillars to the specification of William Fairbairn for the "fireproof" Hudcar Mill, said to be state-of-the-art for cotton mills of the day. The Hudcar Mill, Bury, was built for manufacturer Thomas Haslam of Chesham , and was demolished in 1977.

[Hudcar Mill was sold in 1827 to The Greg family of Quarry Bank Mill, after Thomas Haslam had died.]

The company later became William Fairbairn & Sons, after a disagreement as to how to build Blackfriars bridge in Manchester. Among his inventions, were the worlds first riveting machine and developed the Lancashire Boiler in 1844. He worked with his friends Robert and George Stephenson, who he had known since he was in his 20's. He also designed the first steel hulled ship to cross the Atlantic : "Iron Duke" (5 years before Brunel's SS Great Britain claimed the feat), and over 500 railway locomotives, succeeding the Stephensons as president of the Institute of Mechanical Engineers

It was Fairbairn who came up with the idea of the tubular bridge, and box girder used at Conway and later at the Menai straits.

Watch a video about the experiments and the construction of the Britannia Bridge...


In 1844, William was in one of the 13 private carriages forming part of the procession of Dr John Dalton's funeral cortege through Manchester.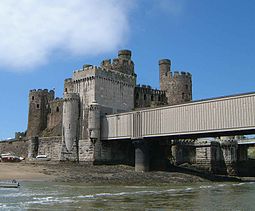 Working for the government he went on to perform vital research into Iron Fatigue, he condemned the use of trussed cast iron girders, and advised Robert Stephenson not to use the concept in a bridge then being built over the river Dee at Chester in 1846. The bridge collapsed in May 1847, killing 5 people who were passengers on the local train passing over the structure at the time. He also investigated stresses on boilers, which lead to the invention of the Fairbairn-Beeley and the 5-tube boiler. He founded the Manchester Steam User's Association, quickly became recognised as setting national standards for high-pressure steam boilers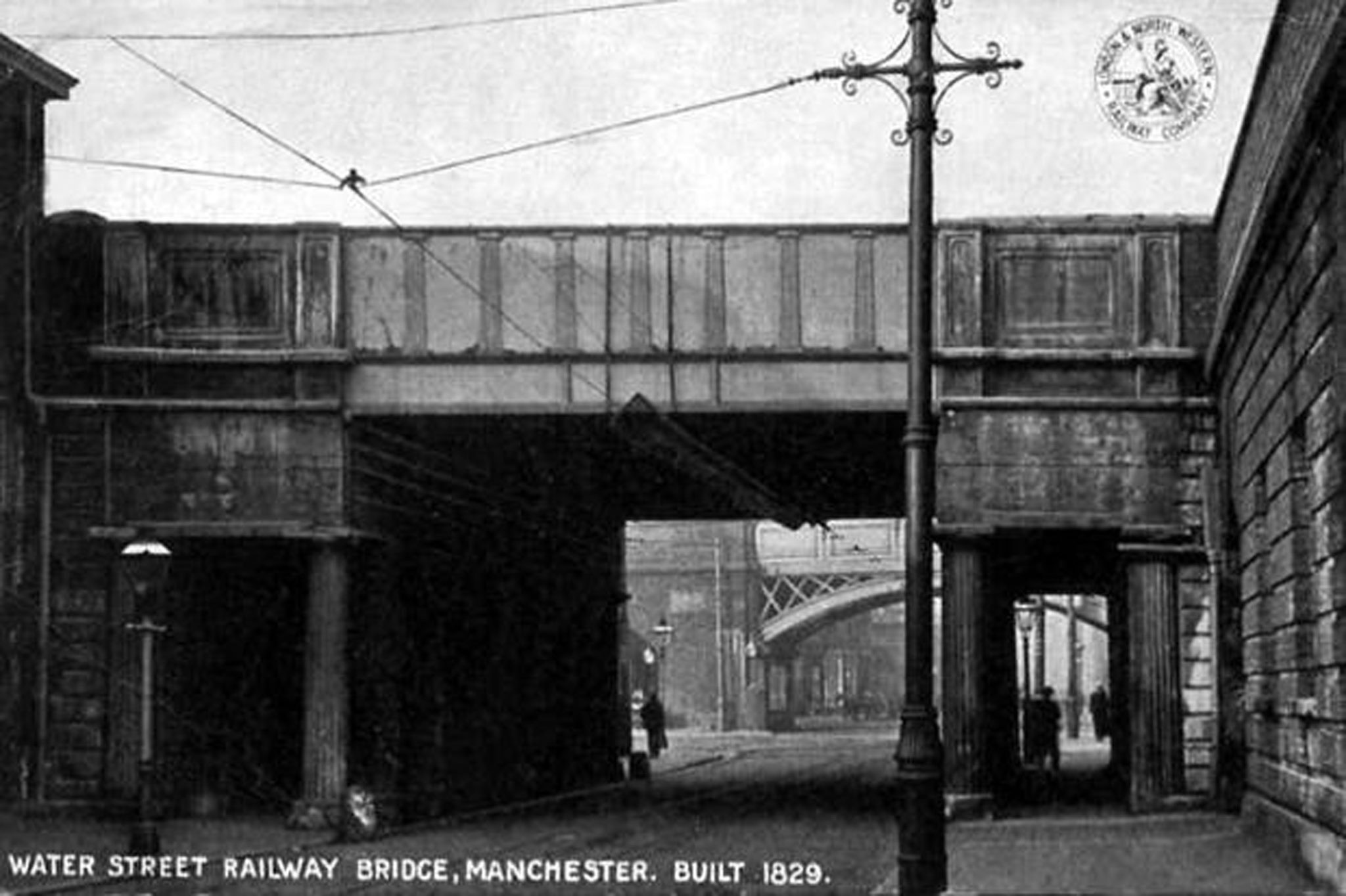 Fairbairn's Water Street bridge (demolished 1905)
Fairbairn's Bridge from Liverpool Road Station over Water Street in Manchester, was the first bridge into the first passenger railway station in the world, and wasn't without problems as a result. Read about the design of the bridge here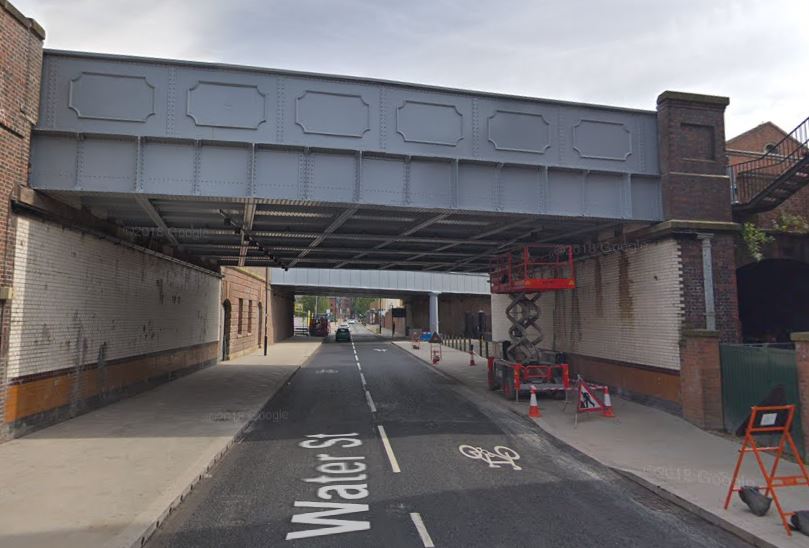 The present day replacement (there was a suggestion that the original bridge be erected in Heaton park when it was dismantled in 1909)
[Fairbairn is also credited with the central of the three bridges on Victoria Street (between the Arena and Victoria Station Approach - Hunts bank - in Manchester amongst over 1000 other bridges.]

He was pre deceased by three of his sons.

Sir William died in Moor Park Farnham, 18th August 1874 (at his brother in laws house) but is buried in St Marys Prestwich, along with his wife Dame Dorothy who was born 24th October 1791 and died 11th January 1882, he is one of several notable Engineers buried there. His funeral procession, which set off from his residence in Ardwick, was witnessed by 50,000 people, properties closed their curtains as the procession passed by.

Although it's not clear why the Fairbairns chose St Mary's, there are links to the churchyard. His 3rd son, Thomas, lived in Prestwich and buried his daughter in ST Mary's graveyard. His son Thomas also gave an address to Queen Victoria when she visited Manchester in 1857. Sir William was a royal commissioner of the 1851 Great Exhibition (as was Thomas), and the John Brooks monument stands just a few yards away (a statue from which was displayed at the exhibition). Another link to Queen Victoria was that the living of Prestwich had been granted to Rev Birch by the Queen, for his tutoring of the Prince of Wales. Canon Birch was the Vicar of St Mary's in 1874, presiding over Sir William's funeral.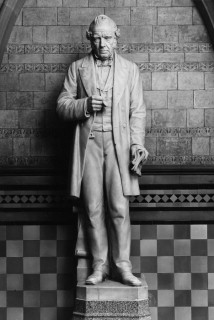 A statue of Sir William stands in Manchester Town Hall.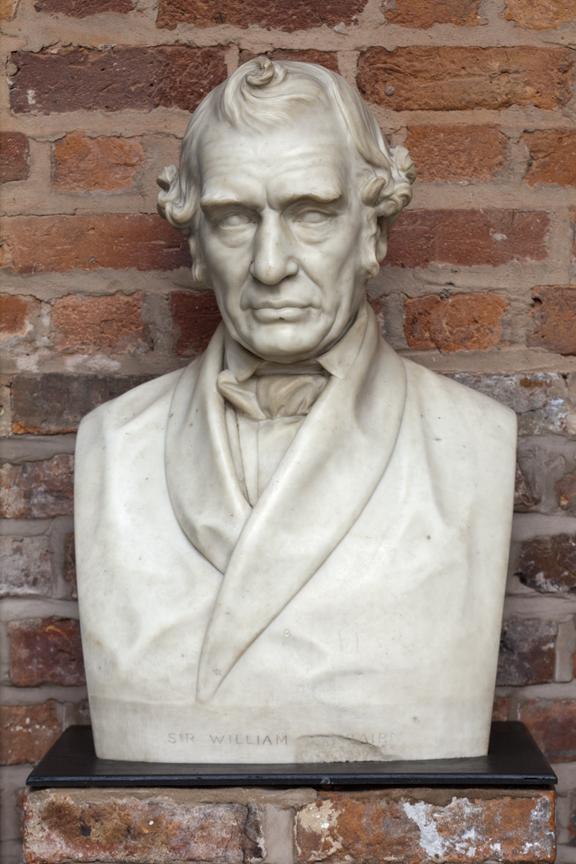 A bust of Sir William stands in the Manchester Museum of Science & Engineering.


Sir William also drafted up proposals for the improvement of Manchester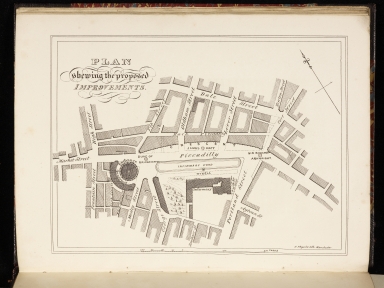 Manchester Plans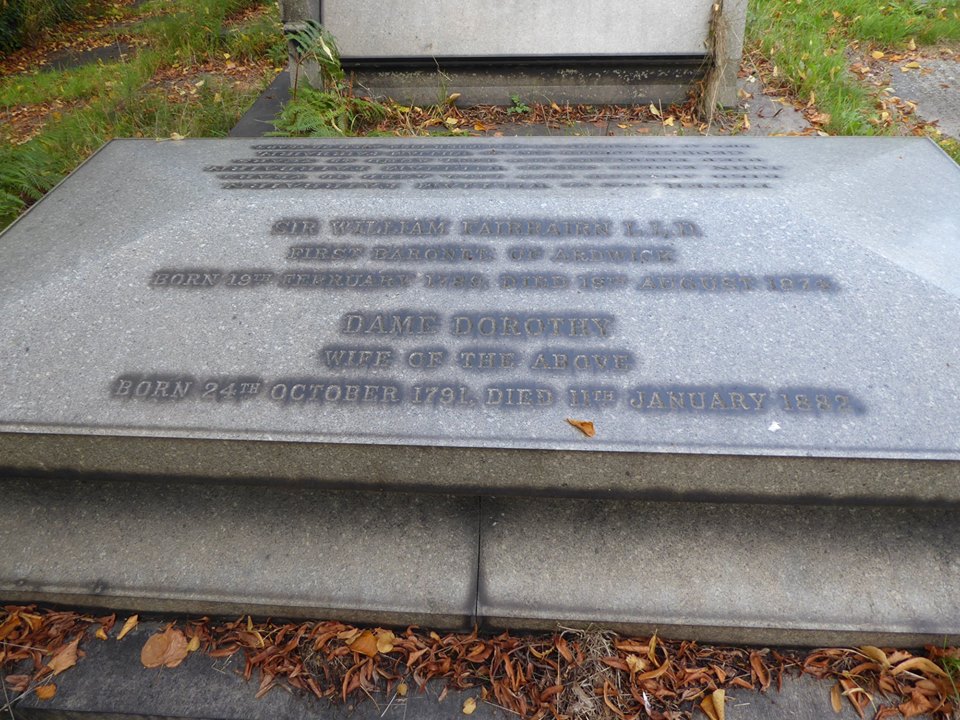 Family grave plot in St Mary's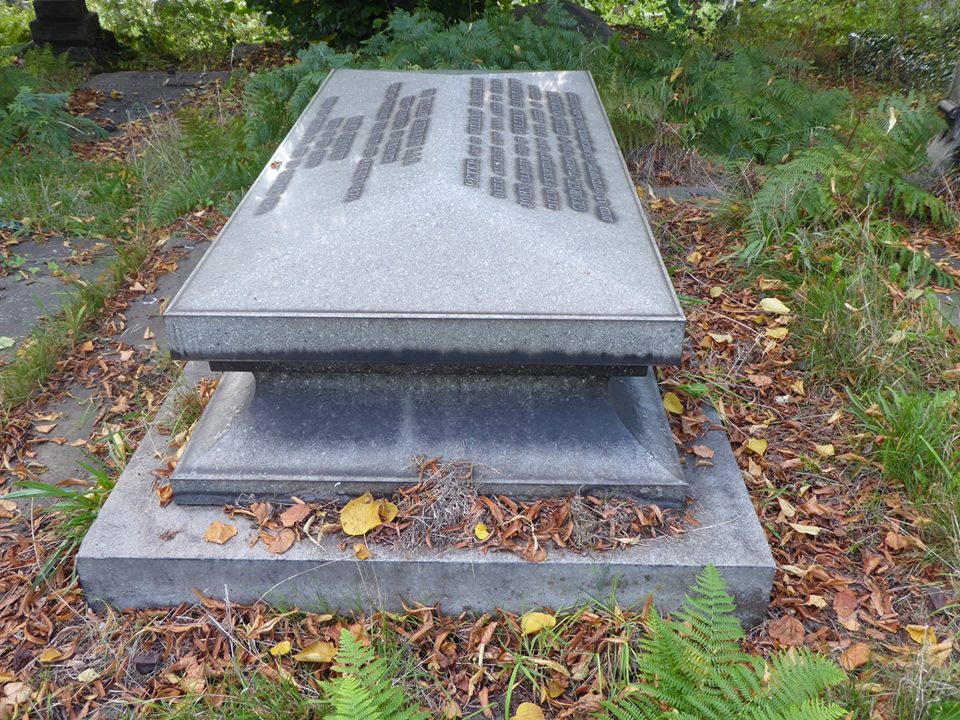 Three of William's four sons are also buried in the family plot, Peter, John,and George.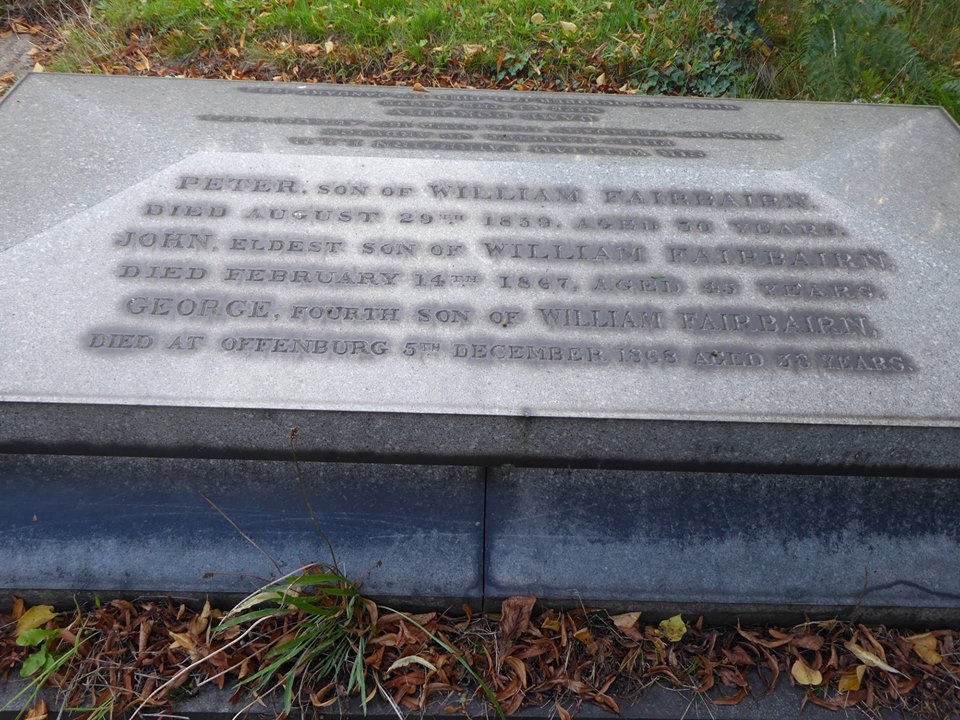 f

Sir William's 3rd son, Thomas was a successful engineer himself, and lived in Higher Broughton, and later at Northwood (opposite Brooklands) on Bury Old Road.

He was a keen patron of the arts, and was appointed as a royal commissioner for the Great Exhibition in 1851.

About 1861 Thomas moved to Sussex, and went on to become High Sheriff of Hampshire in 1870. Thomas became 2nd Baronet after his father died in 1874. He struggled, but succeeded, in opening the Manchester Art Gallery on Moseley Street, Manchester in 1881.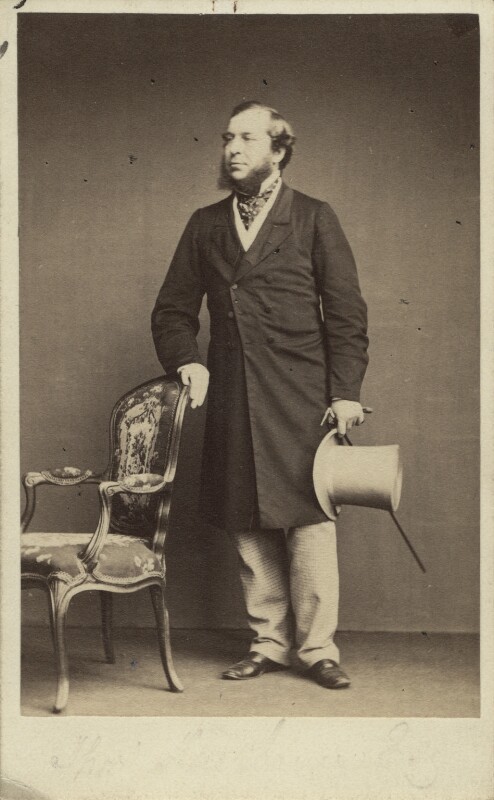 Thomas Fairbairn

Although Thomas is buried at Twyford Church, one of his daughters is buried not far from Sir Williams grave. He had five children, 2 were born deaf, but his first child is buried in St Mary's graveyard. A plain slab is engraved "In Sacred Memory of Mary Eleanor, daughter of Thomas and Allison Fairbairn who died 28th of December 1852,aged 5 years and 10 months."

See Sir William's family tree