! side panel> <! side panel>
Hardmans Fold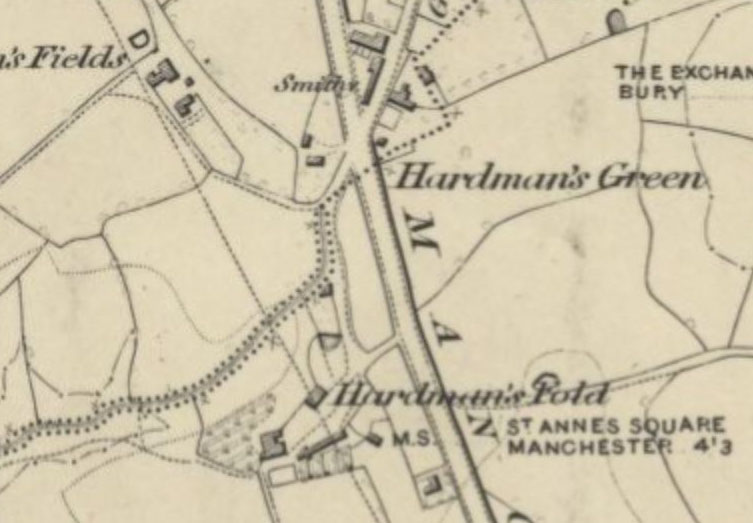 Hardmans Fold 1845


[with thanks to Peter Corbally for his article on the Hardman's Folds of South Lancashire]


| | |
| --- | --- |
| | The 1332 tax return shows that among the six people eligible for tax in Prestwich was a man called Adam le Hirdman. He could well have occupied Hardman's Fold and be one of the original members of the Hardman family - though as we will see, the surname may have indicated an occupation rather than descendancy by blood. By 1412 there was a John le Herdeman mentioned in the Agecroft Deeds in Prestwich and by 1570 (Agecroft Deed No. 120) the surname was recorded as Hardman. |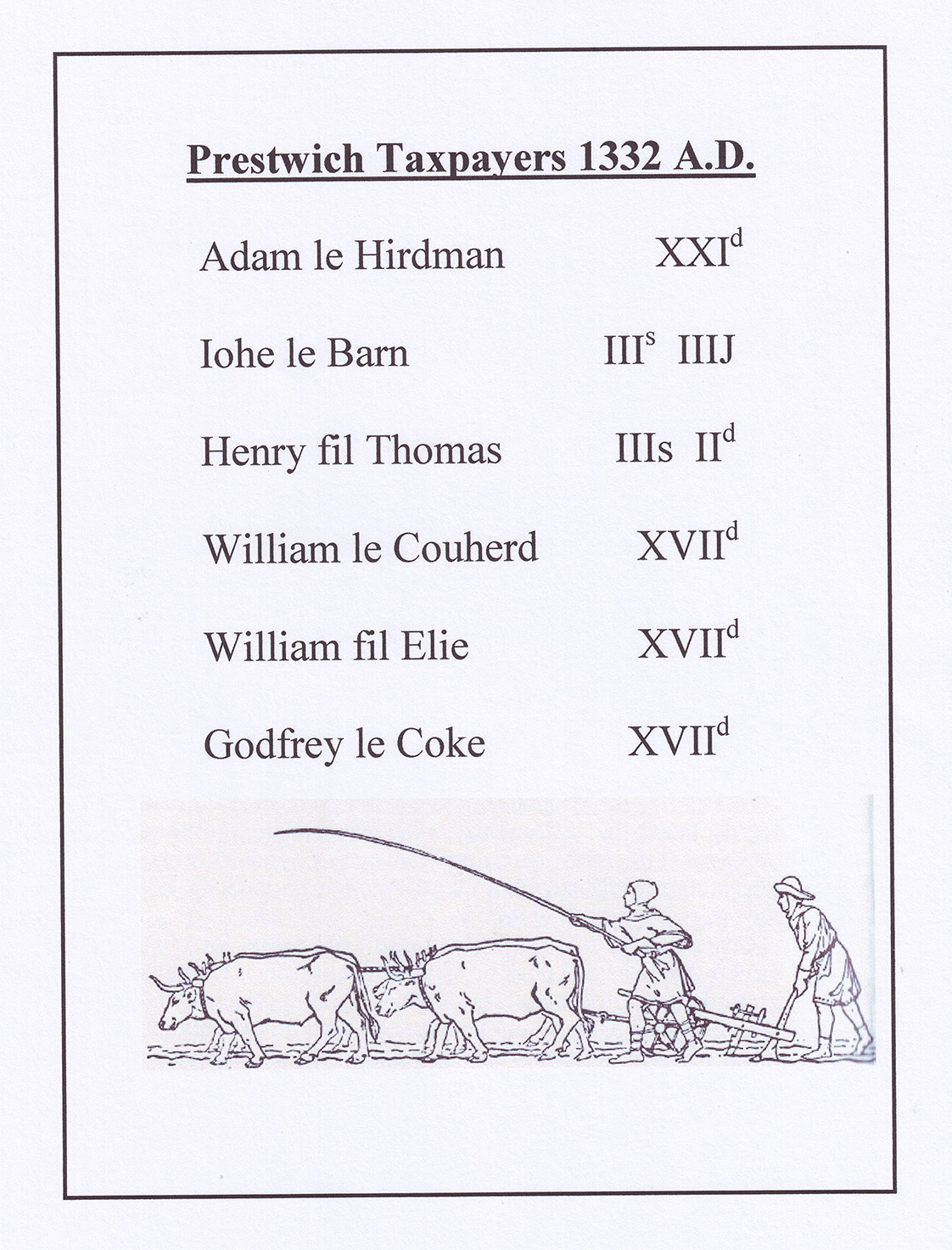 Taxpayers of 1332 (from the Prestwich Timeline, Prestwich Heritage Museum, Prestwich Library)


Couherd meaning Presumably the William le Couherd mentioned in the tax return looked after the cows in the locality. The name is an adaptation of the Old English word cuhyrde. It derives from the roots, 'cu', meaning cow, and 'hierde', meaning herdsman. Also, "fil" means son, and 'coke" dervies from the occupation of selling/dealing cooked meats.


We see variations of the spelling of Hardman (as we do for other names and locations) due to local dialect and literacy levels etc. One possible origin for the name of Hardman can be from the Old English word "heard" meaning someone who was hard, or strenuous or brave in their actions. Alternatively, and more common in Lancashire, it originated from the Old English "heord", meaning herd, indicating the occupation of shepherd or cowherd. In fact several local towns have places called Hardmans, such as Bury, Farnworth and Failsworth. This perhaps gives a clue about what these locations really were – the HQ of the village herdsman who looked after the village flocks/herds on the fallow fields, cloughs or commons while the rest of the peasants laboured on the crops in the other fields. Presumably the Lord of Manor in each village appointed a reliable villager as hardman, to do this job and gave him a farm/base (the Hardman's Fold ) to operate out of.


Lancashire Dialect The process of the transposing of an e to an a is familiar in several other surnames e.g. marchant from merchant, or the placename Derby.'
Another set of deeds, the Derby Deeds, were recorded on the on 21st August 1485, and listed Sir Thomas Pilkington's local estate as including 2 messuages and 40 acres of land in the Manor of Prestwich. This land in Prestwich was made from two northern farms - Hardmans Fold and Kirkhams. These deeds were recorded the day before The Battle of Bosworth Field.


| | |
| --- | --- |
| At the Battle of Bosworth Field, a decisive battle of the War of the Roses, Sir Thomas Pilkington had fought for King Richard III. Sadly for Pilkington, and even more so for his Royal Highness...The King was killed in the battle. Just before the King managed to reach a swords length of Henry Tudor, the men of Sir William Stanley slayed him down. The victorious Henry Tudor was crowned Henry VII of England and confiscated Pilkington's manors in Lancashire as punishment him for backing Richard III. | |
| | |
| --- | --- |
| | In 1489, the Pilkington estate was given to Thomas Stanley, was the brother of Sir William who's men had defended Henry Tudor so well. The Stanleys were already substantial land owners in West Lancashire, and historically competitiors of the Harringtons, who were linked by marriage to the Pilkingtons. Thomas Stanley was made the newly created, Earl of Derby, and his Lancashire estate grew even further (he also owned Tatton Park & Lathom House). |
| It is said that Thomas Stanley, 1st Earl of Derby ( though actually 13th as this was the third creation of the title), had the church tower of St Mary's rebuilt (along with most of the body of the church between 1489 & 1532), to please the tenants of his new found estate, leaving his emblem as "Lord of Man" on the East side of the tower. Alternatively this may have been a reminder of who was the boss for his newly acquired tenants. The Stanley family rarely resided in the area. | 3 Legs of Man - St Mary's Tower |
| | |
| --- | --- |
| | Sir Thomas Pilkington was not granted Royal pardon until 1508, by which time Edward, the 3rd Earl of Derby was in position. |
The first record of "Heardman" as a surname at St Mary's Church is recorded with the marriage of Robtus Heardman to Juith Lomas in February 1604/05. Their marriage is dual dated because prior to 1752 the year used to start on the 25th March- which meant February 1604 was 2 months after December 1604!)

In 1609, we first come across the mention of Hardman as an abode in the registers of St Mary's, with the burial of Johes Scoales of Hardman Houses. In 1625 we have the baptism of "Johes Scoles, filius Johis Scoles" (filius means "son of") with John's abode recorded as "Hardmans". However, it's not until 1656 that we find an entry for the Hardman family themselves living at "Hardmans foult", with the baptism of James Hardman, son of Thomas.


Foult/Fold meaningThe word fold refers to an animal pen or enclosure, and originates from Old English 'falud' or germanic 'folt'
| | |
| --- | --- |
| During the first half of the 17th century the land owner was the 7th Earl of Derby, and the neighbouring Deer park in Pilkington had been let to a Yeoman named Crompton from just over the river at Clifton. The Cromptons later purchased and developed the land, and at this period it became known as The Park. There's an early burial of Thomas Crompton "o'th'Parke" buried at St Mary's in June 1717. | |
By 1666, James Stanley, 10th earl, was presiding over Pilkington, which was listed as being 4 miles by 2, or 5,469 acres. The tenants, were mainly of parliamentary and puritan persuasion, and they had not taken kindly to any of the Earls.

In the 18th Century we find the Scholes family still living at Hardman's Fold, and their occupation listed as Yeoman. Upto the 17th century Yeomen typically held over 100 acres of land, and also took roles of local constables or churchwardens. Yeoman owned their land, and could keep the profit from it, thus employing servants and staff to look after them or farm their land. They could spend their money and free time on education or other interests, but still turn their hand to labour if required. They were what we would call today, a middle class.

A badly worn gravestone immediately outside the Southern Porch of St Mary's records the burial of John Scholes of Hardman Fold, along with his wife Katherine and their two sons Adam (d:1728) and John (d:1729). The two son's are listed as Yeoman of Hardman's fold in the burial registers, with both living to the age of 78.


| | |
| --- | --- |
| | Immediatley beside the Scholes gravestone lies that of Adam Hardman and his family, dated to 1719. The stone records that Adam was "of Pilkington", and the register records his abode as "o'th'Fields". The hardman stoen also records the burial of John Scholes (d:1747), probably the son of the above Adam Scholes (d:1728), suggesting the two families married. John is also listed as a Yeoman. |
A quick check of the marriages confirms that Anne Hardman married John Scholes in 1712 at St Mary's.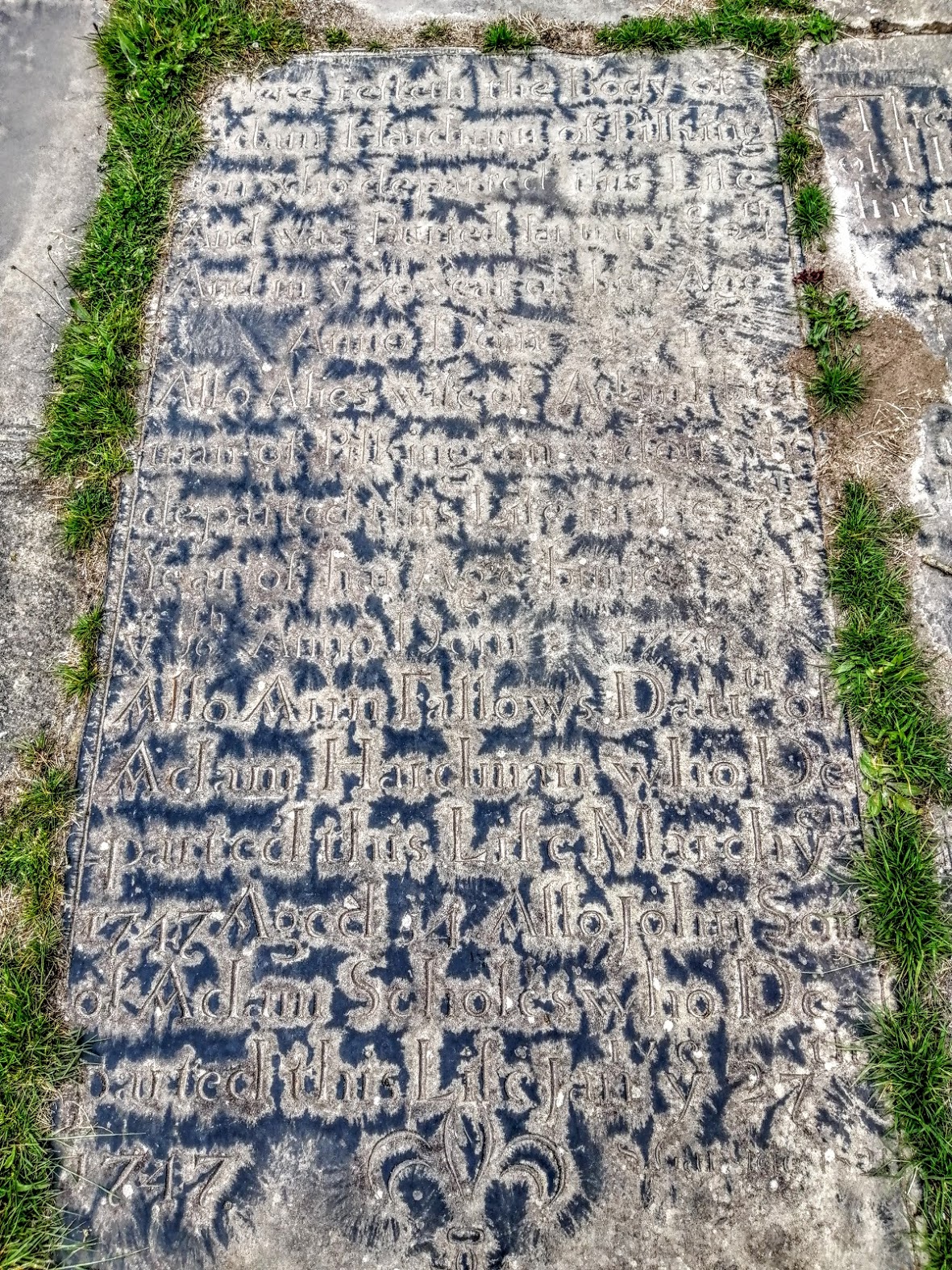 Hardman Gravestone dated to 1719


Hardman's Green & Hardman's FieldHardman's Green doesn't appear until the baptism of Betty Coope in 1777, Hardmans Field doesn't appear in the registers until 1851 (Betty Hulton's burial)


St Mary's records show descendants of a notable Manchester family had moved to Hardmans Fold, with burials of Henry Chetham, Sergeant at Law, and Abigail Chetham, in 1711 & 1714 respectively.


Henry was the son of George Chetham (1593-1664), and the great-grandson of Henry Chetham (1543-1603) who had married (Jane)Ellen Wroe (1550-1616) of Heaton Gate, in Prestwich. Henry Cheetham senior was a successful merchant and previously leased Crumpsall tenement from the Prestwich family of Hulme Hall, and had built Crumpsall Hall.


Executors of Henry Chetham (1543-1603) He names as his sole executor his wife, and desires his loving friends, James Wroe and Thomas Heap of the parish of Prestwich, to be supervisors of his will.
Turtons in Heaton ,13th centuryRichard son of Robert de Turton in 1278 successfully claimed a tenement in Heaton against Robert son of Henry de Turton and Alice his wife)


George and his brother Humphrey, the sons of Henry Chetham senior, had made their fortune in London, buying textiles cheap in the south and selling them for a profit in Manchester. This wealth allowed them to jointly purchase Clayton Hall in 1620, formerly home to the Byron family (of which Lord Byron was a member). In addition, Humphrey bought Turton Tower from William Orrel, but allowed the Orrel family to live there, as he continued to live in Clayton Hall.


| | |
| --- | --- |
| George died in 1625, and his share of Clayton Hall passed to his brother Humphrey. Humphrey Chetham's great wealth did not go unnoticed, and he was fined £25 for turning down a Knighthood (which would have taxed his wealth) and yet, he was made High Sheriff of Lancashire in 1634. Humphrey died in 1653 and he had funded the education of 22 poor boys before he died, being a firm believer that education reduced poverty. His legacy was used by his family to found Chetham's School & Library in Manchester, originally called Chetham's Hospital, as it was also a shelter for the poor. This is now the oldest building in Manchester. Humphrey left 18s 8d to the poor of Prestwich as part of his legacy in 1653. (plus 19s 11d to Whitefield) | |
Henry Chetham of Hardmans fold, had been baptised in 1648, and was enrolled at Oxford University (Brasenose College) 1665, aged 18. He then made barrister-at-law in 1675, making Serjeant-at-law in 1705. Sergeants were an elite order of lawyers who had the exclusive privilege of arguing before the Court of Common Pleas and also supplied the judges for both Common Pleas and the Court of the King's Bench. Henry died in 1711, at "Harstman's Fold" aged 70 years.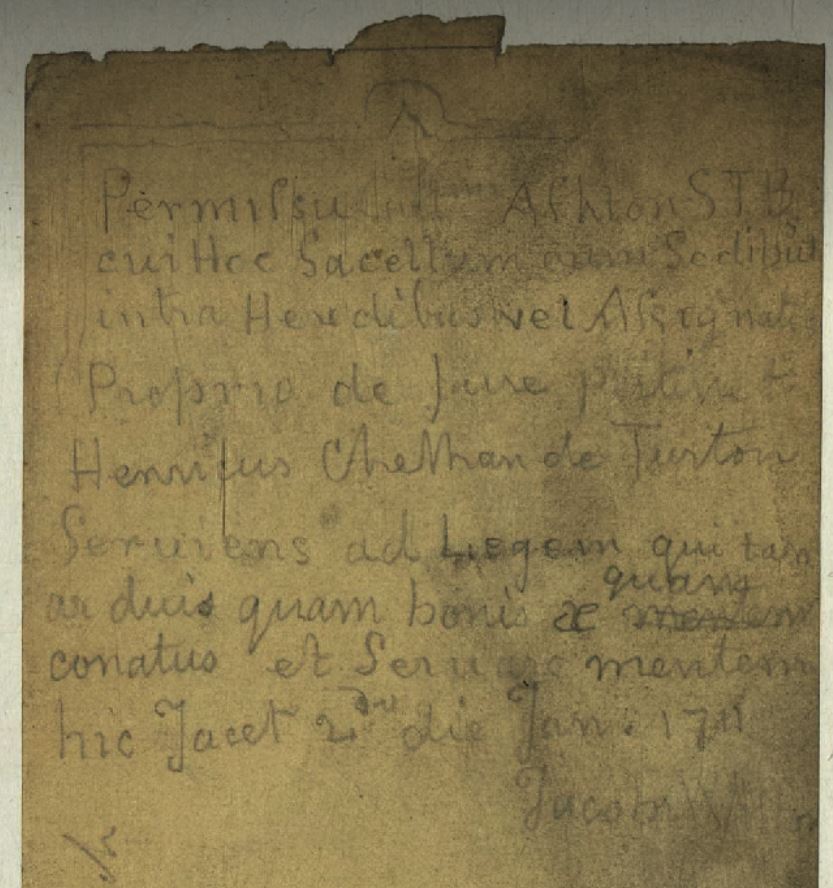 A transcription of Henry's grave slab that was once in the floor of Lever Chapel.


Henry Chetham (junior) was buried, by permission of Rev Wm. Ashton, in what was then the Chapel of the Lever family of Alkrignton Hall. This Chapel is on the south side of the church, and the floor of this chapel has since been lowered and replaced (1932). His will benefacted £5 to the poor of Prestwich.

Abigail was probably Henry's neice, and noted as "Gent." of Hardman's Fold, upon her burial record. She left 5/- (shillings) to the poor of Manchester, 5/- to the poor of Turton, and 100/- to be invested and the interest used "upon such pious use or uses either for the minister of Turton Chappell . . or upon any other pious use".

Her will also mentions her late father and mother James and Margaret, her brothers Samuel, Humphrey, Gervase and James, she died a spinster, aged 50 and her grave location is also unknown.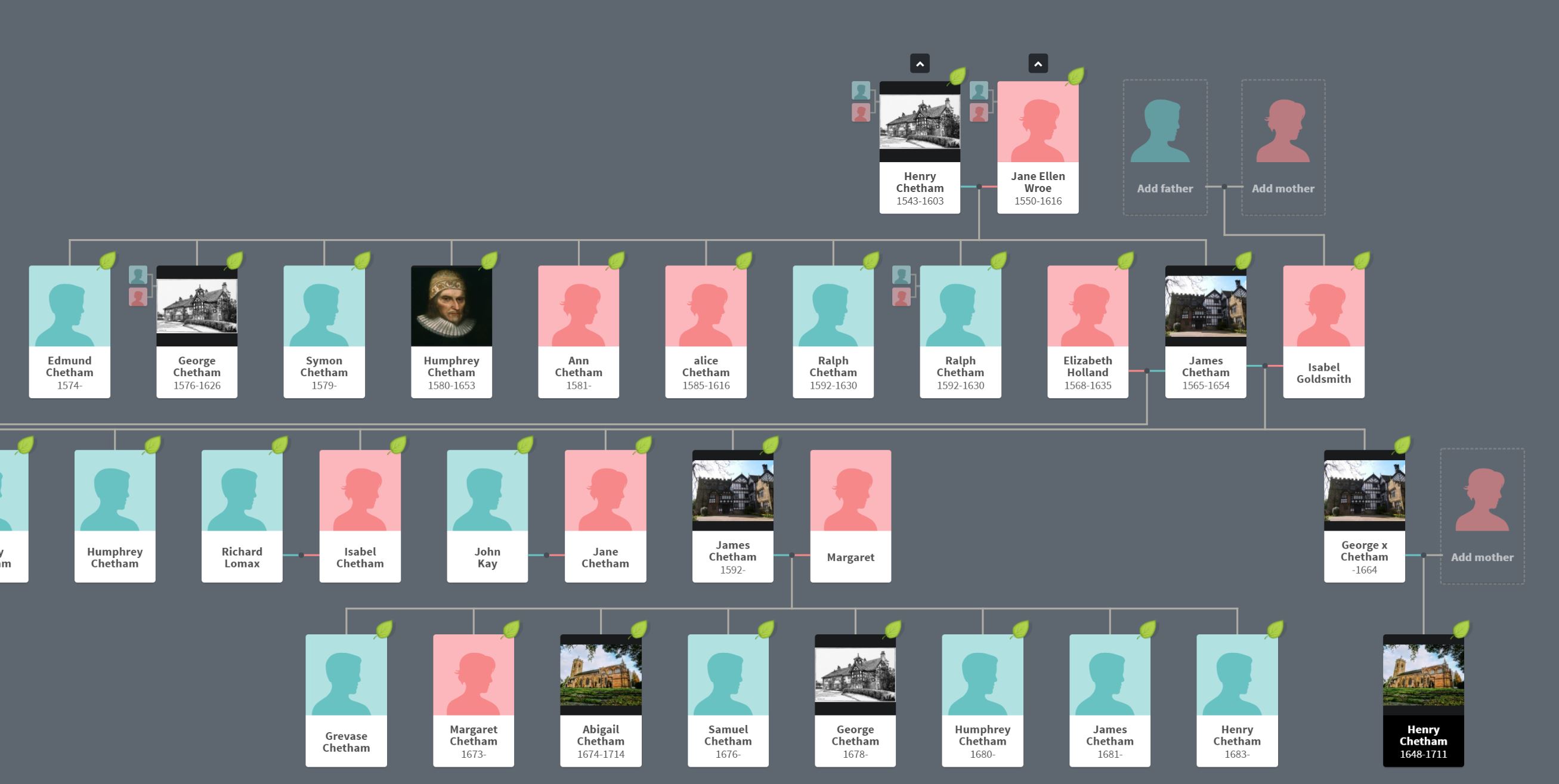 Chetham Family Tree
A Cheetham MarriageSt Mary's also records the marriage of Alice Chetham to Rawsthorn Lever, Gentleman, of Kersal in 1677
| | |
| --- | --- |
| | Hardman's fold then became home to several families. Based on burial records at St Mary's, during the 1720's Hardman's fold was still home to the Scholes & Hardman families, both listed as Yeomen, but also home to the Heaton and Ainsworth families, respectively yeoman and naperer (cleaner of household linen) by occupations. There are also burials for the Diggle, Barlow, Haworth, Shuttleworth and numerous other families recorded into the 1730's. |
By the time that the maps of the 19th century were drawn up, the three locations by the name of Hardmans are shown in the same area: Hardmans Green (where Hardmans Rd. is today), Hardmans Fields (Now the Eagle & Child pub, Whitefield), and Hardmans fold (behind Shell filling station, Junction 17). As the border of the township of Prestwich followed Mere Clough Brook up from Dams Head Dye Works at Waterdale, then swayed North towards Hardmans Road, only the Fold fell within the township of Prestwich. The Tithe map of 1839 shows Hardmans fold consisted of a cluster of buildings, one main property, a row of 4 dwellings plus some further out buildings, and a property just to the North.

Jumping to the 1841 census, Susanna Shuttleworth, aged 65 is listed as a farmer, Peter Heywood as a gardner and 3 other familes listed as weavers or warpers. Another property pops up "Ash Cottage", with a manufacturer Reuben Norris present.

In the 1851 census, we see 5 properties, now with occupations such as power loom weaver, painter, gardener, and agricultural labourer. One house was occupied by Charles Hunter, a manager in a Cotton Factory, his wife and 3 children.

A second property was owned by a farmer, Charles Shuttleworth and his brother Robert (sons of Susanna from 1841). They farmed 187 acres and employed 10 men, and 2 servants. Seven of his labourers lived in his property, which helps explain the increase in surnames showing up from the 1730's. By 1861 the brother's farm was listed as 226 acres, with 14 labourers.

By 1871 the Shuttleworth's farm had shrunk to 100 acres, employing 5 men, and by 1891 the northern building was now shown as Brooks Cottage.


Hardman's not so GreenBy 1891 there was a Cotton Mill at Hardman's Green, with Hilton & Eckersall,Manufacturers of Tapes and Smallwares being present there for some time.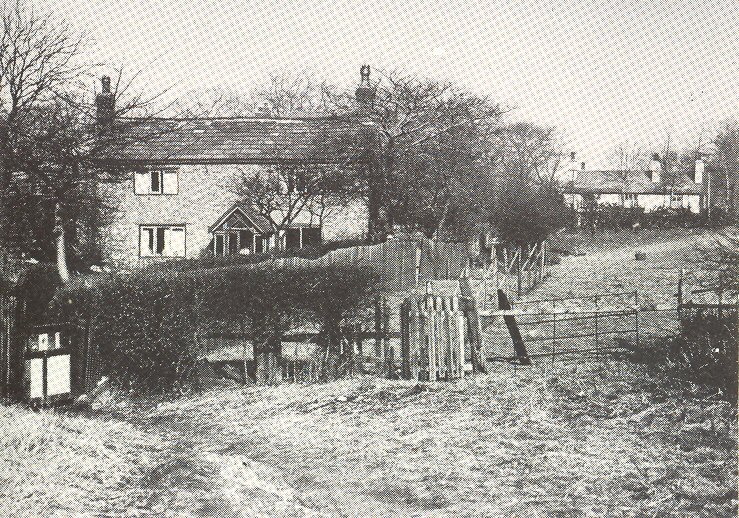 Brooks Cottage (Looking North towards Park Cottage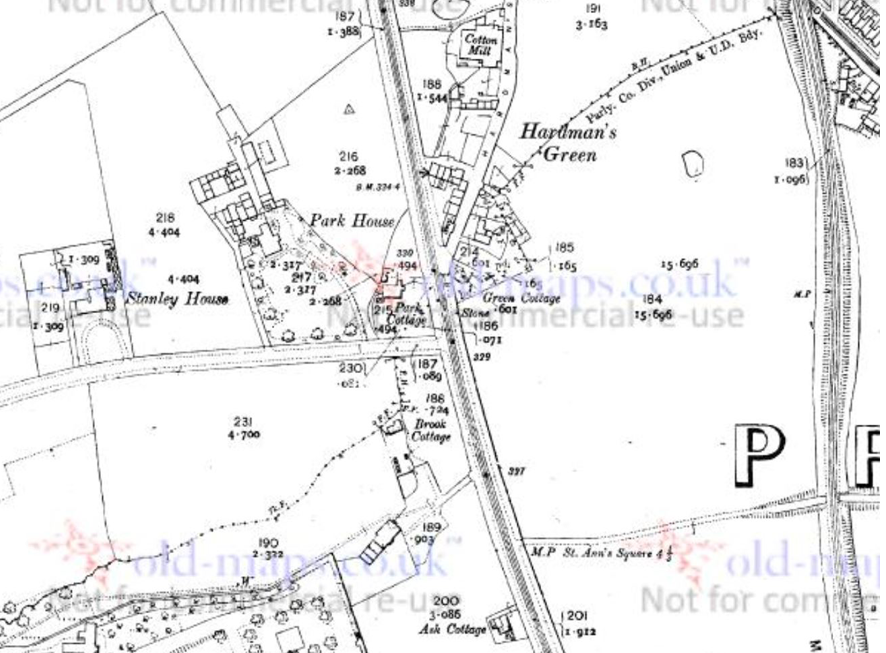 1909 Hardman's Fold
| | |
| --- | --- |
| Between 1909 and 1915 Hardmans Fold was demolished, possibly to make way for additonal hospital buildings, however the area remained lawned until the development of a hotel and restaraunt at the end of the 20th century. | 1915 Hardman's Fold - gone |

Watch a video of the area developing over time.