! side panel> <! side panel>
Rev Isaac Allen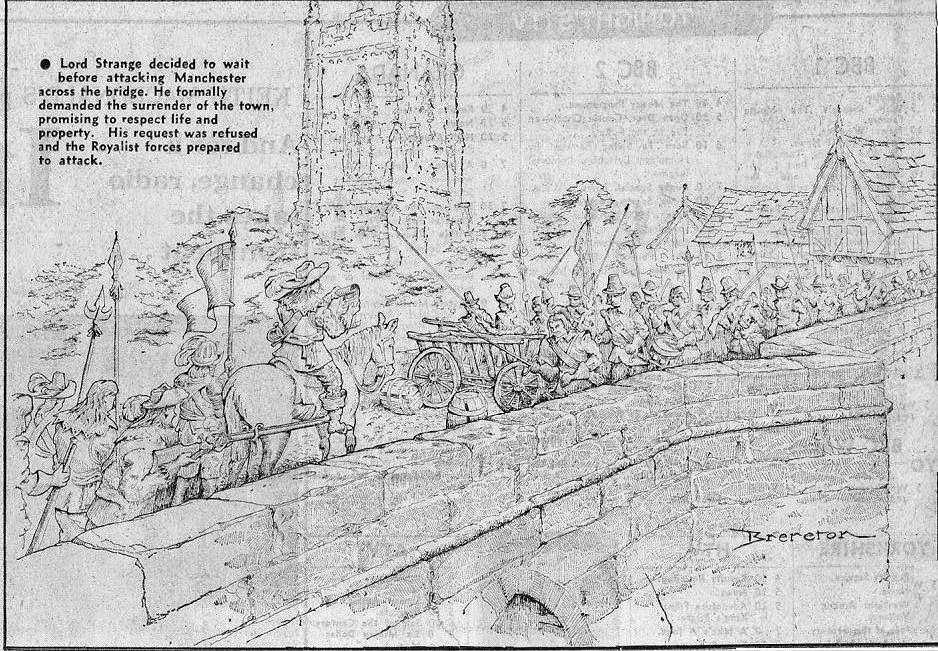 Rev. Isaac Allen of St Mary's Prestwich, supported Lord Strange & the Royalist cause
[with reference to "The harassment of Isaac Allen"]
And with thanks to Peter Corbally of P&WHS for the family trees


Isaac Allen was a descendant of Cardinal William Allen, a Roman Catholic Cardinal (1532-1594) who had assisted in the planning of the Spanish Armada's failed invasion of 1588. Isaac was a native of Prestwich, and graduated as M.A. from Oriel College, Oxford, in November 1618, having completed his B.A. degree at Queen's College in February 1616.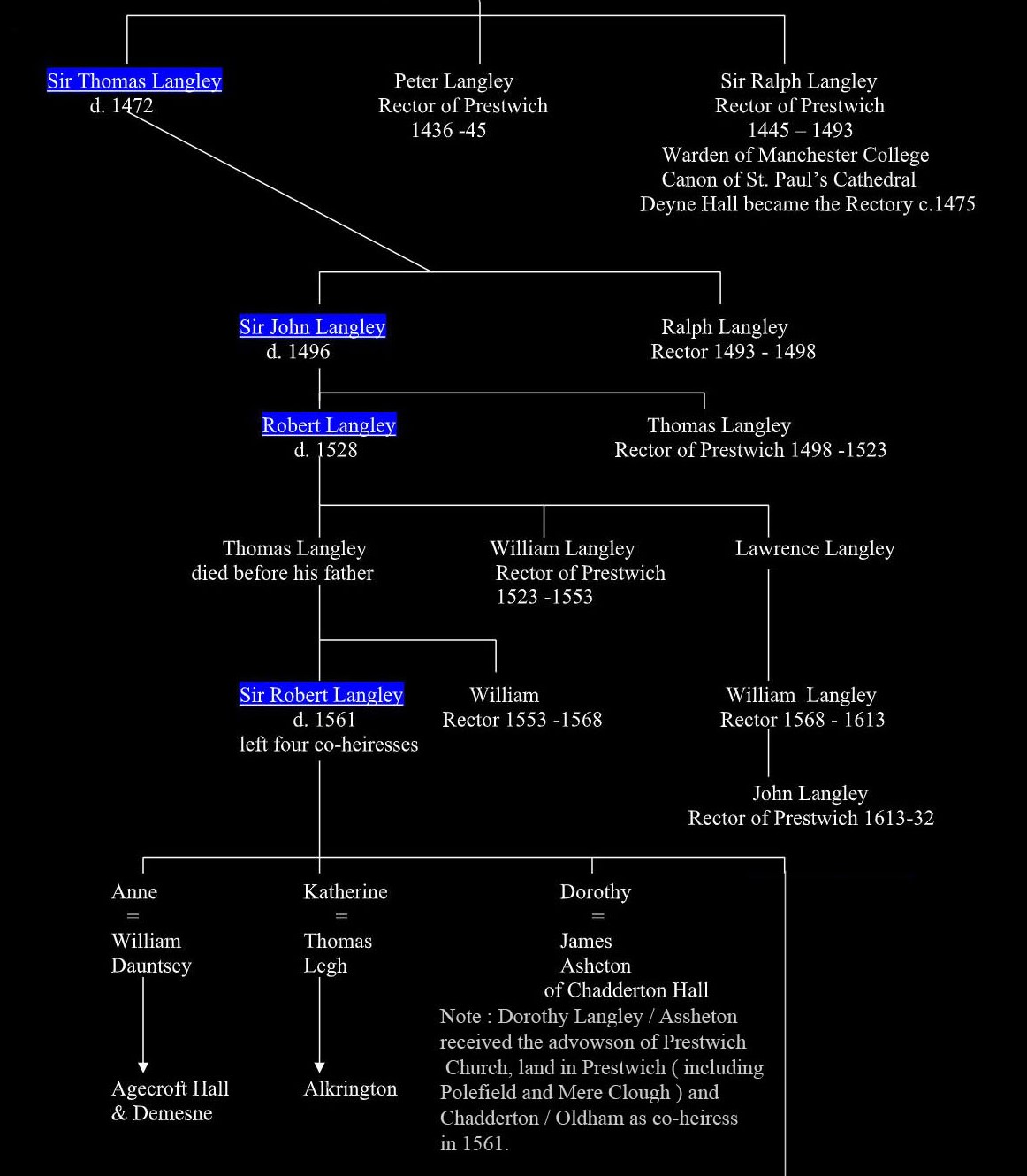 Dorothy Langley's family tree



In 1561, Dorothy Langley had received the advowson (the right to recommend the clergy) of Prestwich Church, as co-heiress with her sisters. She also inherited some land in Prestwich (including Polefield and Mere Clough) and Chadderton/Oldham. She married James Asheton of Chadderton Hall. Read more aboutThe Lords of the Manor of Prestwich

In June 1622 Isaac Allen, described as a 'lecturer' in Oldham, married Anne, sister of Edmund Assheton.

In August 1632, following the death of John Langley, the last in a long line of Langley rectors of Prestwich, Allen became Rector,awarded the position by the patron Edmund Ashton, his brother-in-law.

Isaac Allen's wife Anne, died just 2 years later, in October 1634 and was buried at the east end of the Church, this is the oldest confirmed burial within the church. a brass plaque records her burial.(apparently the plaque is engraved on both sides - Leatherbarrow 1944)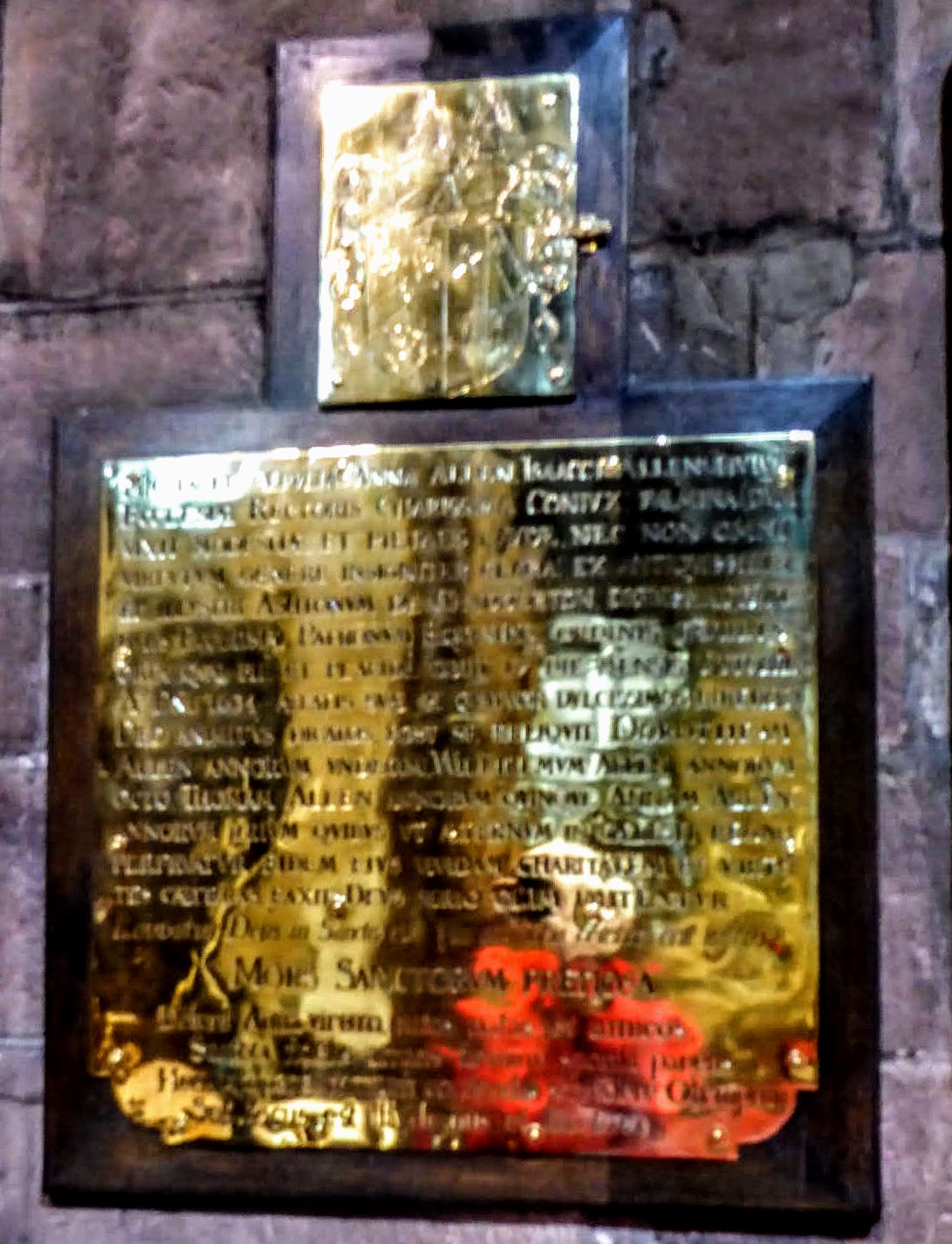 Anne Allen's memorial (awaiting better image!)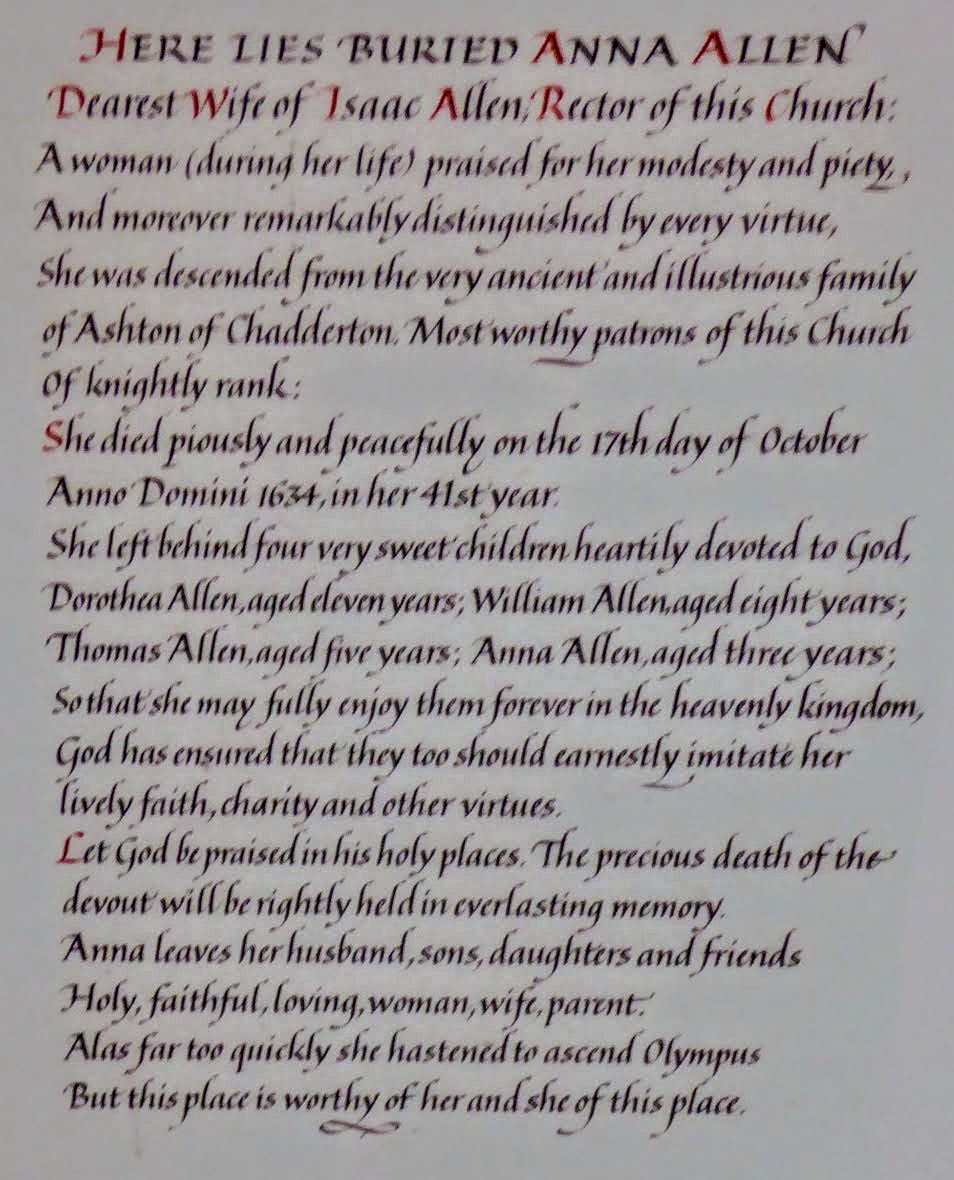 Translation of Anne's plaque



Above the plaque is the Allen family Crest.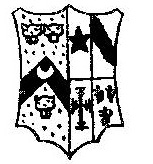 Sketch of the Allen Family Crest



The Allen shield also appears high up under the clerestory windows of the Nave (South side).

Back in 1634 the church was smaller and the East end where Anne was placed, is now actually the Lever Chapel which leads to the Lady Chapel on the South of the church.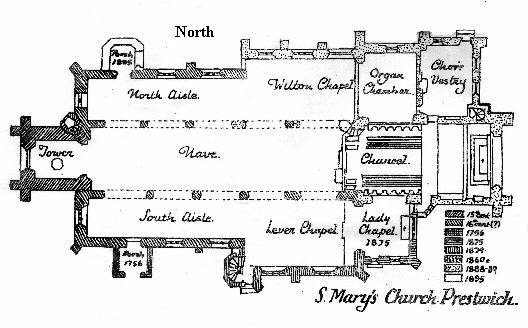 Church Layout showing how it expanded Eastward during the 18th & 19th centuries





Isaac was a Puritan, one who sought to purify the Church of England of Roman Catholic practices or Popery. By the late 1630s, Puritans were in alliance with the growing commercial world, with the parliamentary opposition to the royal prerogative, and with the Scottish Presbyterians with whom they had much in common.

Just one year after receiving his position at Prestwich, 1633, he and his assistant, John Pollett, were in trouble for non-conformity.

'for not readinge praiers on the eves of Sundays and holidayes;
nor catechise on holidayes;
& they do omitt sometimes to weare the surplice' (a white linen robe)


However, Allen had not been the first Rector of Prestwich accused of ruffling the Church's feathers. William Langley, rector between 1569-1611, and also appointed by the Ashton family of Chadderton. He had been forced in the summer of 1591 to recant a sermon he had previously given in St Mary's which had questioned the monarch's prerogative in ecclesiastical matters. William Langley had also been instrumental in leading the clergy of the deanery of Manchester in their opposition to wearing the surplice in 1595.

As far back as 1607, throughout Prestwich-cum-Oldham, non conformity had been ocurring with several inhabitants accused of "expounding the scriptures to their own interpretation, and of not kneeling to receive communion."

In 1612, in addition to being accused of not kneeling to receive communion, George Seddon and Henry Seddon, both of Prestwich, were accused of attending Deane church on Sundays and festival days, where they "read sermons from their pews, without lawful admission to the ministry".

Despite his not wearing the surplice, Allen was a more moderate puritan than others, and did not risk the integrity of the church himself.

Allen had also previously donated £12 to the "Bishop Wars" against the Presbyterian Covenanters in Scotland in 1639, and pursued an ill-advised tithe suit that same year, putting him at odds with some of his Parishoners. The Tithe suite centered around some improved land that belonged to the Hulme family and had been farmed out to the Seddon family (mentioned above), and the Heap family. It was also alleged that John Hulme tried to stop Allen's brother Samuel from collecting 2 geese as part of his tithe entitlements. Both the Seddon and Heap families were benefactors to the poorly funded Ringley Chapel, while the wealthy rector of Prestwich was funding a war! The Ringley Chapel also had a poor relationship with the Bishop of Chester (Bishop Bridgeman) refusing to consecrate Ringley, and saying of Peter Seddon :

'you are so slacke, and backeward in setlinge some mayntenance upon the Chappell'

This antagonism with Ringley parishoners will pop up again later.

The parliament of 1640 had gone to work abolishing the existing church structures and remodelled it on Puritanism. Church judges were left powerless, prayer books and surplices were torn up; communion tables were relocated and altar rails were burned. Most Puritans found it easy to support the Parliamentarians when the Civil War of 1642 came around, but Isaac still saw the King as the ultimate authority. This along with Allen's poor relations with what was referred to as a minority of his parishoners, left him open to attack.

Formal mechanisms for the prosecution of Royalist ministers along with parliament's military success of the first civil war, gave parishioners the opportunity to seek retribution under the auspices of godly reformation.

Part2....Isaac is accused, and the Ancient Deyne Hall is partially wrecked...


Thanks to Peter Corbally of P&WHS