! side panel> <! side panel>
Agecroft Bridge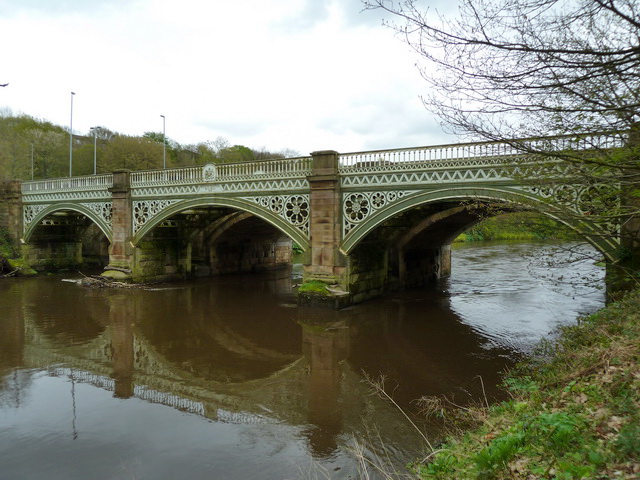 Present day Agecroft Aqueduct & Road Bridge (Photo:Alexander P Kapp)


From "The River Irwell", J. Corbett (1907)

...nearby is the important Agecroft Bridge, first built sometime before 1784, when the turnpike road from here over Kersal Moor was made, with a toll-house adjoining the Agecroft Bridge. This toll-house remained until about 1808, and the toll-keeper was custodian of the boathouse keys, and his wife the laundress, for the Agecroft Rowing Club when their boathouse was close by.


Old Agecroft Bridge was a very picturesque stone structure, with three arches, and angular recesses over the piers, the roadway being only wide enough for one vehicle. The bridge was partly covered with ivy, and as there were large trees on the river banks at each side of it, many artists perpetuated its beauties on their canvas. The present bridge, of adequate width, was, as is inscribed on it, "Rebuilded 1862," of very similar structure to the old bridge, at a cost of £5,897.



Agecroft Bridge through the years
On the up stream side of the bridge is a cast-iron arched bridge, in three spans, built in 1894 to carry the large water mains from Lake Thirlmere to the Prestwich Reservoir of the Manchester Corporation Waterworks, about two-thirds of a mile north-east of this bridge.


A little above Agecroft Bridge, on the west bank, is the Table Rock, formerly celebrated as a good fishing place. Above the bridge on the east side is Drinkwater Park, with its plain and roomy old brick mansion, Irwell House, almost hidden among trees. The house and a large portion of the park were purchased by the Salford Corporation, and the buildings altered and extended to form a Smallpox Hospital, opened in November, 1902. The remainder of the park still has a public footpath through it, furnishing many beautiful woodland views, and the plantations are still occupied by innumerable rabbits and some game, together with many wood pigeons and singing birds.


You can read more about Drinkwater Park the last Lord of the Manor to live in Prestwich, and the lumps and bumps that point to a Tudor Water Mill here.


The first Agecroft Bridge probably replaced an old fording point across the Irwell at the bottom of Singleton Brook. The point where a brook finally meets the river after it has tumbled down from the higher ground often results in a deposit of pebbles and silt, and offers a shallow point to attempt a crossing of a river. A similar fording point was in use at Bradley Ford/Wharf just a mile further upstream of Agecroft Bridge. From the 1844 map you can also imagine the continuation of Agecroft Road from Pendlebury directly across what is now Agecroft Cemetery, meeting Moor Lane at the fording point in front of London Vale Printworks (later used by Cussons) . The track and ford was probably a well trodden path by Mercians, Roman Legionaires and even Neolithic communities.




The first bridge may well have been wooden as described in Metcalfe, Book of Knights...
"Coming from Manchester towards Morleys, Sir William Leyland's house, I passed by enclosed ground partly pasturable, partly fruitful of corn, leaving on the left hand a mile and more of a fair place of Mr. Langford's [sic] called Agecroft; and there is a bridge very high and great of timber, on Irwell"

It is said that in the early 18th century a young man would be seen standing on the banks of the Irwell near the bridge, reciting in Latin works by Tully or Cicero. On a summers day his long flowing wavy brown hair and his good looks drew him a crowd of only 1 person, his sister Sarah.

She had such devotion for her brother that when he wanted for a new wig, their father wrote "Let us know whether you will have it a natural one. When you have we will venture it, and so you may be sure of your sister's good hair and no cheet."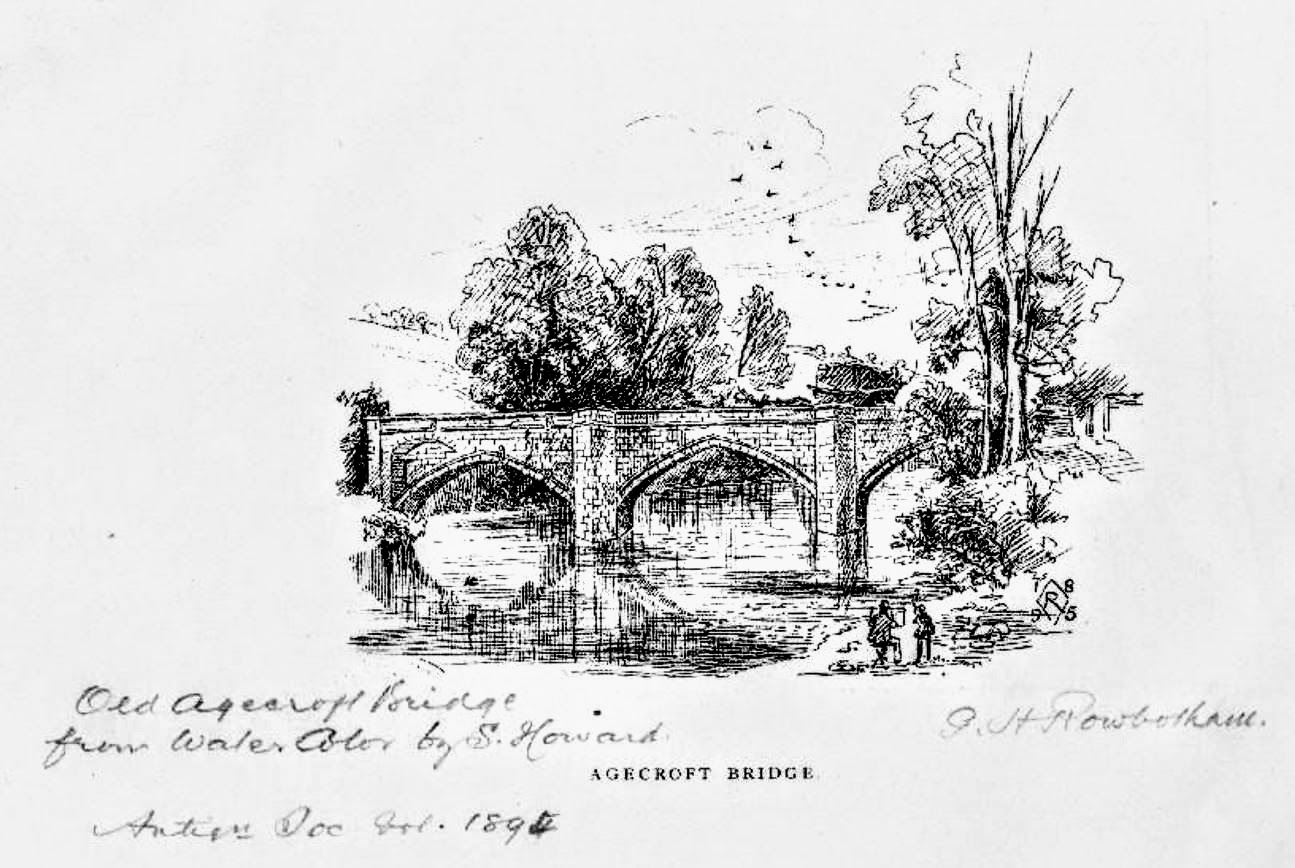 Sketch of the old Agecroft bridge, from a water colour [https://images.manchester.gov.uk/]
On the 2nd July 1836, the Old Bridge was the scene of a terrible accident. Mr & Mrs Barlow had been to St Mary's Church in Prestwich to pick their grave spot. Having made their choice and exchanging money, they climbed aboard their gig for the journey home ( a gig is a is a light, two-wheeled sprung cart pulled by one horse). While crossing the narrow bridge they were both thrown from the gig, Elizabeth died instantly and her husband Thomas lasted for only a few hours. Their grave stone at St Mary's (recently found by Gary Cope) is notable in that it reads like a newspaper article. The final verse reads:

Reader boast not of to-morrow
for thou knowest not what a day may bring forth
for this life is only as a vapour
that appeareth for a short time & then vanished away.


In 1842, Agecroft bridge was used by rioting Colliers who had met on Kersal Moor intent on turning out local colliers.


Once the Salford to Bolton Railway opened in 1838 (later extended to Manchester & Bury), there existed an Agecroft Bridge railway station, not at the river bridge (obviously!) but 700 yards away, opposite the entrance lodge to Agecroft Hall

This station was one of only two that stood between Salford and Bolton (the other being Ringley) and although passenger services ceased within a year of opening, it continued to be put to use for Race days at Manchester Race Course (Kersal).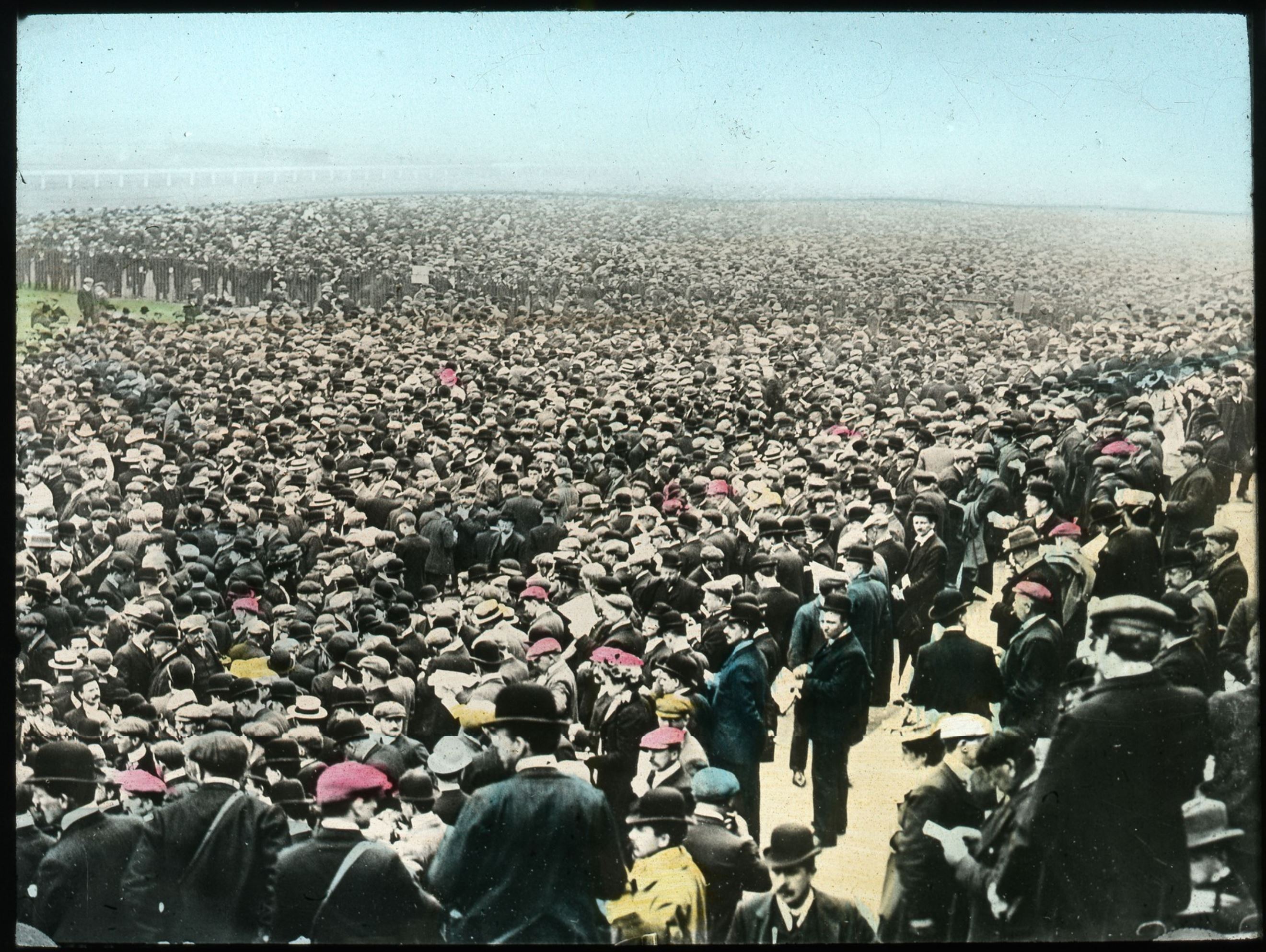 Manchester Races
The station reopened again for regular services in 1857 but closed in 1861.The location later became a spur for the Agecroft Colliery & Power Station around 1925, and steam engines were still in use there into the 1980s.

You can read more about Agecroft in Steam here.

You can read more about Agecroft Power Stations here.