! side panel> <! side panel>
The Walkdens of Poppythorn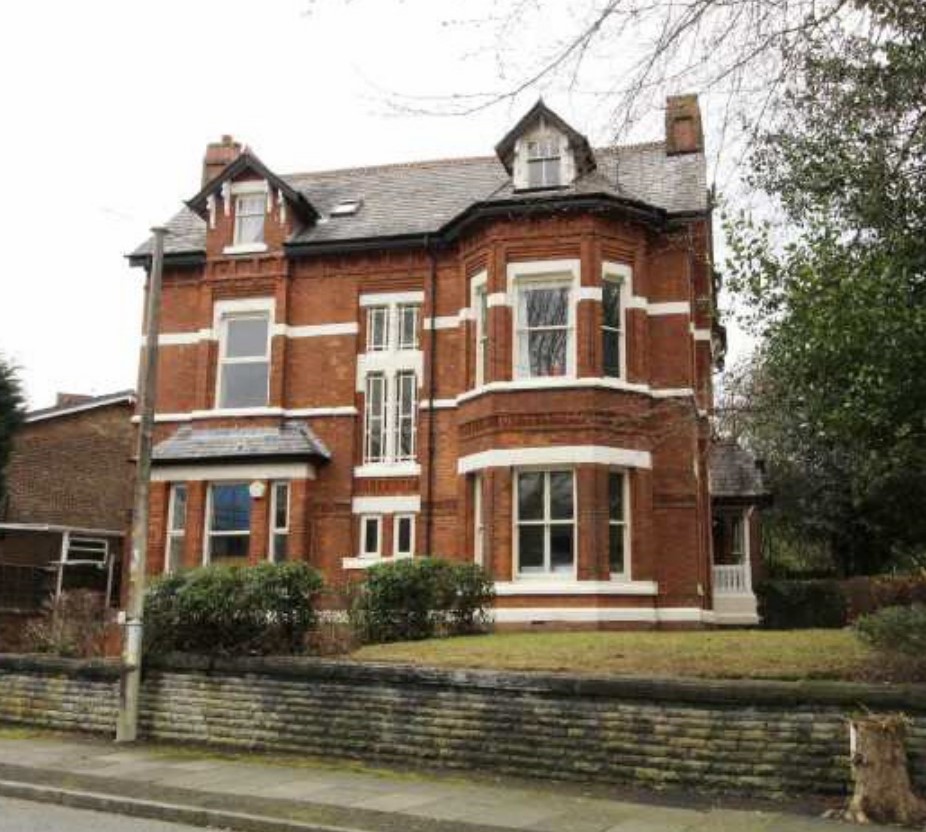 Lagos House, Poppythorn Lane


The name Walkden derives from the Old English "denu", a valley, belonging to a man possibly called "Wealca" (fuller/blacksmith). In the local dialect and accent, it is pronounced Wogden.

The first record of a Walkden family at St Mary's in Prestwich was the marriage of Robertus Walkden and Elizabetha Bertinshawe in January 1622/23.

Sadly the first occupation mentioned for a Walkden family member was that of "pauper" when "Old Alexander Walkden" died on the 28th December 1722. However Alexander, who lived in Whitefield, had started a chain of generations of Walkdens that were baptised in Prestwich.



The burial record of "Old Alexander", 1722.


In 1722 St Mary's churchyard had it's ancient circular boundary, hinting at an Anglo-Saxon origin, which was probably surrounded by a ditch and hedge or palisade/pale. All local burials would have been taking place within this circle for centuries, reusing older grave plots up until 1827, when the churchyard was expanded to the West. Between 1715 and 1826, one hundred and six Walkden burials were recorded at St Mary's.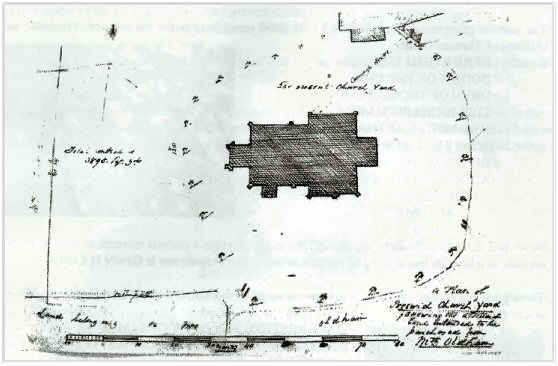 The planned extension of the Churchyard (1824)


Alexander (born 1639) appears to have baptised a son named Alexander (b:1672) who also went on to baptise his children at St Mary's. Alexander Jnr. baptised five sons, who went on to marry and subsequently father children, whilst living around Whitefield and Unsworth. As was the case for many families around the area, many of the extended family undertook work as weavers.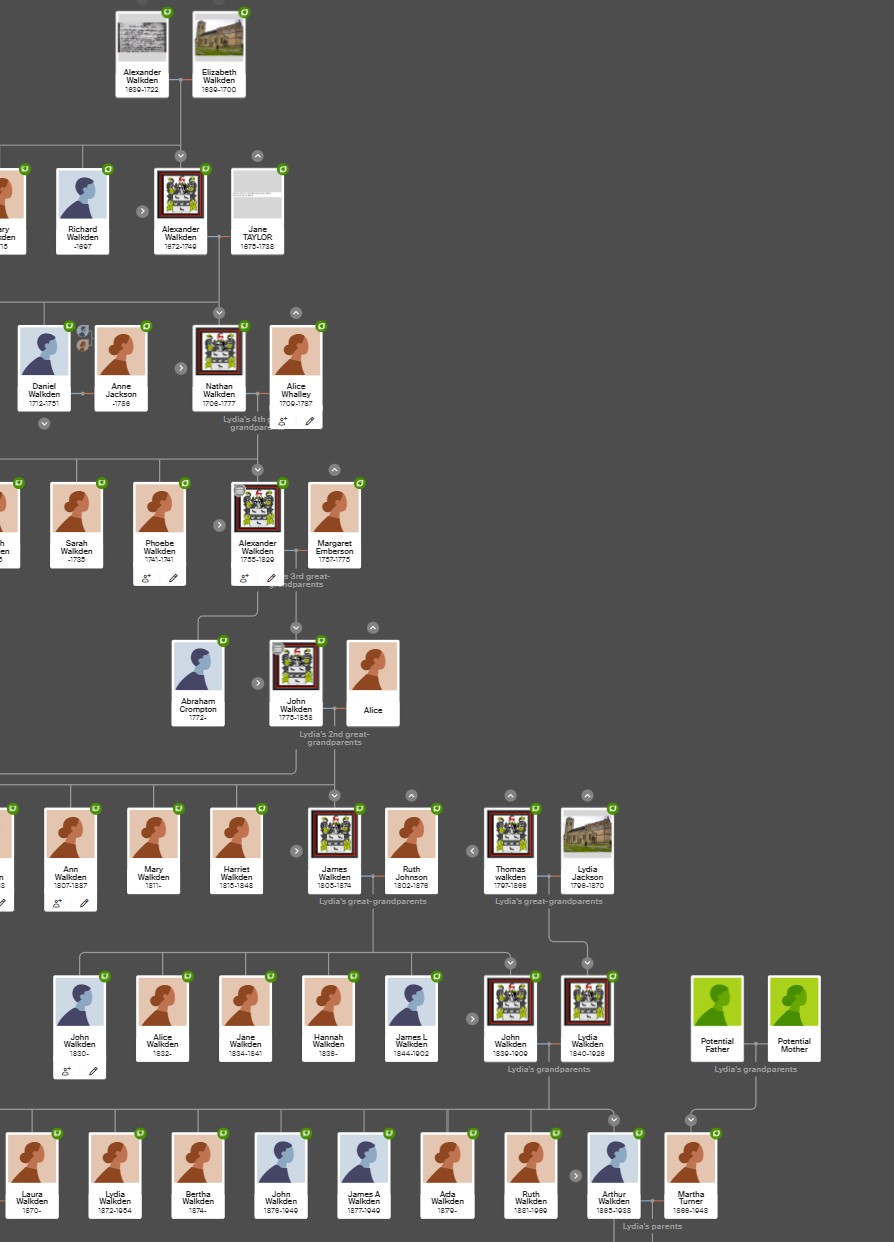 Seven generations of Walkdens baptised at Prestwich
John Walkden of RainsoughIn the trade directory of 1838, there was a single entry for Walkden in Prestwich, John Walkden was a shopkeeper at the top of Rainsough Brow. He had been born in Prestwich to Mary Walkden in 1808 (no father was recorded) and had become a farmer in Wilmslow by 1861.


One son of Alexander (b:1672) was Nathan (b:1708) who had a son whom he named Alexander (b: 1755) who in turn had a son named John (b:1775). John's sons, Thomas (b:1797) and James (b:1805) went on to baptise children at St Mary's in Prestwich. But it was at St Mary's in Radcliffe that in 1863, Thomas's daughter Lydia married James's son John, meaning they were cousins. This John (b:1839), was a warehouse man from Eccles and was working his way to great success.

In the census of 1871, John and Lydia along with four children, were living on Back Lane in Prestwich. Back Lane is what is now called Rectory Lane, and in 1865 John and Lydia recorded their abode as Rectory Lane when their son Arthur was baptised. By 1881 John recorded himself as a West African Goods Agent, living on Guest Rd.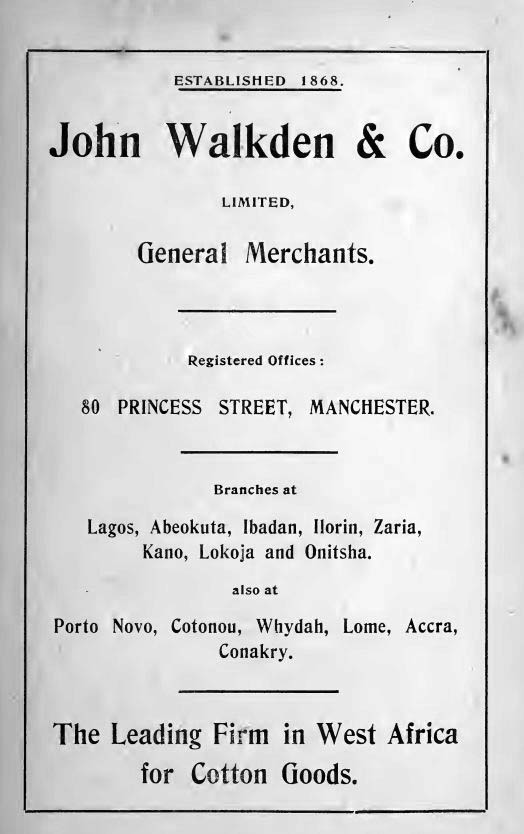 Advert from 1919


In 1868 John took over a business that had been established the previous year by William Nuttall located at 31, Church Street in Manchester.

[this property stood on the corner of Red Lion Street, not far from the property of Abel Heywood & Son]

William Nuttall's mother employed John to manage the business upon the death of her son, and later they traded as Nuttall and Walkden, upon John's admittance as a partner. In 1869 John then established John Walkden & Co. Merchants, and by 1886 the company had moved to offices and storage departments at 4 Minshull Street, Manchester (now replaced with Barlow House).

In 1888 it was said of the Company:

The goods traded in are of the greatest variety,
and from the leading manufacturers in the country,
and Messrs. John Walkden and Co. evince a sound
and deep knowledge of the industries and commerce
of the country. In all their transactions they
exercise discretion, judgment, and dispatch, and
their talent and honourable business methods are
of the highest order, considering they have worked
up their fine trade in about seven years.

Messrs. John Walkden and Co. are gentlemen whose
status in the industrial and mercantile world is high
and well defined, and who are looked upon with great
respect by all business men, and are in all respects
typical West African Merchants

The Company shipped just about everything : cotton goods, jewellery & watches, brushes and fancy goods, builders materials, china & glassware, furniture, cutlery & ironware, watches, scientific instruments, leather, paint oil, soap, wine spirits, and tobacco in exchange for palm nuts and oil in West Africa. John Walkden & Company (which later became a private limited company), and benefited from a virtual monopoly of the West African trade.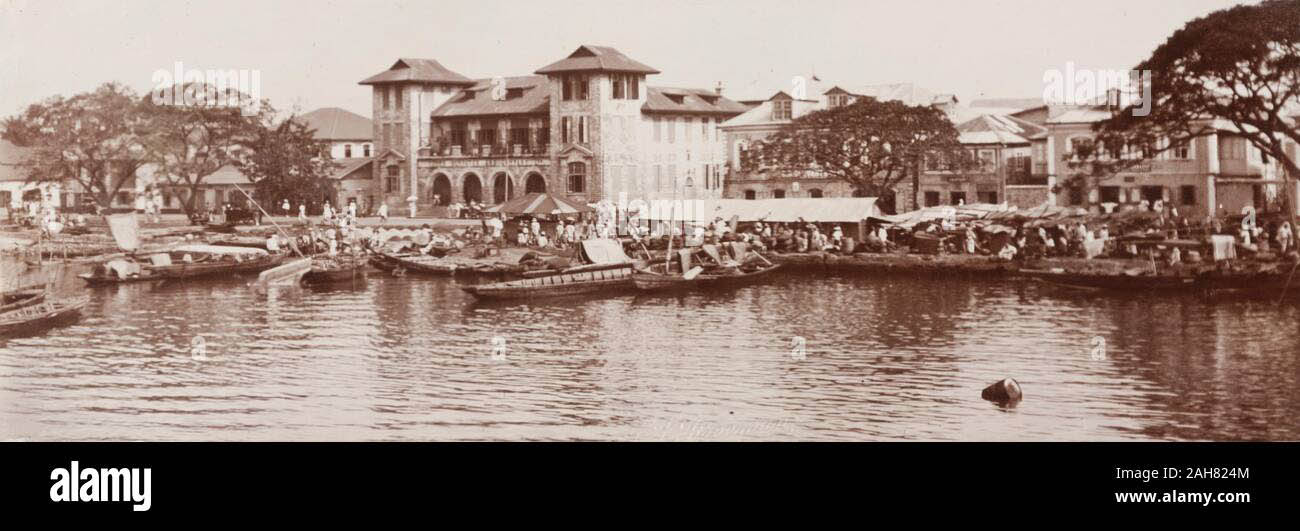 Lagos Marina - with the imposing Elder Dempster & Co. Offices


The business operated out of the Dahomey ports of Lagos (now in Nigeria) and neighbouring Porto Novo & Conotou which, as of 1894, became part of French Dahomey and are now in Independant Benin. By 1919 they had eight offices in Nigeria and six in French Dahomey, Togo, Ghana, and Guinea.



A Map of J Walkden & Co African Ports & Offices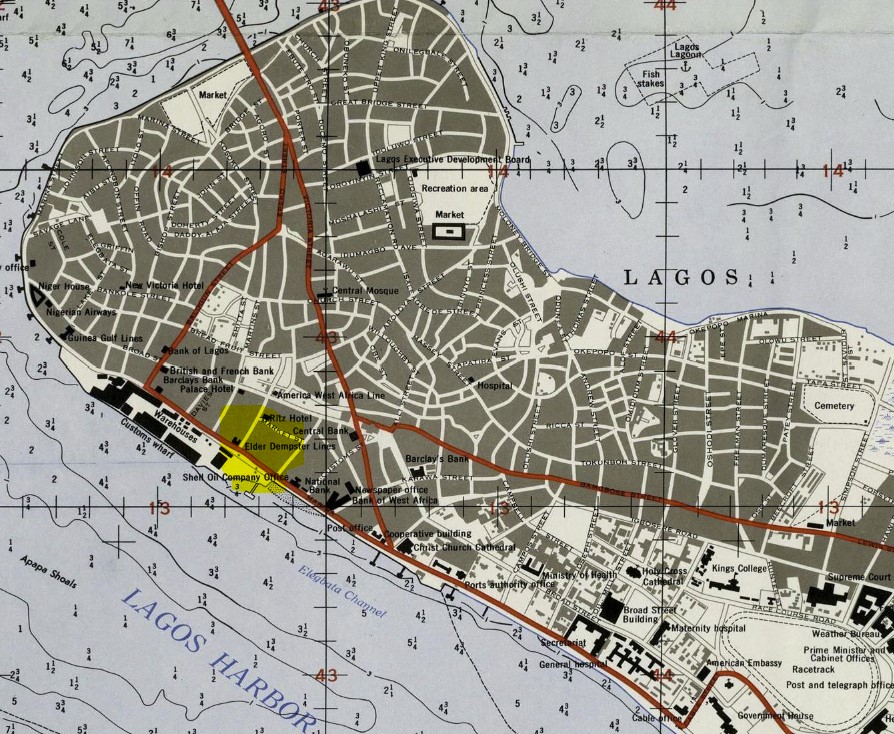 Map of Lagos showing the location of the Walkden Office


The Walkden offices held a prominent position on the sea front at Lagos Marina, two offices along from the imposing offices of Elder Dempster & Co. - a Shipping Line established by the son of William Laird (of Cammel Laird fame) in 1852. The Elder Dempster office building at Lagos was one of the finest structures on the West Coast and the First in Nigeria with interior Marble walls.




Walkden's Lagos Office (right hand side) Elder & Dempster (left hand side)


With his great trading successes, in 1883 John Walkden had built a substantial family home back in Prestwich, and he called it Lagos House, which still stands on the corner of Guest Rd and Poppythorn Lane today. Numbered as 59 Poppythorn Lane, Lagos House is on a substantial scale, best viewed from the corner with Nursery Road. It was one of the earlier houses on the estate and would undoubtedly have had an influence on later designs. The high quality of the materials used complements the pleasing Arts and Crafts irregularity of its design.

Though clearly showing signs of the involvement of an Architect in it's design, sadly it's unknown who the architect was that John engaged for Lagos House. It is tempting to think that Francis William Maxwell, who lived on Glebelands Rd, and who designed his own house on nearby Guest Rd. in 1899, may have had some involvement.


Maxwell & Tuke ArchitectsJames Maxwell was born on 14 June 1838 in Haslingden, the only child of Thomas Maxwell (1798–1871), builder, plumber, and glazier, and his second wife, Mary (1799–1858), daughter of Henry and Judith Holden. James Maxwell was educated at Whalley Grammar School before being articled to the architect Thomas Holmes of Bury in 1852.
In December 1857 James started his own practice in Bury. His early works included The Derby Arms in Whitefield (1860) Bury baths, and offices for the Bury Times, both built in 1862. He married Elizabeth Barbara Thorburn (1839–1917), daughter of William Reid Thorburn, congregational minister, and the couple had one daughter and three sons. The years after his marriage saw Maxwell's practice continue to prosper and in 1864 he was placed third in the design competition for Rochdale Town Hall. In 1865 he took Charles Tuke into employment and two years later into partnership, designing a villa on Prestwich Hills in 1868 and Whittaker Lane School house on in 1878 (& extension in 1891).
In 1886 they won the design competition for the Manchester Jubilee Exhibition Buildings at Old Trafford, in 1888 they were jointly appointed to build Ladywell Hospital,Eccles New Road.

James was elected a Fellow of the RIBA on 17 December 1888. He was also a Fellow of the Surveyors' Institution and a prominent member of Manchester Society of Architects, as well as Alderman of Bury and a justice of the peace. With Charles Tuke, James Maxwell was one of the pioneers of St Anne's-on-the-Sea and had been a director of the St Anne's Land and Building Company from its commencement.

His son Francis William (b:1864), joined his father's firm and oversaw the completion of their most renowned constructions... Blackpool Tower.


Francis who had been living on Glebelands Road, had his own house built at 36 Guest Rd. Prestwich. In 1891 they designed the Lancashire and Yorkshire Branch Bank, 231 Bury New Road, Whitefield, and the nearby infants School at Stand in 1894.


However on 28 September 1893, six months after the death of Charles Tuke, James Maxwell died from cerebritis at his home in Bury. His death came on the same day as the flagstaff was placed in position at the top of Blackpool Tower. Although the tower was topped off, the rest of the buildings at the base, which included a circus positioned within the four legs of the tower, were still under construction and were not finished until late 1894. In 1902 Maxwell and Tuke (now operated by Francis) designed "Silverleigh," 27 Guest Road, Prestwich and went on to work on the plans for New Brighton Tower in July 1895. The New Brighton Tower was built during 1897–8, and outdid Blackpool's by 48 feet 9 inches, superseding it as Britain's tallest building, while the octagonal building at the base was also much bigger, including the largest theatre in Britain outside London, seating over 3000, and a huge octagonal ballroom that could accommodate 1000 couples.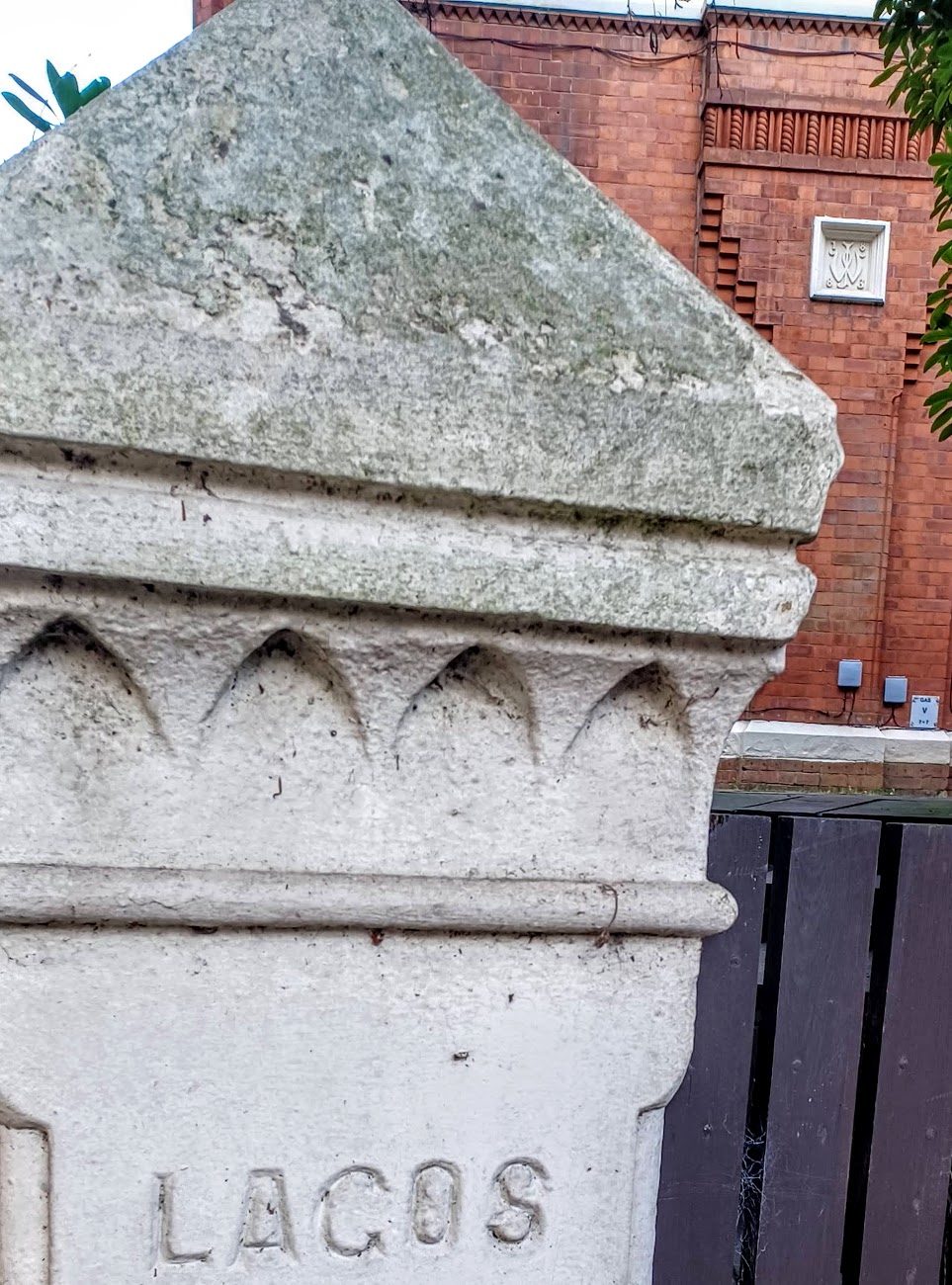 Lagos House Gatepost & Monogram (click for detail)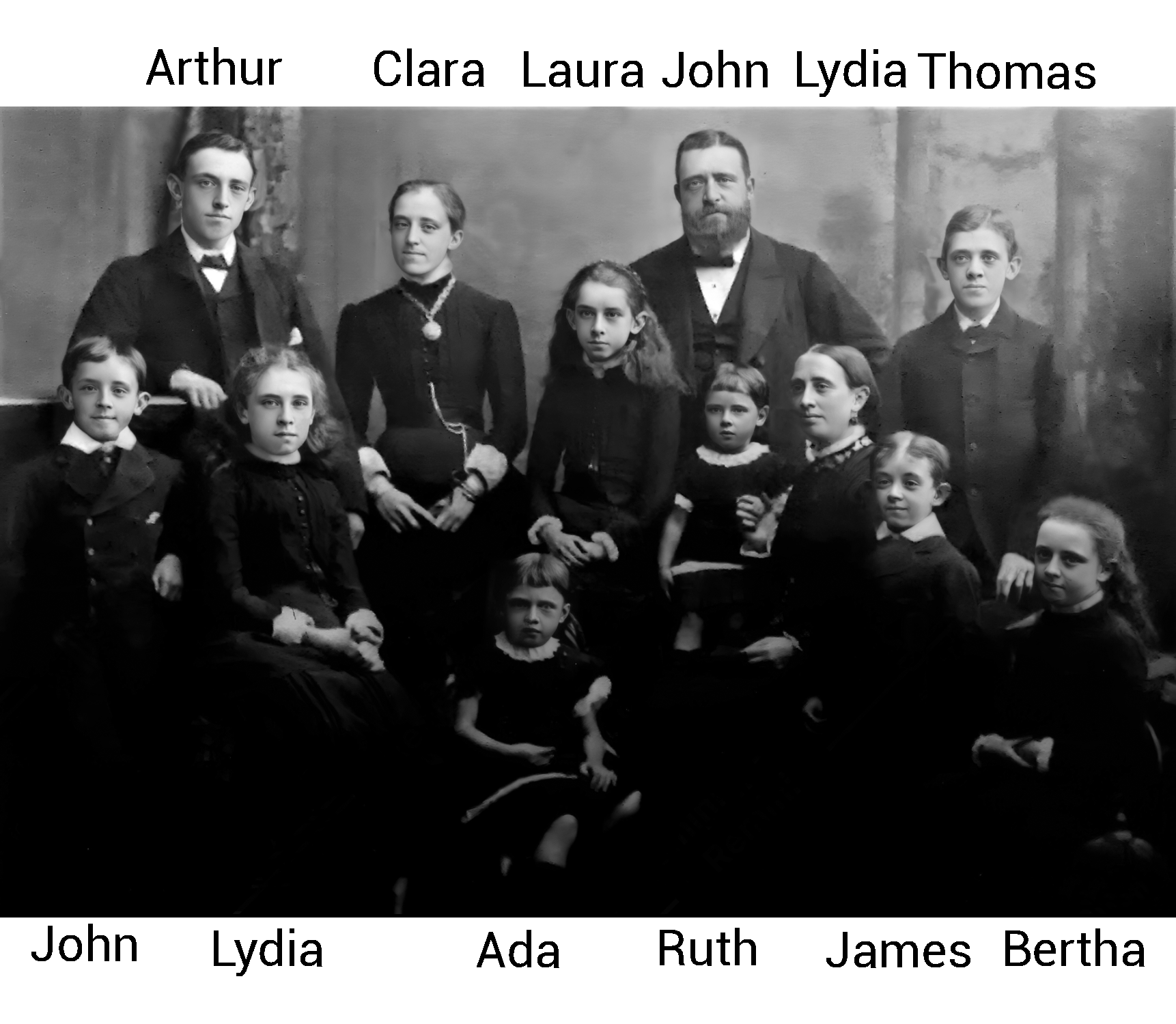 The Walkden Family (~1885) (thanks to David Allen - grandson-in-law of Arthur Walkden).


The Walkden family had a second house built in Prestwich, just next door to Lagos house and called it Porto Novo, again after a West African Port the family traded through. Over the years the families moved around between the houses. Arthur, the son of John & Lydia, who had been living at North Deyne almost opposite Lagos House on Poppythorn Lane, took up residence with his family at Lagos House, and later moved to Porto Novo. Meanwhile his brother John moved in to North Deyne. A third house, a semi detached called "Lagos Villas" was also built on Guest Road in Prestwich.


Another Broken PromiseIn 1898, a newspaper article from The New Zealand Herald records Jane Jackson, a sister in law of Arthur Walkden of Lagos House, Poppythorn, experiencing a break of engagement that ended up at the Assizes.

After a courtship with a timber merchant, Herbert Turner, that began in Prestwich about 1894, a long distance relationship began to dwindle, as letters became more brief and intermittent, Mr Turner was spotted walking out with another woman.

Herbert wrote "I shall esteem it a favour if you will return the ring". Jane replied "after you heartless, shameful and contemptible treatment this is an article which I particularly want to keep, not to wear, you may be sure". "It is now my turn to retaliate." "You have ruined the best years of my life, but your will not now be a bed of roses."

Jane was awarded £300 ( £49,000 today). In the census of 1901, Jane was "living on her own means" with the Walkdens at North Deyne.
North Deyne was (& still is) a semi detached house, and in the other half of the house in the census of 1901 was another child of John, Clara Walkden, and her husband Joseph Rostern. They had married at St Mary's in 1889. Joseph had been born in 1862 and in the 1881 census was recorded as a Railway Clerk, living with his parents on Warwick Street in Prestwich, and they had moved to Whitaker Lane by the time of his marriage to Clara. Joseph, whose Father was listed as a waste manufacturer in 1889, joined the Manchester, Sheffield and Lincolnshire Railway (MS&LR) in 1877 as a junior clerk in the general manager's office. By 1901 Joseph had progressed his position within the Railway and was the assistant Railway Manager of the Great Central Railway, and in 1912 he was appointed Chief Goods Manager.




It was Joseph Rostern who first used the family plot at St Mary's Churchyard when he buried his daughters. Gladys who died in 1894, and Alice who died in 1898. Joseph later lived at 'Prestwych'in Northwood, Middlesex. The first Walkden family member to be placed in the shared family plot was John's daughter Bertha who died in 1904. She was living at North Deyne with her husband Albert Hulton, a smallware manufacturer originally of Hawthorn Villa, at the corner of Kingswood Rd and Bury New Rd, Prestwich. Albert owned Fielding Street Mill in Middleton. Bertha died in 1904.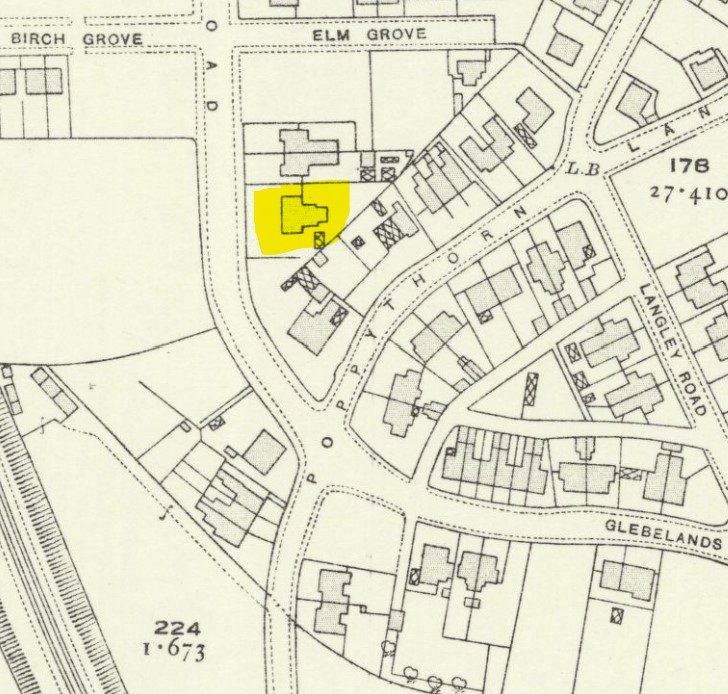 Porto Novo (1915), first appears on the map of 1906 (The neighbouring semi has a date of 1904).


A third son of John and Lydia Walkden, James, had moved to Lytham, but was still involved in the family shipping business, we'll meet him again when we get to WWII.

In October 1909 John Walkden, of Lagos house, died and was buried in the family plot at St Mary's. "No man was more esteemed in Prestwich"


In 1914, John and Lydia's first son, Arthur Walkden, had ideas to build more houses in Prestwich and call the estate 'Walkdenville'. It was to be built on land off the present Heywood Road occupied now by Chatsworth Avenue and Penrhyn, Ogwen & Oaklands Drives, and Hill Top Ave. This was proposed by Arthur in memory of his father John, but as with many people WWI messed up his plans.


Arthur took a position on the appeals committee for Lord Derby's Group Scheme of October 1915. The scheme aimed to raise the number of volunteers enlisting or attesting to serve when they were called up. Arthur declared himself as a pacifist, and said he would never take up arms against an enemy, even if they stood at his door.

This caused some outcry and questions were asked in Parliament for his removal from the committee. The scheme only lasted 2 months, and the Government brought in compulsory conscription from January 1916 as the number of volunteers and attestators was not sufficient to cover the losses being experienced.


Arthur's daughter, Lydia Constance (b:1895), lived with her parents at Porto Novo in Prestwich, and was caught up in the start of the War, when she was visiting Germany as part of a group from Manchester that was detained for about 6 weeks before the women and girls were allowed to return via Holland, which was neutral at the time. Lydia came back, and in August 1914, volunteered with the British Red Cross, as part of the Prestwich Needlework Organisation. After passing her Assistant Nurses' Exam (blue stripe) she served at Moorlands Red Cross Hospital, Vine Street, Kersal until 1919. She also acted as Quartermaster and was mentioned to the Secretary of State for War for her service.

Lydia's mother Martha Walkden and her grandmother Lydia also volunteered for the Red Cross Prestwich Needlework Organisation in August 1914, with Martha appointed Vice President of the organisation. Her aunt Lydia, living at North Deyne, also volunteered with the Red Cross in August 1915.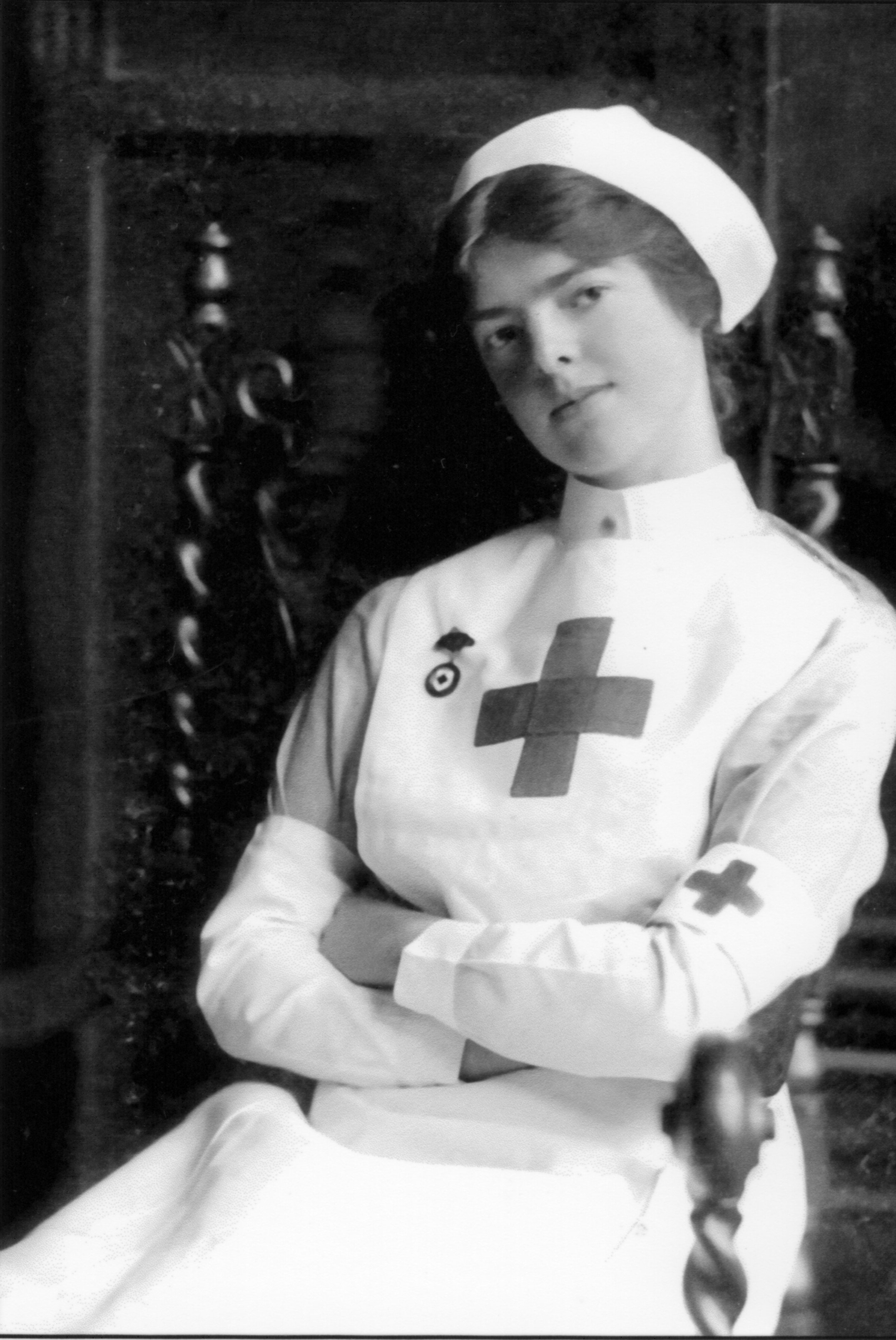 Lydia Constance Walkden (b:1895, d:1976) - with thanks to David Allen - grandson-in-law of Arthur Walkden


Once Lydia passed as Assistant Nurse, she would have been permitted to wear a blue stripe on the right sleeve below the shoulder in addition to the war service stripes worn on the left sleeve on indoor and outdoor uniform. She would also wear the letter "A" in gilding metal on the bib of her apron, a quarter of an inch above the Red Cross in the centre.


In 1916, John Walkden Jnr (brother of Arthur) of North Deyne, died and was buried in the family plot.

In 1917 due to their trade in the palm nut oil business in West Africa, the company had been bought by Lever Brothers (later to become Unilever) to assist with their new venture in Europe... a product called Margarine.


In January 1918 Joseph Rostern Snr. was appointed by the Government to a committee of inquiry formed to investigate the recruitment of staff to Government departments during the War and improvements and efficiencies to be made. Joseph Snr. was awarded a CBE for his work, the CBE is one step below being Knighted.

Arthur lost a cousin to WWI when Charles H. son of his uncle James Lonsdale Walkden, an African Buyer living in Swinton, died on the 21 March 1918, whilst serving with the Labour Corps near Arras in France. The Labour Corps were formed from the older and less fit soldiers that were deemed unsuitable for front line service. They constructed trenches, railways communication lines and roads, often under enemy fire, but with just their spades to bat the bullets and shells away with! Sometimes they were given rifles when the situation called for it. Charles died on the first day of Operation Michael, a major German military offensive launched from the Hindenburg Line. The failure of this offensive marked the start of the end of WWI.

Just 7 days later on the 28th March 1918, Joseph Norman Rostern, 23 years old and son of Arthur's sister Clara & her husband Joseph was also killed during the German Spring Offensive. Lieutenant Joseph had studied at London University and completed his studies at Tours, France and Dusseldorf, Germany.

Both C.H. Walkden and J.N. Rostern are commemorated on the Prestwich Cricket Club RoH.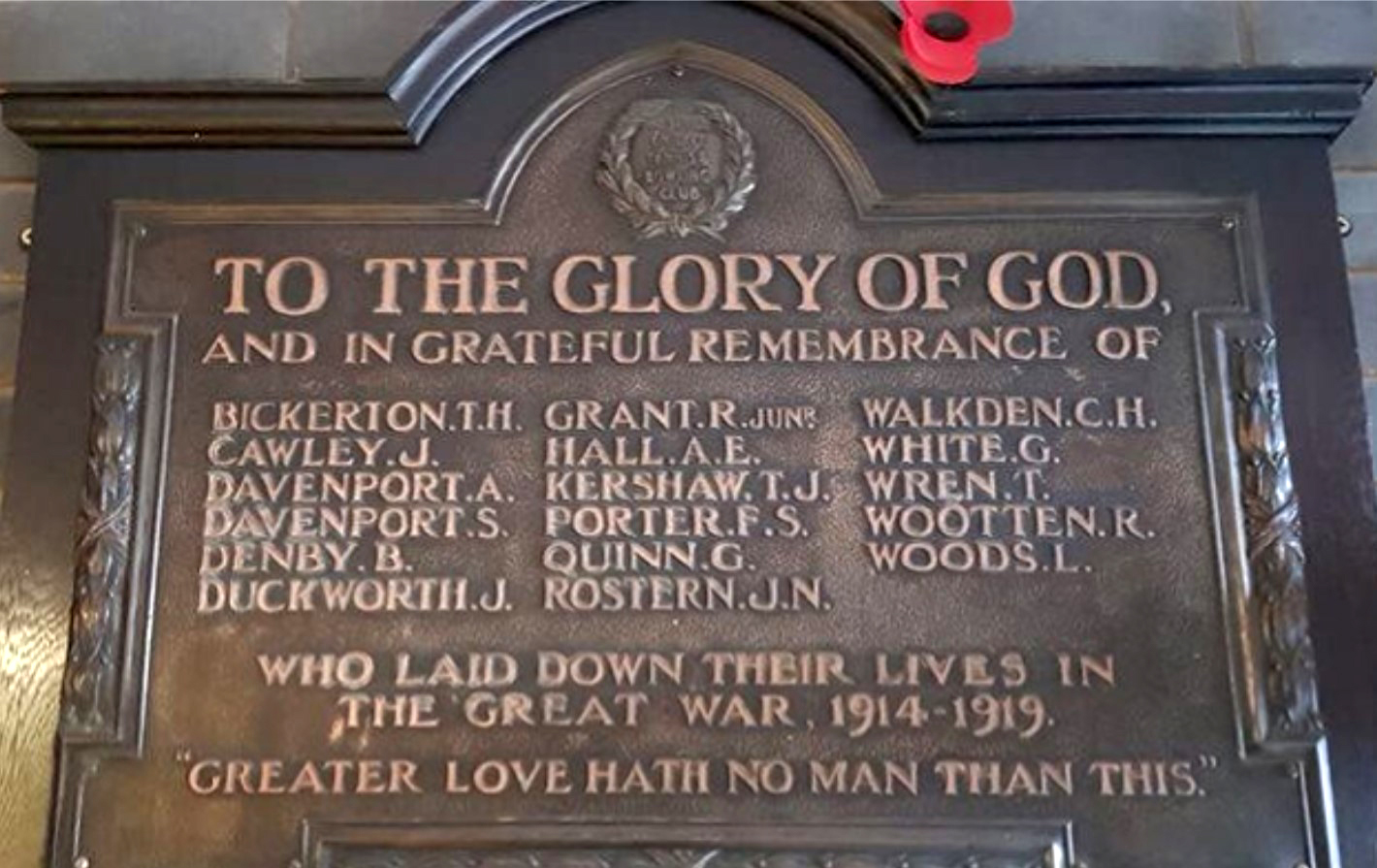 The metal panel in Prestwich Cricket & Tennis Club lists 17 fallen soldiers from both World Wars


J.N. Rostern is also commemorated by a stained glass window in St Mary's Church, for which his parents commissioned Shrigley and Hunt, of Castle Hill Lancaster, with their chief designers Edward Holmes Jewitt and Carl Almquist.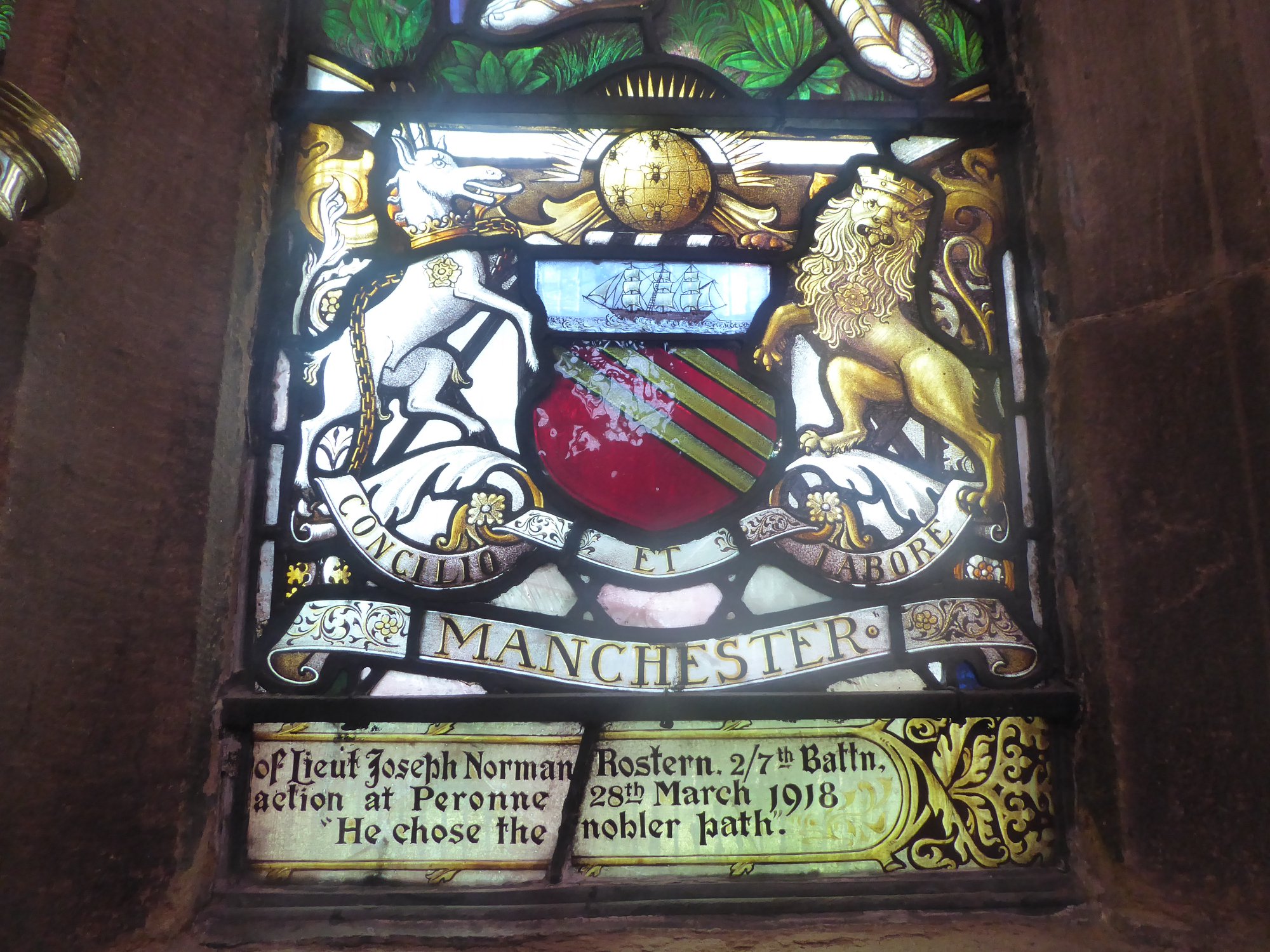 The Rostern Window,St Mary's, with the Crest of Manchester (Joseph served in the 2/7th Bn. Mcr Regt.)


The window is situated in the Birch/Lady Chapel, on the south side of the church, a prime spot to get the sun, and contains images of St George and St Martin. Joseph is also memorialised at Aldenham School Memorial, Aldenham, Rostern Memorial Window,Holy Trinity Church, Northwood, Middx.


Joseph's captain said:

"He died as any soldier would wish to die, fighting to the last, selling his life dearly; how proud we are of him: I feel sure that the heroic and splendid bravery he has shown must help us all"

Another Brother Officer wrote:-

"He was one of the most sturdy and brave heroes we have had in the battalion. Although he had the opportunity of 'flying for it', he chose a nobler path, and stood his ground with his men right up to the last. Few of the stories that one reads could touch the story of his fidelity and bravery if it should be written, and you have every reason to be proud of his magnificent behaviour when the vital question came to be answered. The men loved him, and speak in glowing language of his wonderful leadership and undaunted courage"

Joseph's elder brother Eric Walkden Rostern, joined the Royal Engineers Rail Traffic Section, served in France from Oct 1914 was awarded Military Cross and survived the War.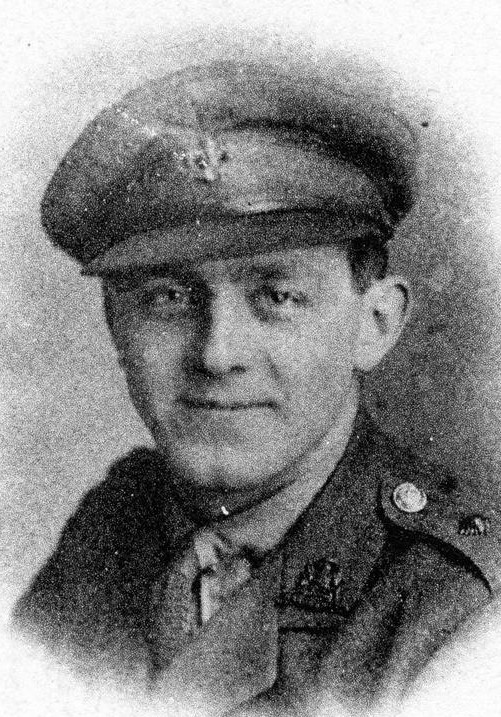 Lieutenant Rostern


Aldenham School Memorial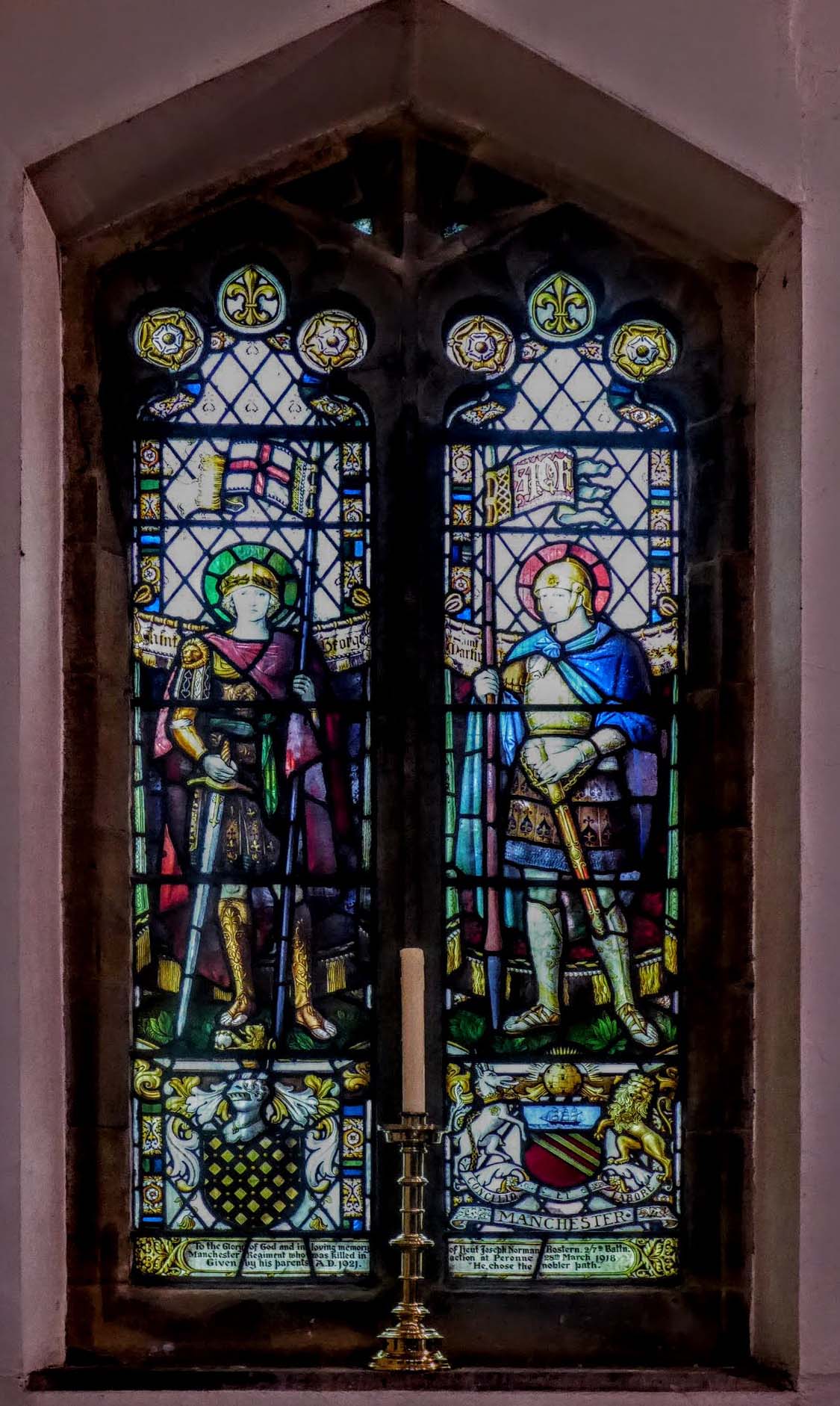 The Rostern Window, St Mary's Prestwich


As a further tribute to his son, Joseph Rostern created a fund in his memory at the local Cricket & Tennis Club at The Heys."The award is still proudly presented today." - club historian Alan Michaelovitz.

In 1918 Arthur resurrected his idea to build "Walkdenville", however no actual plans were drawn up though and the land, owned by the Earl Of Wilton, was never purchased.

At the end of World War I the Walkden family had six of the eight bells at St Mary's recast.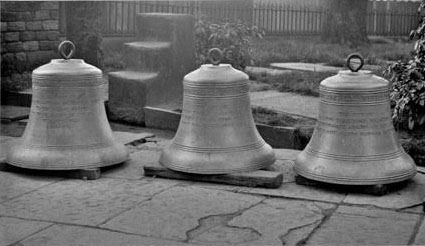 Three of the re-cast bells upon delivery to St Mary's (thanks to David Allen - grandson-in-law of Arthur Walkden).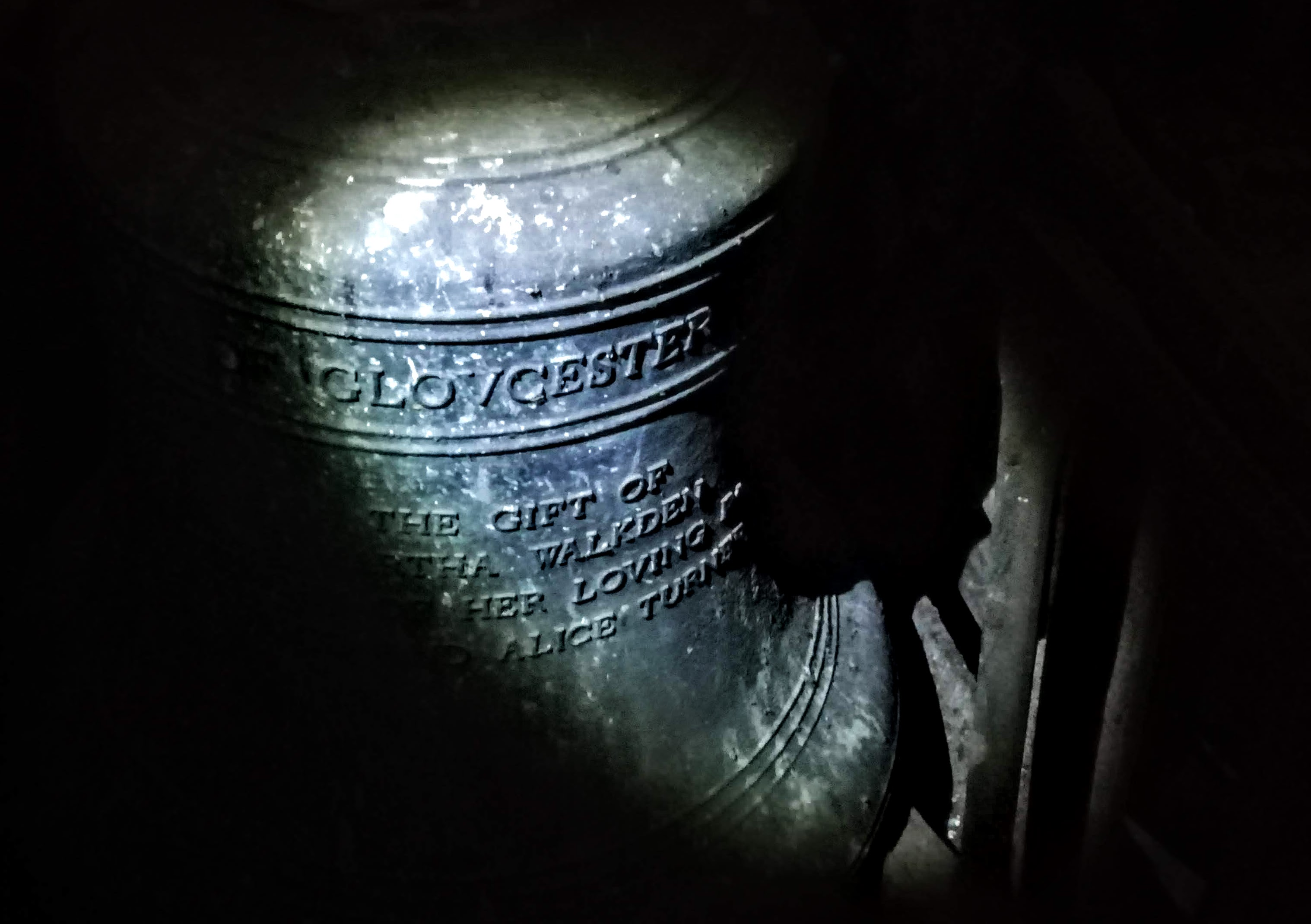 St Mary's Bells are a bit dirtier now
The company continued to Trade under their own name, and in 1919 J Walkden & Co. stated their address as 80 Princess Street, which was a packing and shipping warehouse built between 1905 and 1910 for Lloyd's Packing Warehouses Limited. Also Known as Lancaster House.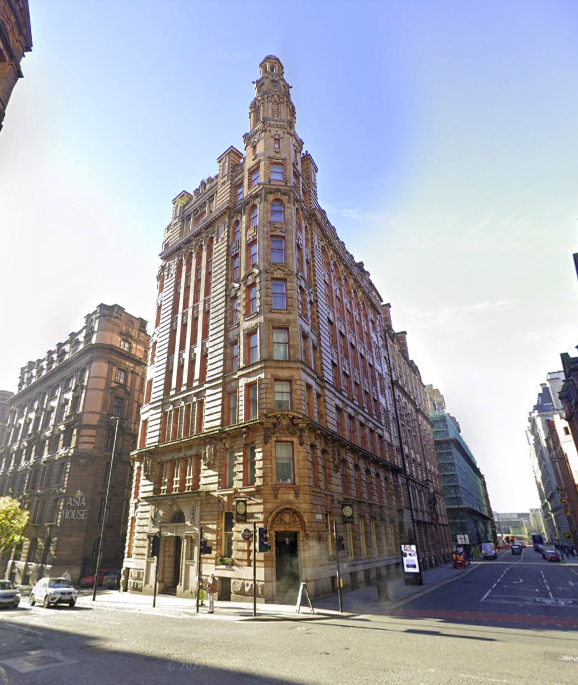 Grade II listed Lancaster House, Princess Street.(click for doorway detail)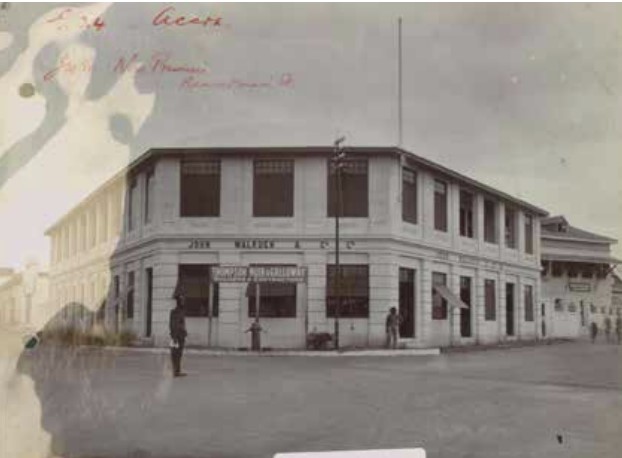 Walkden & Co Premises on Bannerman Rd, Accra(built 1920)


In 1924, Lydia (who had been detained in Germany in 1914 and served in the Red Cross during the War) married Frederick Bentley, an engineer who had been a captain during WWI. They lived at Thornlea (which stood next to Dingle Bank) on St Ann's Rd. Frederick died in 1940 Lydia died in 1976.

The Prestwich Cricket and Tennis club (the oldest sports club in Bury) added four new shale tennis courts. Arthur Walkden was Club President and the first two courts were inaugurated in 1925 with the first ball served by the club president's wife, Mrs Martha Walkden.

In 1926 Lydia the widow (and cousin) of John died, and her son-in-law Joseph Rostern C.B.E. died in 1930, both are buried in the family plot at St Mary's. A window to the South of the chancel of St Mary's was installed in her memory by her family.

Lydia's son Arthur, of Porto Novo, Prestwich, was knocked down by a car in Cheadle Hulme in 1938, suffering severe injuries. He died in 1939 and left an estate valued at £40,000 (£3.3m today).

Sadly in World War II the Walkden family suffered another fatality. The insignia of the R.A.F. in bronze appears above a plaque inscribed 'Per Ardua ad Astra' is set into a scroll shaped granite headstone: "In loving memory of Malcolm Thomas Kershaw Walkden (Pilot Officer R.A.F. V.R.) youngest son of James and Margaret Walkden, who gave his life for his Country 12 August, 1941, aged 24 years.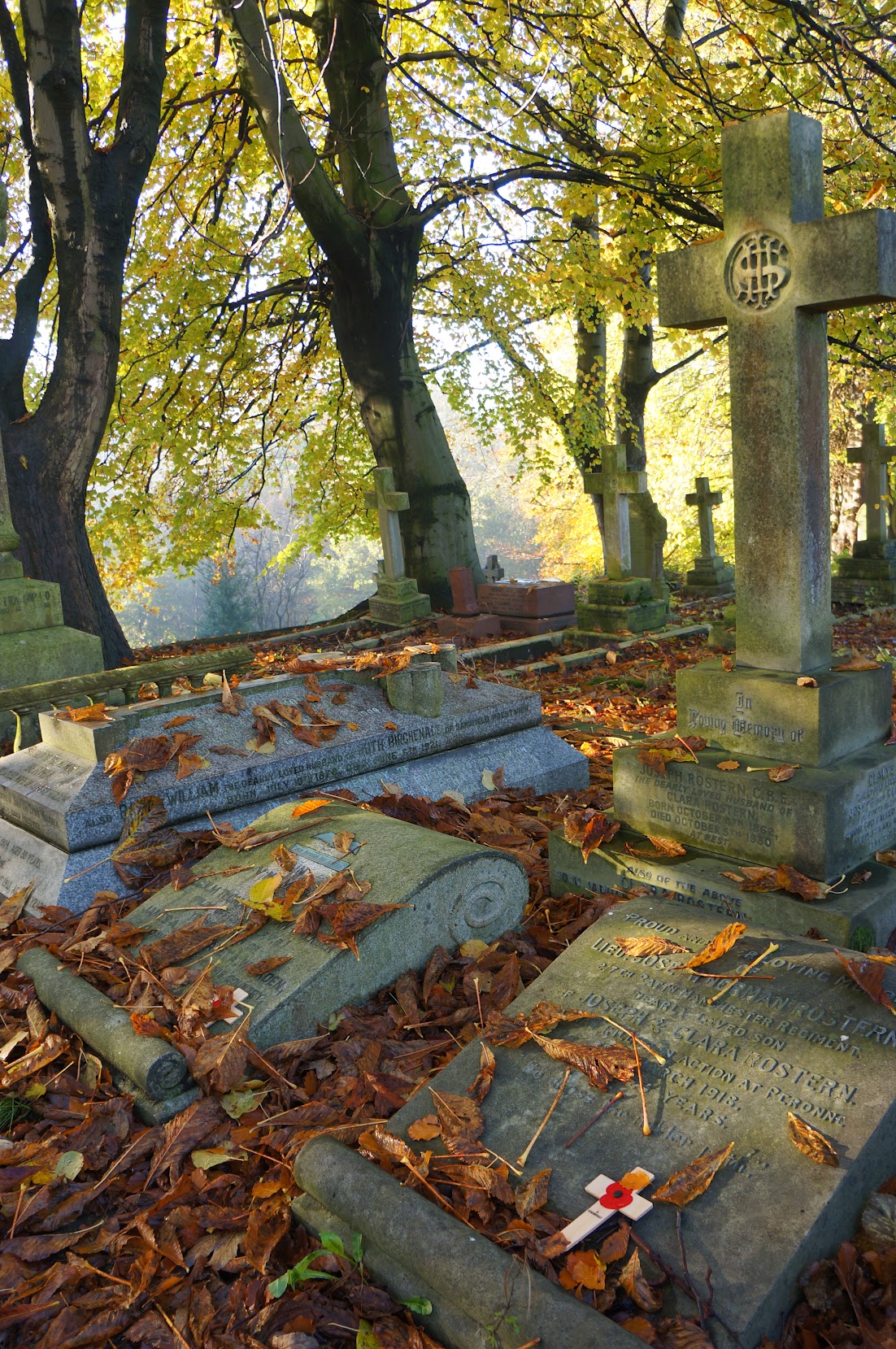 The Walkden and Rostern family plot
Malcolm was part of the crew of Blenheim aircraft V6437 (markings: WV-C) which had took off from RAF Horsham St Faith at 0920 hrs. It crashed in the sea off the Dutch coast, one crew member, Sgt Cutler is buried in Vlissingen Northern Cemetery but his companions were not recovered and are commemorated on the Runnymede Memorial. Crew: Plt Off M T K Walkden; Plt Off B F W Matthews ; Sgt A C Cutler.

On a lighter note, a plaque in St Mary's records the event of the world-wide broadcasting by the BBC of St Mary's bells to mark the victory at El Alamein in 1942


Clara Rostern nee Walkden, the widow of Joseph Rostern CBE, died in 1945.

John Walkden, a Unilever Company, continued to trade under it's own name into the late 1940's. The family plot can be found down the steps south of the south porch of St Mary's church.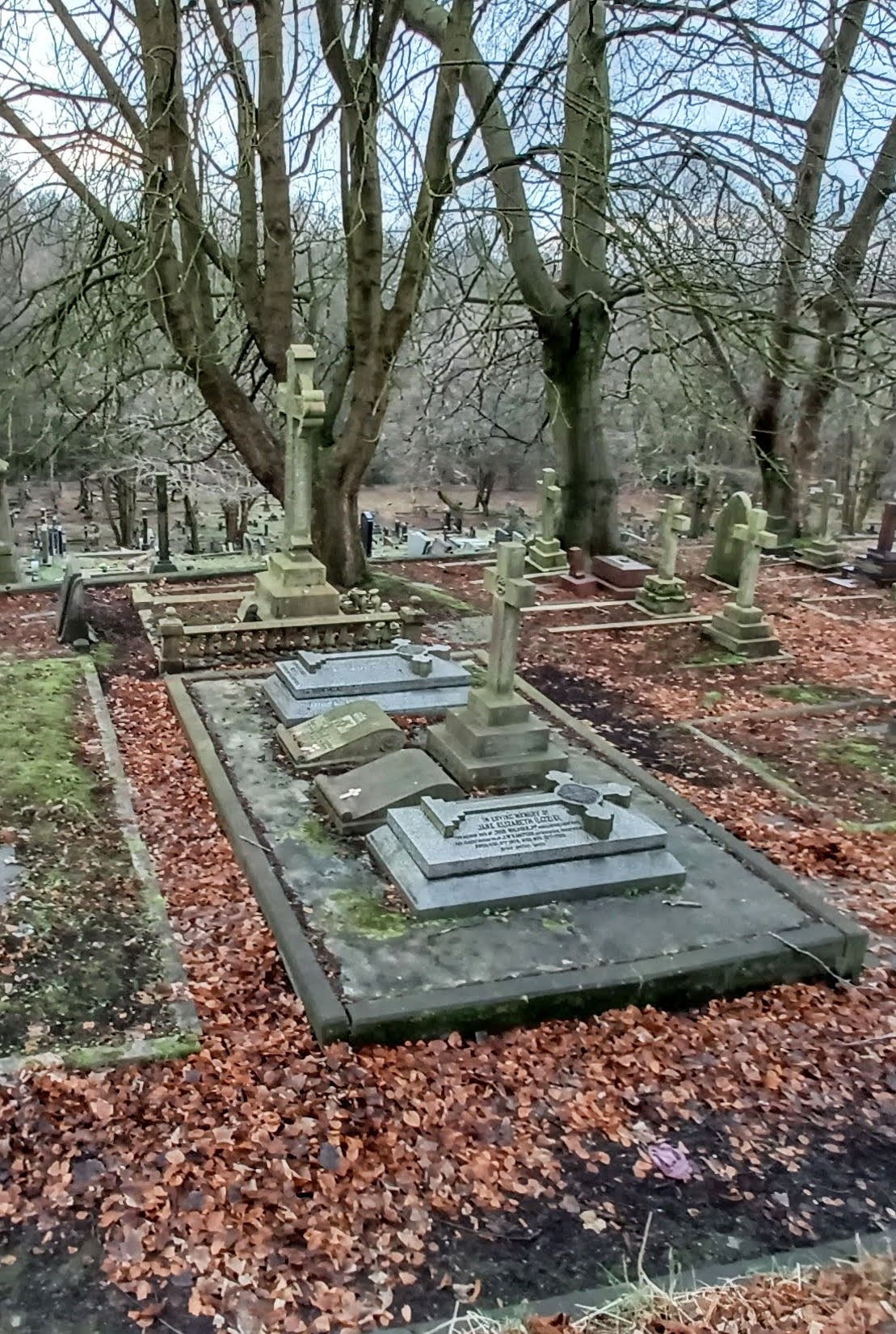 The Walkden and Rostern family plot
Come along and join the churchyard volunteers maintaining this family grave and others, on Tuesday mornings.
Or donate to help us get in the professional tree surgeons and stone masons.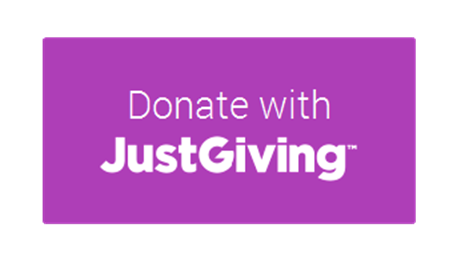 Donate to the upkeep of the St Mary's Churchyard




Remembrance :
Remembrance of those that have served the Nation in conflict.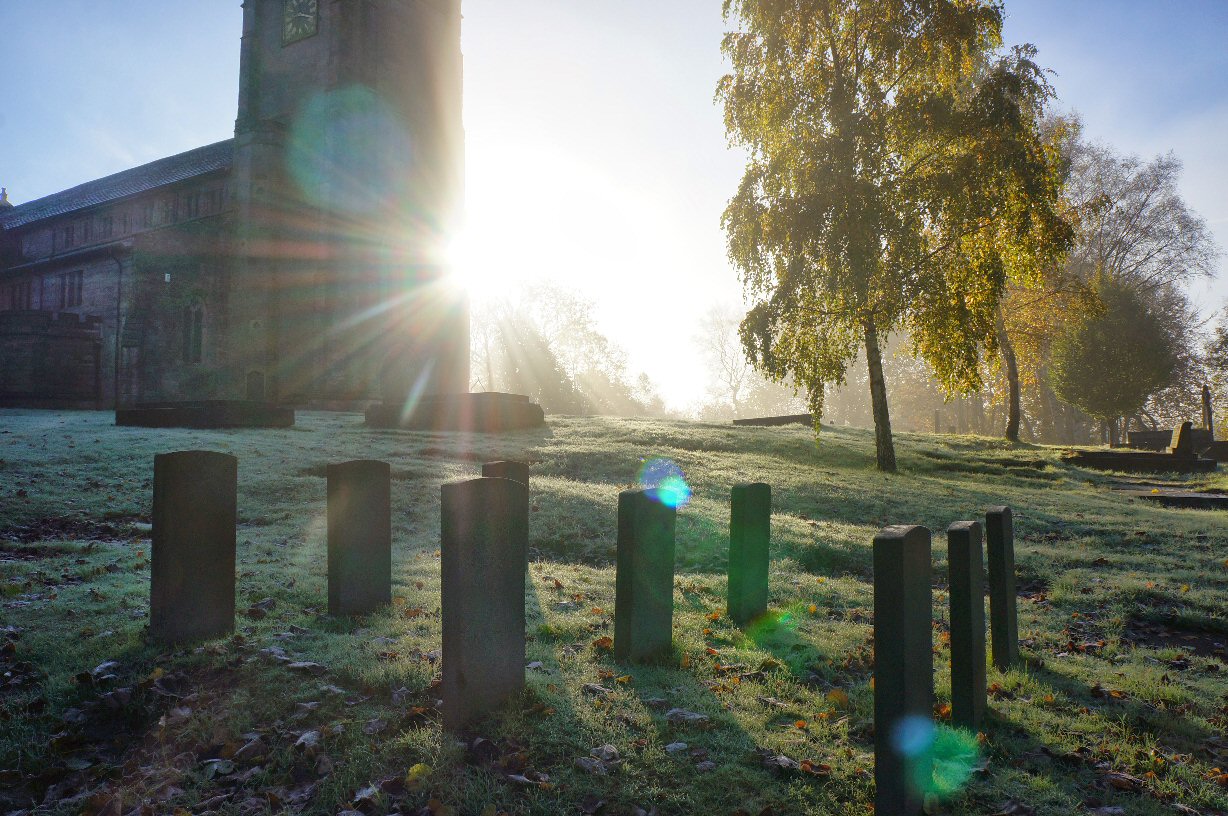 Remembrance in & around Prestwich