! side panel> <! side panel>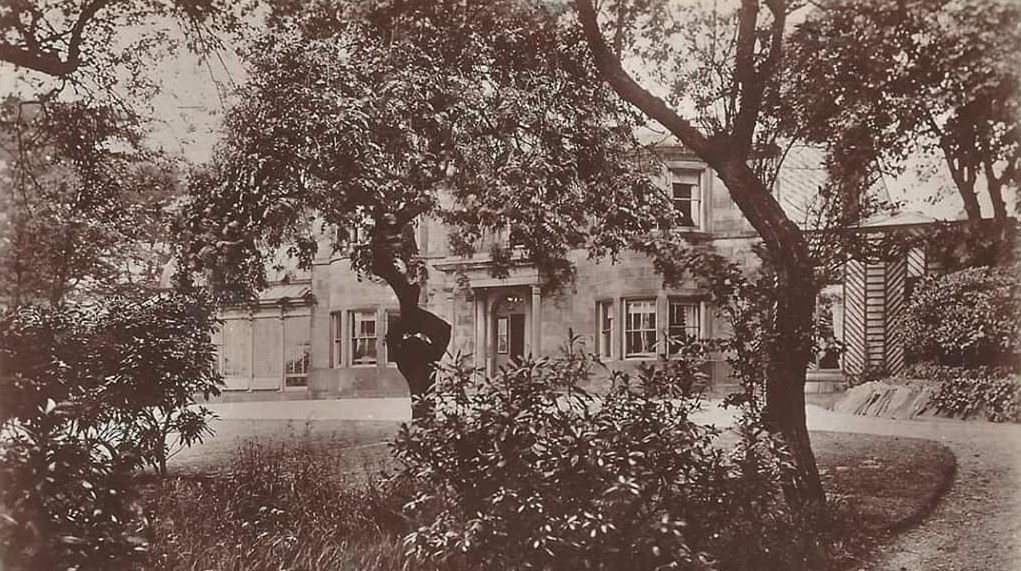 Chesham Woods, Bury
Chesham woods is an area Pasture and woodland on the edge of Bury, it offers a variety of walks and trails and is a local nature reserve, but in previous centuries it was the site of three grand houses, the homes of numerous influential Victorian families.

Download a leaflet here

In 1827 the occupier of Chesham was Thomas Haslam (1770 - 1827) who owned the nearby Hudcar Mill. He had been living at Green Bank, over the road in 1825, and employed workhouse children for whom he established a factory school under the 1808 Apprentices Act. The school taught reading, writing, arithmetic and sewing to around 40 children.

In 1822, an engineer Joshua Routledge entered into a short-lived partnership (dissolved 1824) with William Kay of Bury Lancashire to supply iron pillars to the specification of William Fairbairn [Buried in Prestwich] for the "fireproof" Hudcar Mill, built for fustian manufacturer Thomas Haslam of Chesham and said to be state-of-the-art for cotton mills of the day.

[Hudcar Mill, which stood on Hudcar Lane/Haslam Street, not far from Chesham Woods, was sold in 1827 to The Greg family of Quarry Bank Mill, after Thomas Haslam had died in January of that year.The Hudcar Mill was demolished in 1977.]


In 1829, Samuel Holker Haslam of Chesham, son of Thomas, was recorded as magistrate of Bury and the Salford 100, and as J.P. in 1836. From 1841 to 1847, John Haslam (b:1821) and his wife Sarah were listed as residing in Chesham. Samuel was a member of the Agricultural & Botanical Societies.

[Also the families of a farmer and a gardener at Chesham, and an usher and coachman living at Chesham Green Cottages]

[In 1845 Samuel Holker Haslam was resident at Greenside in Milnthorpe, he died in 1856.]


In the late 1840's Chesham was sold to one of the locally well known Walker family. Most notable of such, Oliver Ormerod Walker, who represented a unification with a second prominent family, the Ormerods (from Foxstones), who are traced back to the 13th century.

William Walker had married Mary Ormerod, the daughter of William Ormerod in 1784. William had great success as William Walker and Sons,he had five, and the Business thrived as woollen manufacturers on Stanley Street, Bury.

[William was son of Richard, of Stone Pale Farm, Besses O'th'Barn, whose sister Margaret married Thomas Openshaw, of Stanley Street - The Pale probably refers to the old boundary of the Pilkington Estate which stretched as far as the Stand - present day Whitefield- where the Gentlemen stood while hunting.]

[The Openshaw family were a large and influential family of the area, parterning various businesses and also generous benefactors, resulting in the building of St Paul's Church and the gift of Openshaw Park, in the Pimhole area of bury. They will appear again further down this page...]


William's first son, Richard was the first M.P. for Bury (Liberal - Whig-Radical, 1832-1852), and married Anne, daughter of John Scholes of Bury.

Richard's position of responsibility resulted in him hearing the case in 1836 when Walker & Lomax were charged with employing children in there Mills without sufficient safeguards.The 1833 Factories Act stated:

no child workers under nine years of age

employers must have an age certificate for their child workers

children of 9-13 years to work no more than nine hours a day

children of 13-18 years to work no more than 12 hours a day

children are not to work at night

two hours schooling each day for children

four factory inspectors appointed to enforce the law


His second son was Samuel Grundy Walker, who died a bachelor.

Oliver Ormerod Walker (1794 - 1870) was William's third son, and the 1851 census records him as living at Chesham widowed from his 2nd wife Helen, one son, two daughters, three servants and coachman plus wife. He presided over a farm of 220 acres tended by 10 labourers, and a cotton spinning business at Moorside, Jointly owned by his brother William and John Lomax, with 50,000 spindles; 1,500 looms, and employing 954.

Oliver's daughter, Mary Esther Walker(1827-1854) had married William Wanklyn, cotton spinner employing 121 hands at Albion Mill, and lived across the road fron the Walker's at Green Bank.


Oliver's first son, also named Oliver Ormerod Walker, was born in 1833, and took up residence in Chesham, and is recorded in the census of 1861.

This Oliver Ormerod Walker Jnr.(1833 - 1914) went on to become a magistrate, Justice of the Peace, and held a commission in the 7th Royal Lancashire Militia. He was also a Deputy-Lieutenant for Lancashire, J.P., Mayor of Bury and held the office of High Sheriff of Lancashire in 1876. On the formation of the Volunteer Force he became lieutenant colonel of the 8th Lancashire Rifle Volunteer Corps.


Browse the family tree that links the Walker, Ormerod, Openshaw, McConnel families and more...

here

Or sign up for a free Ancestry Account (no subscription required) and you can see the family tree linking the Walker, Ormerod , Wike and Wanklyn families

[The rent book for a warehouse on Cannon Street, Manchester, in 1859 shows the combined families of Lomax, Walker and Openshaw trading, after all three families had inter-married during the 18th century.]


Oliver also became Mayor of Bury (1896 – 1897)


On the death of the Colonel in 1914, the estate passed to his four daughters, none of whom had children.

After the last surviving daughter died the estate was bought by Bury Corporation in 1957. In 1959 the house was in poor condition and Chesham was demolished.

The 1881 census for nearby Chesham Brow shows Charles Walker (b:1839) a Cotton Spinner employing 400, he was son of John who was a brother of Oliver Ormerod (b:1833).


The second Chesham Property, already mentioned above was Green Bank.


In 1841, John Harrison (1806-), Cotton Merchant/manufacturer, and his wife Eliza lived with 3 servants at Green Bank. At this time the Walker family lived across the road in Chesham .

By the next census in 1851, William Wanklyn (b:1823-1885), a cotton spinner employing 121 hands (Albion Mills, Elton) lived at Green Bank with his wife Mary Esther Walker(1827-1854).William was appointed a Commissioner of Bury in 1854 and served for 6 years. His wife Mary was the daughter of Oliver Ormerod Walker (b:1794) who had lived at Chesham in 1851 (above).

Also in the house were his son John Bradshaw Wanklyn (b:1848), his daughter Mary Ellen, and John's sister Margaret Bradshaw Wanklyn (b:1824)who was visiting.

William was granted a patent in 1862 for improvements in aparatus for opening East Indian Compressed Cotton, and later claimed a patent in 1870 for machine that steams compressed cotton.


William and Margaret were children of Jane & William Wanklyn (b:1766) who was a descendant of John Wanklyn, one of Oliver Cromwell's Commissioners, and who fought for him at the battle of Worcester (1651), but whose property was confiscated on the accession of Charles II., and given to the Earl of Essex.

The following year, Margaret Bradshaw Wanklyn married William McConnel and they lived at Deyne Brook in Prestwich, later moving to Brooklands, Prestwich. They went on to christen their seven children at St Mary's in Prestwich.

William McConnel's father James (b:1762), had founded McConnel & Co., fine cotton spinners,in 1797. The McConnels had purchased the English patent rights of the Heilman Comber, a machine for combing the fibres of cotton, worsted, flax etc to remove short fibres, clean out extraneous matter, and lay the fibres more or less parallel to each other. This advantage led to the McConnel mills becoming the second largest in the world, and Mr. McConnel was thus one of the aristocrats of the industry.James Snr, left his concerns to his three sons James, William & Henry.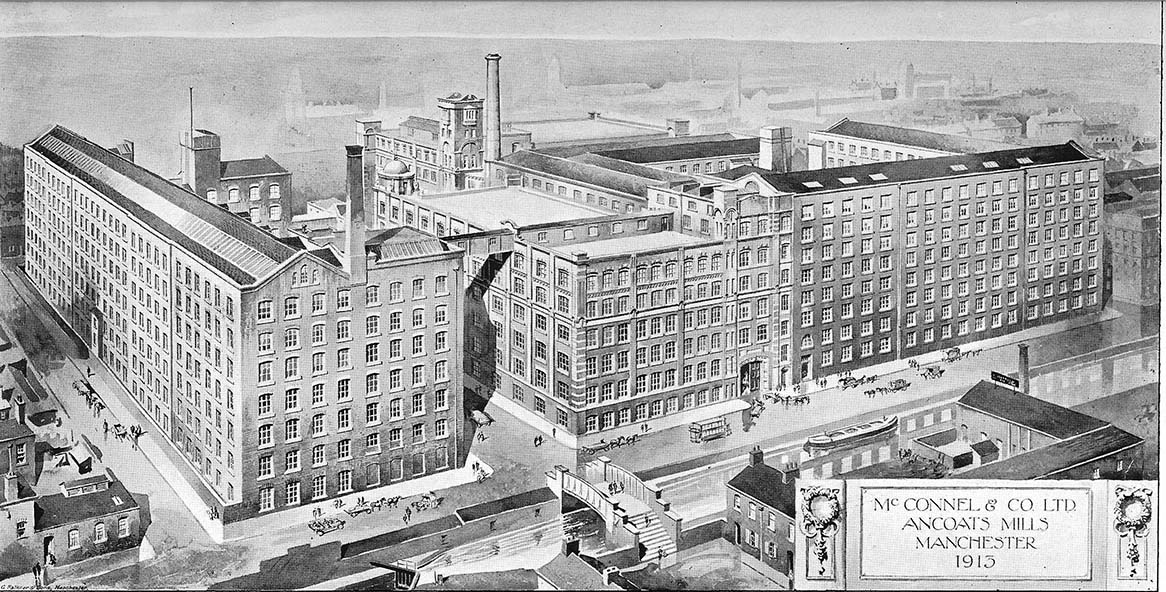 McConnel & Co Mills
(Grade II listed) were the largest cast iron structure in the World when built by Sir William Fairbairn's company, Fairbairn & Lillie


[Ref: By Scanned by Mr Stephen - Scanned from A Century of fine Cotton Spinning, 1790-1913. McConnel & Co. Ltd. Facing p 24., Public Domain, link]

[William McConnel's brother James was to be found in Prestwich at Bent House in 1851 and BentHill in the 1860's]
[William McConnel's brother Henry lived in Cressbrook Hall, in the Peak District 1861]

Back at Green Bank, by 1861, William Wanklyn's wife had died, but he had a son, three daughters, two sisters and a cousin living with him, along with 3 servants. His mill now employed 160 hands.

[across the road at Chesham , Oliver Ormerod Walker had moved in, he was a step brother of William Wanklyn's deceased wife]

In the 1871 census, Green Bank had a new family resident, with only the children present, Maud Whitehead (b:1865) the 5 year old daughter of the head of the house, along with her sister Charlotte Vaughan (aged 2 months). Maud's baptism shows her father was John Milne Whitehead (b:1840), and her mother was called Eleanor or Ellen (based on Charlotte's baptism). John was a solicitor, son of George who was an attorney on Bolton Street in previous census returns.

[1865 J M Whitehead of Helensholme is listed as a close friend of J.M.Wike see Danesmoor (below)]

By 1881 the property had another new family resident, that of James H Openshaw (b:1844), Cotton Spinner employing 230. A James Openshaw was also recorded as living at "lower Chesham" at an earlier date. The Openshaw family were involved in the running of "Walker and Lomax" Moorside Mill with the Walker family of Chesham (above)

[James H Openshaw was the 1st cousin 2 times removed of Thomas Ormerod Openshaw, who gifted what is now Openshaw Park. Thomas's uncle (1st cousin, once removed to James) was known locally as "Owd Mr. Tummy" and had been instrumental in the construction of the school and St Paul's Church at Pimhole.] The Walker, Ormerod and Openshaw families had inter-married at several times over the centuries, (at least 1 Openshaw married his own cousin) resulting in this James H Openshaw actually being the 4th cousin 2 times removed of Oliver Ormerod Walker (b:1833) who lived over the road at Chesham .

[1824 Thomas and Ormerod Openshaw were woollen manufacturers at Paradise Street and Moorside Mills]

[1881 Beech House - Samuel Openshaw (b:1819) employing 88]


In 1891 a Director of a Paper Mill, Charles Wrigley, lived at Green Bank, with his wife, 2 daughters and five (!) servants. The Crompton Family of Paper Manufacturers had also taken up residency in Danesmoor/Helensholme below. The Wrigley family had excelled during ownership of the Bridge Hall Mill (at Heap near Heywood).'Owd Jimmy' took over the Mills from the Crompton familiy in 1810. His son Thomas convinced the railways to extend past the Mills. With Canal stages too, together with the Heap Bridge Mill, one of the largest paper mills in the world, and the first mill in lancashire to have electric lighting, the locality boomed. However in February 1915 it was the scene of one of Heywood's worst industrial disasters when a new concrete roof with a faulty design collapsed on 20-30 construction workers below, killing eight men and injuring eight others, some of them seriously. One man later died of his injuries.


"Thomas, known among his loving and beloved neighbours and the poor of Pimhole as 'Mr. Thomas' or 'Owd Mr. Tummy' has left his mark in several ways and places. His intense earnestness and endeavour for the benefit of his work- people was ever a distinguishing feature of his character. The school at Pimhole, St. Paul's Church, the monumental church at Pimhole, and the munificent charities left by his Will to Bury churches and charities, will ever keep green the memory of an unassuming personality." - Bygone Bury

Bury had 8 of the 14 paper mills of Lancashire in the 19th Century, with the local soft water rivers being just right for the maunfacturing process.

In 1901 the Hall family had taken residence, John Hall was a Solicitor, then by 1911 Dorothy Myrtle Whitehead(b:1889) had moved in. She was daughter to G.E. & Mary Wike of Danesmoor which was just a woodland walk away.

Green Bank was occupied until early 1970's and was demolished around 1976


The third property at Chesham, Danesmoor, was originally called Helensholme, and was home to James R Crompton, Paper Manufacturer, along with his wife, son, sister in law and three servants. James's widowed mother Elizabeth lived nearby at Gorsey Brow with a second son Percy, also listed as a Paper Manufacturer. (see the Wrigley family of Green Bank above)

James R Crompton (Snr.) had purchased the Elton Paper Mills in 1856 via auction, after it had gone bankrupt under Robert Hughes. Following his death in 1874, the mill was run by his three sons. The third son, Ralph, lived at Oaklands in Walmersly.


The 1901 census shows George Edward (b:1848)& Mary Downing Wike (b:1829) previously of Elton House (1881-1891), living at Danesmoor in Chesham. George was a Leut.-Colonel,1st Volunteer Battalion, Lancashire Fusiliers, and succeeded his neighbour Oliver Ormerod as Mayor of Bury in 1897 - 1899.

G.E. Wike (b:1848) and his brother William ran G.E.& W. Wike, Wollen Manufacturers, owning Openshaw Fold Mill.

They were sons of Mr. George Wike (b:1805) (and his wife Elizabeth Openshaw), whose father, Mr. John Wike had partnered with Lawrence & Thomas Openshaw, trading as George Openshaw & Co. until dissolving in 1824. John Wike then founded the firm of woollen manufacturers which in 1838 was originally known as John Wike and Sons.

[1825 gazetteer shows John Wike, Woollen Manufacturer living at Croft House,Walmersley and Shuttleworth]

During the 19th century, Bury gradually found fame as a thriving centre of music and song. One of the best teachers at that time was considered to be John Mellin Wike, organist and choirmaster at St Paul's Church.

The first son of G.E. Wike, John Mellin Wike (1834-1896), was a prominent Free Mason and "was the organist for many years at St. Paul's Church, and the choir under him attained to a condition of great proficiency. He was one of the founders of the Bury Choral Society, which held its earlier meetings at St. Paul's (Bell) School and afterwards at the Athenaeum. Many concerts were given, and several of Mr. Wike's more successful pupils — for he taught singing with no inconsiderable success — frequently gave their services at these concerts. Shortly after he withdrew from the Choral Society and associated himself with the Bury Musical Society, the former ceased to exist. He was the prime mover in all the concerts given by the Choral Society, and for many years, along with Mr. J. R. Openshaw, of Walmersley Road, took a very prominent part in the arrangements for the concerts given by the Musical Society. He was also one of the founders of the Bury Amateur Dramatic Society, his connection with which he maintained until 1865, on each occasion acting as musical director." John Lord. Commissioner of Bury 1860-1866]

Wike made sure that his singers were well trained and his choirboys were the first in the town to wear surplices. His talents, however, were not confined to choral music.

He produced the play "The Miller and His Men" with the help of famous local painter James 'Clock' Shaw. When Shaw's famous actor friend Henry Irving helped produce Hamlet in the town, Wike was the musical director.

G.E. & Mary had a daughter, Dorothy Myrtle Wike(1889-1972), who married Percy Kay Whitehead (1877-1960) in 1910, and they took up residence next door at Green Bank in 1911


Percy Whitehead, was son of Henry and Louisa, born in Ainsworth, he and Dorothy had the following children, Kenneth G. Whitehead(1913-2004) and Elizabeth Myrtle Whitehead(1915-2006) Peter Fernie Whitehead(1919-1933) who died at 14, Olive Mary Whitehead(1911-2003) who married a Prestwich man called Osborn, and another child who died in infancy.

During the 1930s Mrs Whitehead ran a Girls Dance School at Danesmoor, and during WWII she took in children (9 babies and 30 boys) evacuated from Guernsey. Two swings, a see-saw and a sand-pit were erected on one of the lawns and later a prefabricated hut for use as an outdoor playroom.

In all 70 children were accomodated over five years. They were far from safe as several bomb raids on the Mills of bury took place one bomb landed just 200 yards away, luckily it did not explode.

Mrs Whitehead had never forgotten a child's birthday, provided 'stockings' at Christmas, and an annual visit to Belle Vue, the show-place of Manchester. 'She was a real fairy godmother,' Read more about the evacuees here

A lot of the family tree info, and backgrounds to the people mentioned above came from Bygone Bury


Browse the family tree that links the Walker, Ormerod, Openshaw, McConnel families and more...

here

Or sign up for a free Ancestry Account (no subscription required) and you can see the family tree linking the Walker, Ormerod , Wike and Wanklyn families