! side panel> <! side panel>
Charles Cobden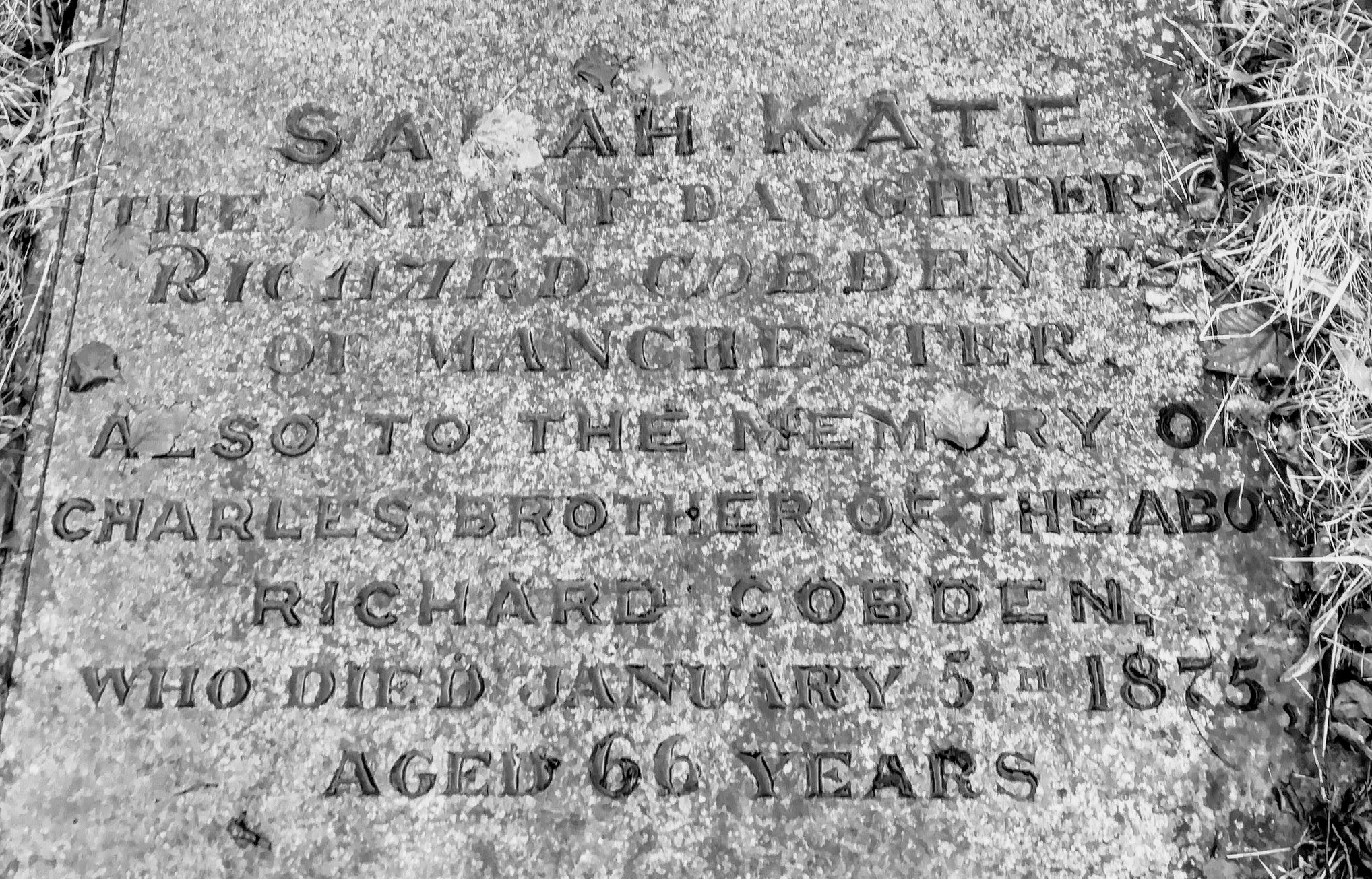 Cobden family grave


Richard Cobden (b:1804) is famous (especially in Manchester & Salford) as a manufacturer, Radical and Liberal statesman, and for his success with the Anti-Corn Law League for free trade. He was MP for Stockport from 1841, against Sir Robert Peel's ministry and succeeded abolition of the Corn Laws in 1846, which led to the fall of the government.

This gravestone that Alan Jennings discovered, marks the grave of Richard Cobden's infant daughter who was buried on the 30 Jan 1843, aged just 7 months.

Also buried here is Charles Cobden (b:1808), a younger brother of Richard, 3rd son of William and Millicent. Charles was born in 1808, attended Bowes Hall and then Christ's Hospial(1817-1823). After being employed in London warehouses, he then moved to Manchester with his brother and became a partner in Cobden & Hedley wholesale hosiers on York Street.

Charles was listed as a merchant, and lived in York Street, Manchester (1841) before moving to St John's Place off Great Clewes Street Higher Broughton (1861-1871) as a "gentleman" and "annuitant" lodger. He was also partner with Richard, as Richard Cobden & Co, calico printers.

Charles did not have an active role in politics like his brother, but Richard Cobdens' letters to his father [GoogleBooks] describe how he sought a salary for his brother Charles.



Cobden family Tree (Charles and Richard had another 9 siblings (omitted)


Sign up for a free Ancestry Account (no subscription required) and you can see the Cobden family tree

One of Richard Cobden's colleagues in the Anti-corn League once shared a platform in Stevenson Square with him, and is another Prestwich St Mary's occupant... John Brooks.Whose notable marble & granite monument stands proud over the churchyard. [ FB Group Post] Richard also named one of his sons Charles Brooks Cobden.

Richard Cobden died 2nd April 1865, and as sole surviving male, his brother Charles received letters from Napolean III & Lord Cowely upon his death. The Emperor wrote to Charles:

Mr R. Cobden always manifested great sympathy for France, and his influence over his country men could not but contribute to increase the closeness of the ties that unite England and France.

Charles died on a Tuesday evening at his home, St John's Place, Broughton, 5th Jan 1875, and is buried adjacent to William Sturgeon in [St Mary's B2B]



Charles Cobden burial entry


Richard Cobden had been godfather to a son of John Slagg, merchant and J.P. John's tomb also stands in St Mary's churchyard, not far from that of John Brooks.

The tomb to the Fort brothers of Sedgley Hall, business partners of the Cobdens also stands in the same graveyard.The death of Lawrence Fort, left Prestwich with one of several ghost stories.