<![if !vml]> <![endif]>
"Trust but Beware Whom"
A Genealogy of the Langley family
Author: Peter Langley
July 2002
with contributions from
Maj. Gen. Sir Desmond Langley KCVO, MBE.
Susan Bradbrooke, Archivist with the Agecroft Museum, Richmond, Virginia.
Click here  for the Ancestry of the Lords of the Manor of Prestwich. Starting with Robert de Prestwich born 1150, through to Thomas William Coke, the last Lord of the Manor of Prestwich.
Table of Contents
1.   The Origin of the Name Langley. 4
5.1. RICHARD DE LANGLEGH – c.1325 to c. 1369. 7
5.2. ROGER DE LANGLEY – 1360 to 1393. 7
5.3. ROBERT DE LANGLEY – 1378 to 1447. 8
5.4. SIR THOMAS of Agecroft 1407-1472. 10
5.5. JOHN of Agecroft died 1496. 10
5.6. ROBERT of Agecroft, 1462 to 1528. 10
During the twelfth and thirteenth centuries, one of the newest inventions was a last name or surname. Before that you were simply Robert, William or John. Surnames usually came from one of four different sources. If your occupation was to sell meat then you became John Butcher. If you were the son of Stephen you became John Stephenson or John Fitzstephen. If you had White hair, then you became John White. If you were from an area called Langley then you would become William of Langley or William de Langley. This was a territorial name, and slight confusion arises from people moving from one area to another and consequently changing names.
Therefore, as Langley<![if !supportFootnotes]>[1]<![endif]> is a territorial name, our ancestor must have lived at a place called Langley.
The tree drawn up by Alfred Langley in the late eighteen hundreds shows the Lancastrian Langleys descended from Geoffrey de Langley of the third crusade with no indication of where he got the name. The tree proceeds to indicate that our branch settled in an area of the Manor of Middleton in Lancashire in about 1350 and gave our name to it.
However research has shown that this area called Langley was in existence prior to this, and so it is more than likely that this is where our name originated and we do not descend from Geoffrey.
The Victorian History of Lancashire tells us that in 1270, Sir Geoffrey de Chetham sold tenements in land called Langley to Roger de Middleton. Robert, son of Elis del Holt and heirs holding this property by homage and service.
In 1302 comes the first mention of a Langley, when William de Langley attested a Hopwood Charter. Who was this William de Langley? At the moment we can only guess. The Langleys of Shropshire incorporated the Pheon as their crest; this was the crest of the Holt family so we can assume he was descended from Robert del Holt as mentioned in the previous paragraph. The Cockatrice was also used extensively in the Langley family, this is supposed to be the Pendlebury crest. Using my imagination, here is a possible early tree…
<![if !vml]>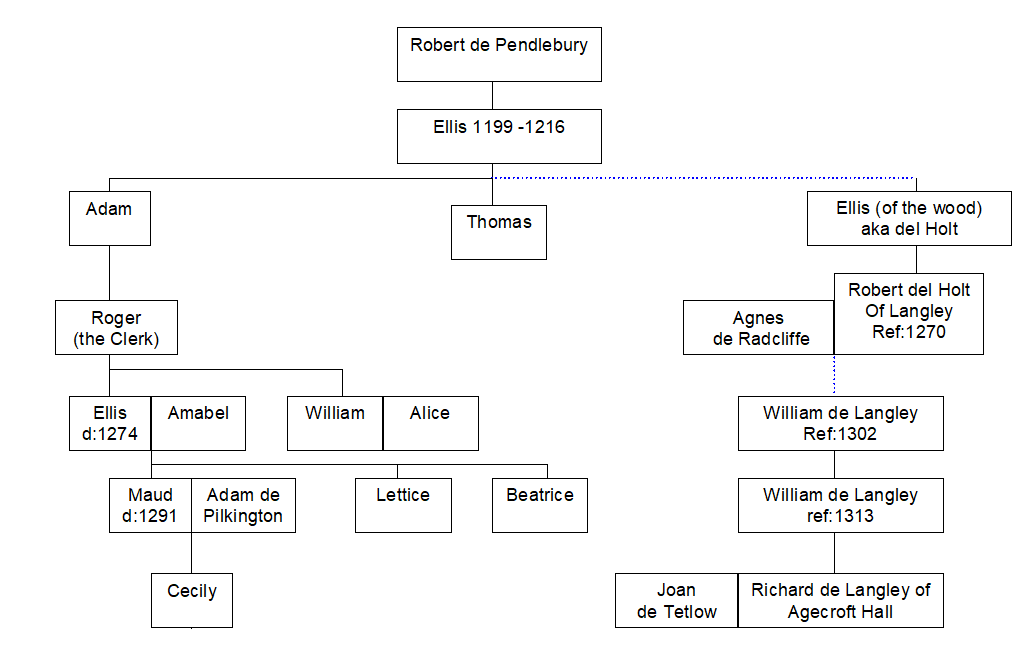 <![endif]>
Eleven years later, in 1313, William's son, another William, was called upon by Sir Roger de Middleton to defend his title to certain lands.
This second William had three sons that we know about.
<![if !supportLists]>1. <![endif]>William, born about 1316, became Rector of Middleton in 1351 and died in 1376. He appears to have been the patriarch of the family
<![if !supportLists]>2. <![endif]>Unknown son, he is unrecorded and little is known of him. He could have married a Hopwood heiress which would account for the Paly shield being used by his descendants. It is believed that the Hopwood family owed their origins to a younger son of a Middleton. This unknown son had a son William who married Alice, daughter of Thomas de Barton of Middleton and his wife Maud daughter of Roger de Middleton. William and Alice had amongst others, three sons. William of Langley, from whom descend the Langleys of Shropshire. Henry married Kaye of Woodsome from who descend the Langleys of Yorkshire. And Thomas de Langley the Lancastrian "Spin Doctor" who we will hear more of in this history.
<![if !supportLists]>3. <![endif]>Richard, born about 1323.
It is the above Richard de Longlegh or Longley from whom the Agecroft Hall Langleys descend.  He was originally intended for the church, however a slight problem arose while at Oxford, the following extract comes from records there.
Richard de Langeleghe from Lancashire was found guilty of fatally stabbing another clerk in the neck with a bodkin at Oxford on the evening of 16th March 1343.
Somehow he managed to wriggle out of this, and was probably given the equivalent of a suit case and a ticket to the colonies of the nineteenth century, which in those days would have been a suit of armour a sword and a shield and sent off to fight. This period contained many campaigns against the French, culminating in the Battle of Crécy on August 26 1346 in which the English army defeated the French.
Three years after this, he was back in Lancashire, and married to Joan or Joanna de Tetlow the 23-year-old eldest daughter of a neighbouring land owner, who was already, or was shortly, courtesy of the Plague, to become an heiress.
For an overview of the estates she was to inherit, and the resulting feuds, we must first take a look at the Pendlebury and Prestwich families.
Lies on the west bank of the river Irwell, 4-5 miles north west of the centre of Manchester.
In 1199 King John confirmed a gift of "one carucate of land called Peneberi" to Ellis son of Robert. The King had originally granted this land when he was Earl of Mortain (1189-99) and confirmed the grant when he became King. The deed was signed by the King at Le Mans in France and witnessed by Geoffrey, Archbishop of York, the Bishops of Sarum and St. Andrews, the Earl of Leicester and the Archdeacon of Wells as well as other gentry. Ellis is described elsewhere as Master sergeant of Salford and a benefactor of Cockersand Abbey.
In 1212 the Manors of Pendlebury and Shoresworth are given as being held by Ellis de Pendlebury to the King in chief of<![if !supportFootnotes]>[3]<![endif]> in theynage<![if !supportFootnotes]>[4]<![endif]> by a rent of twelve shillings. Pendlebury was assessed as one ploughland and Shoresworth as an oxgang.
Ellis died in or about 1216 and his son Adam succeeded him. Little is known of Adam and his son Roger the Clerk appears to have been in possession in 1246 and 1254.
The next occupier was Ellis who came to a violent death in 1274 leaving a widow Amabel and three daughters, Maud, Lettice and Beatrice.
In 1291, William de Pendlebury, uncle to Ellis's eldest daughter, Maud, claimed the estate from her widower Adam de Pilkington who said he had the estate for life because his wife, Maud, had borne him a daughter. The Jury who inquired found that the daughter, Cecily, had lived for a short time and had been baptised.
However by 1297 the manor seems to have been in the hands of Adam de Prestwich, because in that year he granted the manor to his son John. Then in 1300, Beatrice de Pendlebury, Maud's sister, released all her interest in the Manor of Pendlebury to Adam de Prestwich.
So we come to the Prestwich family.
Prestwich lies on the east bank of the river Irwel to the north of the Manor of Tetlow which was on the opposite bank of the Irwell to Pendlebury.
The first recorded member of the family is Robert of Prestwich mentioned in a list of adherents of Count John in his rebellion against his brother King Richard I. He was fined 4 marks<![if !supportFootnotes]>[6]<![endif]> to regain possession of his inheritance which had been detained by the king as security. Robert died before michaelmas 1206 and was succeeded by his son Adam I who paid a further 5 marks to secure his father's lands. In 1210 he held 10 bovates<![if !supportFootnotes]>[7]<![endif]> in Prestwich and Failsworth in Salfordshire in chief of the king in thenage. He also held 4 bovates in Alkrington in the east of the parish of Prestwich under Roger de Montbegon, Baron of Hornby.
The next occupier was Thomas, but it is not certain how he was related to Adam I.
Thomas's son was Adam II who was married twice, his first wife's name is not known but the second is recorded as Agnes de Trafford. However it is not clear if this was her father's name or a territorial one. By Agnes he had a son Henry upon whom he settled the manor of Wickleswick. William de Pendlebury in 1292 had given this manor to Adam II, and in 1300 Beatrice de Pendlebury quit claimed her rights in Pendlebury and Wickleswick to Adam II for £100. Wickleswick later passed to the de Trafford family and is now known as Trafford Park.
In 1297 Adam II granted his manors of Prestwich and Pendlebury to John his son and heir and Emmota his wife and their heirs. Although these two produced two sons, the property did not descend to them but to Adam II's other son, Adam III. This may have been caused by a family quarrel, which was patched up, and Adam III reinstated.
Just how Pendlebury passed to the Prestwich family is uncertain. There are a number of theories:
<![if !supportLists]>1. <![endif]>Adam II's mother was a Pendlebury.
<![if !supportLists]>2. <![endif]>Adam II's first wife was a Pendlebury.
<![if !supportLists]>3. <![endif]>Adam II purchased Pendlebury.
<![if !supportLists]>4. <![endif]>The Prestwich and Pendlebury families may have been one and the same; to wit there was a Robert de Pendlebury and Robert de Prestwich at the same time, also the name Adam crops up frequently in both families.
Adam III married Alice c.1290 This Alice was known as Alice de Wolveley or de Wooley. Her father was in fact Richard de Pontefact and the use by her and her son Thomas, of the territorial name Wolveley caused much confusion among genealogists until J.P.Eawaker calendared and transcribed the Agecroft Deeds in about 1880.
Adam III and Alice had two sons, Thomas and Robert, and three daughters, Alice, Joan and Agnes. By the normal rules of inheritance, the oldest son, Thomas, would inherit all the land (the entail) and the younger children would be provided for out of any money or personal property left by their parents. However, it seems that Adam and Alice wished to provide more fully for their younger son by leaving him the Manor of Pendlebury. To do this, they entered into a collusive deed to break the entail. In 1311 Alice and Adam both claimed that Alice originally gave the property to Adam, even though both knew this was not true. Adam then "gave" the manor of Pendlebury back to Alice for her life. The full deed follows:
This is the final agreement made in the Court of the Lord the King at Westminster in the Octave of St. Martin (Nov. 18) 5 Edward II (1311). Before William de Bereford, Lambert de Trikyngham, Henry de Stanton, John de Benstede, and Henry le Scrop, Justices, and other faithful people of the lord the King then being present. Between Alice daughter of Richard de Pontefract, plaintiff, and Adam de Prestwych, deforciant. Of the Manor of Penilbury and of 40 acres of land, with the appurtenances, in Prestwych. Whereupon a plea of covenant was summoned between them in the same Court, that is to say, the said Alice acknowledged the aforesaid tenement with the appurtenances to be the right of the said Adam, as that which the same Adam had of the gift of the said Alice. And for this acknowledgement, fine, and agreement, the said Adam grants to the said Alice the aforesaid manor and 20 acres of land with the appurtenances of the said 40 acres of land, and the same surrendered to the said Alice in the same Court. To have and to hold to the said Alice of the said Adam and his heirs during the life of the said Alice Yielding therefore yearly one rose at the feast of the Nativity of St. John the Baptist (June 24) for all services &c. to the said Adam and his heirs belonging, and yielding to the chief Lords of the fee for the said Adam and his heirs, all services which to that parcel of land belong. And after the decease of the said Alice the aforesaid tenement shall remain to Robert son of the said Alice and the heirs of his body, to hold of the said Adam and his heirs by the service aforesaid, for ever. And if the said Robert die without issue of his body, then the said tenement shall remain to Alice sister of the said Robert, and the heirs of her body, to hold as aforesaid, for ever. And if the said Alice sister of the said Robert shall died without issue, then the said tenement shall remain to Agnes sister of the said Alice sister of the said Robert, and the heirs of her body in manner aforesaid, for ever.  With clause of warranty.
And if the said Agnes shall die without issue, then the said tenement shall wholly remain to the said Adam and his heirs, to hold of the chief lord of the fee by the service which to that tenement belongs, for ever.
However, two years later in 1313 there was a similar collusive deed, this time between Adam and his eldest son, Thomas, who is described as Thomas de Wooley, in which all three manors were again left to Alice, but on her death they would all go to Thomas. This was not legal as far as Pendlebury was concerned, since that manor already belonged to Alice, so Adam could not re-grant it, and is especially curious since both deeds were "final agreements" decided in the King's Court at Westminster under the same four justices. This fine or deed was to be the subject of dispute for the remainder of the century
In 1310 Adam III was summoned to attend the King Edward II at London as a Knight. He died about 1318 and certainly before 1321/22 when Alice, who now held all the manors, petitioned the King for redress against the men of Cheshire who had entered her land and taken goods worth £200.
In 1331, Alice de Prestwich aka de Wooley died, and the trouble started.
It would appear that after his mother's death, Thomas hoped that the fine of 1311 in Robert's favour was lost, because he leased all three manors to Richard de Radcliffe to use for his life for a fee of 100 marks of silver. "Let all present and future know that I Thomas son of Adam de Prestwich and Alice de Wolueley have given and granted to Richard son of William de Radcliffe, my manors of Prestwich, Alcrinton and Pennebury with their appurtenances."<![if !supportFootnotes]>[8]<![endif]>
 (Thomas had inherited the manor of Wooley from his mother and was probably living there)
But Robert produced his deed in the King's Court at Westminster, and claimed his right to Pendlebury. Thomas and de Radcliffe were called to answer the claim, but they did not appear so Robert won his case and entered
Pendlebury. Thomas retained Prestwich and Alkrington and re-confirmed the lease to Radcliffe in 1333<![if !supportFootnotes]>[9]<![endif]>. But it was not until 1345 that Thomas relinquished all claims to Robert's lands in Salford<![if !supportFootnotes]>[10]<![endif]>
About 1349, Robert de Prestwich of Pendlebury died without issue, and so, according to the 1311 fine, Pendlebury passed via his deceased sister Alice who had married Jordan, son of Adam de Tetlow of Broughton in 1325 to her eldest daughter, Joanna de Langley (both her sons had died).
In about 1346, Thomas de Prestwich (de Wooley), Adam and Alice's eldest son died leaving two daughters to co-inherit Prestwich.  But since both were underage they became wards of Henry, 4th Duke of Lancaster, who, according to custom, appointed a guardian for them. This was Richard de Radcliffe, who still occupied Prestwich.
In about 1350 the eldest daughter, Margaret, was placed in a Benedictine Convent at Seton in Cumberland where she apparently took her vows on November 26, 1360. Radcliffe then proceeded to marry the youngest daughter, Agnes, to his son John de Radcliffe, thus neatly keeping a half share of Prestwich for the Radcliffes.
However there was more to it than this, as a nun can not inherit or own any property, the Radcliffes could now claim full title to the Manor after the death of Thomas's widow, Alice, which occurred in February 1356/7.
In this plan however, they were thwarted, as Agnes died in 1362 without issue seized of the whole of the manor, advowson etc. of Prestwich.
In accordance with the remainder clause of the 1311 fine, the manor of Prestwich now passed to the person next in line, namely her first cousin, Joanna de Langley.
But then Robert de Holland turned up. First however we must return to the Langley family.
When we left the Langley family, Richard or Richard de Langlegh as the name was written, had married Joan de Tetlow. Whether her future inheritance was already guessed at is unknown. Probably it was clear that Joan's Uncle Roger was approaching middle age and childless. However it would appear that the plague of 1349, which depleted the population by one third, speeded things up. When Roger de Prestwich died, the Manor of Pendlebury passed to his sister Alice de Tetlow who had died, as had her two sons, so this left Alice's eldest daughter Joanna de Langley as heiress to both the Manors of Pendlebury and Tetlow.
In February 1351/2 Richard de Langley and Joan were parties to a fine on the manor of Pendlebury and of seven messages and 405 acres in Broughton<![if !supportFootnotes]>[11]<![endif]>, Chetham, Crompton, Oldham and Wernyth by which these properties were settled on Joan and her husband and the heirs of their bodies. In default the remainder to William de Walden (Walton) and his wife Katherine who was Joan's sister. William de Langley, Rector of Middleton, acted as guarantor.
From a deed of 1369 it would appear that Richard and Joan lived at Tetlow. There is reference to only one child being born to them; this was Roger the son and heir in 1360. As this was ten years after their marriage, it must be assumed there were other children. There may have been daughters or sons who died early, there was a return of the plague in 1361 that might account for this, or it is possible that Richard spent a lot of time fighting in France.
When Agnes de Radcliffe, wife of John de Radcliffe, died in 1362. Her father in law, Richard de Radcliffe, who had been granted Prestwich by Thomas de Prestwich (aka de Wooley) acknowledged the right of Richard and Joan de Langley to the manor of Prestwich and the advowson of the church. In return for this acknowledgement, Richard and Joanna made an agreement in March 1366/7 to levy a fine on the manor of Prestwich to the use of Richard de Radcliffe and his wife Isabella. The Radcliffes agreed to support the Langleys interests against any external interference (an allusion that will be shortly seen to Robert de Holland.) Richard de Langley died shortly after this (before October 1369) when his son and heir, Roger, was only 9 years old. The Babes in the Wood legend suggests that he died fighting in France.
Roger was born about 1360 (when his mother died in 1374 his age is given as 14). Either shortly before or after his father's death in about 1369, he was married at the young age of 8 or 9 to Margaret or Marjorie, daughter of Sir Thomas Booth of Barton. Marriages as young as this were common at the time for the purposes of holding land and providing heirs. In 1369, his mother Joanna granted lands in Tetlowe, Alkrington and Oldham to him and his wife.
Roger, as a minor, now came under the guardianship of John of Gaunt, Duke of Lancaster.
In 1371 Robert de Holland appeared on the scene, claiming he was married to Margaret de Prestwich (the nun) and so entitled to Prestwich and the Radcliffes quit claimed the manor and advowson of Prestwich in favour of him and his "wife" Margaret de Prestwich. 
Shortly afterwards, Isabella de Radcliffe now widowed, realised they had made a mistake and entered into a bond with the young Roger de Langley for the payment of 100 marks. She agreed to compound this over the next seven years or remit entirely if Roger could protect her from loss as a result of Prestwich being occupied by Robert and Margaret de Holland or better still get Margaret canonically recalled to her convent at Seton in Cumberland.
In 1374  Joan de Langley died, and John de Botiller, Sheriff of Lancashire, took control of the estates on behalf of the Duke of Lancaster on account of the minority of Roger. However, to quote the legend<![if !supportFootnotes]>[12]<![endif]>.
On the morning of the Feast of Ascension in 1374, the villainous Robert de Holland "with many others assembled with him, armed in breast plates and with swords, and bows and arrows, by force took possession of the said lordship of the duke, in defiance of the Sheriff, and to the contempt of the Lord Duke".
There are many versions of the story handed down, that the young Roger and either his sister, or his young bride were kidnapped by Holland and managed to escape, or that they fled from Tetlow before Holland arrived heading westward towards the Irwell river and Pendlebury beyond it.
Young Langley and his sister escaped to the shelter of the forest which covered the slopes of the Irwell valley, cared for by loyal retainers until Lancaster rescued them.
In the modern day pantomime "Babes in the Wood", which folklorists believe is based on the above event, the credit for their rescue is given to Robin Hood.
The "John of Gaunt Window" in Agecroft Hall, which Roger later built, is said to have been placed there as a tribute to Lancaster for his help.
In 1375/6 Robert and Margaret de Holland quit claimed on behalf of themselves and their heirs to Roger de Longlegh and the heirs of his body all their rights and claims in all those lands and tenements whereof Robert, son of Alice de Wooley, was seized in the Vills of Pendlebury, Achecroft and Prestwich. This is the first mention of Agecroft, but as a village not the family seat.
 A week later on the 19 February, the Hollands concluded the agreement with Roger confirming the quit claim of the previous week, while Roger released to the Hollands all his claim in the lands belonging to Thomas, son of Adam de Prestwich and the advowson and half of Alkrington. Ownership of the other half was to be the subject of arbitration. However if the Hollands were to die without heirs the lands were to follow the fine of 1313 and revert to Roger.
Things quietened down a bit after this. Roger collected his bride, and it would appear he was in the Dukes household, as their eldest son, Robert, was born at Huntingdon on 6th June 1378 and was baptised at Eccles.  Roger and Marjorie now settled back in Lancashire and set about the building of Agecroft Hall where they were living when a deed was signed in 1390.
In 1389 there was an affray at Spotland near Rochdale between rival factions led by Robert de Holland and William de Radcliffe. Robert and his friends and retainers ambushed Radcliffe as he rode home from Rochdale. William escaped safely through the shower of arrows and, reaching his manor, gathered together his sons, William Richard and Robert, with Robert de Howarth and William Jenkinson, his friends and a party of servants. They came upon the Holland faction with swords, bows and other weapons "to the great fear of the whole parish there assembled".
In the same year – 1389 – Robert de Holland appeared before the justices of the County on account of his involvement in a number of other affrays or trespass (some involving some of the same people as that at Spotland). He admitted these and was fined £10. Evidence was also given on his seizure of the manor of Prestwich but this was not finally decided until 1394, although there is a suggestion that the left Prestwich at this time.
Roger died on 26 October 1393 aged 33 leaving three sons that we know of: Robert his heir, Henry a clerk who occurs in 1404 and Thurston, the first Langley Rector of Prestwich. Roger's inquisition gives him as holding the manor of Pendlebury as one ploughland at the rent of sixteen shillings and a messuage called Agecroft the family seat by a rent of six and eight pence.
The Escheator of Lancashire at Prestwich assigned his widow dower in 1394<![if !supportFootnotes]>[13]<![endif]> She was to have a reasonable part of the manor of Prestwich together with the hamlet of Alkrington among a long list of holdings including
the chapel at Prestwich and a stable near hand. She was also assigned a third part of all houses in Achecroft. This would seem to confirm that Prestwich and Pendlebury were now firmly in the hands of the Langleys.
Robert was 15 when his father died; however he had already been married to Katherine, the daughter of William de Atherton in 1391. The conditions of the marriage agreement made between his father and William are complicated, but Robert and Katherine were to have land in Pendlebury, Oldham and Crompton and property in the vills of Broughton and Chetham "called Tetlawe"
The Prestwich problem was finally wrapped up in 1394. In August of that year the trial before the justices that had begun in the court of the Duchy 1389 (to determine the dues from the manor of Prestwich) came to an end.
The Archbishop of York who had been making enquiries on behalf of the King (Richard II) sent a certificate dated 28 June 1394 to the king declaring that; "Margaret daughter of Thomas, son of Alice de Wolveley was a nun and professed in the house of the nuns of Seaton." Robert de Holland denied at the trial that Margaret was a nun professed, and Margaret herself appealed for dispensation on the grounds that. "In her eighth year, or thereabouts, certain of her friends compelled her against her will to enter the Priory of Nuns of Seton, Order of St. Augustine, and to take on her the habit of a novice.  She had remained there as in a prison for several years, always protesting that she never had made nor ever would willingly make any profession. And seeing that profession must exclude her from her inheritance, she feigned herself sick and took to her bed.  But this did not prevent her being carried to the church at the instance of her rivals, and blessed by a monk in spite of her cries and protests that she would not remain in that priory or in any other Order.  On the first opportunity she went forth from the priory, without leave and returned to the world, which in her heart she had never left, and married Robert de Holand, publicly, after banns, and had issue".
However the judgement went against them and Robert de Holland was ordered to pay to the Duke the profits of the manor for the last five of the seven years 1374-1381 i.e. during Rogers's minority.
We will probably never know the true facts, but I suspect that Richard de Radcliffe, as her guardian, had her placed there in order to obtain the entire estate for his son who he had married to Agnes. Just why, as a result of this, she and de Hollands children did not inherit Prestwich is a mystery.
In 1398 John of Gaunt, Duke of Lancaster issued a writ freeing Robert de Langley from a rent charge of 11 marks.<![if !supportFootnotes]>[14]<![endif]> The deed states that the Duke had previously granted to Robert, being under age and in our wardship, the wardship of Prestwich and Alkrington "being in our own hands because of his minority" for which he was required to pay the 11 marks rent. The writ continues "And whereas we have retained the said Robert with us for our service for the term of his life and for the good and agreeable service which he has to us done and will do. We have pardoned and released to him the rent for the previous year and until he come of age in 1399.
It was customary at that time for sons to be sent to live in the households of the local Lords – a bit like being sent to boarding school – and from the above it would appear that Robert may very easily have spent his youth in Gaunt's household. He would however have had at least one relation there, this was his second cousin, Thomas de Langley, who was Gaunt's clerk and chief advisor.
In 1400 Robert started handling his own affairs, and presented Geoffrey de Frere as Rector of Prestwich. However the king disallowed this, probably because Robert had failed to make proof of age until 1402 and the king appointed Nicholas Tyldesley instead.
It would appear that a certain John Pilkington occupied the Manor of Prestwich at about this time, possibly as local guardian for Robert
In December 1401 Robert de Holland surrendered to Robert all claims on the manors of Prestwich, Alkrington and Pendlebury. He also agreed to hand over the deeds in exchange for 5 marks a year for life this would continue for the lives of his four sons if they did the same.
In 1402, Robert de Holland pushed matters too far. He was described as a noted swashbuckler, and had been outlawed for treason. Having burnt a house, and on two occasions driven cattle away from Prestwich; Robert de Langley went after him and captured him at Glossop. But as would happen today happened then, and Robert de Langley was accused of a breach of the peace. However with his connections at Court, Robert was pardoned by the king who described him as having been in the King's service "after our coming to England".
In 1417, Robert presented his brother Thurston, as Rector of Prestwich upon the death of Nicholas de Tyldesley and after his death in 1436 he presented his son Peter.
Robert died aged 68 in 1446, his mother Margaret was still alive and living at Tetlow which appears to have been the family dower house as his widow Katherine now retired there.
Robert and Katherine left the following children.
<![if !supportLists]>1. <![endif]>Thomas, the heir.
<![if !supportLists]>2. <![endif]>Piers, mentioned in a marriage settlement of 1412<![if !supportFootnotes]>[15]<![endif]>
<![if !supportLists]>3. <![endif]>Peter, Rector of Prestwich 1436 to 1445
<![if !supportLists]>4. <![endif]>John, mentioned as defendant in an Alkrington case in 1470.
<![if !supportLists]>5. <![endif]>Ralph, succeeded his brother Peter as Rector of Prestwich. In 1465 he became Warden of Manchester Collegiate Church. He died in 1493 and was buried in the Rector's chapel in Prestwich. I have a note to say that he was knighted and his coat of arms is given as Argent, a cockatrice sable beaked and wattled gules; this is the earliest reference I have to the Langley arms.
Although to date, this history has concentrated on facts gleaned from deeds and fines. It was at this stage of the family history that I started to look at the historical background of the times, and wonder what part the family might have played in them and what social gatherings might have taken place.
In 1398 things started to go wrong for the Lancastrian family. King Richard II exiled Henry Bolingbroke, (Gaunt's eldest son) for ten years. Then on February 3rd 1399 Gaunt died at Leicester. We can only imagine that Robert de Langley was in the Duke's household at the time, and accompanied the Dukes body on the trip to London where he was buried in St. Paul's on 16th March.
Shortly after this King Richard II extended Bolingbroke's exile to life and confiscated his estates dividing them amongst his cronies.
On June 6th 1399, Robert reached his maturity. Was this celebrated at Agecroft? And did it help change the course of English history? Present would have been representatives of all the great Lancastrian families: Ashetons, Atthertons, Bartons, Booths, Chethams, Radcliffes, Traffords, William de Langley of Middleton, with his brother Thomas,
Thomas, now the executor of Gaunt's will and consequently responsible for the Lancastrian estates, was ostensibly there for the celebrations, but had he other reasons?
We can well imagine the topics of conversation. The worsening political climate. The continued megalomania of Richard II who was currently on campaign in Ireland; the exiling for life of Gaunt's son Bolingbroke now Duke of Lancaster; the confiscation of Bolingbroke's inheritance which had been divided amongst the king's cronies, one of whom would shortly become their over lord.
Wandering amongst the gathering, having a word here, another word there, reminder of a debt owed, a favour recalled. Stirring up worries, subtly offering solutions and sowing the seeds of revolt, was Thomas de Langley, who, in his biography, Ian C. Sharman describes in today's language as a spin-doctor and fixer, a practitioner of the devious arts so well described 150 years after his death by Machieveli.
Are the above celebrations and events all in my mind?
We know that Robert was 21 on 6th June 1399.
Historical documents record that Thomas de Langley was in Lancashire at the end of May early June of that year. (If he were, surely he would have attended his cousin's celebrations?)
More historical data shows that Thomas de Langley arrived with about 300 knights at Pontifact towards the end of June to meet up with Bolingbroke, who had returned from France, with fifteen supporters.
The wording of deeds would indicate that Robert was with him.
Upon meeting up at Pontifact, Bolingbroke made Thomas his secretary and presented him with the ducal signet, effectively giving him the control of all his affairs, and consequently making him one of his closest advisors<![if !supportFootnotes]>[16]<![endif]>.
During the summer they travelled through the country picking up more supporters until at Chester they came upon King Richard II who had hastily returned from Ireland. Richard was persuaded to abdicate and Bolingbroke was crowned Henry IV on 13 October, and so the House of Lancaster was formed.
It would be nice to think that the basis for these events was formulated in the great hall at Agecroft.
Sir Thomas succeeded his father at Agecroft in 1446. In a Kings Licence dated at Scroby on 6 May 1460 and granted to Archbishop William Boothe and others. Thomas and his father, Robert, were mentioned by name to be specially prayed for in the chantry of St Katherine in Eccles Church. He married Margaret, dau. of Sir John de Asheton, and died in 1472 leaving two sons that I know of.
 Rev Ralph, Rector of Prestwich, he was a BD and was instituted 1st May 1493 he resigned 4th September 1498.
            John, of Agecroft. His heir.
He married 1st the widow of Osbaldstone, and they had two children:
            (ii) Nicholas.    
            (ii) Katherine.
John married 2nd Maud, dau. of James Radcliffe and by her had 8 children.
(ii) Rev. Thomas, his brother Robert, presented him as Rector of Prestwich in 1498, and he is described as the friend of Hugh Oldham Bishop of Exeter. He was executor of the will of Isabel, widow of Robert Chetham. In 1523 he is described as Sir Thomas Langley late Parson of Prestwich and occurs along with Sir William Langley now Parson of the same.
            (ii) Robert born 1462, his heir.
(ii) Ralph,
            (ii) Margaret, married Godfrey Shakerley, son of Peter Shakerley of Shakerley.
            (ii) Agnes,
            (ii) James,
            (ii) William,
            (ii) Richard,
Born 1462 and died in 1528, (Burkes is incorrect in giving is death as 1512) having married Eleanor, dau. of William Radcliffe of Ordsal.
His will is as follows:
In dei noie amen Anno dui Memo Dmo XXIIIj mo die mensis februarij vicesion secudo  (1524-5)Ego Robert Langley armig copos ment et Sane Memorie (videns mudu hui fore Caducu ejsg times fragilitatem et ne subito me mors occupet) Condo meu testametu siue meam ultiam Volutatem in hoc modu. In Pinis lego aia mea deo oipotenti the marie iobsq sus et Corpus quoq meu sepeliend in nua capella ex pte australi pochialis ecclie bte Marie de Pstwyche. It lego meu au iu  noie mortuarij mei.  It when my funale expenss and my detts ben payed I will the residue of my goods by my executors be devided into iij pats.  On pte therof to the performance of this my will as here after dothe ensue. It the secude pte therof to Aelenore my wiff. It the thride pte therof unto my ij sons Edmund Longley and Lawrens Langley equaly by my executors to be devyded to theym.
It I will my executors shall take of my said thryde pte to ye flagging of ye flore of ye said new chapell.
It I beqwith to ye building of ye poche churche of owre lady of eccles vj Li. Xiij s. iiij d. to be payed and delyvered to ye said werke by executors as the werke gothe furthe.
It I will that if any goods of my said pte doythe remayne my executors shall dispose it as they shall think most convenient.
It I beqweth to my Cosyn Robert Langley heire apparent unto me. The said Robert a sylu pese wt a Cou to ye same. My best fether-bedde ij couletts ij blankets a payre of schets, a bolstar and ij peloys my best hangying of ye chamber wt ye best couying belongying to ye same bedde. Also all thyges appartenying unto ye chapell that is to wit A chales, a masse boke, al vestiments for a pst to say masse wt and altare portatile wt oye cloths belongyng to ye awt.  Also I beqweth to the said Rovert on wayne a plygh wit ij yoke oxen my gratts potte sylu spones and a dosen of brode pewt dyschys a dosen of narrow pewt dyschus. Also all things applenying unto ye hall as qwecionse wt ye hengyng of ye hall.
Itm I beqweth unto my dought Anne grenehalgh ij kew wt ij calves.
Itm I will yt Elenore Longley and Johanee Longley doghters of my son Thomas Longley if they will be rulet and conselde by theyre broy Robert Longley and by my executors and also upon condicion yt Cicile my doght in lowe late wife to my foresaid son Thomas Langley will be gud and kinde  unto Thomas Schols his wiff and chulderyn and unto all oy of hyr tenants either of them v marks toworde theyre mariages.
Item I will on trentall of masses be songyn for me as Pstwych ye daye of my buriall if so many psts can yed that daye to saye masse.
Itm I will an oy trentall of masses shall be sayed for my sawle at Machest as hasterly as can be aftre my decesse all opon an oy daye.
Itm I will the said John Mosse shall do and saye sui at Pstwyche for on yere for my sawle and all Chystyn sawls and shall hafe for his stipende vj markes wech vj marks my executors shall take v of my pte of goods.
Itm. I order my executors my bro Thomas Langley late pson of Pstwyche, my son William Langley pson of Pstwyche and Aelenowre my wiff. To execute pforme and fulfill this my testament and last will accordyng to ye pmiss.  In witnesse wher of I the said Robert Langley hafe set my seal and sigmanwell yeven the daye  and ye aforesaid.                                                                                                                Proved at Chester 1 April 1528.
His widow, Eleanor, also left a will, the following is an extract.
To my cose Robert Langley Esq XXs  It to my cose Cecile his wyff vjs viiijd.
To my doght Anne Grenehalgh iij Li a shodying bedde wt ye hengynge of ye said bedde and an matares. Also to my son Edmund iij Li. To my son Laurans iij Li.  To my sister Clemens Chetham vjs viijd. To Elenore Pstwych (Granddaughter) xxs. To ye doghts of my son Thomas Langley, Elenore and Jone eyther of them xLs.
Also I will that my son pson shall have my feather bedde.
To ye wyff of Thomas Holland a pan. To Elenore Pstwych and Anne her sister a coper. To Alys Rydych a materes and iijs iiijd. To the daughters of John Grenehalgh, Elizabeth and Anne. Also my son Wyllm Langley Pson of Prestwich.
Robert and Eleanor left the following children:
(i) Anne, married John Greenhaugh.
(i) Agnes, married Ralph Prestwich.
(i) Rev. William, Rector of Prestwich, he was instituted in 1523. In October 1559 he failed to attend a meeting of the Elizabethan Church, but later subscribed. In 1568 he was deprived of the living because his conscience would no longer allow him to minister.
With the reign of Elizabeth, Thomas returned to England and was presented by the Queen to the Rectory of Welford in Berkshire on 7th December 1559 having already been given a Canoncy at Winchester by the Crown on 6th October.
After 12 years of study he was admitted BD at Oxford on 15th july 1560.In 1563 he was presented to the Vicarage of Warbourough Wiltshire. He wrote many religious books and thesis during his lifetime. His will was dated 22nd December 1581 and he died before the end of the year.
(ii) Edmund,
            (ii) Laurence, our ancestor.
Laurence married Katherine and left 3 children.
(i) Robert, married Mabel, dau of Thomas Tiddersley of Wardley and had issue
(ii) Thomas, of Brasenose Coll Oxford 1579, married and had a son, William, Rector of Cheadle Staffs, he married Katherine Assheton, Chadderton.
The following is an extract from an essay found amongst the Assheton papers at Chadderton, although the dates do not seem to fit, I believe it to have been written by Thomas, William's father.
"I was borne at Prestwiche anno christi 1596. My father M. Langley beign at that time curet to his cosen who was ye parson there. I was brought up there in my youth, and went to ye Gramar Schole at Manchester where I received good instruction in gramar learninge before I was enterd  at Bragennose Colledge Oxon. My father being wrought upon by Mr William Langley and M Asheton of Chadderton to send me there. I was from my youth given to industry and was seasoned well with pure religion and letters so that after I commenced Master of Arts I was chosen to read the humanity lecture.
When I was a child I did as the apostle says children doe, I was tempted with luste and after was frequently troubled with fits of incontinence many times.
Nor did I ever before I went to Oxon drink a helath, but at Oxford I quickly began to drink healths with so doing I was twice extremely sick upon my first wakeing fynding my stomak sore opprest I did arise about three of clock and went into the fellows gardinge for it was somer, when I sat down was so vehemently opprest with payne that I thought I should have dyed instantly. Whereupon I vehemently lift up my heart to God that he would pardon me and preserve me at t his time and I would never do so agayn. Whereupon I instantly vomited apples which I had eaten, which had been so parched and dryed in ye stomak that there was no ioyce of moysture remayning in them. And presently after I was rid of payn and felt very well again."
I believe the following people also fit in as children of the above Robert, although their mother's name is given as Isabel.
(ii) Lawrence, born 1570, entered Brasenose College, Oxford 1588.
(ii) Edward, christened in Manchester Cathedral 1 Dec. 1573.
            (ii) William, christened in Manchester Cathedral 16 Jan, 1575.
            (ii) Alice, christened in Manchester Cathedral 24 July 1577.
            (ii) Margaret, christened in Manchester Cathedral 8 July 1580.
            (ii) John, christened in Manchester Cathedral 12 Dec. 1581.
(i) Isabel,
(i) Rev. William MA. the eldest son, Rector of Prestwich 1568 – 1611 and died at Prestwich 14 Oct. 1613. He married Anne who died 1627, they left 7 children.
(ii) Deodatus, married 9 Nov. 1612, Maria Edge of Prestwich and died 1623 leaving 5 children.
            (iii) Thomas, christened at Prestwich 24 Oct 1613.
            (iii) William, christened at Prestwich 18 Oct 1615.
            (iii) Henry, christened at Prestwich 23 Aug 1618. See Langleys of Ireland.
            (iii) Dorothea, christened at Prestwich 6 Jan 1620. Living at Bury in 1666.
            (iii) Edmond, christened at Prestwich 5 May 1622
(ii) John, Rector of Prestwich 1611-1632 Educated at Cambridge, married Alicia, (she d. May 1629 and was buried in Prestwich 11 May) John d. Aug. 1632 and was buried at Prestwich 16 Aug).
            (iii) William, born 1611.
(iii) Anna, christened at Prestwich 4 Oct 1612, married 14 Aug 1634 to Edmond Tetlow.
(ii) Mathias, married Mary Moore.          Registered his arms as the Mermaid and Cockatrice quartered.
            (iii) William married Jane Broom.          
                        (iv) William. Rector of Lichfield
(iv) Mathias.
(iv) Ralfe.
(iv) Joy.
(iv) Jane.
                        (iii) John.
(iii) Joan.
(iii) Ellen.
(iii) Anne.
            (ii) William.
            (ii) James.
            (ii) Elizabeth, married 1604 John Glover.
            (ii) Elinor, married 1606 William Edge.