! side panel> <! side panel>
Samuel Dawson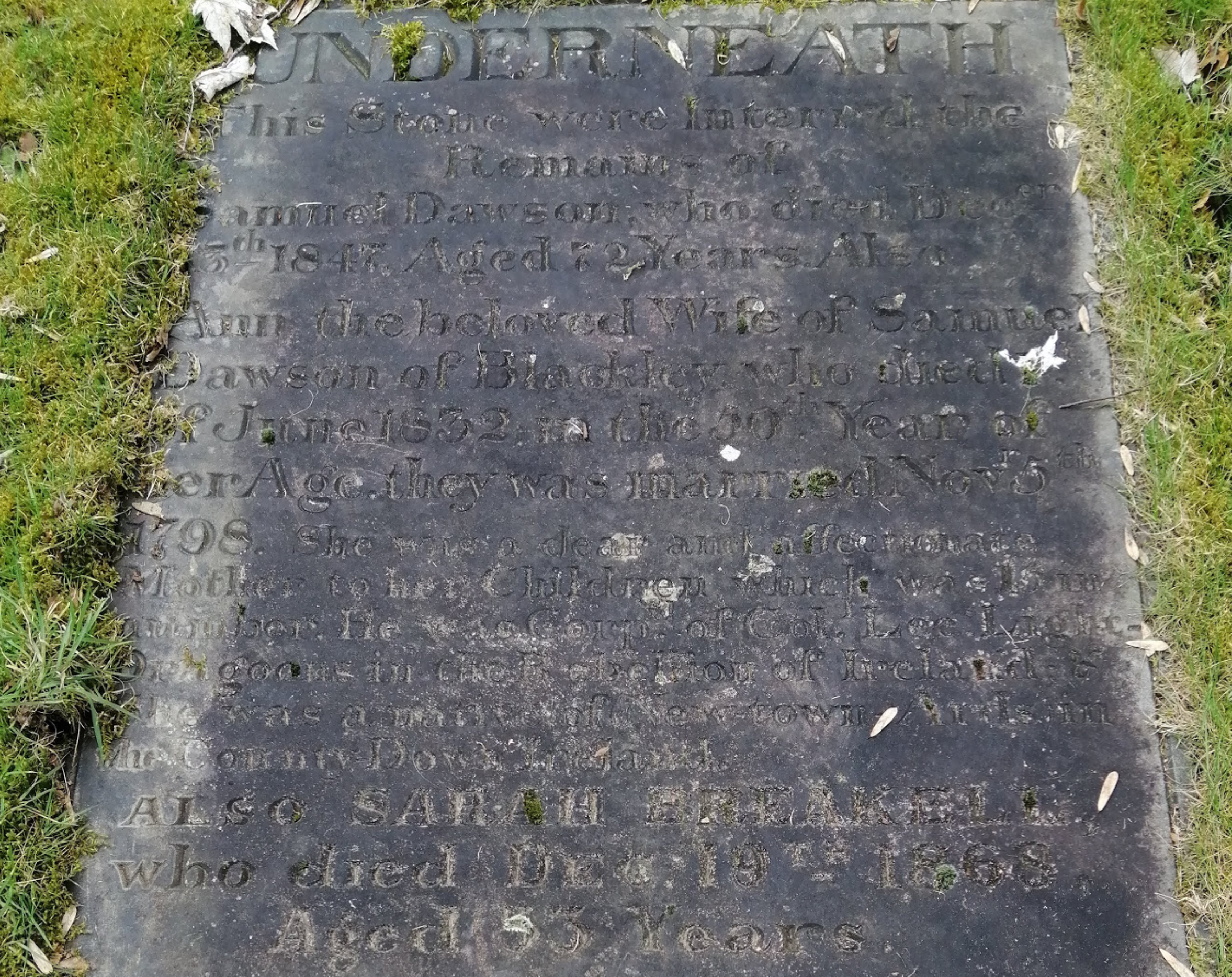 Corporal of Col. Lees Light Dragoons

A flat grey slab in Stmary's churchyard records the burials of Samuel, his wife Ann and their daughter Sarah. The stone is noteable as it mentions the marriage of Samuel and Ann, along with Samuel's service in the 16th Light Dragoons in the "Rebellion of Ireland".

[in addition Samuel's burial record has his name as Thomas Samuel Dawson]

UNDERNEATH
This stone were interred the
remains of Samuel Dawson who died Dec
13th, 1847 Aged 72 years, Also
Ann the beloved wife of Samuel
Dawson of Blackley who died 7th
June 1832 in the 50th year of
her age, They was married November 5th,
1798 she was a dear and affectionate
mother to her children which was 15 in
number, he was in a Corp of Colonel Lee Light
Dragoons in the Rebellion of Ireland,
she was a native of Newtown Ards in County Down Ireland
Also Sarah Breakell
who died December 19th 1868 Aged 53 years.

The information inscribed indicates Samuel was born about 1775, and his wife was born about 1782.[There is a baptism of a Samuel Dawson in 1778 at St Mary's]. Presumably he met his wife on duty in Ireland about 1795-1800. The Colonel Lee referred to was William Lee, Baronet, born in 1764 the first son of Sir William Lee, 3rd Baronet Hartwell; nephew of Field Marshal William, Earl Harcourt.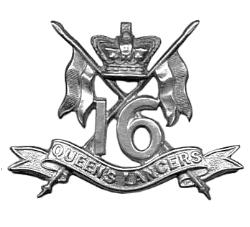 16th Light Dragoons Badge



Lee had been appointed Major in 16th Light Dragoons in March 1794, the regiment that Earl Harcourt had also once commanded during the American Revolution in the 1770's (the 16th having been raised by the Earl's father). Lee had served with the 16th in Flanders 1793-1795 and on the continent from 1794 to 1796, he then served in India 1801, where he died in Madras, in 1801.

The regiment had returned to England from America in spring 1779. Proceeded to Ostend in April 1793 to serve in the Flanders Campaign and was present at the Sieges of Valenciennes and Dunkirk in 1793, and the Siege of Landrecies in 1794.


Valeciennes 1793



It also took part in the Battles of Beaumont, Willems and Tournay that same year. They then returned to England in February 1796.

There is a marriage between Samuel and Ann Holt both 'of this parish', on 17 Sep 1798 at St Mary's.

In 1798 rebellions had took place across Ireland followed 3 months later by French invasions of counties on the Western coast of Ireland. The rebellion was repulsed and Act of Union followed in 1800.

However into the 19th century, Ireland was still a seat of unrest, and smaller attempted rebellions continued. The regiment was garrisoned in Ireland between Autumn 1802 and 1805. and Samuel's grave stone probably refers to the Rebellion of 1803

Rebellion preparations had been hidden, but an accidental explosion meant the date was brought forward. On 23rd July 1803, the rebels planned to seize Dublin Castle and other strategic points around the city, and riots broke out in the streets. One Dragoon was dragged from his horse and executed, and Lord Kilwarden,Lord Chief Justice of Ireland was also hacked to death by the crowd.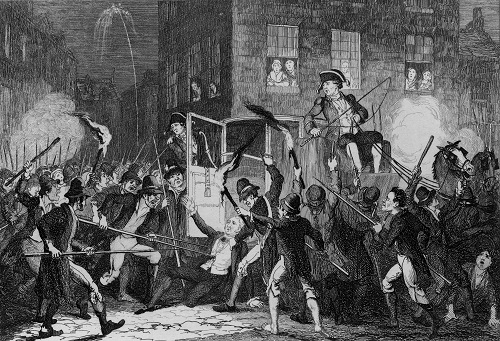 Murder of Lord Kilwarden 1793



'Pike after pike was thrust through his body, till at last he was nailed to a door, and called out to his murderers to "put him out of his pain." At this moment, a shoemaker, who lodged in the garret of an opposite house, was drawn to the window by the horrible cries he heard. He stood at the window, gasping with horror, his wife attempting vainly to drag him away. He saw the last blow struck—he heard the last groan uttered, as the sufferer cried, "put me out of pain," while sixty pikes were thrusting at him. The man stood at his window as if nailed to it; and when dragged from it, became—an idiot for life.'

Melmoth (1820), Vol. 3 [Chap. XII], p.34

This resulted in the Rebel leader, Robert Emmet, who had witnessed the violence of the executions, calling off the uprising. Estimated fatalities stood at 20 military and 50 rebels, with the 16th losing several men and horses during the rebellion.

Emmet fled but was later caught, tried, hung and beheaded on the same street where Lord Kilwarden had met his end.


Emmet's Execution



By the time the 16th Dragoons left Ireland for Guildford in 1805, Samuel would have been aged 30. Upon their return to the mainland, the 16th served on Royal duties for a while, and in 1809 they deployed to the Peninsula War and ultimately served at the Battle of Waterloo in 1815. It is assumed that Samuel didnt continue service with the dragoons as the inscription only mentions the Irish Rebellion, in 1815 Samuel would have been aged 40.

Samuel appears in the 1841 census, living at the Turf Tavern Kersal Moor, with a Mary Dawson aged 60. Six yeasr later he had died aged 72.

[Read about Prestwich's Waterloo Veteran William Percvial]



When November comes round, all ex service personnel buried or memorialised at St Mary's get a poppy delivered...so long as the graves are reachable. Feel free to join the churchyard volunteers maintaining the Dawson family grave and others, on Tuesday mornings.
Or donate to help us get in the professional tree surgeons and stone masons.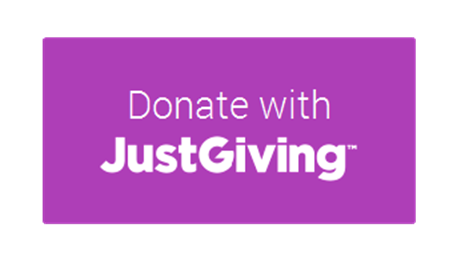 Donate to the upkeep of the St Mary's Churchyard




Remembrance :
Remembrance of those that have served the Nation in conflict.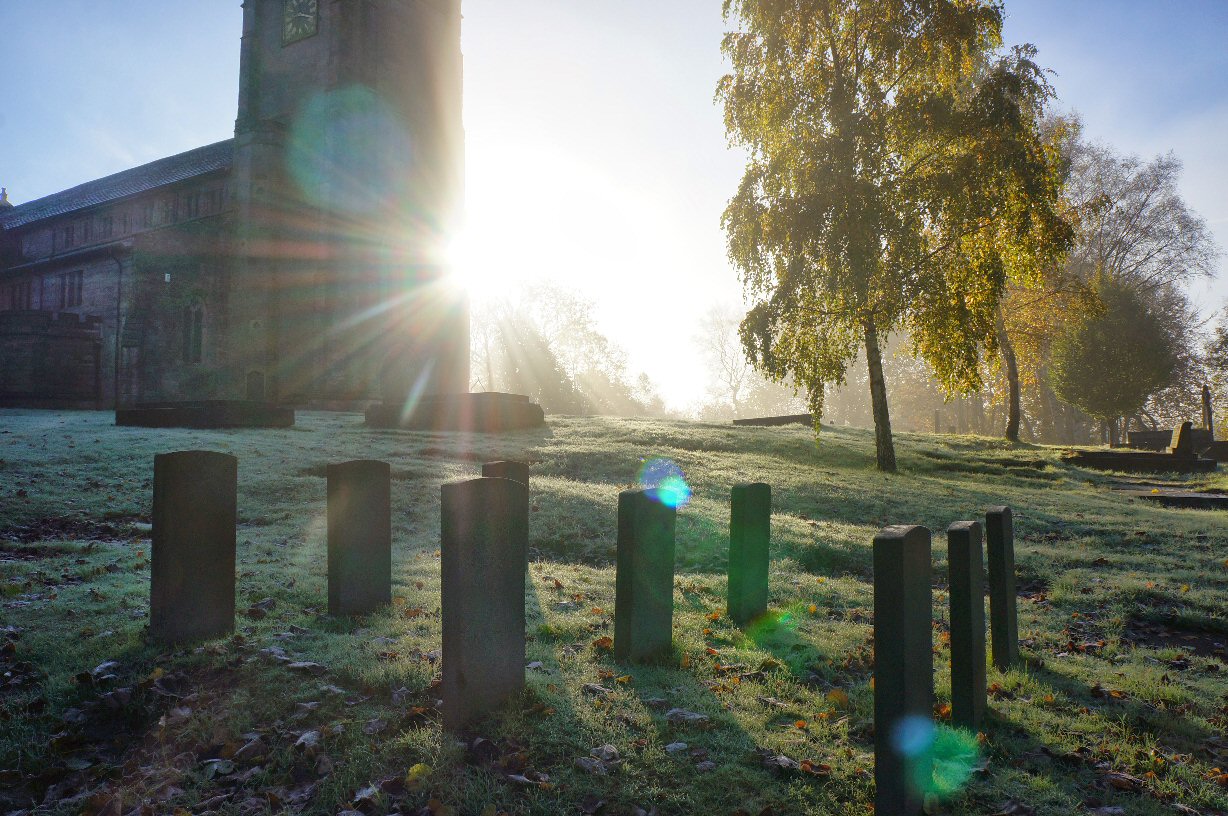 Remembrance in & around Prestwich