! side panel> <! side panel>
John Brooks
With reference to:
[Brooks & Cunliffe Banking]
[Annals of Manchester]
[Bookers monuments of Prestwich]


The most impressive monument in St Mary's churchyard in Prestwich is that to John Brooks (1788-1849) and his wife Alice (1794-1852).

John was the son of William Brooks (1763 - 1846) and Sarah (nee Greenhall). The Brooks family lived in Whalley in the Ribble Valley, during the 18th century and had been a family of farmers who then became involved in textiles.

William Brooks (b:1763) was a supplier of raw cotton and twist to spinners in the local district. The raw cotton was then carded, using fine-toothed brushes which prepared it to be spun. In 1792 William went into partnership with his friend, Roger Cunliffe (b:1767). The Cunliffe family had been involved in cloth since Elizabethan times, and otiginaterd from Rishton, just 4 miles away from Whalley as the crow flies. The men established as Cunliffe, Brooks and Co, weaving calico, a cotton fabric, in a hand loom mill in Blackburn.

The Industrial Revolution depended on the development of banking services to facilitate trade and manufacture, through the provision of loans and credit as well as offering a safe store for spare cash from successful customers.


The cotton firm of Cunliffe, Brooks and Co. succeeded but the partners realised that with the boom in the manufacture and sale of cotton goods, there was also a need for banking services such as loans and credit. Thus the firm diversified by issuing primitive bank notes, which circulated in the Blackburn area, as an addition to its manufacturing activities. It is also rumoured that the Brooks family bought a safe and, for a small fee, would store money and other valuables for their neighbours. Soon the banking business was able to stand on its own feet but it was only in 1815 that the bank is known to have had a formal, separate existence, though it may have been established earlier (1792).

His son Samuel (b:1793) opened a branch of the bank in the corner of their warehouse in Manchester in 1819 and became a partner.




John Brooks was the elder brother of Samuel having been born at Whalley in 1788. In 1809 he had begun business as a calico printer in partnership with Henry Butterworth. The firm was called Butterworth and Brooks and owned Sunnyside calico printing works in Crawshawbooth, Lancashire.


In 1814 John married Alice Marshall at St John's in Manchester, and they had three sons : John M. (1819-1864) James M. (1822-1905) and Thomas (1825-1908), who were all baptised at St John's.

The partnership with Butterworth was very successful and they branched out into both cotton spinning and weaving.

In April 1826, the John and Henry had shipped thirty-six bales of printed cottons on board a ship called the "Atlantic" bound from Liverpool to Buenos Ayres. The ship sailed on the 1st of May and the partners had wisely taken out insurance for the cargo that on the 13 of that month. The ship was captured by the Brazilian government, and condemned for an attempted breach of a blockade which the Brazilian government had declared against the port of Buenos Ayres.

In 1830, Henry Butterworth died, and John became the sole owner of Butterworth & Brooks. That same year John had Crawshaw Hall built, at Crawshawbooth Rossendale. The business continued under the name of Butterworth & Brooks, though in actuality it was John and his sons who ran things.


In addition, the Brooks family expanded the commercial activities of the business to include quarry and coal mine ownership, still under the name of Butterworth & Brooks.


John was politically active, standing as a Liberal Parliamentary candidate at one stage. In addition he was one of the earliest and most zealous members of the Council of the Anti-Corn-Law League (a major political movement agitating against the Bread Tax) and was recognised as a powerful public speaker.

He laced his speeches with facts, and was described as original and forcible when speaking.

John also gave financially to the Anti-Corn-Law League, and travelled the length and breadth of the country lecturing and advising on its aims and methods. He was also part of a delegation sent to meet with Sir Robert Peel at Downing Street, to try and convince him of the dreadful impact that the Corn Laws of 1815 were having on the working classes throughout the country. Along with Richard Cobden, he continued to be one of the hardest workers until the dissolution of The League.

He was not only liberal with his purse to strangers, but also remarkably generous to his dependents. He was tolerant of other men's opinions, and known for his liberality to employees and others who were in distress. On one occasion, he lost the sum of £70,000 (nearly £8m today) which he had lent to a person who seemed to have large property and who had assured him it was unencumbered.

It turned out that the property was actually mortgaged to its full amount. Mr. Brooks went to his warehouse distressed and humiliated. He told his manager that he had been so deceived and that he had decided to never lend money again, he would stop his donations to charities and spend nothing. While he was yet speaking, a woman with some ragged children were observed in the passage. Apparently unconscious of what he had just said, he ordered a shilling to be given to the woman. The clerk reminded him of his resolution. " Well, well," he said, " but don't begin with this woman and her children." He never did begin such a change, and only death closed his charitable work.

Between 1839 to 1840 John Brooks was Boroughreeve of Manchester, a position that meant he was responsible for law and order during daylight hours.

The Corn Laws of 1815 were finally repealed in 1846, but only after the failure of the potato crop in Ireland brought things to a head.

In May, 1848, being of poor health, John went to the United States for a rest, but returned without improvement.


John Brooks died at his residence, Clarendon House, Cheetham Hill, on Oct. 27 1849, and Alice died in the June of 1852. They are both buried under their monument in the churchyard of St Mary's in Prestwich. It was John Brooks' role as Secretary to the Anti- Corn Law League that led to the erection of the grand monument which stands above their grave.

The monument is Grade II* listed, and takes the form of an Italianate style open-sided mausoleum 6 feet 41 inches square, with a pedimented top. It stands on a pedestal made from white Sicilian marble, and granite. It stands 15 feet tall and cost approx £3000 to construct (£420,000 today).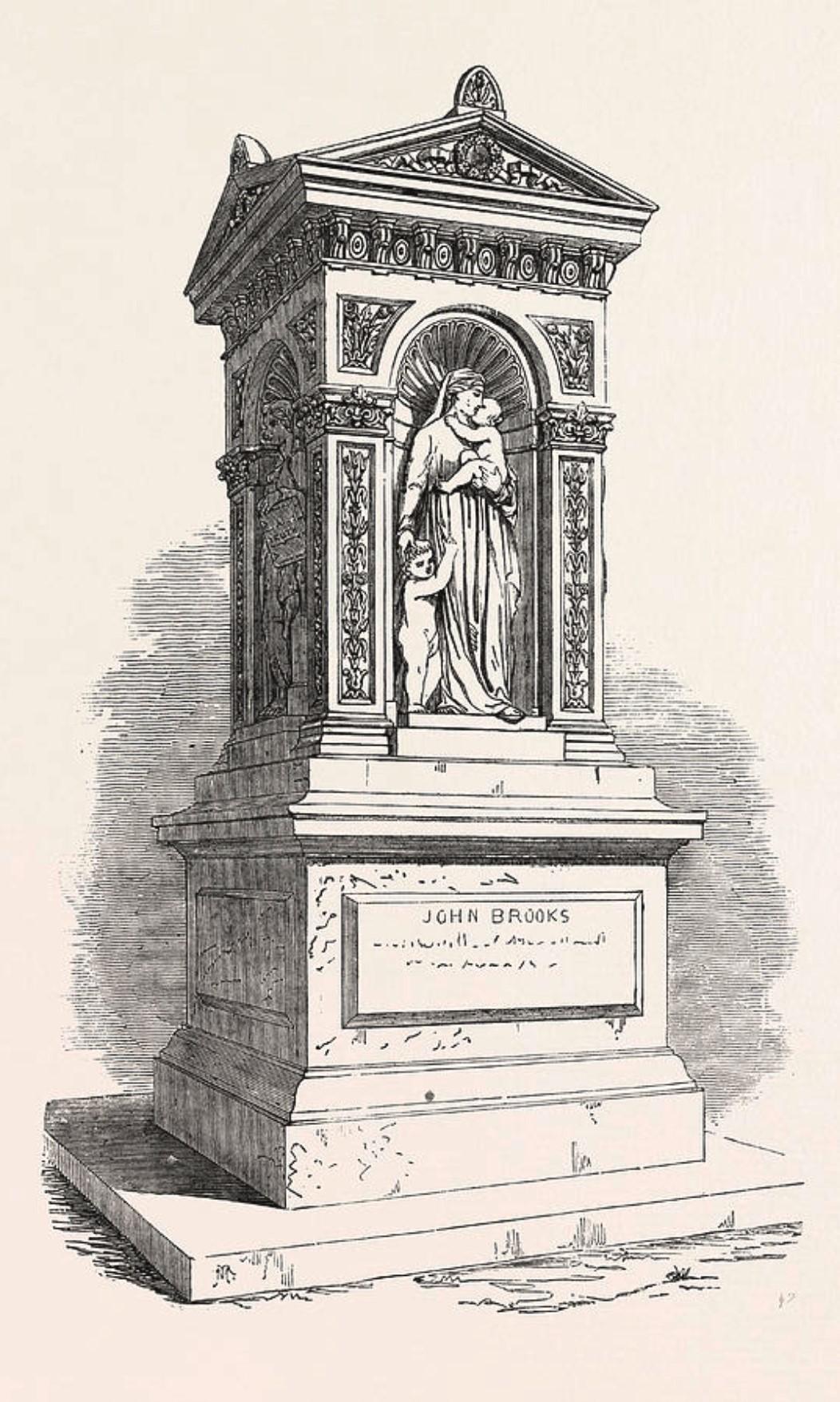 John Brooks Monument - the inscription is actually on the opposite side to this statue (Charity)


Four life size marble statues stand in niches on each face of the monument, framed by panels carved with cotton and flax plants, roses, poppies, oak and laurel leaves:

North: "Industry" depicted with a cog
South: "Integrity" holding a book
East: "Charity" with babes in arms - this statue was exhibited during Queen Victoria's Great Exhibition of 1851 at Hyde Park, London.
West: "Commerce" with bales of cotton/calico.

Also on the west side of the monument is inscribed:

SACRED TO THE MEMORY OF JOHN BROOKS.

BORN NOVEMBER XXIII. M.DCC.LXXXVIII. DIED OCTOBER XXVII. M.DCCC.XLIX.

The monument was designed by the nationally renowned sculptor and architect John Thomas (1813-1862), who was one of the leading sculptors of the 19th Century, and it is said to be an excellent example of his smaller-scale work:

"its ornate Italianate design possesses an acute attention to detail and superior level of quality, craftsmanship and execution".

Supervising Carver on the construction of the Palace of Westminster, the sculptor was also a favourite of Prince Albert, working for him on several occasions at Buckingham Palace and Windsor Castle. He was also engaged to work on the Free Trade Hall in Manchester, which was built on land donated by Richard Cobden of the Anti-Corn-Law League.


The surrounding railings on the monument were removed as part of the war effort and the monument has suffered some vandalism and erosion from the elements. The decorative pedestals (acroteria) on the four pediments of the roof were dislodged but are safely stored.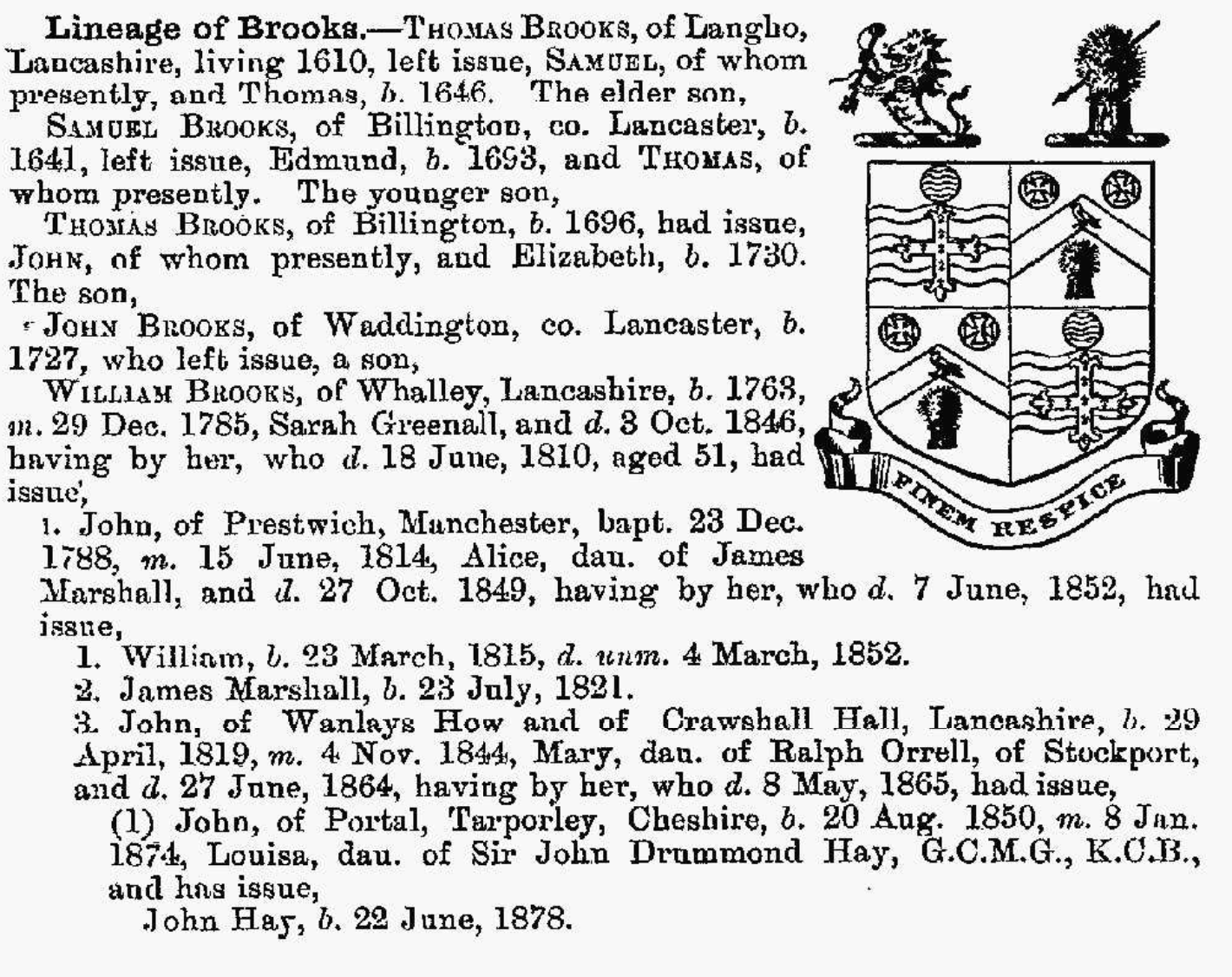 Brooks Family Lineage (Burke's 1879)


In Burke's Family Records published in 1879, after John's death, he is recorded as "of Prestwich".

After his death, the family business continued with his sons, John, James, William and Thomas, still as Butterworth & Brooks. Patents for printed fabric designs were registered by the sons in 1860 & 1863, and the trade directories also show a Stone Merchants operating out of Orsdall Lane, Salford & Charlotte Street, Manchester between 1851 and 1881.

By 1867, under the guidance of his sons, the quarry and mining side of the business had continued and was responsible for building the entire mineral tramway network linking quarries at Great Height, Cragg and Ding: the largest such development in this part of the country. Around 1878 the minings and quarrying company was retitled Brooks & Brooks.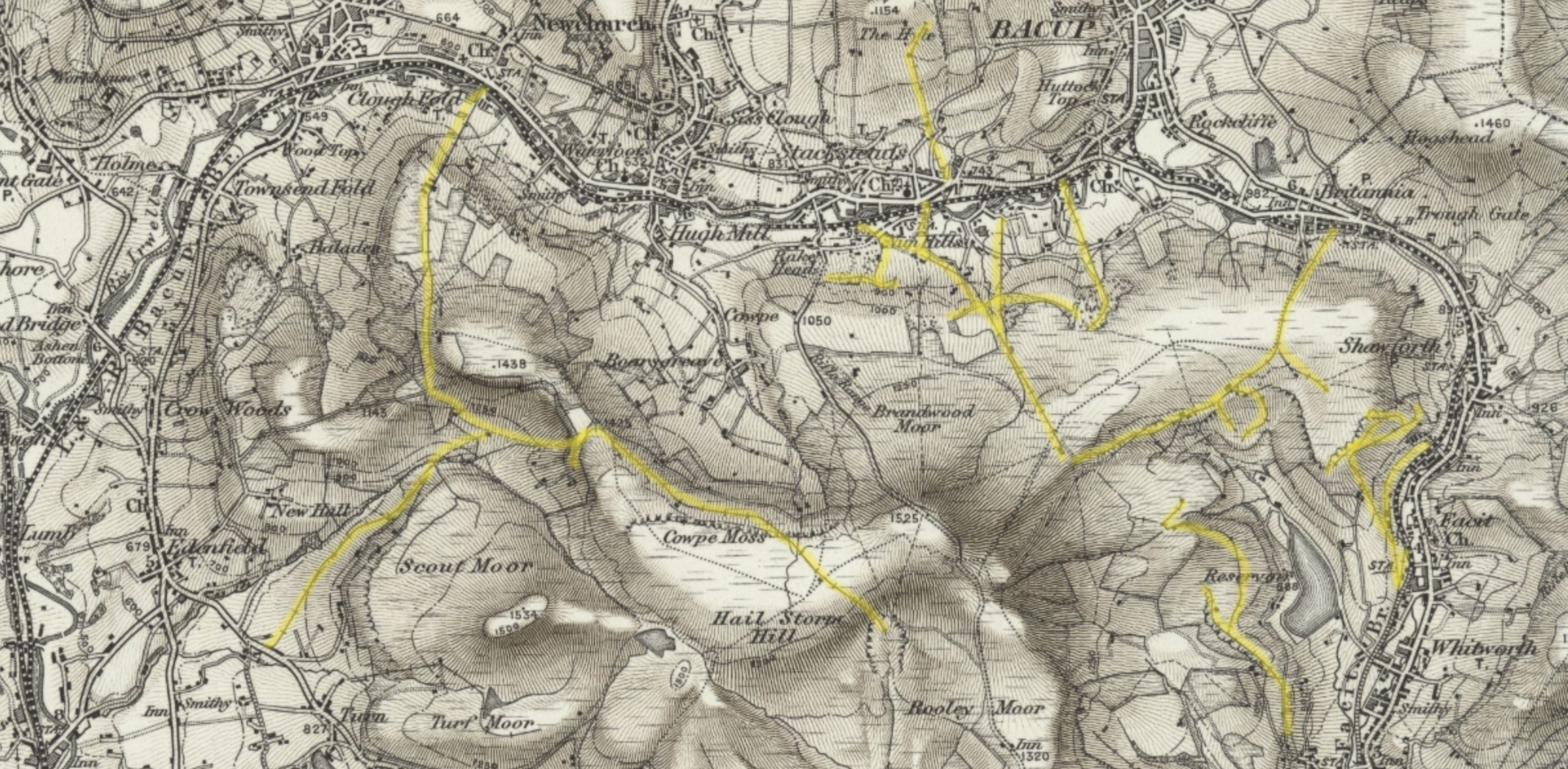 Mineral tramways near Bacup


John's 3rd son, Thomas Brooks (1825-1908), was dubbed the first Lord Crawshaw by Queen Victoria in 1891 and the Crawshaw estate remained in the family until 1976, when Cicely Brooks sold the hall to antiques dealer Sonny Brunsveldt. Today the main hall is a nursing home and the gardens were renovated in July 2007.




Sadly , but as expected for a munument that is approaching it's 175th year, it is sufferign from the weather and vandalism. Though on the bright side a family of Nuthatches have a nest inside it in the Spring, that cannot be good for the structure either.

The Churchyard Action Group are preparing to apply for funding to restore the Grade II* John Brooks Monument before it deteriorates too far. This will first require a preliminary report by an expert monumental stone mason which will then identify the remedial works required so that quotes can be obtained and grants can be applied for from suitable bodies such as the National Lottery Heritage Fund & the National Heritage Memorial Fund. Public donations are also sought as such grants rarely provide the full amount of the funding required.




If you want to help make this happen, get in touch with E-mail Please donate to help The Churchyard Action Group maintain St Mary's Churchyard. It will help us to get in materials, tools, and professionals.