! side panel> <! side panel>
The Roost


Home to the first Postmaster of Manchester (article by Allan Jennings Facebook ) and the owner of Britannia Mill.
John St. Lawrence Beaufort had been born in Ireland in 1818, his late father was the Reverend W.L. Beaufort at Glanmore, Cork and John was his 4th son, he graduated from Dublin University with a B.A., he was preparing to study for the Bar, when a stroke of fate changed the course of his life.

In 1839 he was offered a position in the Postal Service , just as Rowland Hills grand scheme of Postal Improvement was initiated, and so John was in at the birth of the new service, he worked in various parts of England, first in the far north and then North Wales, the Midlands, and London, in 1860 he accepted the position of Postmaster of Manchester when the previous Postmaster Mr. Willock retired.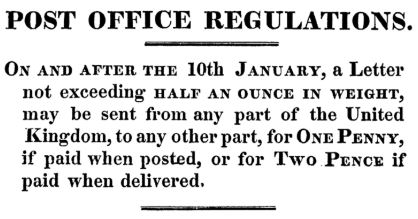 John St. Lawrence lived in a magnificent villa called the Roost on Rectory Lane in Prestwich, which still stands today, but now divided in to two properties. John remained a bachelor but lived in his villa with a Housekeeper, Cook, Housemaid, and Gardener.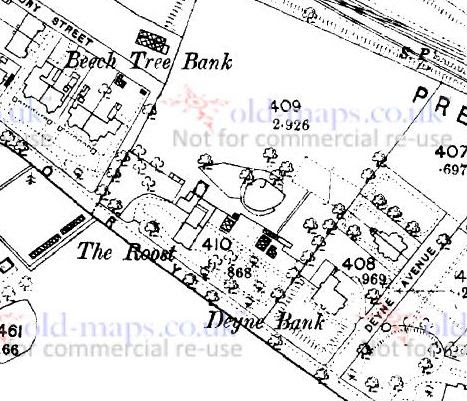 The Roost, Rectory Lane.
He was elected to be a Guardian of the Prestwich Union and in time, its chairman.
He died on the 1st December 1887 and on the day of his internment (6th) at St Mary's Prestwich, the weather was the most miserable that it could be.

The rain was coming down in torrents nearly all the time. His body was taken to his house, the cortege set off in a heavy shower of rain and sleet, notwithstanding this the route was lined with people, far too many to list here.

To give you some idea of those attending, there were 40 messengers and 50 postmen in full uniform, 50 female clerks ( he had been one of the earliest to employ female labour in the Telegraph service)and 100 telegraph clerks and 15 surveyors assistants, there were family and friends and the local Conservative club, The M.P. Mr. R.J. Mobray was there and many others they formed a procession at the station.

They went to the Roost and preceded the coffin to the church, the coffin was borne through lines of Telegraph boys into the quaint old church, which was filled to capacity. He was a man held in very high regard.

A fund of £500 raised in 1890 to commemorate John St. Lawrance Beaufort, was invested in exhibitions for the scholars of Bury New Road National School (of which he was a manager).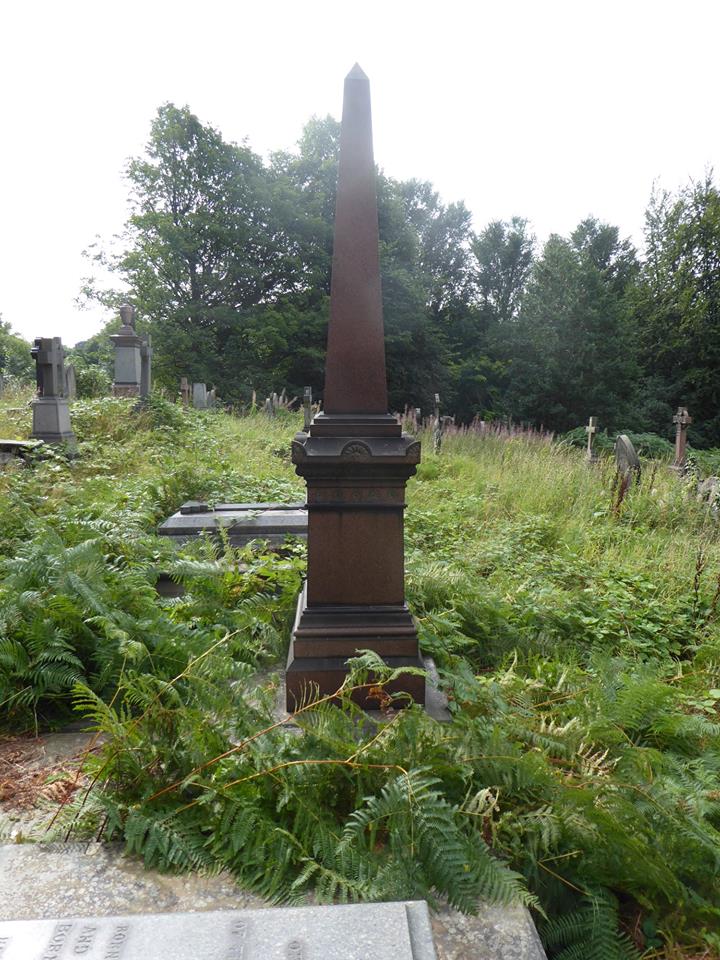 John's monument in St Mary's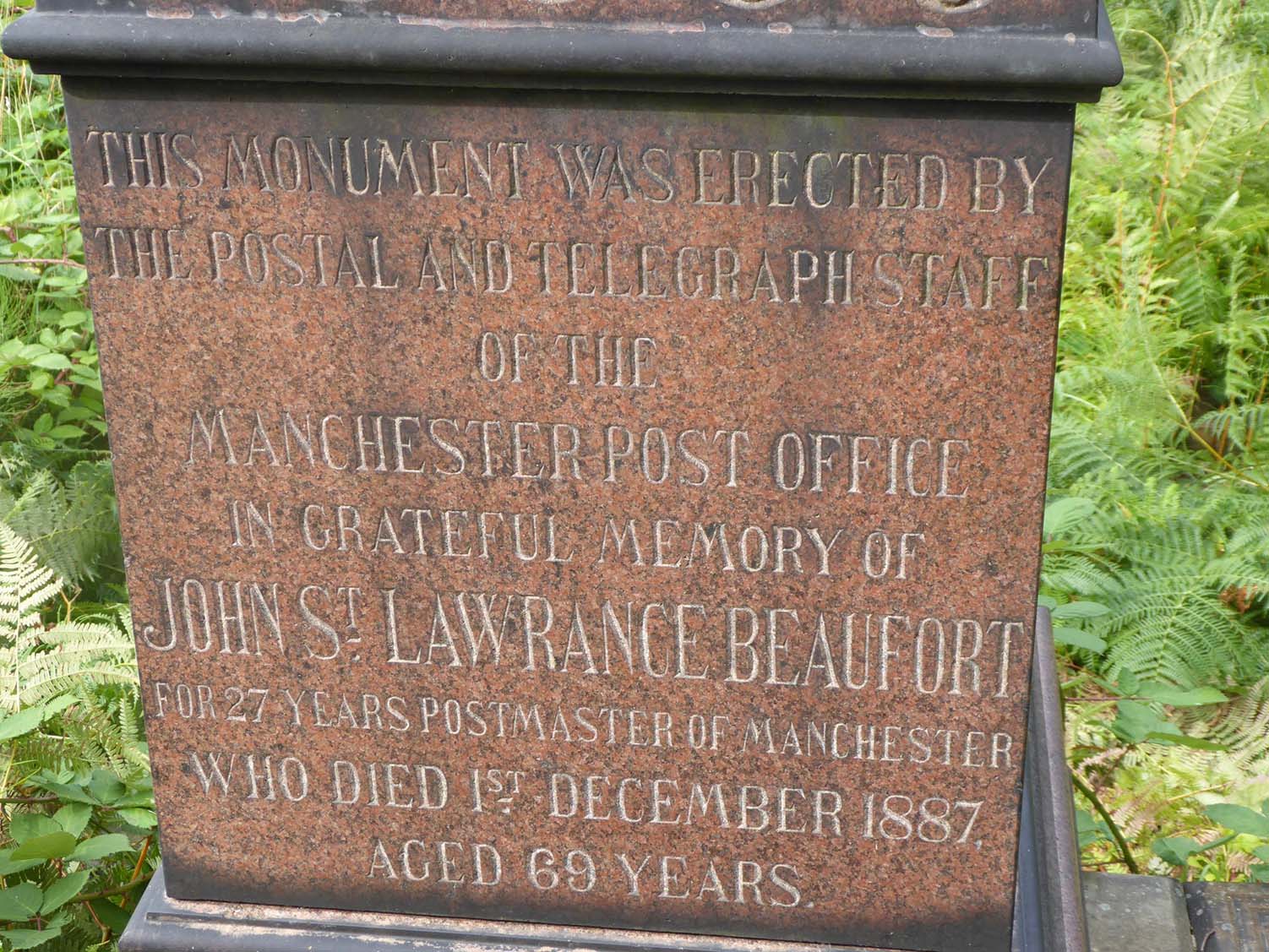 "The Roost" house was rebuilt in 1895 by the Manchester architect, J.L. Langham, and Walter Hetherington Barratt took up residence. Walter was a son of Peter and Sarah Barratt of Hawthorn Cottage, Prestwich. Walter was Governing Director of Barratt & Bradbury, Smallwares manufacturers which had been established by his grand father, Allen Barratt in 1870. The original partnership ended upon the death of William Bradbury (1882, of Poppythorn Cottage) but continued under sole ownership of Peter Barrat. Both Peter and William had been members of the Grand Jury of Salford(1878), alongside William Grimshaw the Gramophone King.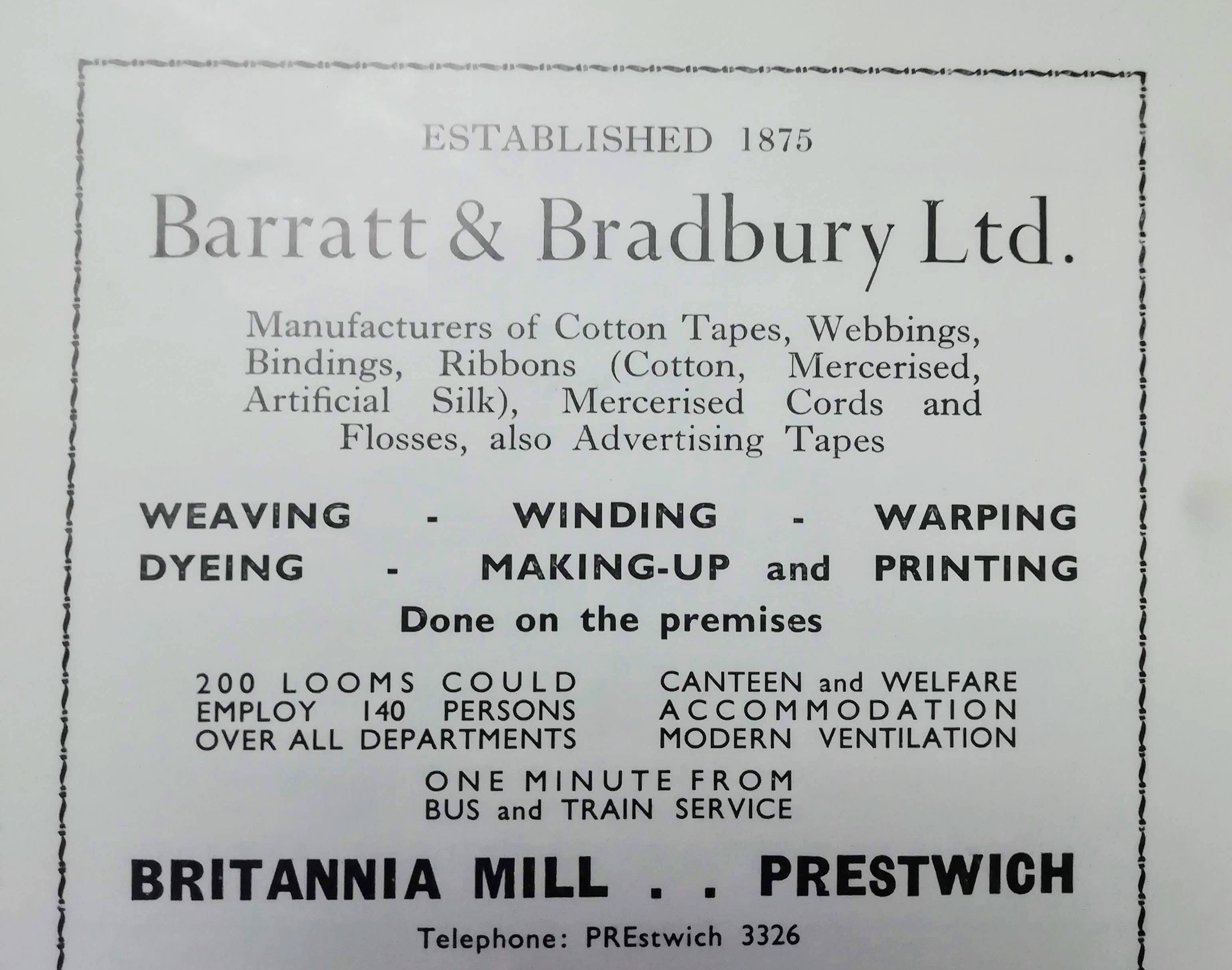 Barratt & Bradbury Advert


Barratt & Bradbury owned the Britannia Mill on Sherbourne Street, Prestwich (130 looms), specialising in Ribbons, Tapes, Stitching Floss (Silk Cotton and Worsted), Twines, and Bronze Colours.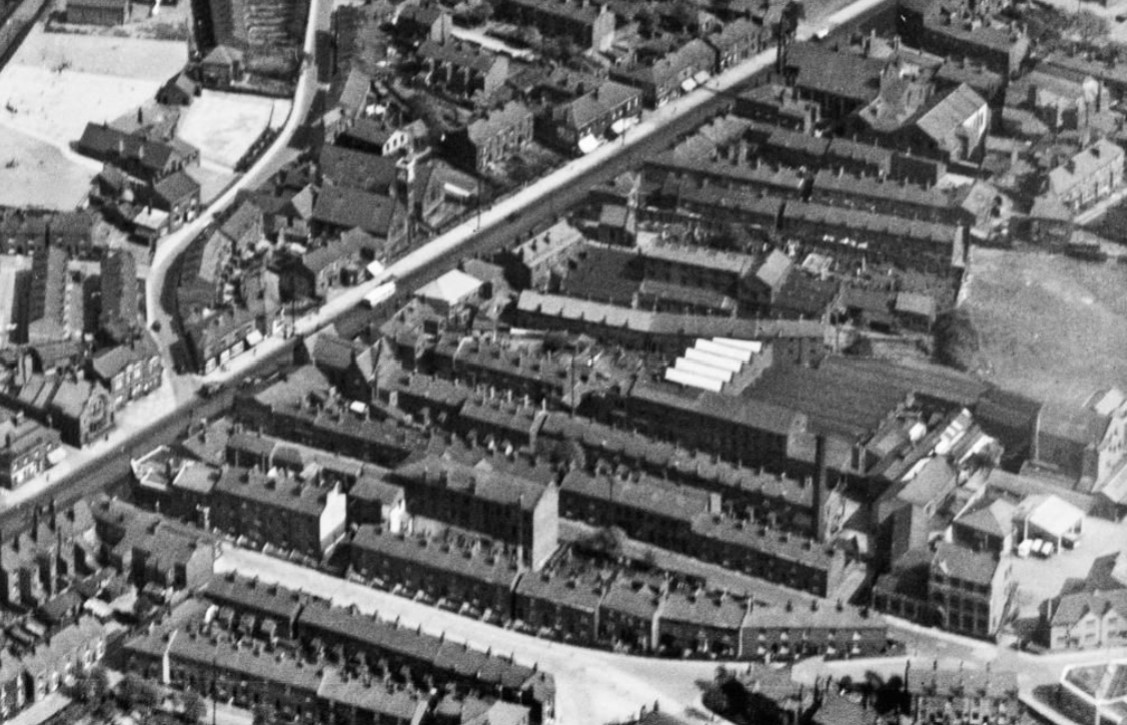 Britannia Mill (White roofs) to the left of the co-op yard
[see also Britain from above ]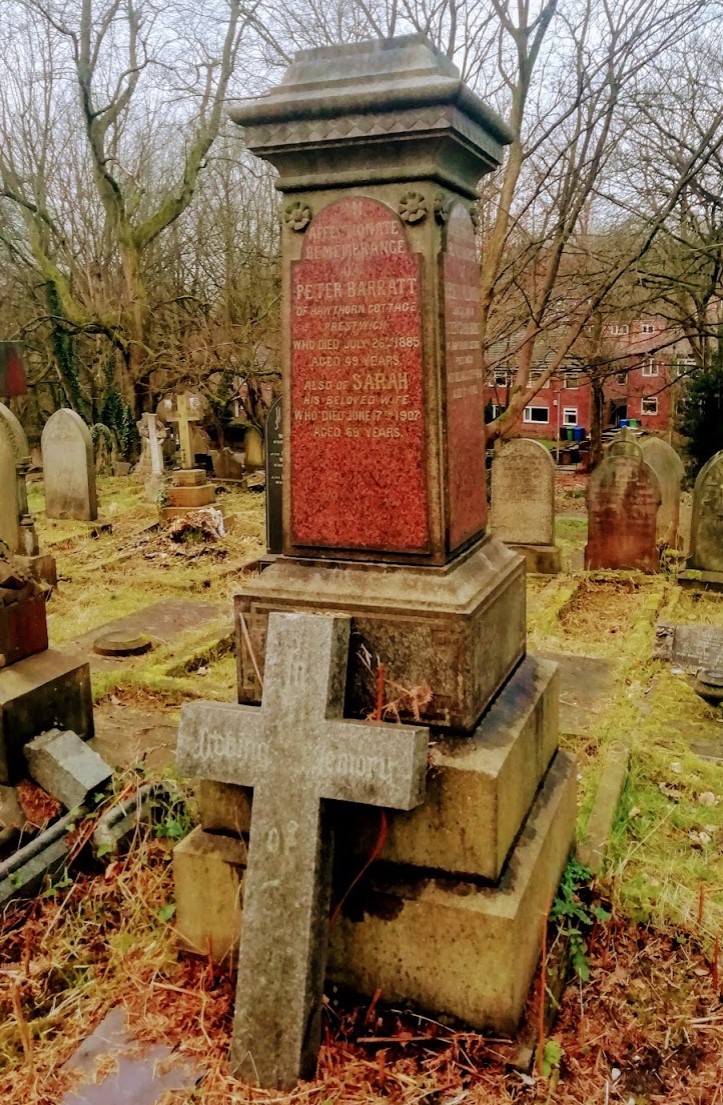 Barratt Family Plot St Mary's SOUTH section
Walter Barratt died in 1936, his father Peter Barratt lived at Hawthorn Cottages (Wash Lane - now Clifton Lane) in Prestwich and had died in 1885.They lie in St Mary's churchyard along with Peter's wife Sarah (d:1907), and their other children Herbert and Florence.

Florence Kirby Barratt married James Walker (b:1845), head of Messrs. Richard Pendlebury & Sons of Manchester & Radcliffe. James Walker's business ran the Irwell Mill of 400 looms, now the Asda carpark in Radcliffe (along with Nathan, Richard & William Walker). James was a member of the Parish Church Council, and a founder of The Victoria Club (the impressive building on Sherbourne street opposite the Longfield Precinct), and lived at Beech Tree Bank, just up the road from The Roost in Prestwich. James was born and formerly lived in Radcliffe.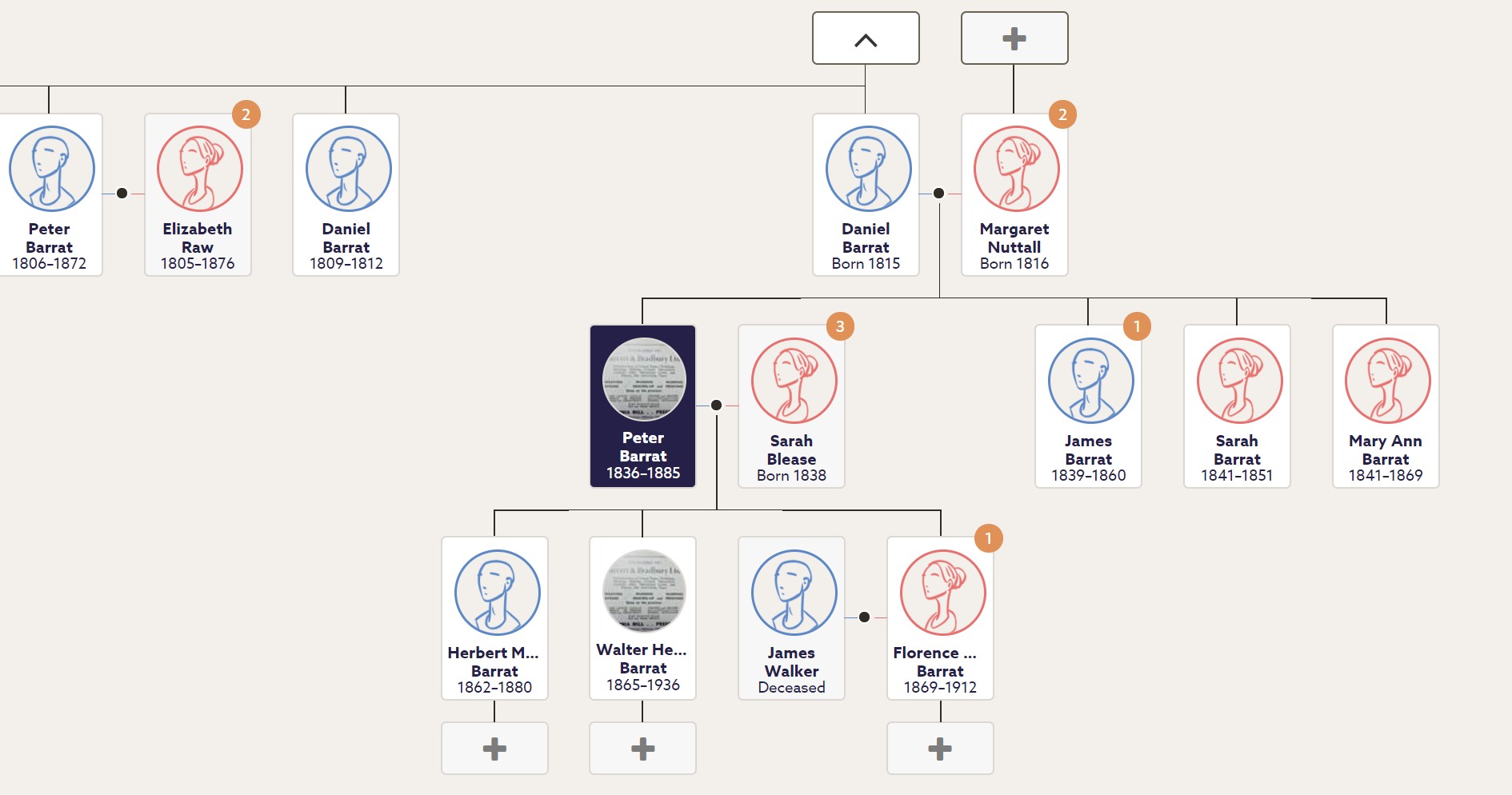 Barratt Family Tree


Sign up for a free FindMyPast Account (no subscription required) and you can see the Barratt family tree

[James Walker's father Samuel, had in 1828 married Jane the daughter of Richard Pendlebury. Samuel Walker & Richard Pendlebury ran Irwell Mills as a partnership until Samuel had died in 1858.]
[Some connection to the Walkers of Chesham, Bury?]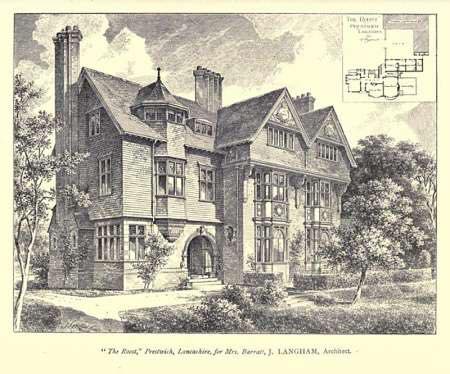 Architectural sketch of the 1895 Roost.
The property lay vacant during the 1930's-1940's but after World War II the house was split into two dwellings by the Bassnett family, with the Grimshaw/Bradshaw family living next door, and there was a ballroom in the basement with a springed floor. The Roost still stands on Rectory Lane.