! side panel> <! side panel>
Springfield Cottage/The Roost


Home to the first Postmaster of Manchester (article by Allan Jennings Facebook ) and the owners of Britannia Mill & Cleggs Warehouse.
Prior to the census of 1861, the property now known as The Roost, on Rectory Lane, was built on the plot of land marked as Springfield Cottage, on Back Lane.

In the census of 1841, Hannah Clegg (b:1815) of Independant means aged 25, along with her brother Alfred Clegg, aged 13, were shown as living at Springfield Cottage, on Back Lane in Prestwich. Hannah was the daughter of William and Sarah Clegg. The Trade directory of 1825 also showed William living on Back Lane, and further back still, in 1821, he was listed as a Church Warden of St Mary's, so the family had been living in Prestwich for over 20 years.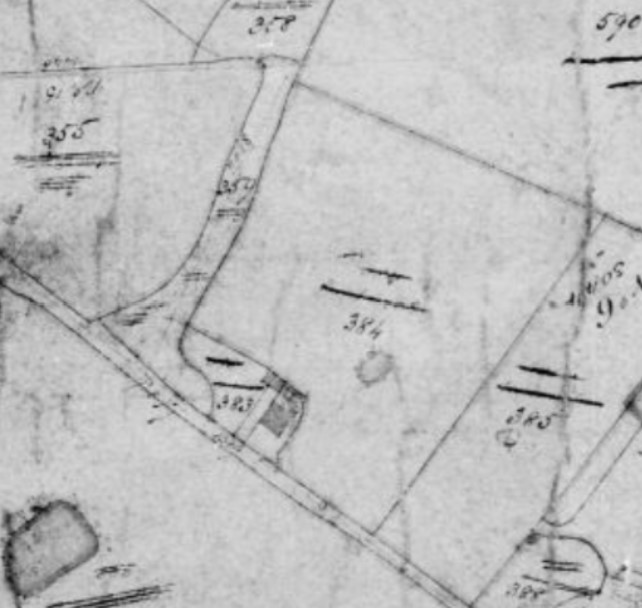 1839 Springfield Cottage



[Alfred went on to achieve Bachelor of Arts, Cambridge and by 1851 had married Mary Jane and was living at Halliwell Lane, Cheetham. He went on to become an attorney, living at Fern Bank, and was buried at St Lukes in 1861 aged 33]

Their father William Clegg, born 1787, was of the Clegg family of Whitefield, his elder brother James later purchased the property of Butt Hill in 1820.

Both brothers were listed in the 1824 Trade Directory as nankeen manufacturers. Nankeen was a yellowish/buff cotton cloth, originally made in Nanjing (China), used for clothing such as breeches, and was later also dyed or hand printed.



1824 Trade Directory


Nankeen Trousers



The Clegg family, trading under the name of James Clegg & Co. had a weaving shed at Besses o'th'Barn, they owned Vale Mill in Heywood and also had a warehouse on New Brown Street in Manchester.

Here we digress to include the story of Amelia Maria Imhoff. [Credit to David Leahy]

Amelia Maria Imhoff lived at Springfield Cottage until she died in 1831 aged 29. Amelia and her step-brother Charles, came from 'Demerary', now part of Guyana on the coast of South America. Their father, Kilian Imhoff was a German from Cologne who owned a coffee plantation and their mothers, Bekk and Tabre were his African consorts.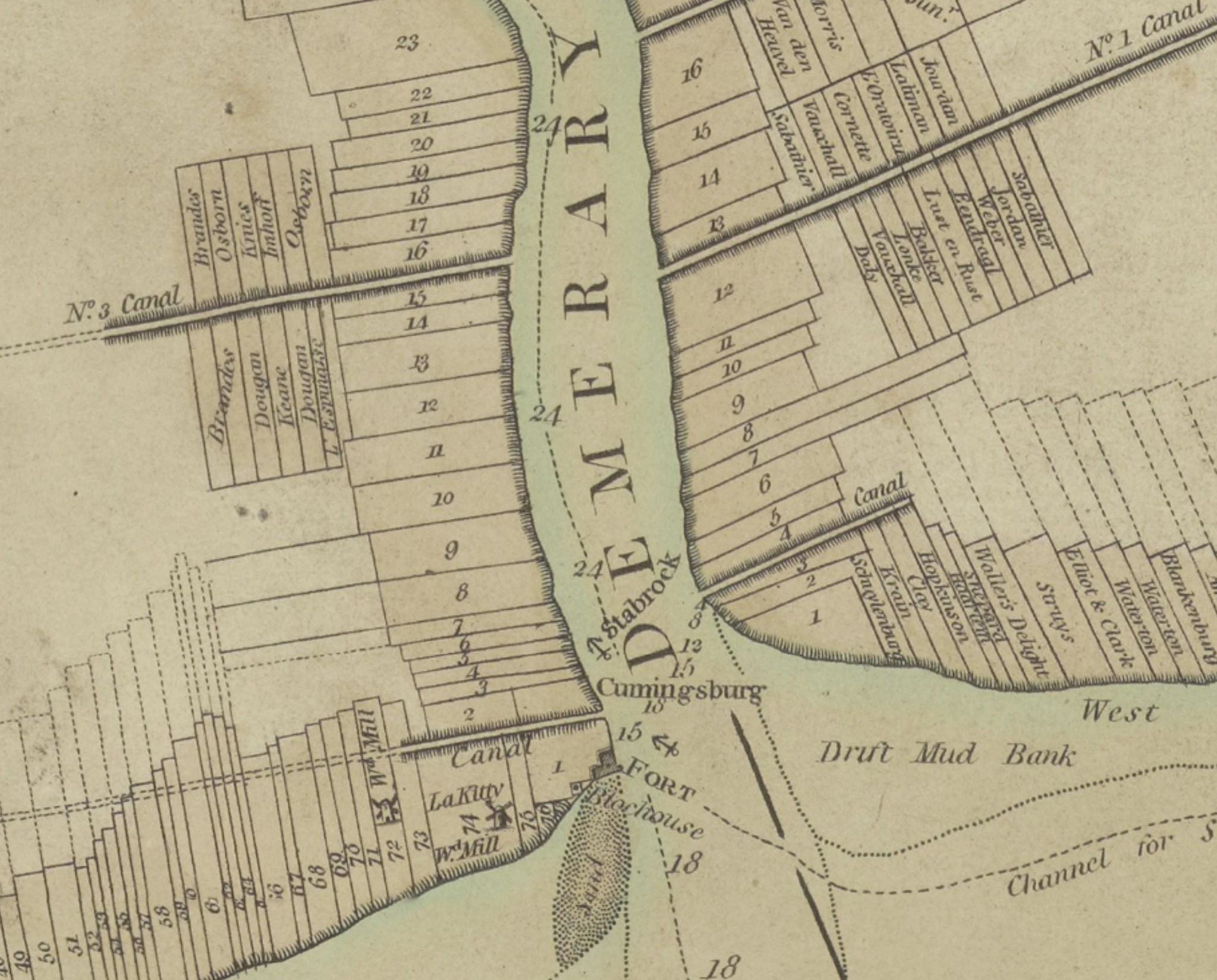 Imhoff Plantation on the North of Canal No.3 (1798)



[See the full map of plantations here]



The Essequebo and Demerary Gazette from August 30, 1806 recorded :

Thus the following Persons have addressed [] by Requests to the Noble Achtbaare Hove of Police of the Rivers and subordinate Districts of Essequibo & Demerary, requesting Letters of Vrydom, as:

K. Imhoff, For the slaves owned by him, like the Neegerin Bekk, with her mulatto son Carolus.
de Neegerin Tabre, with her mulatto daughter Amalia.
as well as two more Neegermeys, with the name Getta & Margaretha.

[Letters of Vrydom - letters of freedom]
[Mulatto was used to describe a person of mixed white and black ancestry, especially a person with one white and one black parent]
[Neegerin refers to a woman of African descent]
[Neegermeys - girls of African decent]

The above shows that in 1806, not long before he died, Kilian freed from slavery both mothers and their children while also making Charles and Amelia his heirs. He appointed another Demerary planter,Jonas Fileen, as executor for the plantation and guardian for the children and they were sent to England to be brought up and educated.

In January 1808, when they were about 5 years old, they were baptised in St Georges Church, Bolton and appear to have been adopted by William and Sarah Clegg of Springfield Cottage, Prestwich and brought up as part of their family.

In 1823 Charles started his medical studies in Edinburgh and then became a surgeon in Wigan. He married Mary Ince of Wirksworth in 1828 and in 1829 moved back to Demerary to take over his fathers plantation. Amelia was living with him in Wigan until his marriage after which she moved back to Springfield Cottage.

On her death in 1831 she appointed William Clegg as her executor and left her belongings in England to James and Mary, the oldest two children of William Clegg. Her personal belongings (dresses and jewellery etc) were to be shared between Mary Williams, wife of Watkin Williams of Cheetham and her sister-in-law Mary, wife of her brother Charles Imhoff who by that point had returned together to Demerary to take over the plantation. She was buried next to William Clegg at St Mary's Church, Prestwich and Mary Clegg and her family were later buried with her.



Amelia Imhoff, buried with Mary, daughter of William & Sarah Clegg



The Imhoff plantation was estimated at over £4,000 in 1835 - £500,000 today, and had reduced to owning 85 Slaves.

Slavery had been abolished in British Guiana under the Emancipation Act in 1834 and replaced by a period of Apprenticeship during which persons registered as slaves, six years old and upwards, were required to serve their former masters. Apprenticeship was abolished in 1838.

Meanwhile, the Clegg family had established Cleggs Warehouse in 1826, for winding and warping to supply hand-loom weavers. The Mill was later renamed Albion Mill and stood immediately to the right of the old Jewish Cemetery on Bury New Rd. A curved row of workers houses (known as Cleggs Cottages and later as Albion Place) were also built.



Clegg's Warehouse (became Albion Mill)



James died in 1835 and William died in 1840, and they lie not far from each other in St Mary's Churchyard.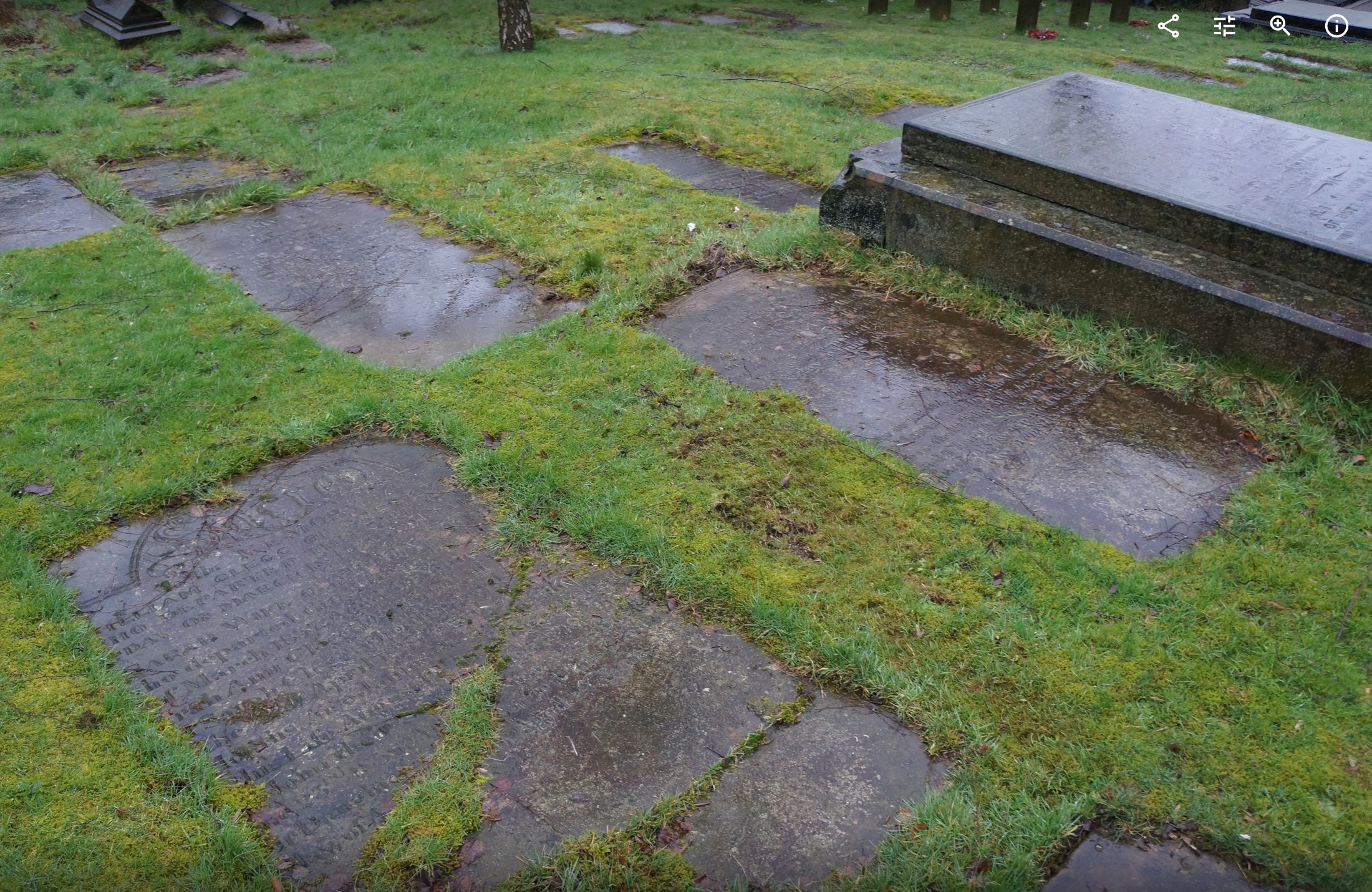 William Clegg's grave stone at St Mary's, with the larger stone vault of James to the right.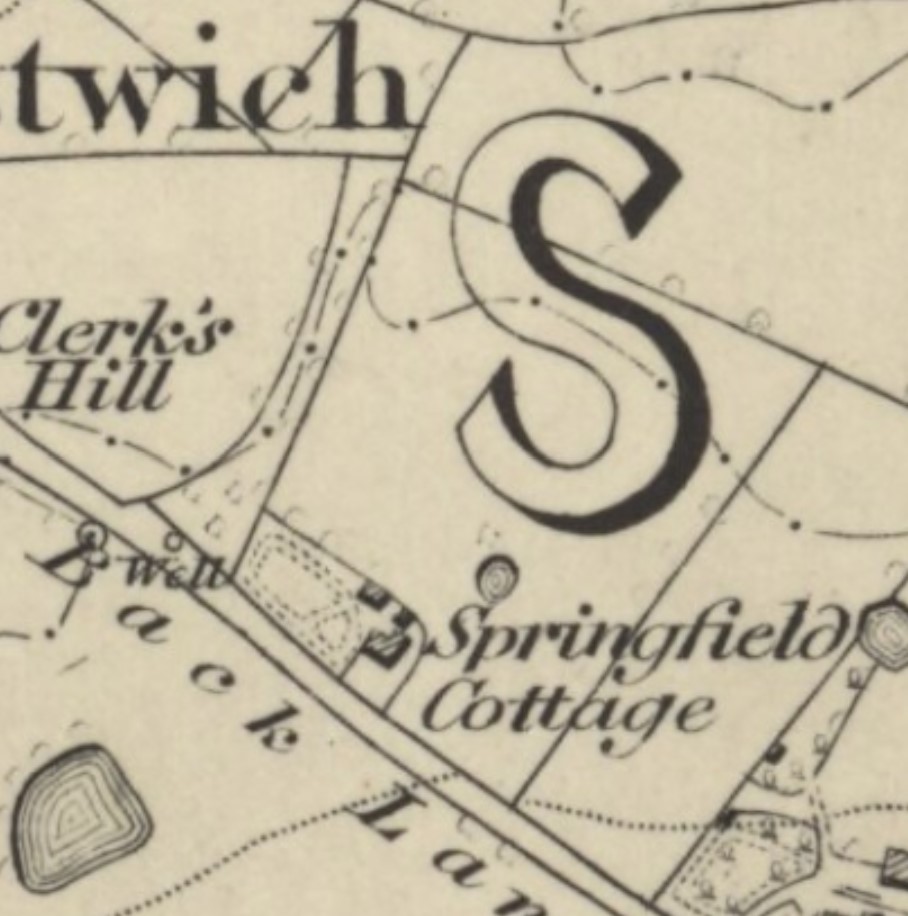 1845 Springfield Cottage



Hannah, William's daughter married James Fletcher, their daughter Elizabeth Clegg, died 1841 and is remembered on another tomb not far away in the churchyard, along with her husband James. Hannah herself died in 1843 and is remembered on her fathers grave stone.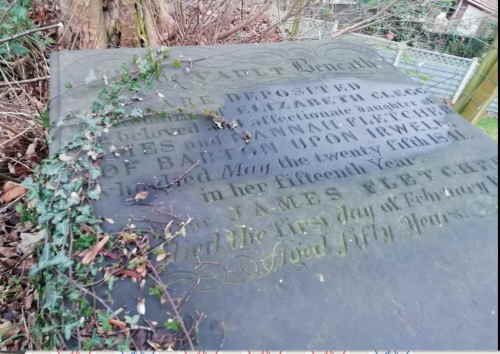 James Fletcher's tomb



Springfield Cottage then changed hands, but the 1851 census is not clear as to who was present. Jumping to the map of 1891 we see that Springfield Cottage had been renamed to The Roost. Checking back to the census, we see that in 1861, John St Lawrence Beafort had taken up residence at the Roost.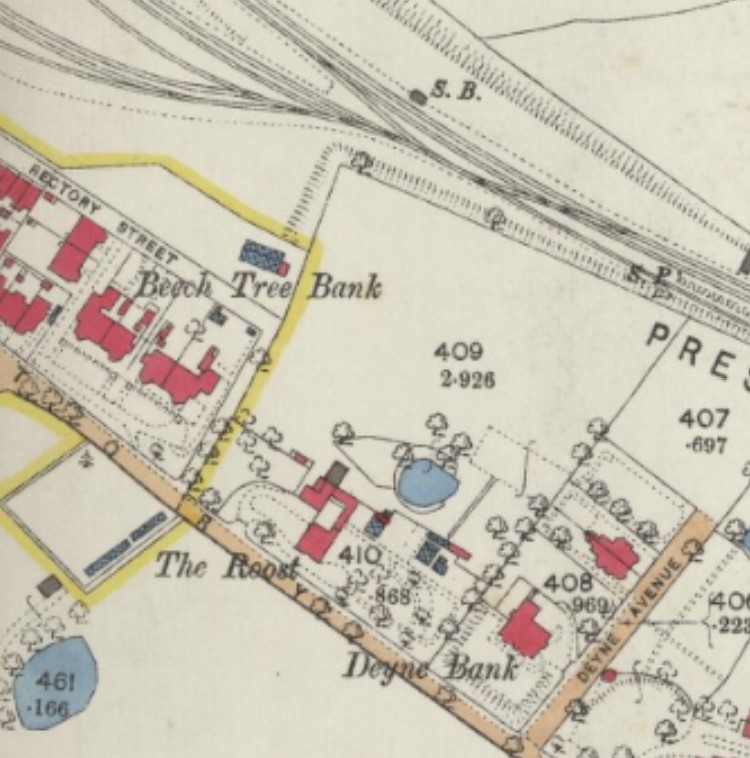 1891 Springfield Cottage has been renamed The Roost



[Back Lane was also renamed to Rectory Lane]

John St. Lawrence Beaufort had been born in Ireland in 1818, his late father was the Reverend W.L. Beaufort at Glanmore, Cork and John was his 4th son, he graduated from Dublin University with a B.A., he was preparing to study for the Bar, when a stroke of fate changed the course of his life.

In 1839 he was offered a position in the Postal Service , just as Rowland Hills grand scheme of Postal Improvement was initiated, and so John was in at the birth of the new service, he worked in various parts of England, first in the far north and then North Wales, the Midlands, and London, in 1860 he accepted the position of Postmaster of Manchester when the previous Postmaster Mr. Willock retired.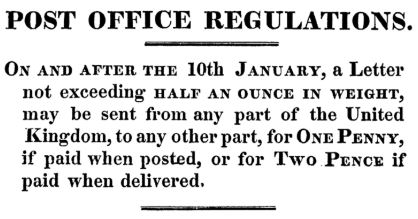 John St. Lawrence lived the Roost on Rectory Lane in Prestwich, close by to where a property of the same name stands today. John remained a bachelor but lived in his villa with a Housekeeper, Cook, Housemaid, and Gardener.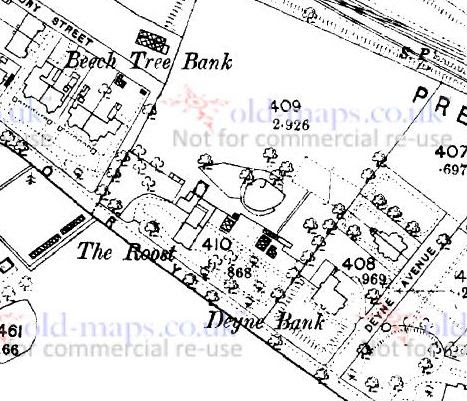 The Roost, Rectory Lane.
He was elected to be a Guardian of the Prestwich Union and in time, its chairman.
He died on the 1st December 1887 and on the day of his internment (6th) at St Mary's Prestwich, the weather was the most miserable that it could be.

The rain was coming down in torrents nearly all the time. His body was taken to his house, the cortege set off in a heavy shower of rain and sleet, notwithstanding this the route was lined with people, far too many to list here.

To give you some idea of those attending, there were 40 messengers and 50 postmen in full uniform, 50 female clerks ( he had been one of the earliest to employ female labour in the Telegraph service)and 100 telegraph clerks and 15 surveyors assistants, there were family and friends and the local Conservative club, The M.P. Mr. R.J. Mobray was there and many others they formed a procession at the station.

They went to the Roost and preceded the coffin to the church, the coffin was borne through lines of Telegraph boys into the quaint old church, which was filled to capacity. He was a man held in very high regard.

A fund of £500 raised in 1890 to commemorate John St. Lawrance Beaufort, was invested in exhibitions for the scholars of Bury New Road National School (of which he was a manager).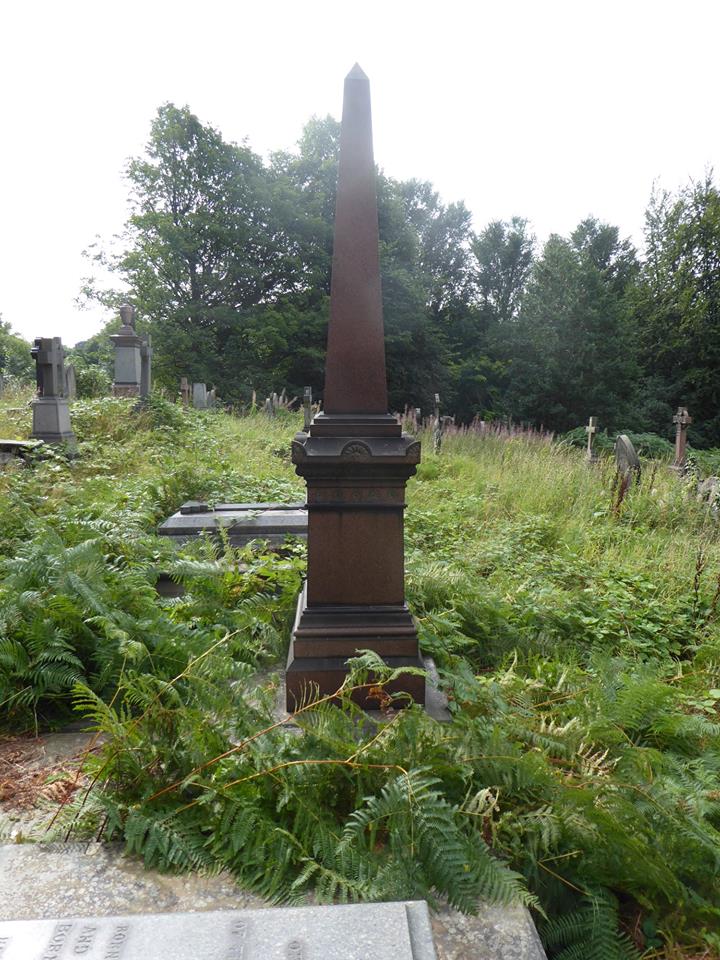 John's monument in St Mary's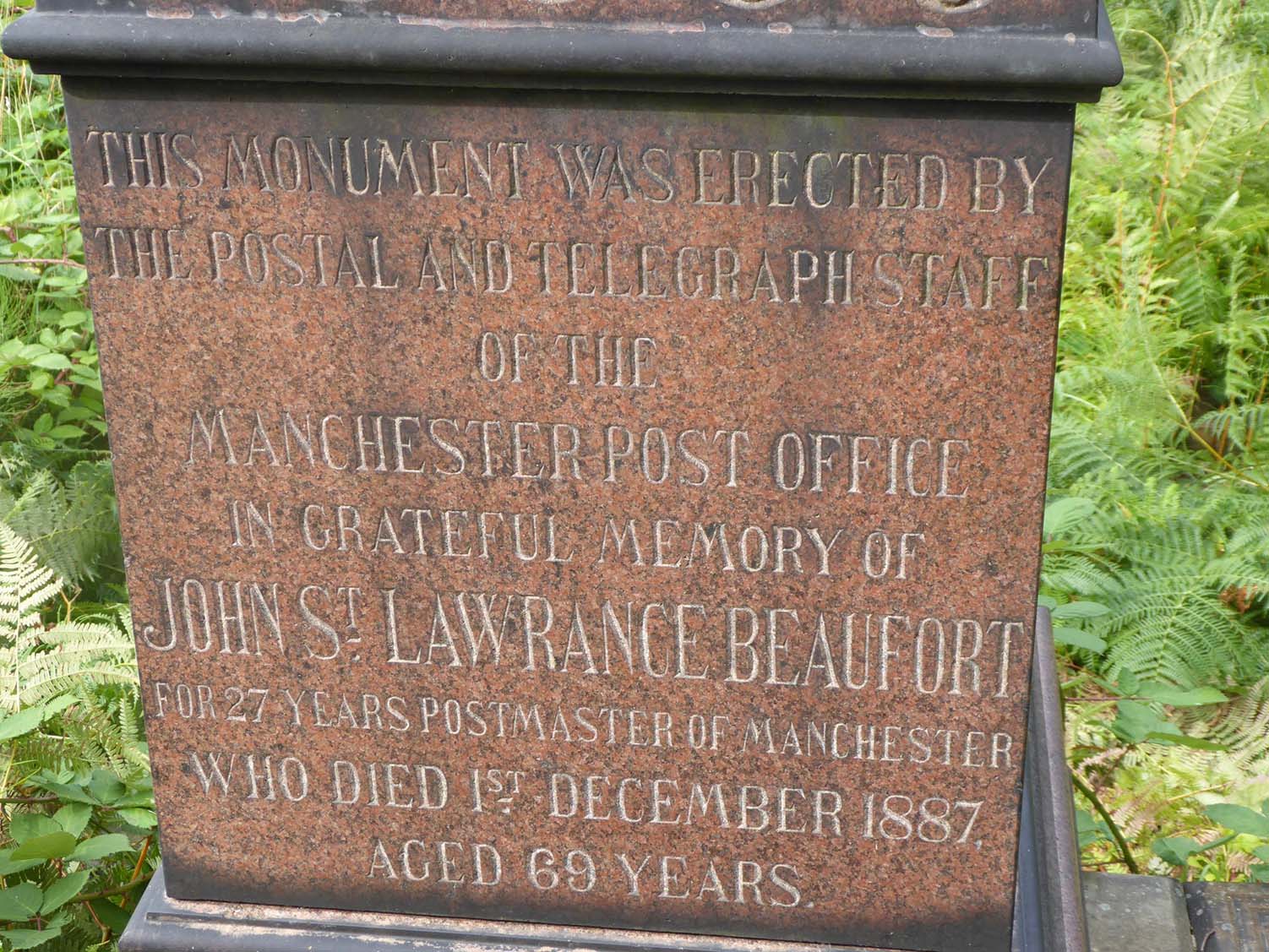 "The Roost" house was rebuilt in 1895 by the Manchester architect, J.L. Langham, and Walter Hetherington Barratt took up residence. Walter was a son of Peter and Sarah Barratt of Hawthorn Cottage, Prestwich. Walter was Governing Director of Barratt & Bradbury, Smallwares manufacturers which had been established by his grand father, Allen Barratt in 1870. The original partnership ended upon the death of William Bradbury (1882, of Poppythorn Cottage) but continued under sole ownership of Peter Barrat. Both Peter and William had been members of the Grand Jury of Salford(1878), alongside William Grimshaw the Gramophone King.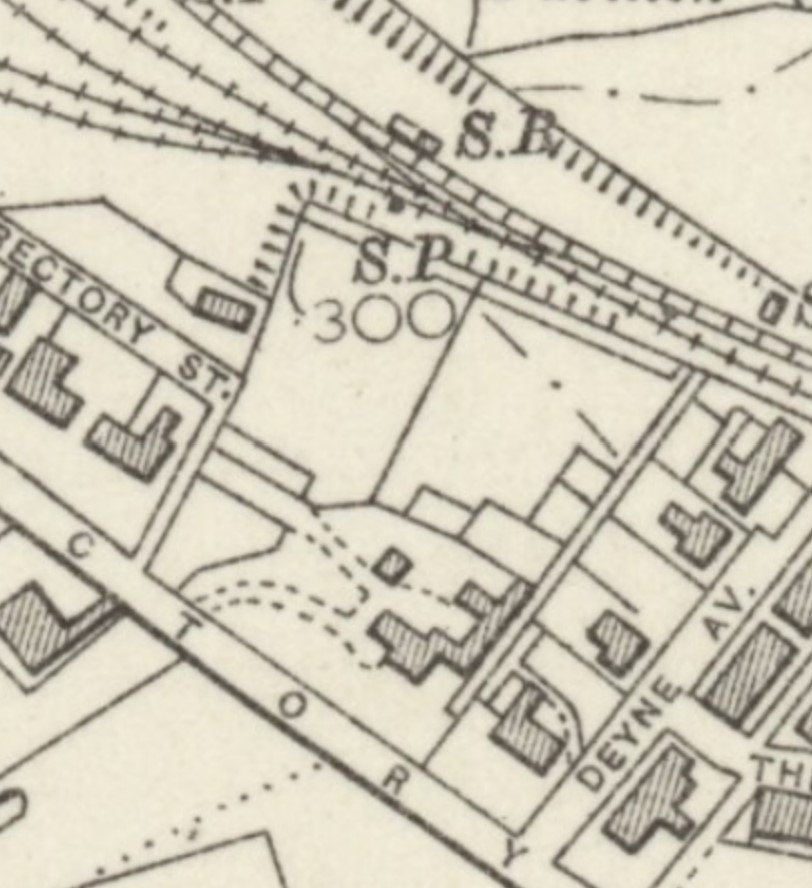 1906 The Roost - rebuilt to the side of where Springfield Cottage stood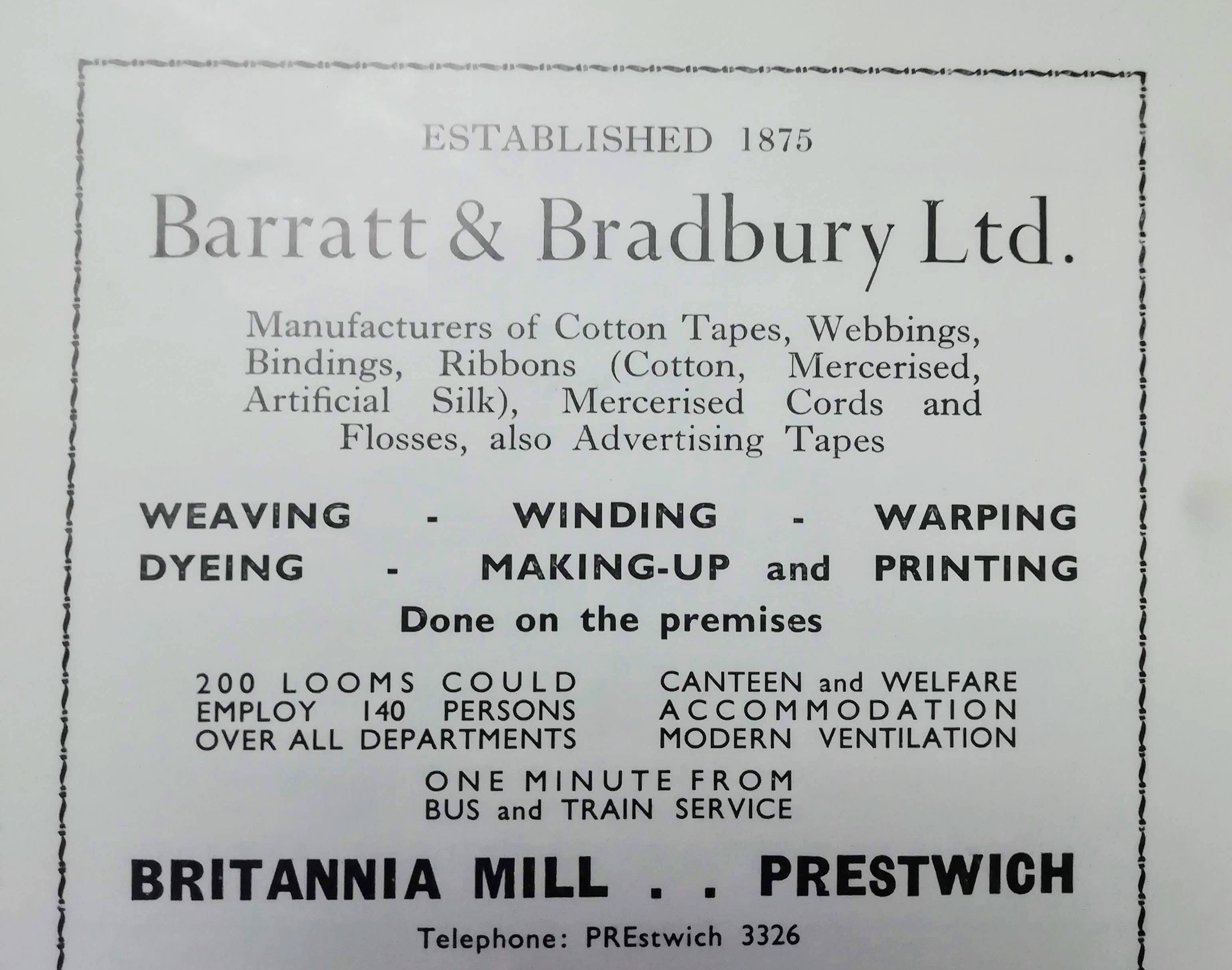 Barratt & Bradbury Advert


Barratt & Bradbury owned the Britannia Mill on Sherbourne Street, Prestwich (130 looms), specialising in Ribbons, Tapes, Stitching Floss (Silk Cotton and Worsted), Twines, and Bronze Colours.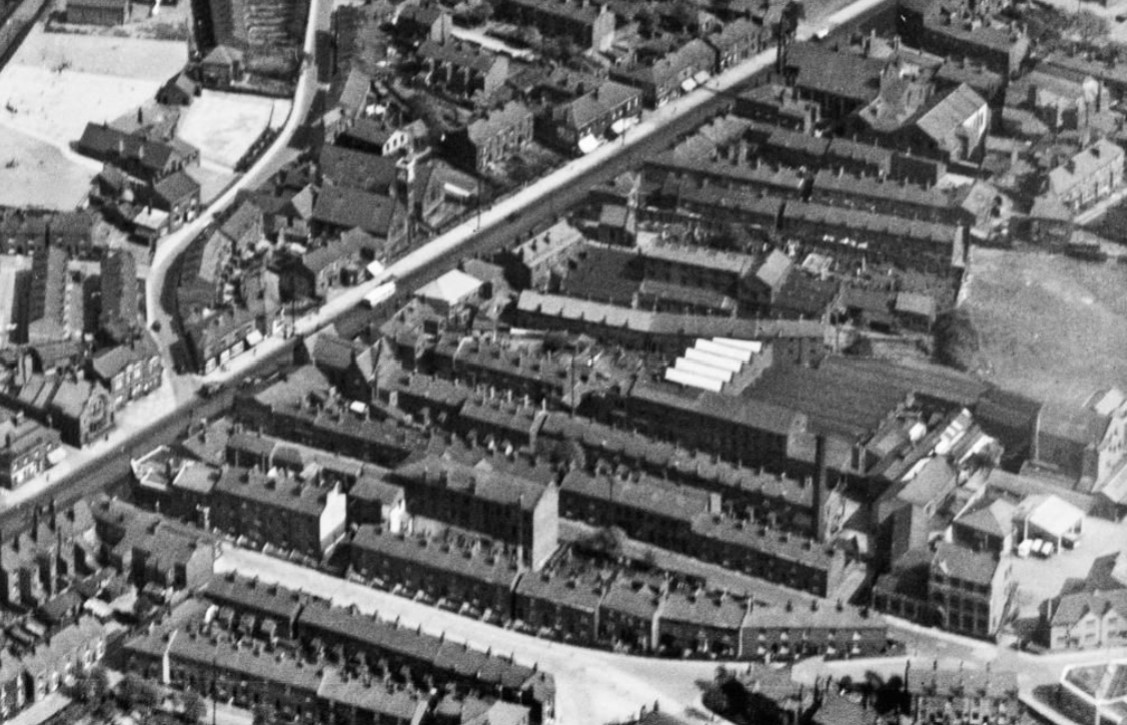 Britannia Mill (White roofs) to the left of the co-op yard
[see also Britain from above ]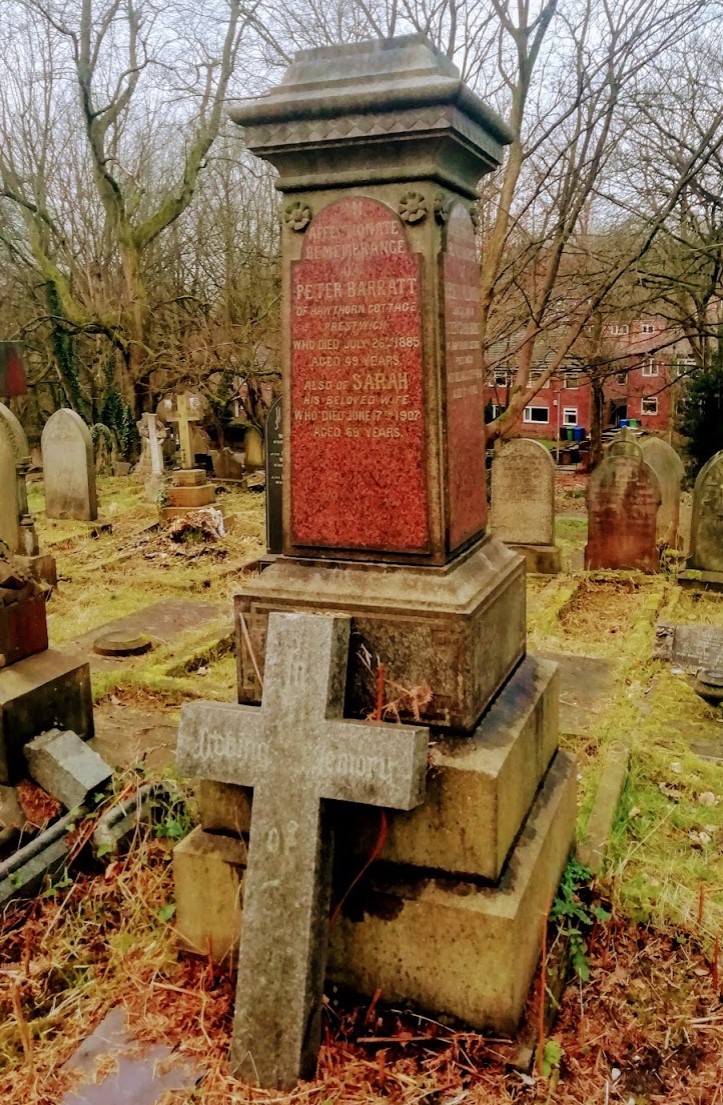 Barratt Family Plot St Mary's SOUTH section
Walter Barratt died in 1936, his father Peter Barratt lived at Hawthorn Cottages (Wash Lane - now Clifton Lane) in Prestwich and had died in 1885.They lie in St Mary's churchyard along with Peter's wife Sarah (d:1907), and their other children Herbert and Florence.

Florence Kirby Barratt married James Walker (b:1845), head of Messrs. Richard Pendlebury & Sons of Manchester & Radcliffe. James Walker's business ran the Irwell Mill of 400 looms, now the Asda carpark in Radcliffe (along with Nathan, Richard & William Walker). James was a member of the Parish Church Council, and a founder of The Victoria Club (the impressive building on Sherbourne street opposite the Longfield Precinct), and lived at Beech Tree Bank, just up the road from The Roost in Prestwich. James was born and formerly lived in Radcliffe.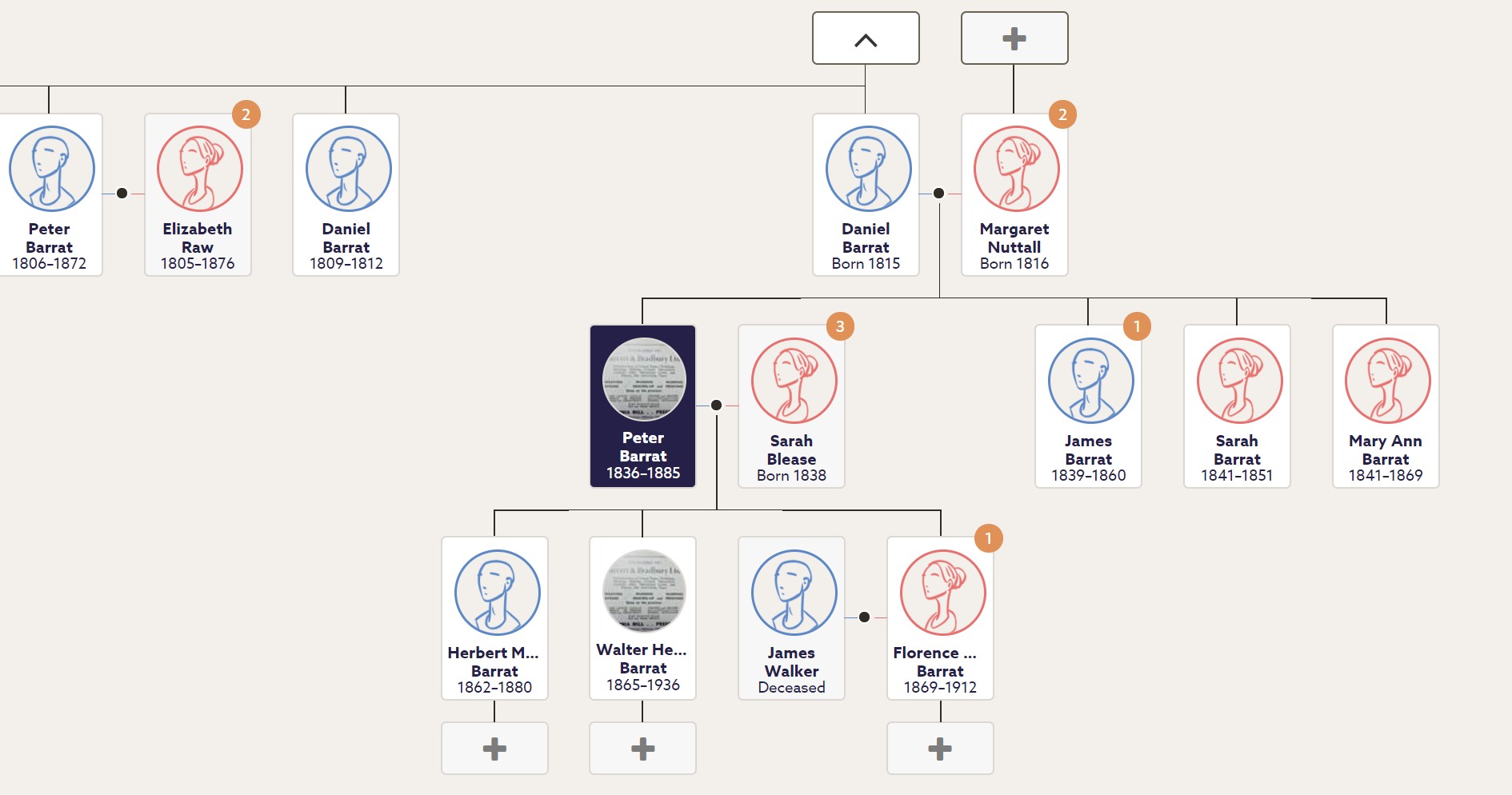 Barratt Family Tree


Sign up for a free FindMyPast Account (no subscription required) and you can see the Barratt family tree

[James Walker's father Samuel, had in 1828 married Jane the daughter of Richard Pendlebury. Samuel Walker & Richard Pendlebury ran Irwell Mills as a partnership until Samuel had died in 1858.]
[Some connection to the Walkers of Chesham, Bury?]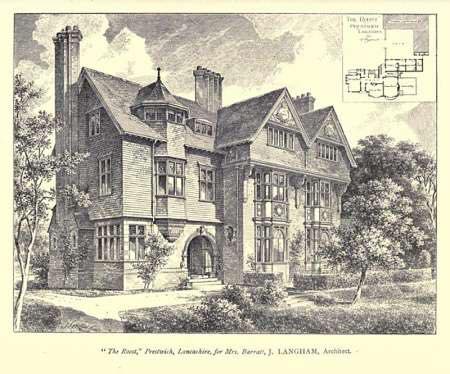 Architectural sketch of the 1895 Roost.
The property lay vacant during the 1930's-1940's but after World War II the house was split into two dwellings by the Bassnett family, with the Grimshaw/Bradshaw family living next door, and there was a ballroom in the basement with a springed floor. The Roost still stands on Rectory Lane.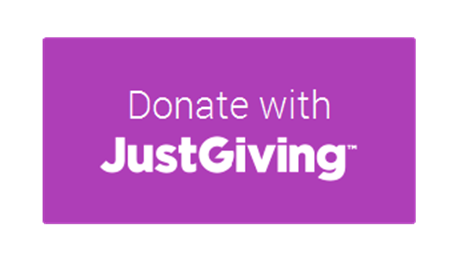 Donate to the upkeep of the St Mary's Churchyard




Your kind donation will go towards tools, or employing professional stone masons to reinstate stonework damaged by time, trees, animals or humans.